Like other types of motor vehicles, trucks too are electrifying. Some companies like Ford and GM have already begun selling fully electric trucks and eventually, the bestselling truck outside North America will also go electric. This is the Toyota Hilux, a popular model in many countries for decades, which has built up a strong reputation for durability and reliability.
Toyota already has a development program ongoing for an electric Hilux as evident by a prototype shown in Thailand recently. On the occasion of the 60th anniversary of Toyota Thailand, Toyota President Akio Toyoda personally presented the Hilux Revo BEV to give a preview of a future Hilux with electric power.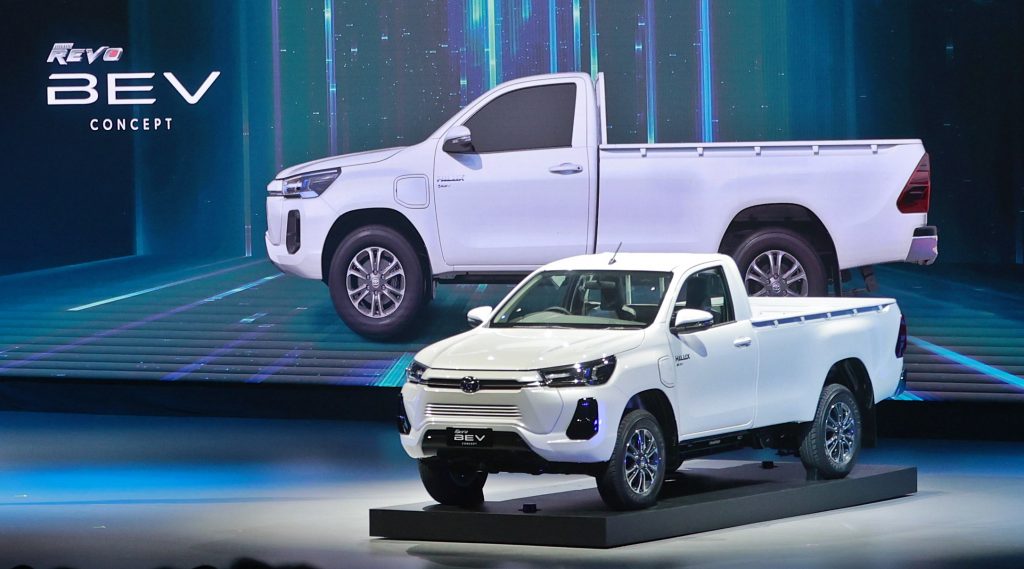 No details were given but the exterior design of the prototype is that of a typical pick-up truck – it's hard to depart from the traditional form – with the front end being more closed off since there is no need for air to blow onto the radiator. On the prototype, the front end is smooth and car-like, with a slit that might be a grille of sorts.
Unlike a passenger car or even SUV, a truck would be put into more demanding use and conditions, so Toyota would want to ensure that even when electrified, it can be durable enough to maintain the 'unbreakable' reputation which it has gained over the years. The battery pack, in particular, would need to be better protected than in passenger cars as the vehicle would be going over rocky terrain. The electronic systems would also have to be strengthened to take more vibrations.
For this reason, the development work is lengthy as Toyota would want to ensure that when they do start offering the product, it will meet the high standards which the brand is known and trusted for. So Toyoda has not given any indication when the Hilux BEV will be available but certainly it should be before the end of this decade.

IMV 0 – due in 2024
More certain is another prototype that was also shown at the event and this was the IMV 0, a project being carried out by Toyota Daihatsu Engineering & Manufacturing. According to Toyoda, this is 'actually over a year away' from production and Toyota does stick to schedules as its planning is precise, so its launch should be sometime in 2024.
Like the Hilux BEV prototype, the IMV 0's details are unknown and only the exterior design was visible. It's an unusual design with a low-rider (lowered chassis) style and a front end that seems to have been taken from the FJ Cruiser which ends its production this month. It seems to be pretty much a concept that is being studied as it has headlights that look too 'futuristic' and ideas like tie-down points on the bonnet and sides.
The single cab also seems reminiscent of the old Land Cruiser pick-up cab. Again, it looks very 'prototypish' so the final product might be more refined. Just behind the doors, on the side panel, appear to be two openings which could be steps for easier access.
Hybrid technology likely
As for powertrains, if the IMV 0 is the basis for the next Hilux generation, then it is likely to still have some combustion engine versions for those markets that are not able or ready to electrify. This is in line with its intention to 'not leave any customer behind' even though it is committed to electrifying its range to achieve carbon neutrality.
Nevertheless, it is also likely that Toyota will be considering hybrid technology for IMV 0, which would be a good approach as it will be more marketable in many countries. After all, it does have long experience in hybrid technology, having pioneered it for mass production in the late 1990s.
"I am often criticized in the press because I won't declare that the automotive industry should commit 100% to BEV. I believe we need to be realistic about when society will be able to fully adopt Battery Electric Vehicles and when our infrastructure can support them at scale," said Toyoda.
From some remarks by Toyoda though, the IMV 0 might also be the basis for another model line as he mentioned that he wanted his engineers 'to create a brand new IMV pick-up truck for Thailand, something truly affordable and truly innovative.' He also wants it to support economic growth and mobility for all.
The IMV story
'IMV' is something close to Toyoda's heart as he was the driving force for the project over 20 years ago. 'IMV' stands for 'Innovative International Multi-purpose Vehicle' and it was a massive project that was on a similar level as the Lexus project of the 1980s. The IMV project was intended to move product development for a range of models out of Japan almost completely. Additionally, all parts sourcing would also be from suppliers outside Japan, and there would be a few production hubs around the world to serve different regions.
The IMV project saw the Hilux, Innova and Fortuner being developed and launched in 2005. It provided the carmaker with a global production system that has been very successful. The IMV project also formed the basis of a smaller range that was internally referred to as 'Under IMV', with one of the models being the Toyota Avanza.