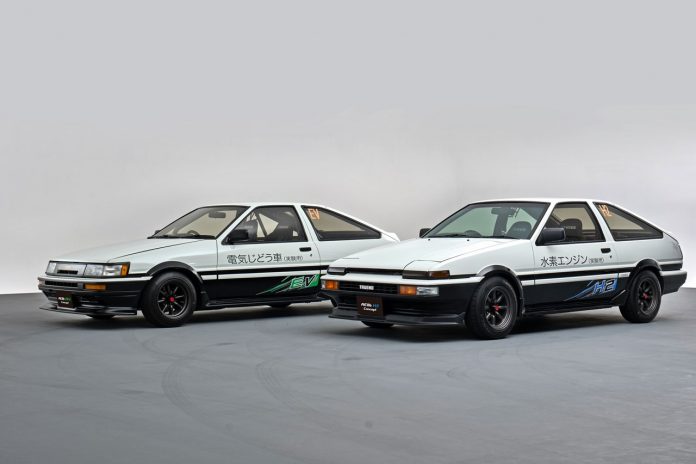 Toyota, like some of the other top carmakers, has expressed a view that the goal of carbon neutrality to prevent climate change is not a single-solution – going electric with motor vehicles – approach. While they do recognise the importance of moving towards that goal, they feel that the electric-only solution is not practical and is also costly. A choice of solutions that include some existing technologies (improved, of course) is being promoted as a more realistic approach.
Toyota's President, Akio Toyoda, is very vocal about this and was among the first car company CEOs to state the position. Perhaps that encouraged the CEOs in the other companies to also echo similar views but still committing to increasing production of zero emissions battery electric vehicles (BEVs). They are probably under a lot of pressure to allocate massive funding for BEV R&D and at the same time, they still need to continue some development of combustion engine powertrains.
The CEO who is a car guy too
Toyoda is also a bit unique among car company CEOs in that he is a 'car guy' and he is in a position to influence his company's direction. Having grown up in the 'golden years' of the Japanese auto industry when there were fun-to-drive sportscars that young people could afford and enjoy, he is trying to make sure that is not lost in the switch to BEVs. Like the enthusiasts, he too wants cars that are enjoyable to drive and of course, he would like them to be from his company.
In fact, 'fun to drive – again' was one of his aims when he became President in 2009. And since then, he has been delivering on that promise with not just the GR performance models like the Supra and 86 but also taken over the conservative image of the company. He is personally involved in development and while other CEOs might sit in the back seat and assess the comfort, Toyoda will be behind the wheel pushing the prototype to the limit to see if it handles well.
It's therefore not surprising that he has even used motorsports for R&D of hydrogen-fuelled powerplants. Apart from already having the second generation of the Mirai, a hydrogen fuel cell electric vehicle (FCEV) on sale, Toyota is also working on an engine that runs on hydrogen.
Running on hydrogen
For the hydrogen engine, the fuel delivery systems for FCEVs have been modified from those used with petrol engines. Combustion in hydrogen engines occurs at a faster rate than in petrol engines, resulting in a characteristic of good responsiveness. While having excellent environmental performance, hydrogen engines also have the potential to relay the fun of driving, including through sounds and vibrations.
It's still very early in development but prototypes have run in the Super Taikyu Series in Japan and also at an event in Thailand recently. The idea is to show the feasibility of carbon neutrality using existing technology and resources to offer multiple pathways towards the goal in a practical manner.
Running the prototype engine in the GR Corolla for competition by TOYOTA GAZOO Racing and ROOKIE Racing has provided much knowledge and experience for the engineers. So they decided (probably suggested by Toyoda) to try the hydrogen concept in a model that is 38 years old – the AE86 Trueno, also nicknamed 'Hachi-roku', which was made famous by the InitialD series.
For this, two high-pressure hydrogen storage tanks from the Mirai are mounted in the rear of the coupe. The original 4A-GE engine has modifications made to the fuel injectors, fuel pipes, and sparkplugs to run on hydrogen but the modifications were kept to a minimum.
AE86 BEV Concept
Alongside the AE86 H2 concept, Toyota also developed the sister model that was called the Levin and this concept car has an electric powertrain. "The Levin on the other hand, is a battery EV. The name has been around for half a century, but the two letters 'EV' have always been hidden within its name!" Toyoda joked when he personally presented the displays at the Tokyo Auto Salon which is on this week.
Utilizing the technologies developed by Lexus, the AE86's body, light weight, and front-rear weight balance were maintained as much as possible, while the strong driving force of a BEV and a manual transmission were adopted to develop a vehicle that is said to offer even greater driving pleasure than the original. The car makes full use of the electrification technology currently used in models like the Tundra (a pick-up truck sold in America) and the Prius.
Aiming to contribute to carbon neutrality by working together with aftermarket parts manufacturers, both AE86-derived concept cars feature rejuvenated used seats and seatbelts and seatbelt pads made from recycled materials.
"So it took 50 years for us to finally install a battery and motor to the Levin. The original 4A-G is a treasured engine, so we removed it with the greatest care. However, the manual transmission is untouched. Clutch and shifting operation can still be enjoyed," said Toyoda.

With the two concept cars, Toyoda says that there is a message being sent and that is that "There is a carbon neutral path we can take as car lovers! We don't want to leave any car lovers behind!". He also mentioned that 'it is important to provide options for beloved cars that are already owned by someone', so he might be thinking of some sort of conversion program that Toyota formulate in the future.
"There are lots of people here at the Tokyo Auto Salon who want to enjoy their car life with their favourite cars. Although the AE86 conversion technology is still under development, by talking about this today with car lovers, I hope to dismiss the fear that we won't be able to drive our beloved cars when we go carbon neutral. On the contrary, there is a carbon neutral path that car lovers can take," Toyoda said.