Being deemed to be 'improperly dressed' resulted in a woman being prevented from entering the premises of a police station to make a report concerning a car accident she was involved in. While she was no wearing a bikini, the Bermuda shorts she had on were considered to be unacceptable under the dress code set by the police.
The woman related her experience to Free Malaysia Today and said that it happened at the Kajang police station. She had gone there after being involved in an accident in Batu Sembilan, Cheras, having been asked to go to the Kajang station by the Batu Sembilan station personnel.
At the Kajang station, the guard at the gate refused to allow her in and told her that her clothes were not acceptable. He then advised her to change to something acceptable, presumably something which covered her legs completely. He was insistent about her complying with the dress code, saying that even ministers would not be allowed in if dressed like she was.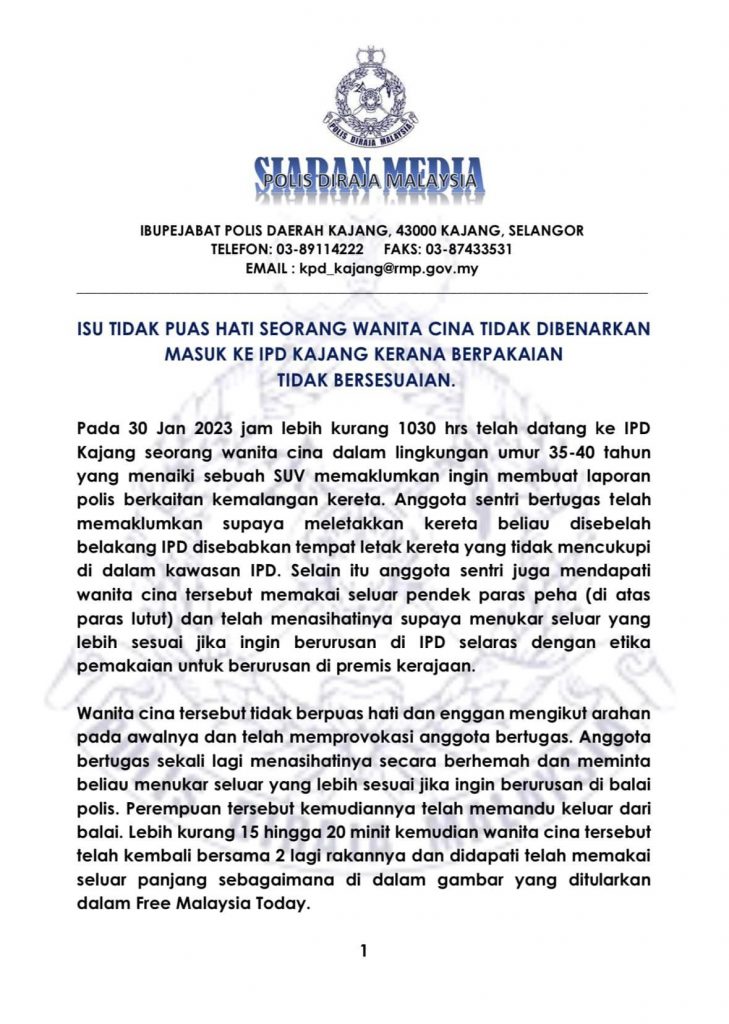 As she was unable to enter and it was some distance to go back and change, she asked her sister to bring over a pair of long pants for her to wear. This being done, she was allowed in to make her report. She also told FMT that although she had asked for the number of the police guard so she could make a complaint, he refused to provide it to her.
Later in the day, the Kajang police issued a statement concerning the matter and confirmed that she was not allowed to enter the police station due to her attire which was against the dress code. The woman was also said to have 'provoked the officer'.
According to Kajang district police chief Zaid bin Hassan, the police station has as many as 300 visitors entering daily and they have not encountered any issues regarding attire worn. He added that the dress code for visitors was displayed at the control post to inform the public.

The issue of dress code and complaints by members of the public pops up in the news from time to time. All government offices have dress codes which are strictly enforced and generally, excessive exposure of the body is considered unacceptable, hence the ruling against short skirts and trousers.
Malaysians should be familiar enough with this position regarding clothes worn, and ensure that they dress appropriately when visiting any government department. Unless you have a medically-certified reason to explain why you must wear shorts, it would be better to just wear long pants to avoid the hassle. You don't need more frustrations if you have had an accident and want to get the report done and go home.