Aston Martin has unveiled the new DB12. This new generation of the storied DB bloodline defines its own unique category by bringing about a fundamental shift in sports character and dynamic potential. The DB12 combines a thrilling driving experience with great refinement, cutting-edge technology, and elegant luxury. Aston Martin says this is the first Super Tourer in the world as being grand is insufficient.
Aston Martin will commemorate two major anniversaries in 2023 with the introduction of the DB12: its momentous 110th birthday and the legendary DB model line's 75th anniversary.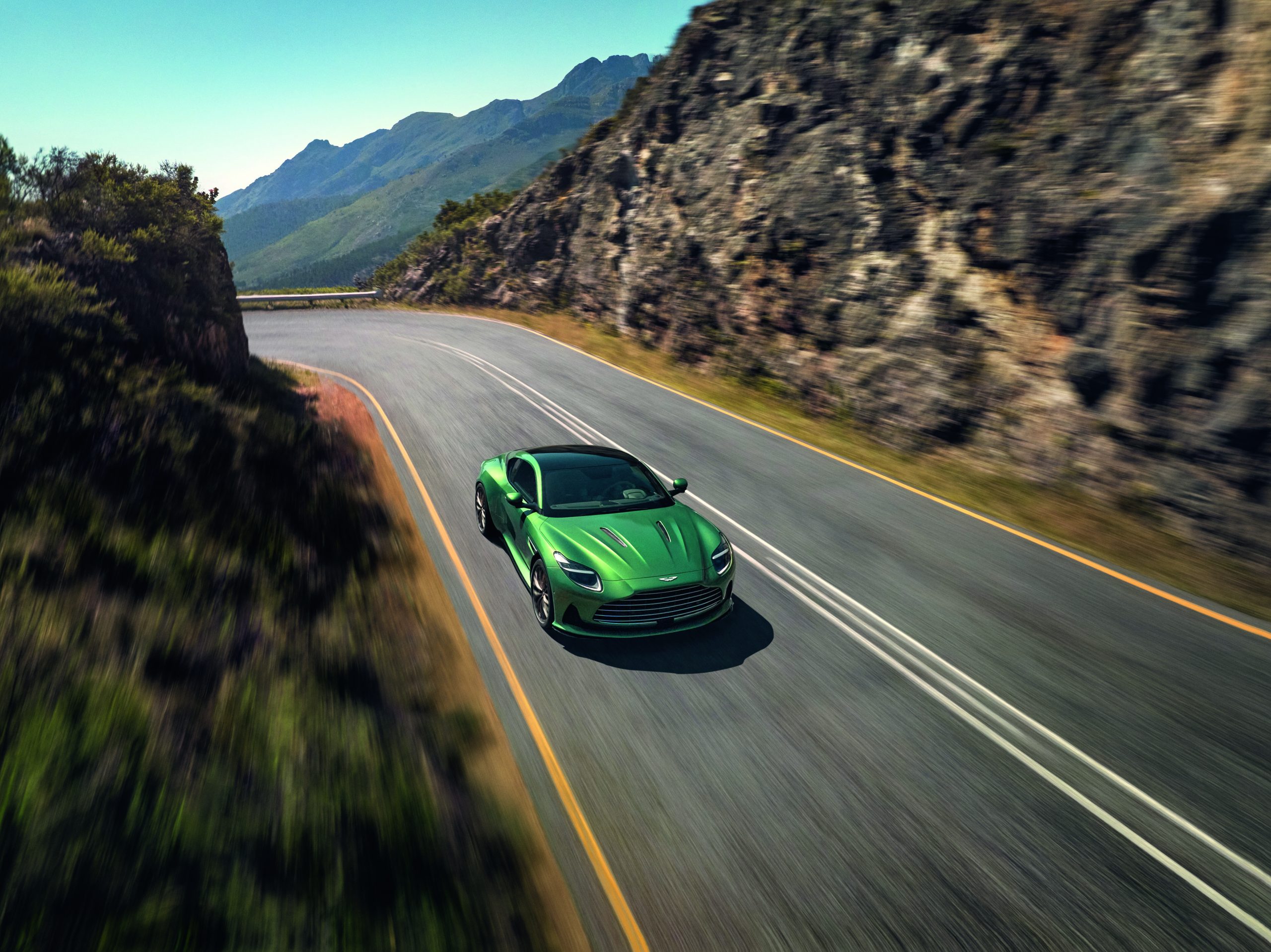 Exterior
The exterior of the DB12 has a strong, aggressive representation of power and potency. It commands attention. It is presented with the flair for which Aston Martin is known, blending 75 years of DB heritage with segment-defining proportions worthy of the world's first super tourer.
The all-new front end has a wider, reshaped radiator aperture and a reshaped splitter, and it has a track increase of 6mm up front and 22m rear. New Light Emitting Diode (LED) headlamps with a distinctive new Daytime Running Lamp (DRL) signature and elaborate surface accents.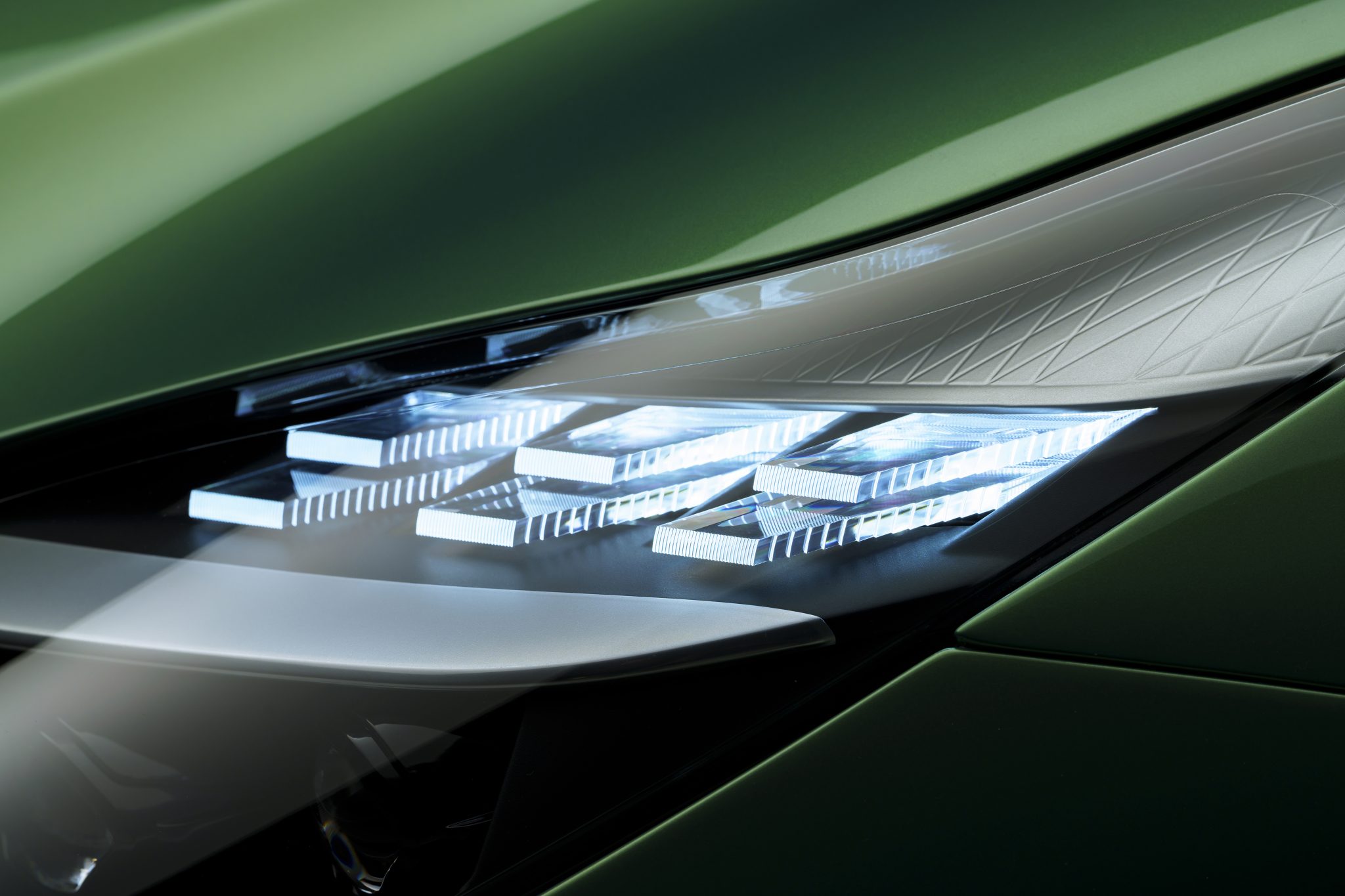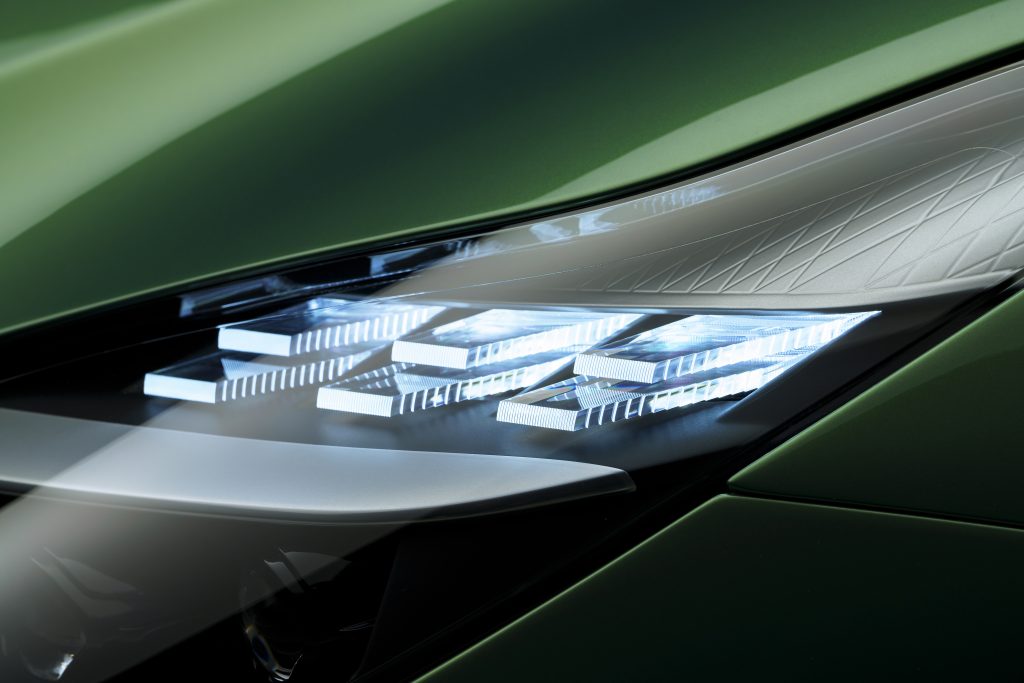 The latest iteration of the classic Aston Martin wings badge sits on the nose. The DB12 is the first sports car to receive the new wings, symbolising the beginning of an exciting new era. Smaller, frameless wing mirrors complement the new look while also boosting the car's aerodynamic profile. To aid entry, presenting door handles welcome occupants into the new cabin.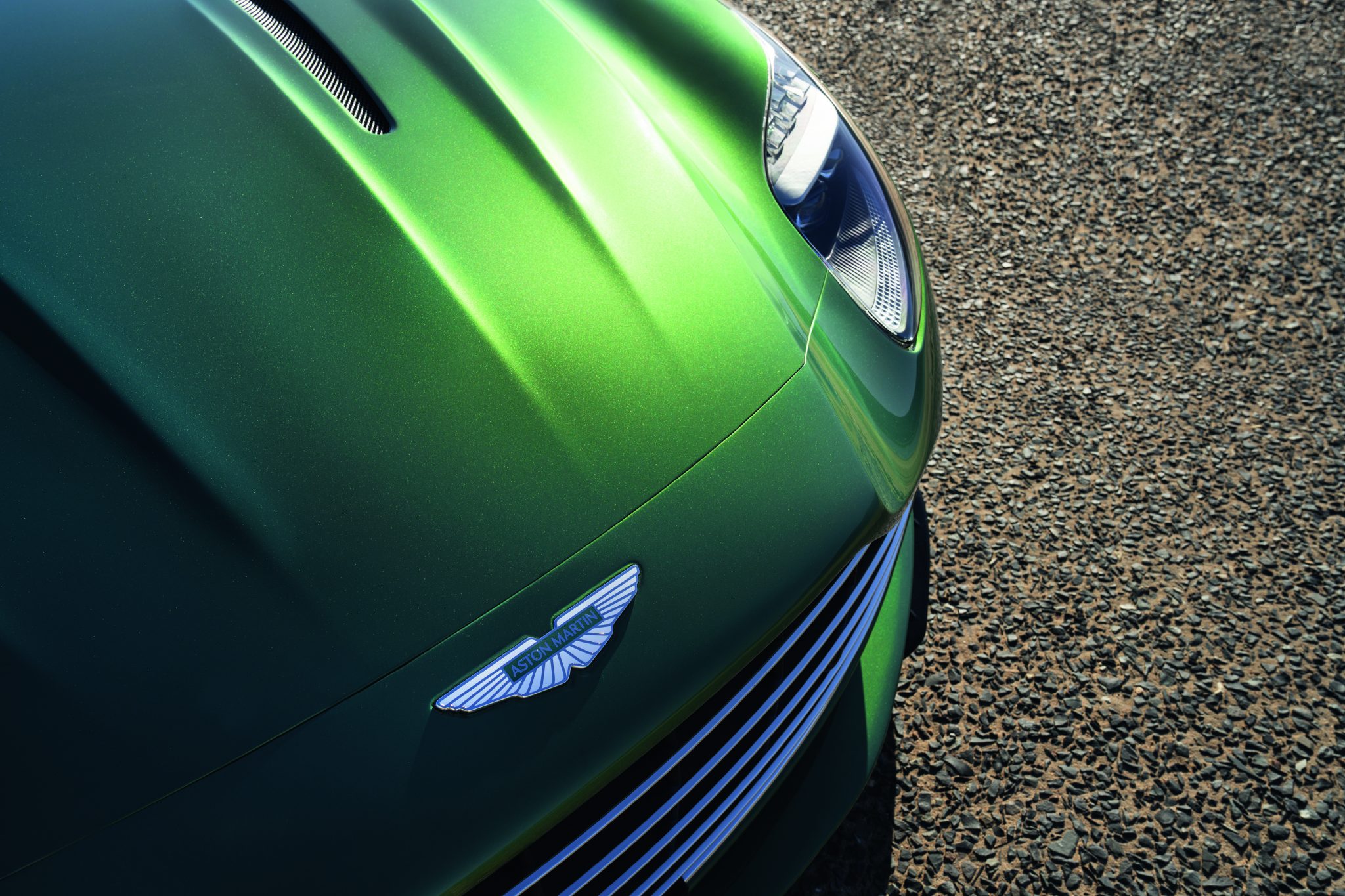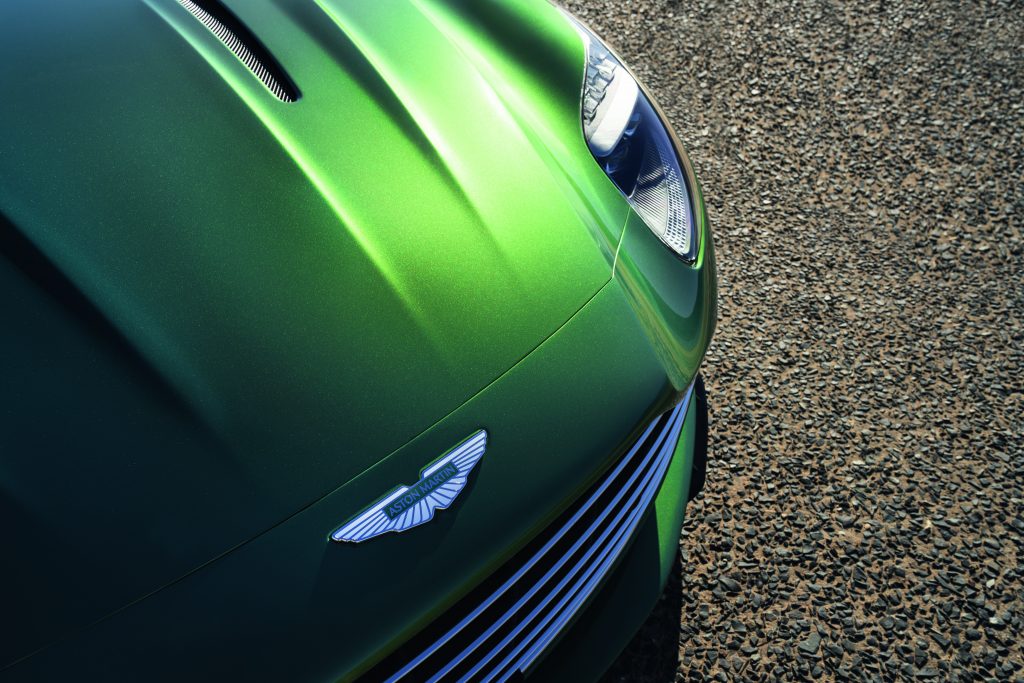 The DB12 comes standard with 21-inch forged alloy wheels, 9.5J front and 10.5J rear. There are three different designs to choose from: regular, classic, and modern. Optional five-spoke wheels Multi-Spoke and Y-Spoke are available in a variety of colours and finishes: Y-Spoke in Satin Bronze, Satin Black, and Satin Black Diamond Turned; Five-Spoke in Gloss Silver; Multi-Spoke in Satin Platinum, Satin Black, and Satin Black Diamond Turned.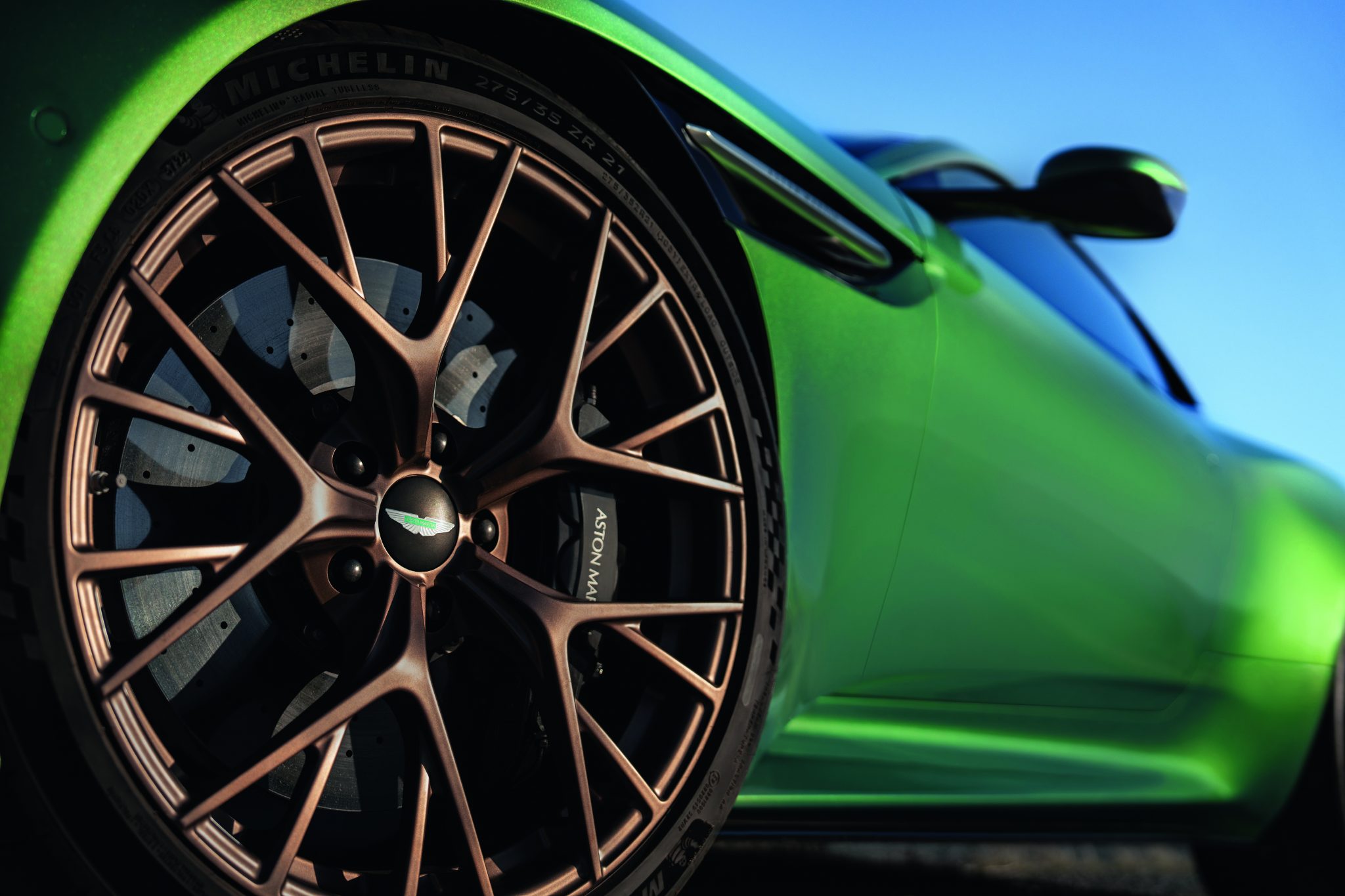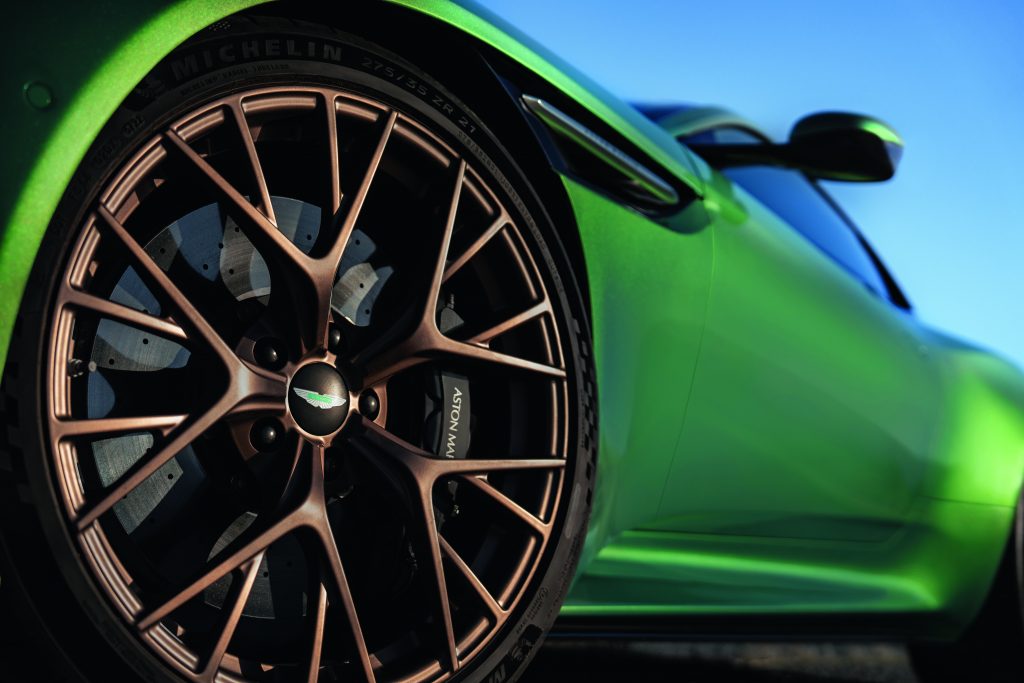 Interior
The cabin features Aston Martin's next-generation custom infotainment system and a formidable package of connected technology, as well as a Bowers & Wilkins surround sound system.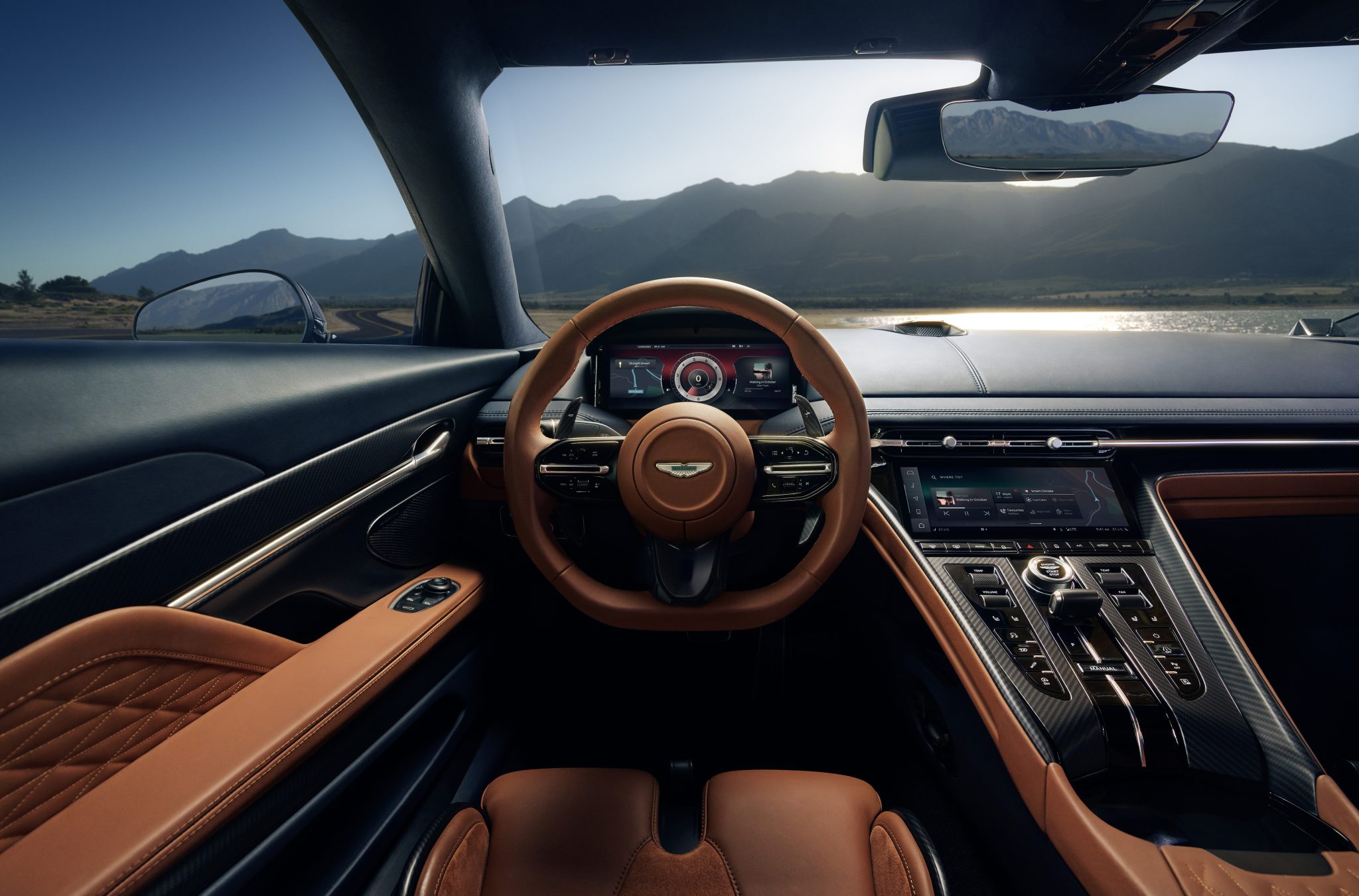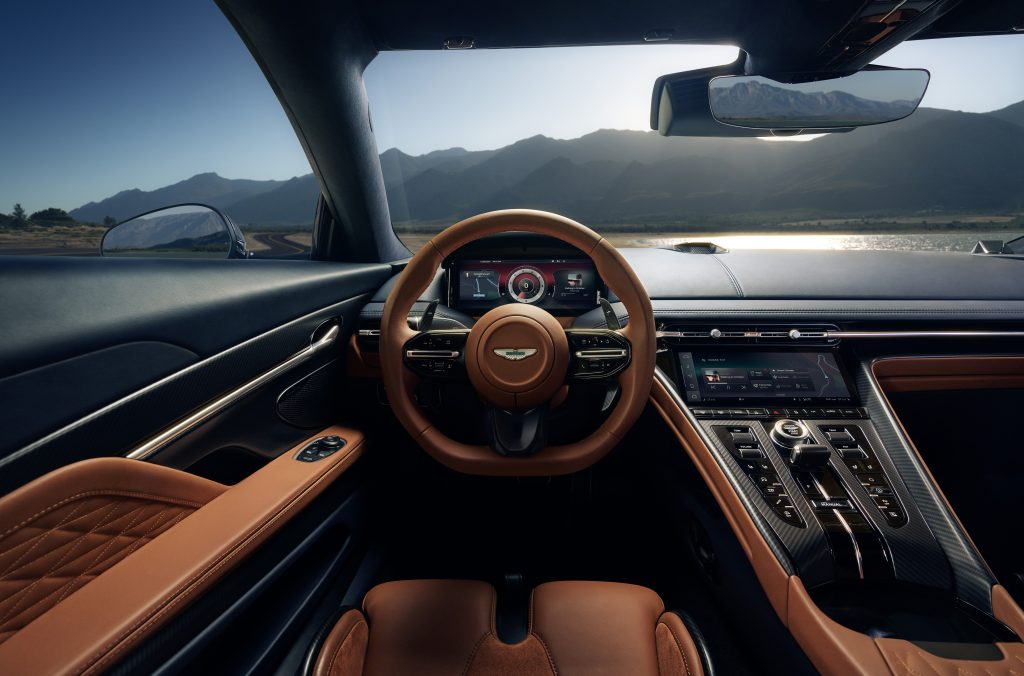 The design character is centred on the driver, blending daily technologies with luxury craftsmanship and materials. Occupants sit below the shoulder line, with a high centre console that allows full contact with the cockpit and its combination of modern display panels and interactive analogue switches. Driver-centric controls are ergonomically located along the interior centerline, guaranteeing optimum driver engagement, while cabin ornamentation and distinctive trim features soften the bold, horizontal lines.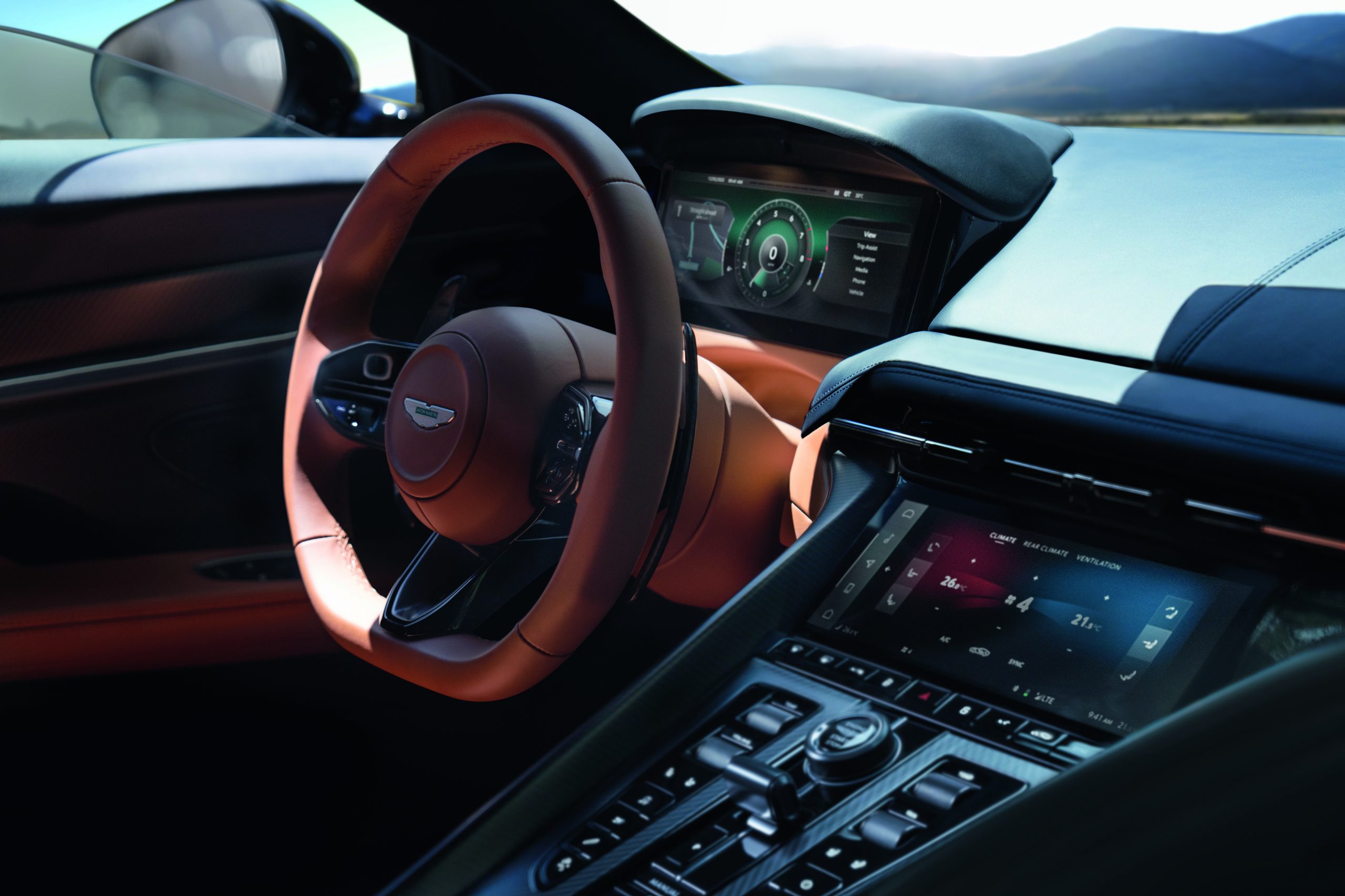 This cosseting haven, swathed in scented, hand-stitched Bridge of Weir hides, reflects true Super Tourer principles; soothing comfort to excel at all-day, long-distance excursions, while yet providing the support and connection needed to give maximum driving enjoyment. DB12 introduces new quilts with distinctive detailing and personality. The new quilting pattern is used in high-end full leather or Alcantara interior environments.
The debut of Aston Martin's next-generation infotainment system represents a significant DB12 milestone. It is Aston Martin's first in-house system, conceived and built entirely by the company.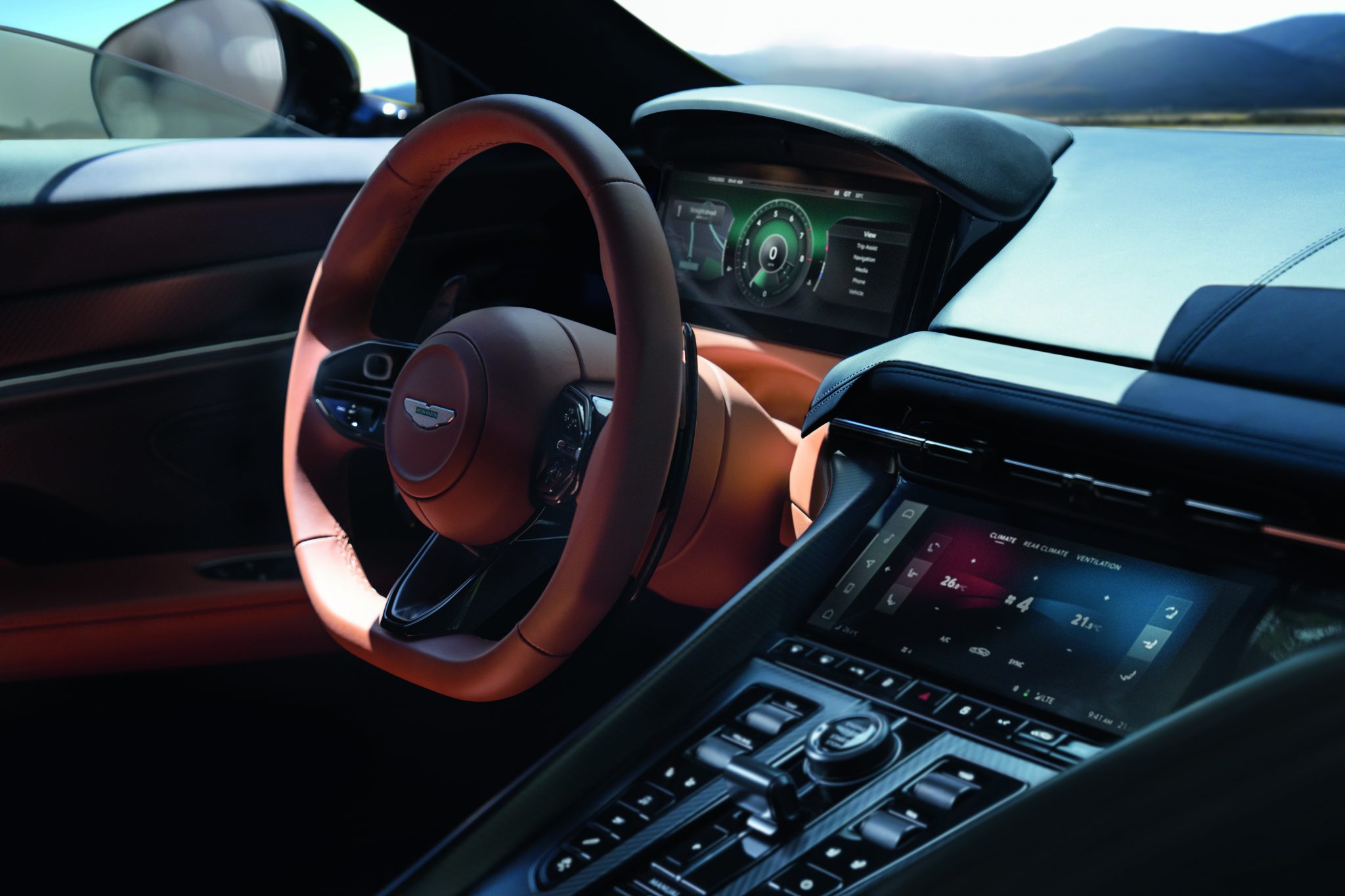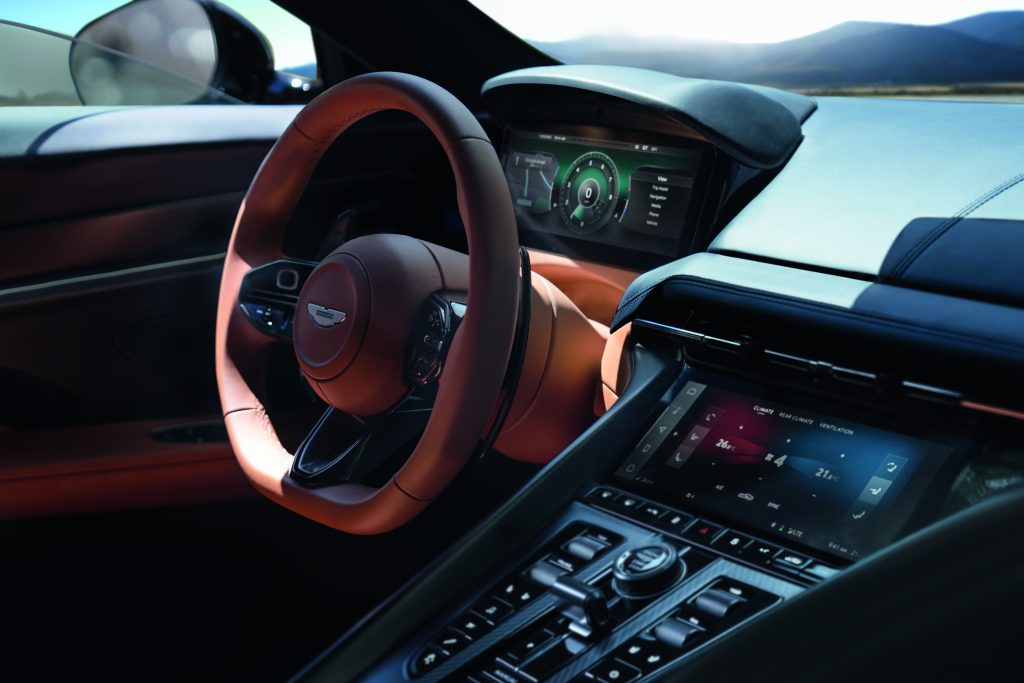 The new system is a fully integrated multi-screen system that supports wireless Apple CarPlay and Android Auto and is presented on 10.25-inch Pure Black, 1970×720 high-resolution panels, and according to Aston Martin, it has an ultra-responsive capacitive touch control (30ms reaction time).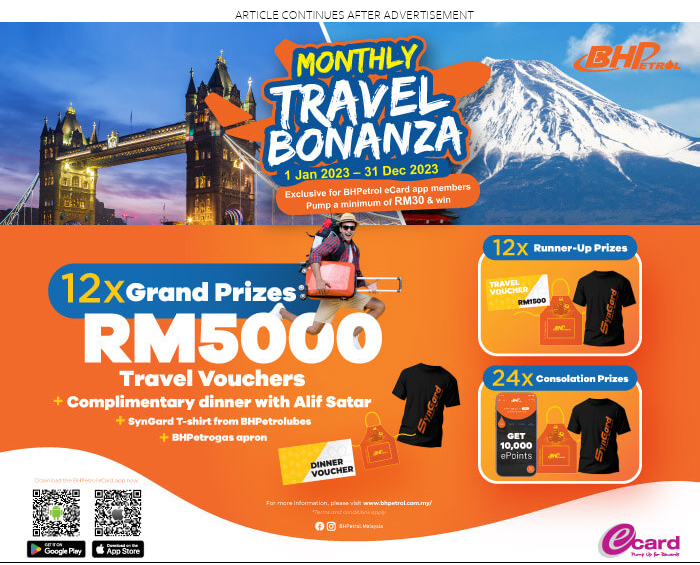 The DB12 retains buttons for critical mechanical tasks such as gear selection, drive selection, heating and ventilation, providing the ideal balance of digital and analogue controls. There are additional override switches for the chassis, ESP, and exhaust, as well as Lane Assist and Park Distance Control, ensuring that the most frequently used functions are always easily accessible. In our books, having physical buttons is a big yes.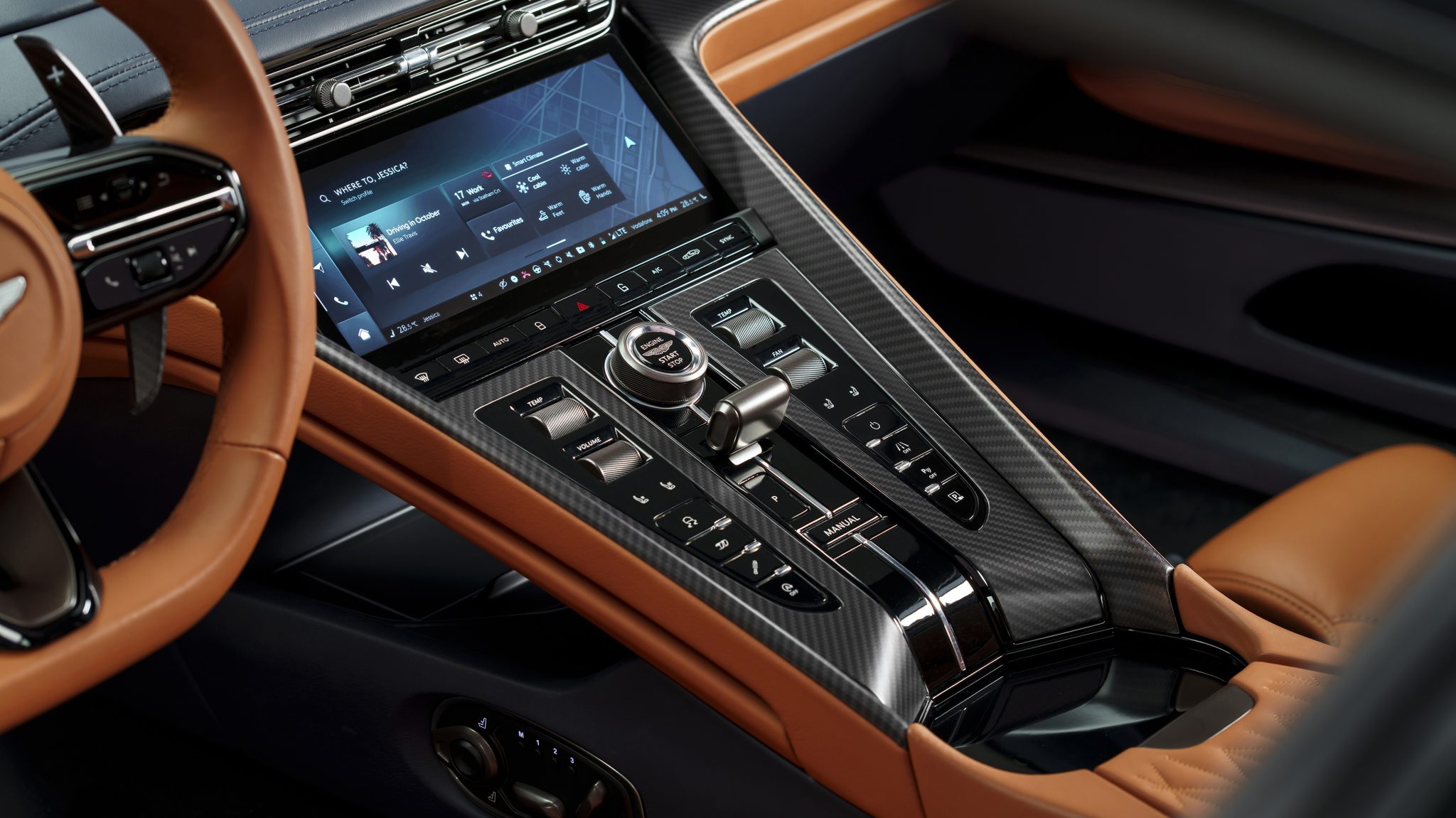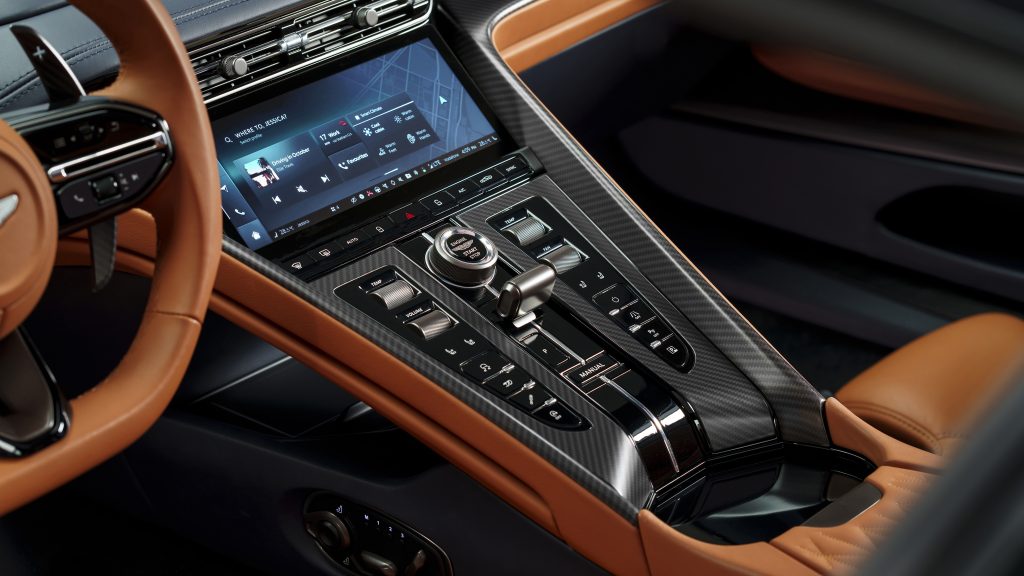 The DB12's new infotainment system is built around online connectivity and an all-new companion Aston Martin App. DB12 owners will be able to communicate, connect, and engage with their vehicle, which is a first for the brand.
The DB12, the Aston Martin App, and Aston Martin's secure data servers form the foundation of this all-new connected automobile ecosystem. These three aspects are linked by the implanted e-SIM in the DB12, which is given and sponsored by Aston Martin, to internationally roaming 4G LTE / GSM cellular networks.
The app also provides a selection of connected car subscription packages that are free for the first three years and are designed to enhance the Aston Martin ownership experience. There are three subscription options for connected cars:
Convenience
Vehicle Management
Vehicle Services
When a customer's new DB12 warranty is activated, these are activated for free. The subscription is attached to the car for the first three years as an added advantage to future owners, even if the DB12 is repurchased through Aston Martin's Timeless authorised pre-owned selling programme.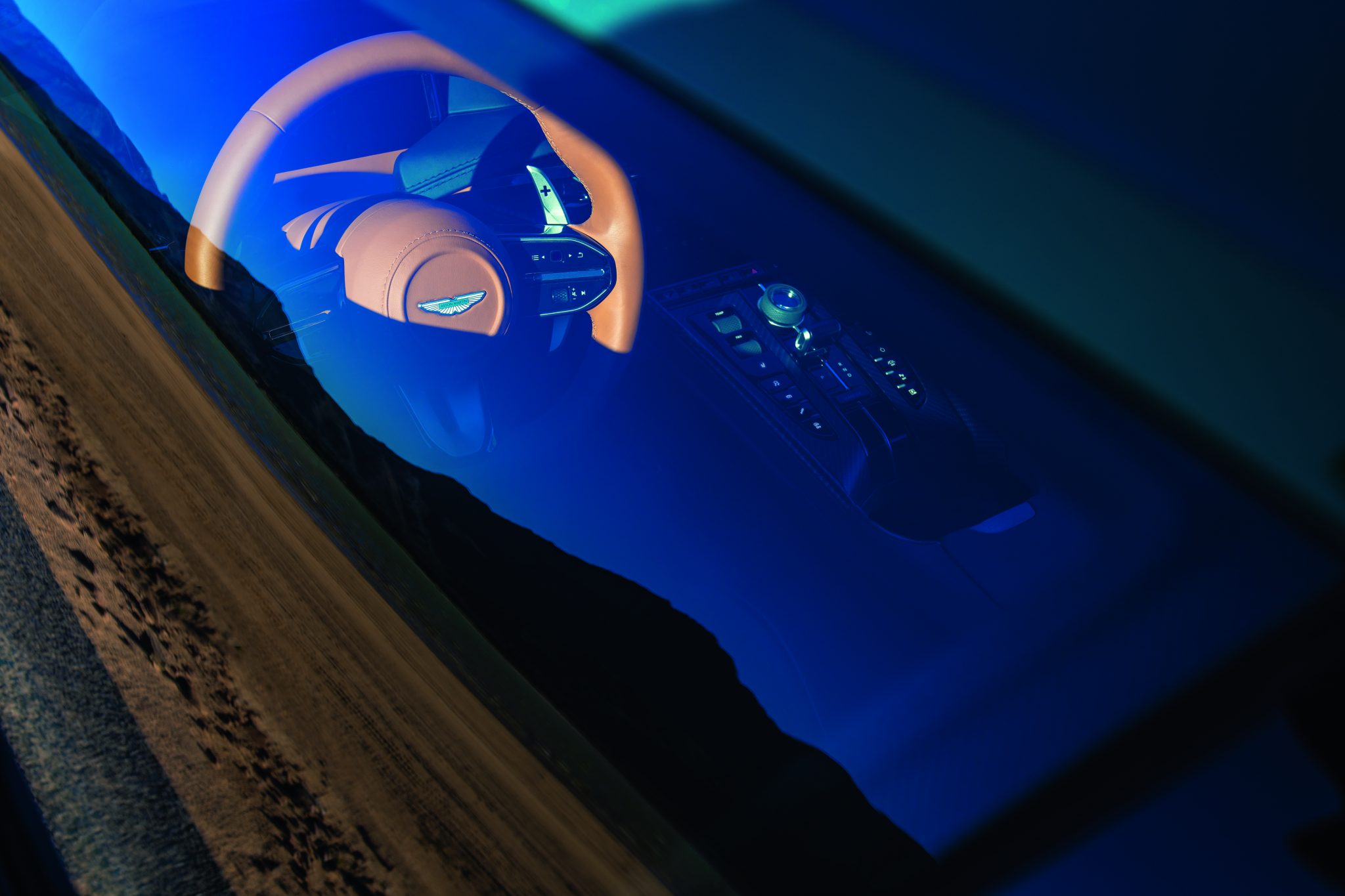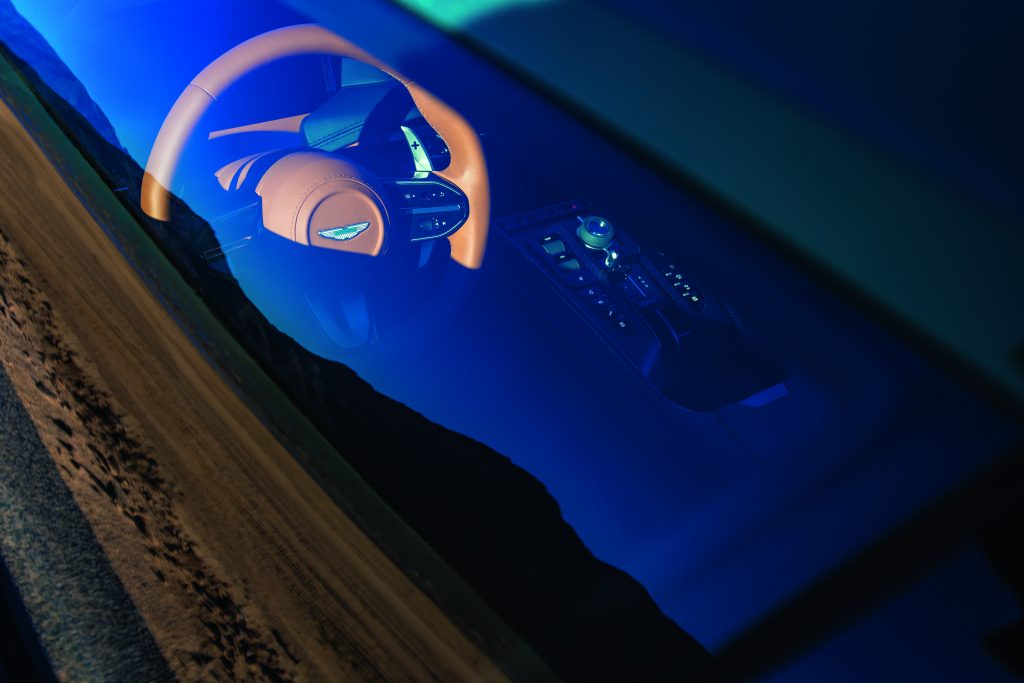 An Advantage subscription, which is optional, provides further personalization, interactivity, and functional benefits. Advantage, which began with a Stolen Vehicle Tracker, now allows DB12 owners to build a portfolio of extra features and subscription services to expand and enrich their ownership experience.
Powertrain and Performance
In typical DB form, a 4.0 Twin-Turbo V8 engine, powers the new Aston Martin. It delivers 671bhp at 6000rpm and 800Nm between 2750-6000rpm; an increase of 34% compared with the outgoing DB11. It does 0-97km/h in 3.5 seconds and has a top speed of 325km/h. Perfect for a James Bond car-chase scene!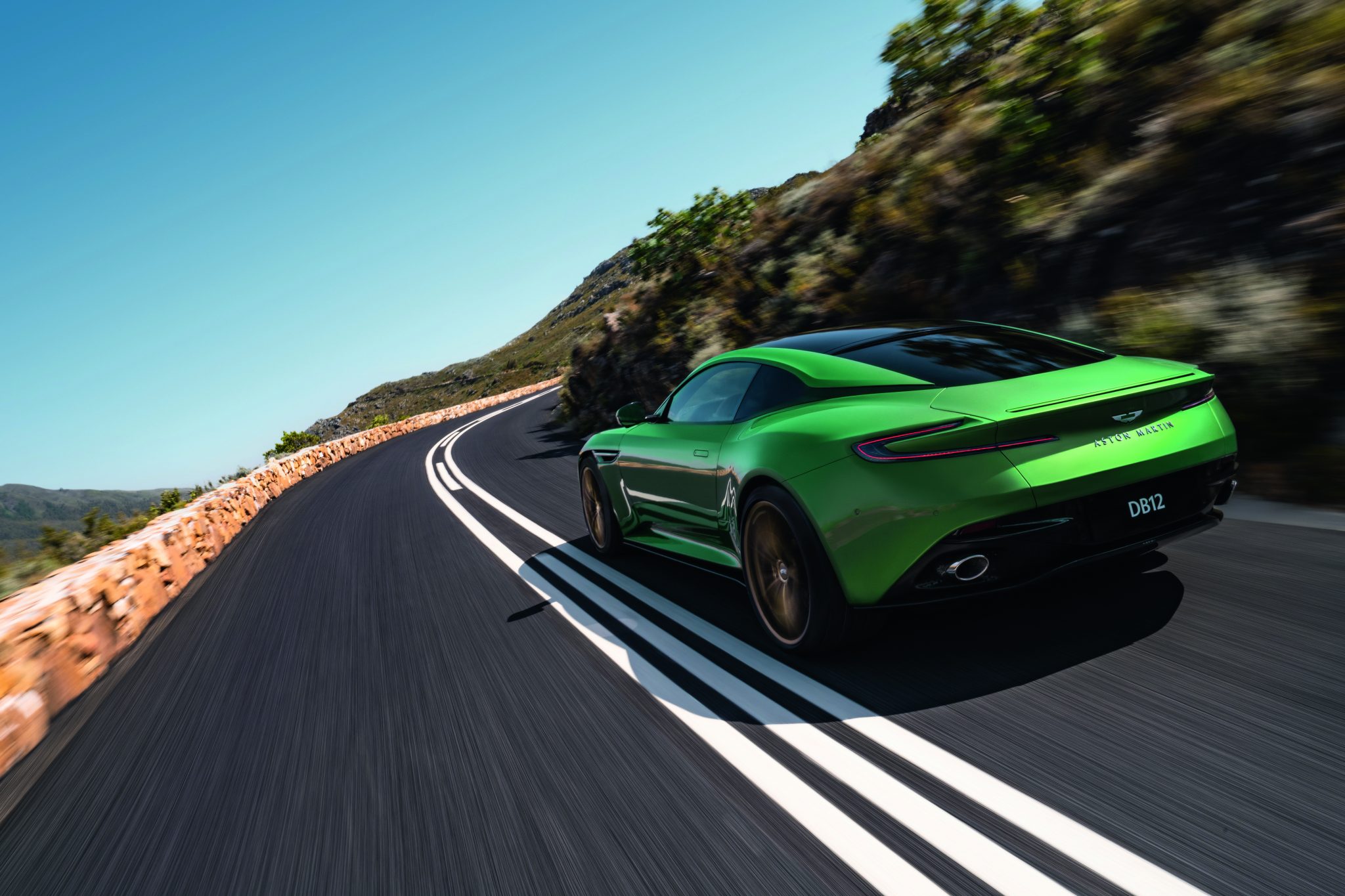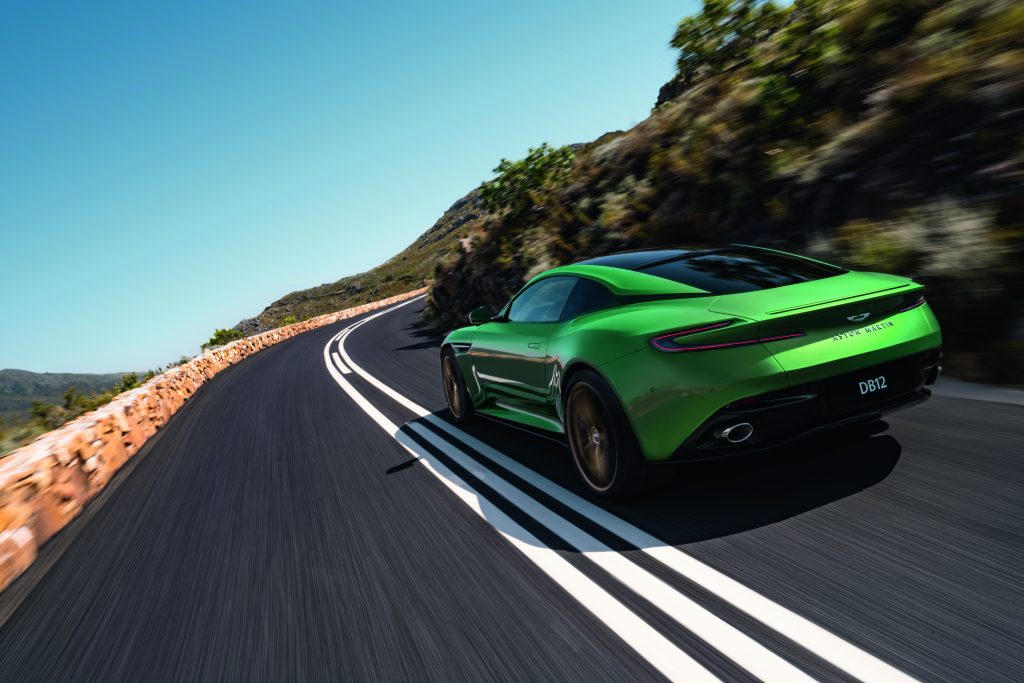 According to Aston Martin, the handling and dynamics make this the sharpest DB ever. Power is sent to the rear wheels via an 8-speed automatic gearbox and, for the first time on an Aston Martin DB vehicle, an Electronic Rear Differential (E-Diff). This differential is related to the Electronic Stability Control (ESC) system of the vehicle. Unlike a traditional Limited Slip Differential, it may go from fully open to fully locked in milliseconds, providing the driver with maximum reaction for more precise and consistent driving.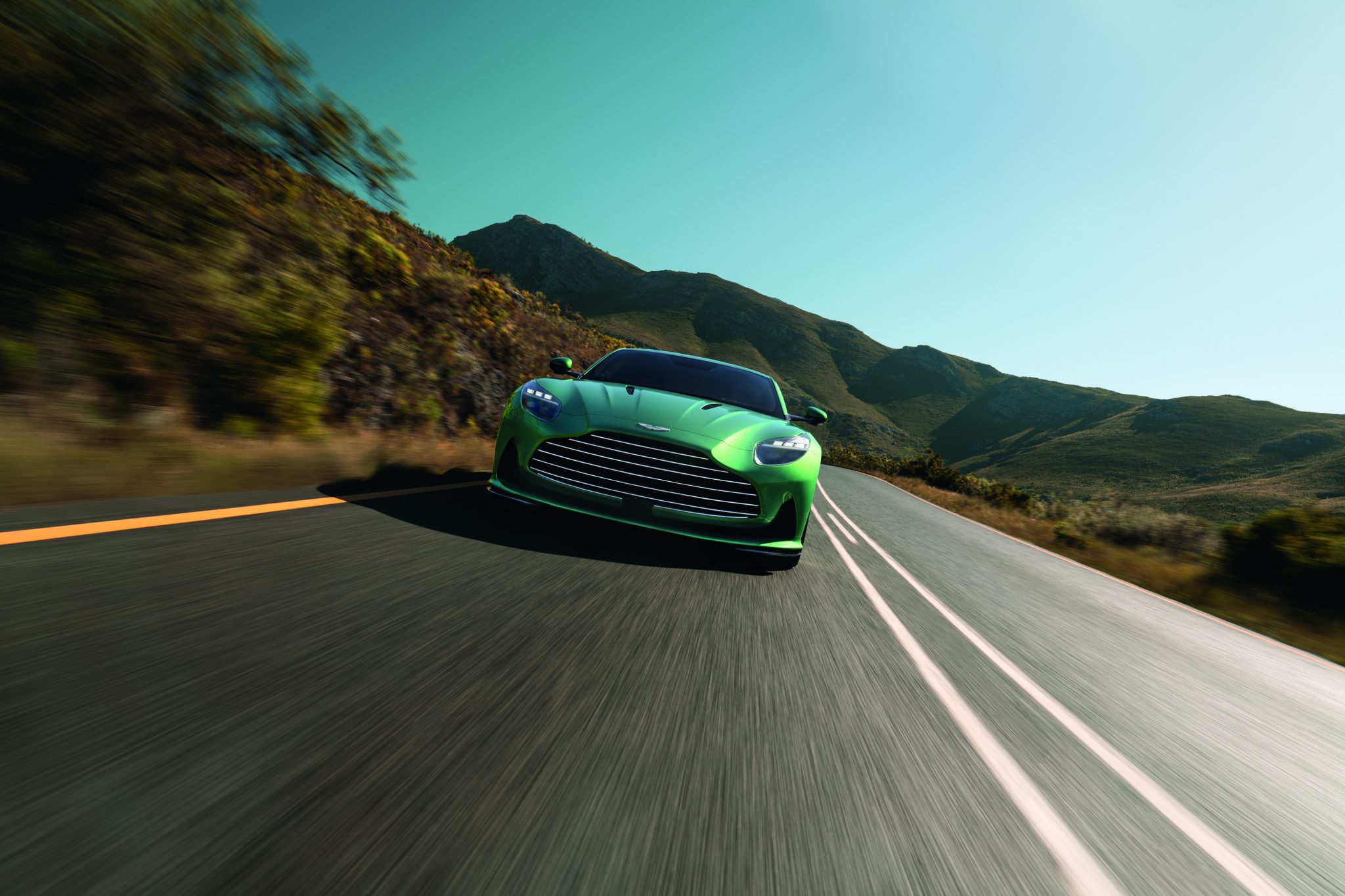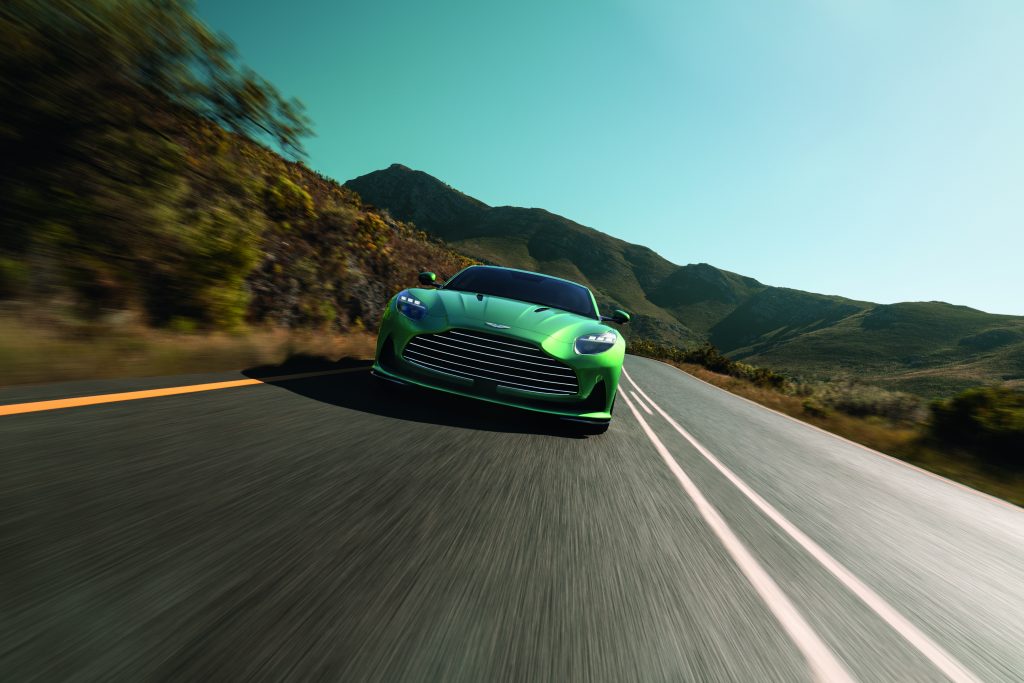 The DB12 has a revised (3.083:1) Final Drive Ratio, as well as a unique transmission shift calibration. The bonded aluminium structure of the DB12 has gained 7% more global torsional stiffness as a result of improvements to a variety of underbody components, including the engine cross brace, front and rear undertray, front cross member, and rear bulkhead. The combined consequence is a targeted increase in torsional rigidity and lateral stiffness, particularly between the front and back strut towers, providing a stronger and more stable attachment point for the dampers and rear axle.
Careful damper calibration allows for the gradual introduction of more response and tighter body control as you scroll through the dynamic modes, with suspension bushing adjustment giving exceptional refinement and isolation. When combined with the E-Diff and ESC system, this results in luxurious ride quality for sublime yet agile cruising in GT mode, while Sport and Sport+ modes increase responsiveness and tighten body control, shrinking the car around the driver and making it truly come alive on challenging roads like never before.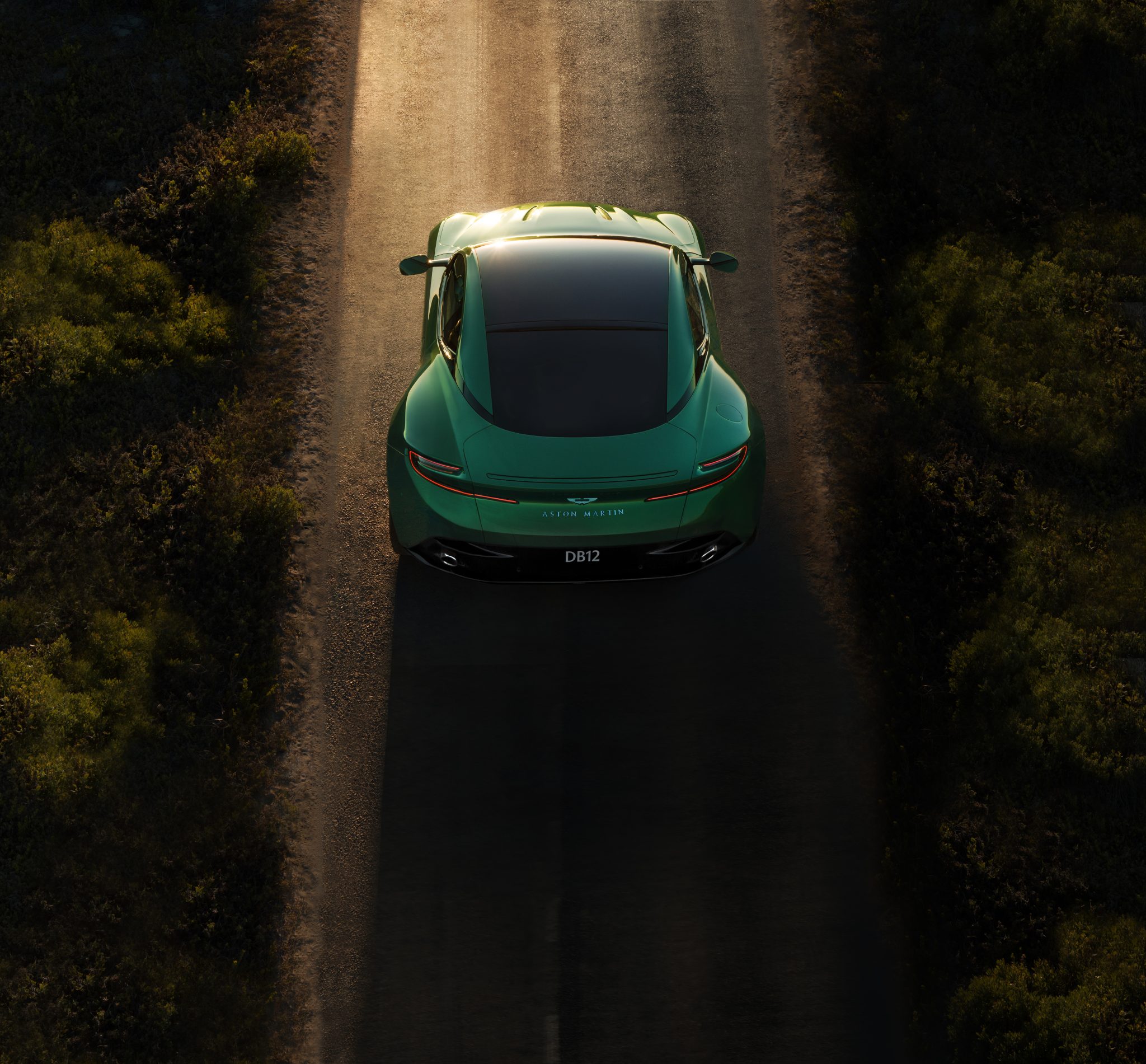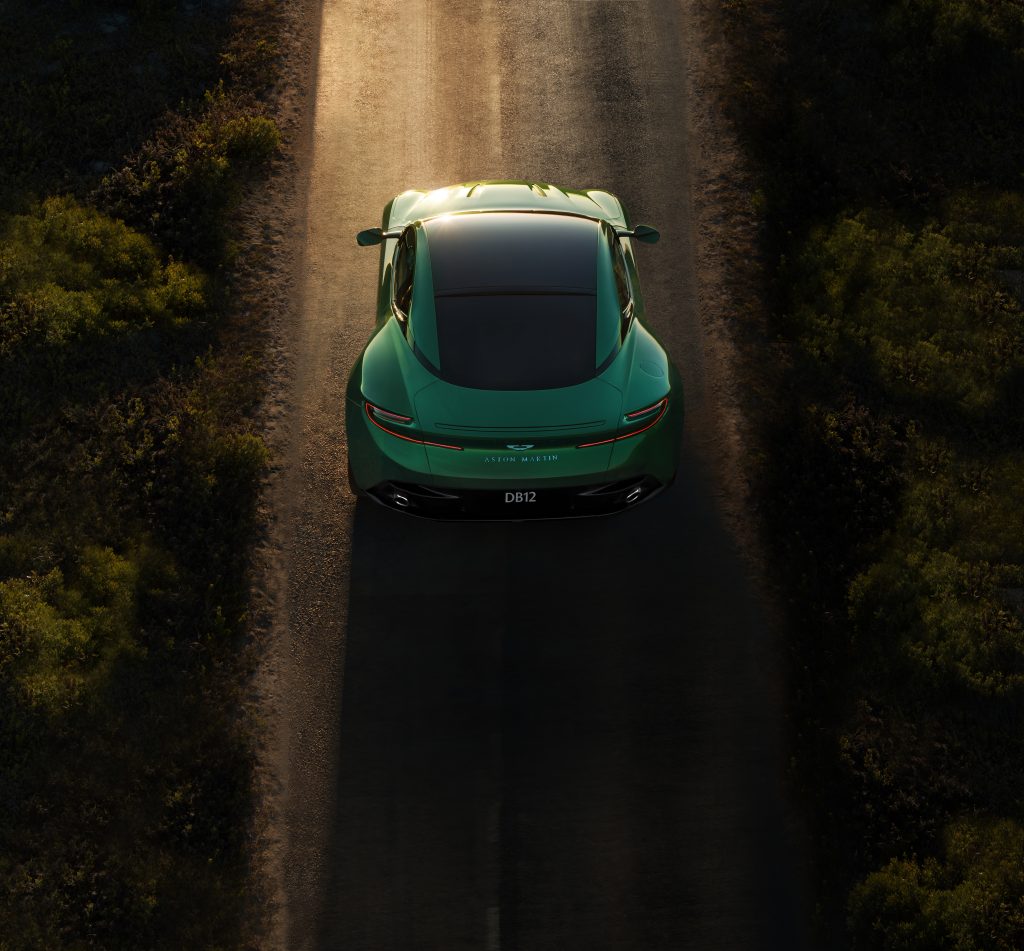 For greater thermal capacity, the DB12 comes equipped with cast-iron 400mm front discs and 360mm rear discs with grooved and drilled faces. The brake booster has also been retuned to improve the pedal feel, giving the driver more confidence thanks to a solid pedal that provides an immediate sense of stopping power while still providing a progressive reaction.
The new Michelin Pilot Sport 5s tyres – 275/35 R21 103Y front and 315/30 R21 108Y rear – are being used for the first time by Aston Martin.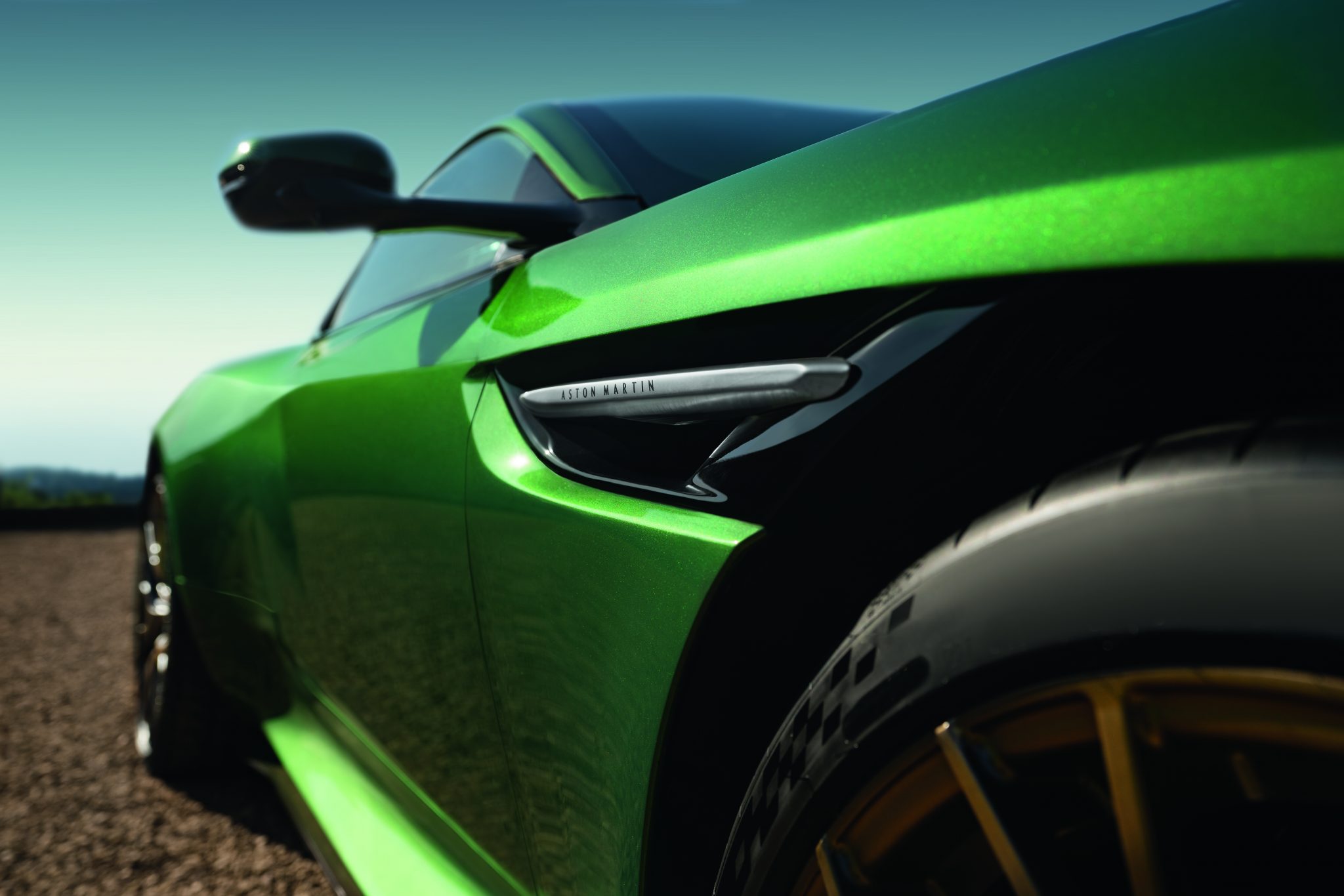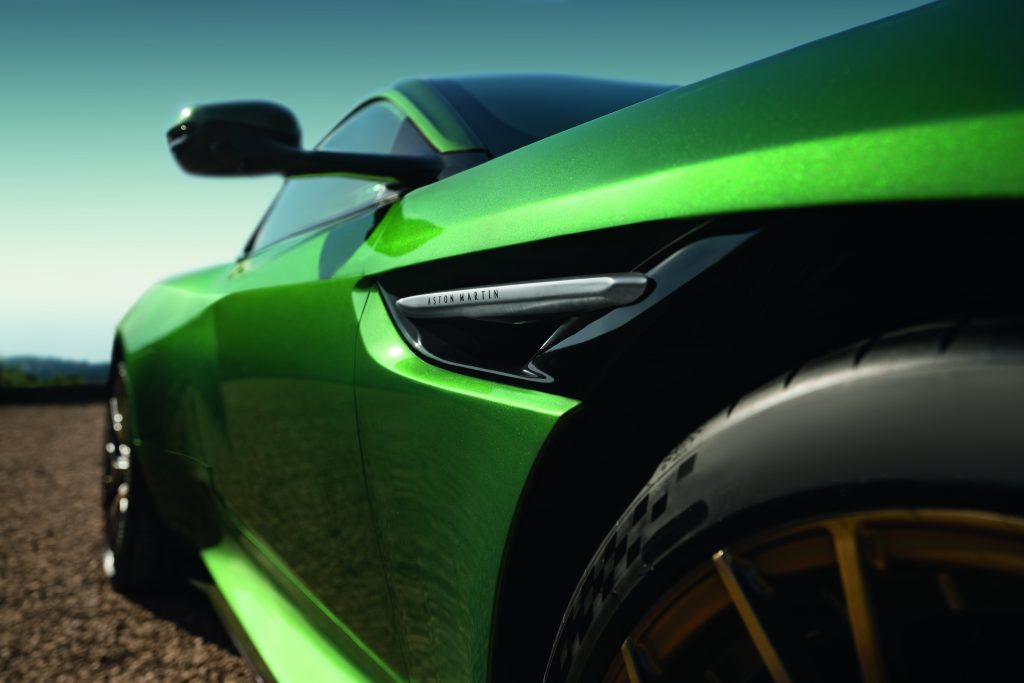 This is no ordinary GT. The DB12 is the world's first Super Tourer and initial deliveries are slated to commence in Q3 2023. Malaysian sales are expected to start soon after.