An ultra rare 1988 Ford Sierra Cosworth RS500 with just 9,656km on its odometer is about to head to the auction block. The Blue Oval only made 500 such cars but only 56 of them came with a white body colour. This is what makes the RS500 that is up for auction, very special.
A similar 1987 RS500 but with twice the mileage, was sold earlier at auction for £115,000 (RM641,460) during the Silverstone Auctions' sale at the Silverstone Classic. Speculators suggest that the 1988 RS500 could sell for about £100,000 (RM557,791) – £115,000 (RM641,460), but considering the car's relative rarity, it may sell for quite a bit more.
Ford developed this road going variant of the RS500 to comply with homologation rules in order for the racing version to compete in the British and European Touring Car Championships. This is the reason why only 500 of them were produced – no more and no less.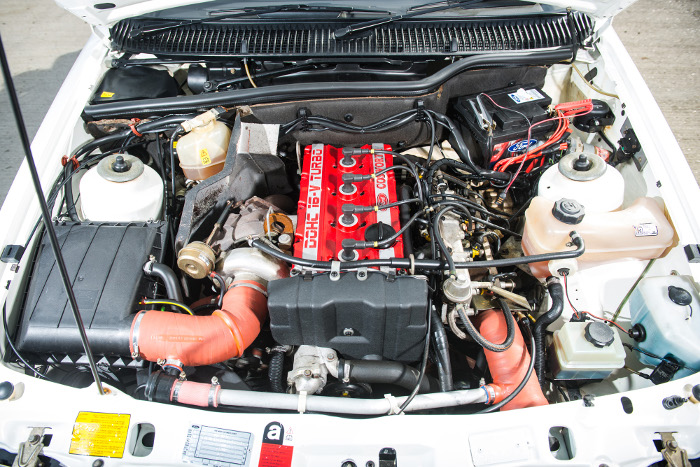 The car was discovered in 2007 by car dealer Joe Macarini in a classic Ferrari collection in Germany. He sold it to a private Ford collector who, after realizing the car's significance, had it stored in a climate controlled storage facility, until now.
It's rarity, low-mileage and the fact that it is in nearly perfect condition, are criteria that lead to cars being auctioned for huge sums of money. And unlike other performance Fords of that era, this one is free from any kind of modification. As such, preparing it for auction only required a service that included the changing of the engine belts, battery and various fluids.
The 1988 Ford Sierra Cosworth RS500 in white is expected to be put on on sale at Silverstone Auctions' NEC Classic Motor Show that will be taking place from 11th – 12th November. There will be a number of other special cars, but this particular Ford will definitely be of interest to many.