Pop-up street interventions are gaining popularity as innovative approaches to rapidly transform urban spaces and enhance street functionality. A recent collaboration between Kuala Lumpur City Hall, Global Designing Cities Initiatives, and Bike Commute Malaysia in front of SK Danau Kota 2 School, Kuala Lumpur, exemplifies this nimble and cost-effective method for improving the safety and aesthetic appeal of city streets while promoting active mobility.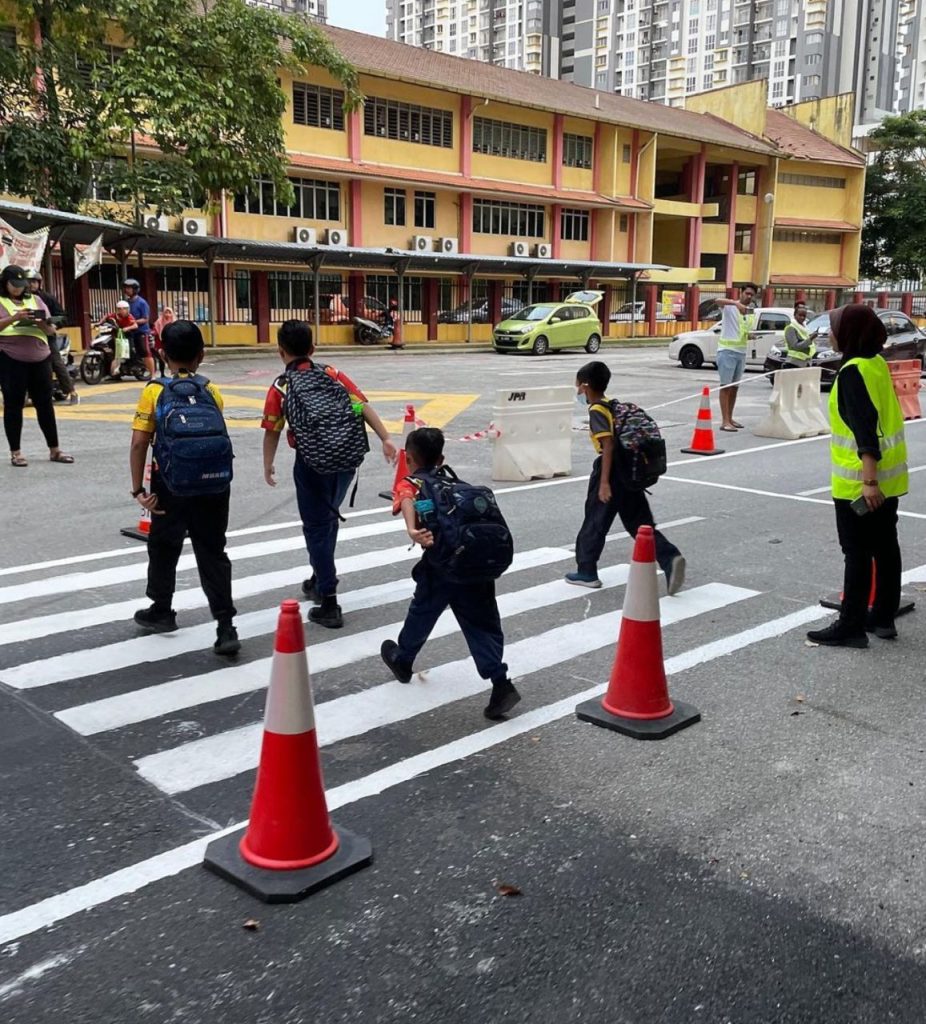 The primary goal of this particular project was to create safer and more attractive streets in front of a school, with a focus on improving the environment for children. Simple materials such as paint, strings, and cones were used to effect a quick and temporary transformation of the area. The advantages of pop-up street interventions include:
Rapid Transformation: These pop-up projects can be implemented within hours, making them ideal for cities seeking quick street safety improvements.
Cost-Effective: The use of readily available and affordable materials keeps costs low, which is crucial for cities with budget constraints. It allows municipalities to experiment with street designs without significant financial investments.
Community Engagement: Pop-up interventions often engage the local community and encourage active participation. Citizens can provide feedback on temporary changes, fostering a more democratic and inclusive approach to urban planning.
Safety Improvements: Pop-up projects help create safer environments, particularly in areas with high pedestrian traffic, such as school zones. Temporary street redesigns can reduce traffic speeds and enhance visibility.
Testing Ideas: These interventions act as pilot programs, enabling cities to test different design ideas before committing to permanent changes. This aids in evaluating the effectiveness of various strategies and collecting data to inform long-term urban planning.
Inspiration for Permanent Changes: Successful pop-up projects often inspire cities to consider permanent transformations based on positive outcomes and community feedback.
Pop-up street interventions serve as adaptable and dynamic tools for urban planners and municipalities to address immediate urban challenges, experiment with innovative ideas, and engage with the local community. The project in Kuala Lumpur illustrates how quick and cost-effective measures can enhance street safety and functionality, particularly in areas prioritising the well-being of children and pedestrians.
You may follow Bike Commute Malaysia on their Instagram for further information.