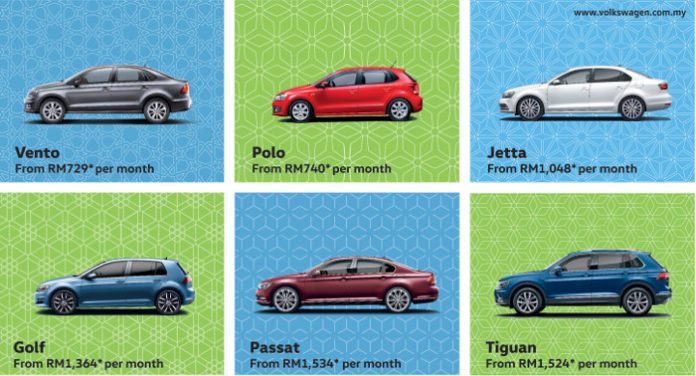 If you are looking to buy a new vehicle to surprise the folks this festive season, Volkswagen Malaysia has you covered. For a limited period, the automaker is offering a number of its models with incredibly low repayment schemes. As such, you are now able to own a VW for just RM25 per day, but you will require to tabulate daily payments to know what the exact figure for monthly payments.
During this festive campaign period, customers can enjoy cash rebates and savings mentioned earlier for the Polo, Vento, Jetta, Golf, Passat Comfortline, Passat Trendline and Tiguan Comfortline. The Polo and Vento are available for RM25 per day which equates to roughly RM700 a month. At these prices, you are saving RM7,000 on the Polo and RM11,000 on the Vento models.
The Jetta is priced at RM35 per day with a savings of RM10,000, Golf is RM45 per day with RM21,000 savings, Passat Comfortline and Trednline are at RM51 per day with a savings of RM15,000 and finally the Tiguan Comfortline is priced at RM51 per day with a savings of RM5,000.
All repayment schemes mentioned earlier are calculated based on a 9-year loan/installment plan. So, for the full details, it would be prudent to speak with a VW sales consultant before making a decision.
For customers to be eligible of this deal, vehicle bookings need to be made within the promotion period and is subjected to VW's terms and conditions as well as stock availability. If you are interested to learn more about these deals, visit the automaker's Malaysia website at www.volkswagen.com.my.