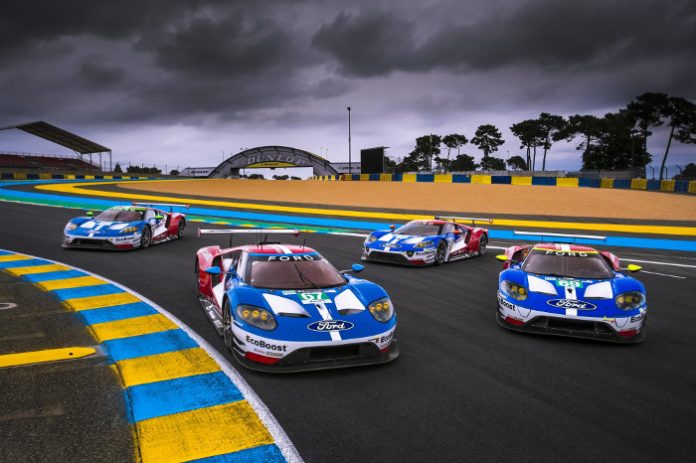 Ford is preparing to defend its Le Mans 24 Hours title with the same four entries in this year's race. These four factory backed Ford Chip Ganassi Racing Ford GT cars will be tasked with bringing home a second consecutive title following its 1st and 3rd place finish in last year's race.
The last time Ford dominated this competition was in the mid 1960s when the automaker managed to bag the Le Mans title four times on the trot from 1966 to 1968. Like the GT40 before it, the current generation Ford GT has proved successful at winning races all over the world with entries in the FIA World Endurance Championship, WeatherTech SportsCar Championship as well as a number of others.
Speaking of the car, Executive Chairman of Ford Motor Company, said, "The Ford GT represents the very best of Ford and our drive for excellence in all that we do. To come to Le Mans last year and win the GTE Pro Class was a huge source of pride for all our employees globally. It shows how, when you pull together, you can achieve remarkable things. We are excited to return to Le Mans to defend our title."
One major blow to the team's morale will be the absence of Sebatien Bourdais who was part of the three-driver team that led the #68 Ford GT to last year's Le Mans victory. Bourdais will miss the event due to an injury that he sustained in an accident during the qualifying round of the Indianapolis 500. Tony Kanaan will serve as his replacement for this particular race and will partner the remaining two drivers, Joey Hand and Dirk Muller and attempt to repeat last year's feat.
The Blue Oval's three driver team for the #69 Ford GT that finished third last year, remains unchanged. Ryan Briscoe, Rhichard Westbrook and Scott Dixon will have high hopes of making it a Ford 1-2 this time instead of the previous year's 1-3 finish. In ten days time, all four teams of drivers will be vying to replicate the success of Ford's glory days with a a complete sweep of the podium positions, but we are sure that the Italian and German heavyweights aren't going to make it easy for them.