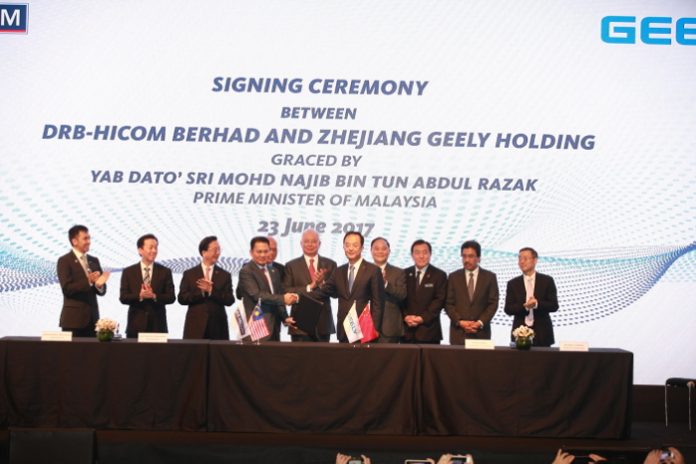 DRB-HICOM Berhad has officially signed an agreement with China's Zhejiang Geely Holding Group (ZGH) for the latter to take 49.9% equity in Proton Holdings Berhad. At the same time, it also sold its stake in Lotus Advance Technology Sdn Bhd to ZGH and Etika Automotive Sdn Bhd.
The signing was presided over by Prime Minister YAB Dato' Sri Mohd Najib Tun Abdul Razak, along with DRB-HICOM Chairman, Brig. Gen. (K) Tan Sri Dato' Sri Haji Mohd Khamil Jamil and ZGH Chairman, Li Shufu. DRB-HICOM Group Managing Director, Dato' Sri Syed Faisal Albar signed on behalf of the Group while An Conghui, President and CEO of Geely Auto Group did the honours for ZGH.
Speaking of the signing, DRB-HICOM Group Managing Director, Dato' Sri Syed Faisal Albar, said, "ZGH, which also owns Sweden's Volvo Cars, The London Taxi Company and the Geely car brand, is the right partner for PROTON. Their success with Volvo and The London Taxi Company, and of course their own Geely marque shows their capability both as a bona-fide carmaker and as a partner. With ZGH on board, PROTON can now eye the huge ASEAN passenger car market with renewed confidence."
Geely, has big plans for Proton because it plans to make the national automaker its ASEAN manufacturing hub for right-hand-drive cars. This will allow Proton access to areas it found difficult to penetrate before as well as enable it to have a better investment for R&D purposes.
Geely is also the parent company of Volvo, which it acquired in 2010 much to the surprise of many. After a significant investment in the ailing automaker's business, Geely helped turn the Swedish marque's fortunes around. In 2016, Volvo recorded an operating profit of $1.25 billion (RM5.36 billion), the highest it has ever since it first started operating in 1927.
Despite the Chinese automaker's significant stake in Proton, DRB-HICOM is still the majority shareholder and is confident that Proton's future as a national automaker is secure and that we can expect things to improve further with Geely's help.
Whether Volvo's success rubs off on Proton remains to be seen, but we hope that platform and technology sharing does take place, which will enable Proton to offer its next generation of vehicles with Volvo engineered technology.