Mercedes-Benz's new pick-up truck is meant to offer the best of both worlds by combining the rugged 'go-anywhere' capabilities with luxuries better suited for more upmarket sedans. Called the X-Class, this pick-up is based on the Nissan Navara, which means it shares pretty much the same wheelbase and similar dimensions with its Japanese sibling.
Much to our dismay, the production version of the X-Class bares very little resemblance to the ludicrously outlandish concept vehicle that was revealed not long ago. The contours are far more conservative this time around, the lines and curves mimic that of the M-Class vehicles, which isn't a bad thing. Around the back, things are pretty docile too, however depending on the trim level that is chosen, the X-Class will come with number of exterior add-ons that will that make it look a little more special.
Overall, the German automaker has done a fantastic job at concealing what is essentially a Navara pick-up by conferring their own design language onto that of the Japanese stalwart. And it will be available in three different variants which are the Pure, Progressive and Power.
The Pure variant is being marketed as a workhorse that will spend most of its days hauling cargo and getting the dirty jobs done while offering a comfortable ride and decent interior. Then there's the Progressive, which is aimed at buyers who want a rugged outdoors vehicle that still has decent styling and creature comforts that are required by business people.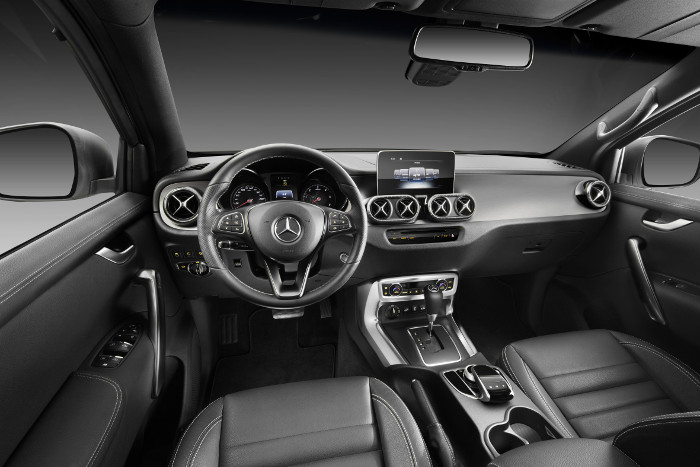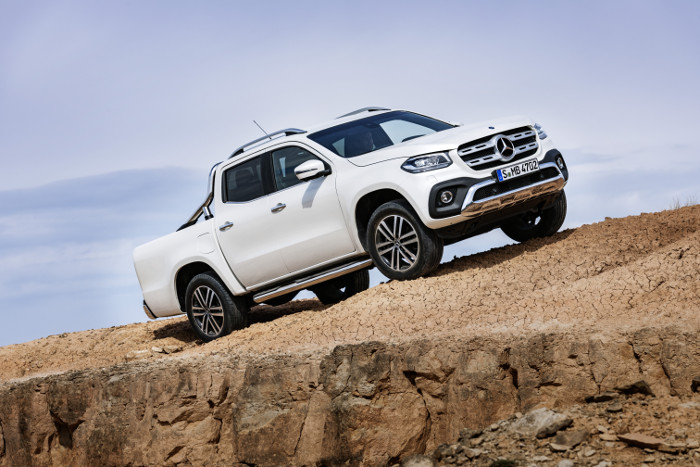 Lastly, the Power variant is the most expensive of the lot and comes loaded with the best kit that is available. It still has the same rugged off-road capabilities but sports more grown up looks – both inside and out. Merc hopes that this variant will attract the execs who want both style and 4×4 abilities.
The X-Class is being offered with two engine choices, a petrol and a diesel one with a displacement of 2.3-litres. However, power outputs of these engines vary depending on the state of tune with the lowest being 163bhp and the most powerful of the lot having 190bhp.
A more powerful V6 diesel will be released next year and it will deliver 258bhp and a colossal 550Nm of torque. Depending on the model, you will also get paddle shifters, engine stop/start function, as well as drive programs that alter engine behavior based on Which you choose: Comfort, ECO, Sport, Manual and Off-road.
These engine can be mated to either a 6-speed manual or a 7-speed (7G-Tronic Plus) automatic transmission. Buyers can even opt to have either all-wheel-drive or rear-wheel-drive configuration. Basically, its a vehicle that has been designed to appeal to a variety of needs and wants especially to those who want a luxury pick-up truck rather than a humble workhorse.
The suspension features MacPherson struts upfront and multi-link rear as well as a 1,632mm front and 1,625mm rear track, which is much wider than what its competitors are able to offer. At 3,150mm its got a significantly longer wheelbase, shorter front and rear overhangs as well as 202mm ground clearance, making it an ideal vehicle for off-road excursions.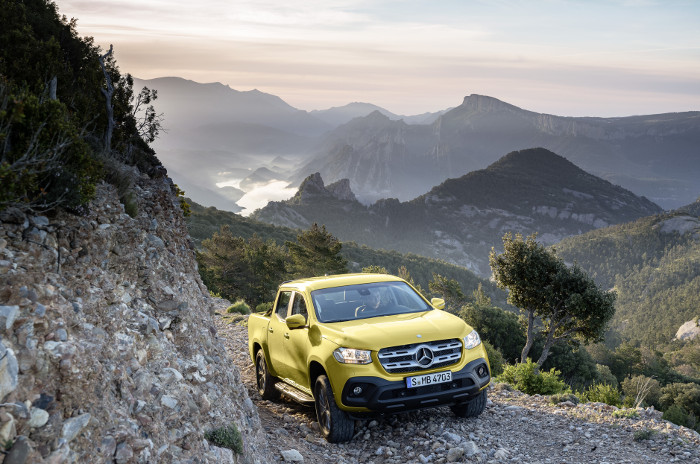 Inside, things are far more pleasant. The leather upholstery and leather stitched steering wheel give the cabin a luxurious ambiance, something that's to be expected of the automaker. The seats come with lumbar support, which makes it easier on your back and should make for a more plient ride quality.
There's also the COMMAND infotainment, touch controls and crisp LCD display. Everything is laid out pretty wheel, making it feel more like an M-Class rather than an X.
Just like other Mercs, this one is equipped with a slew of safety tech that include Active Brake Assist, Lane Keeping Assist and Traffic Sign Assist, Trailer Stability Assist, as well as giving drivers live traffic information.
Check out the extensive picture gallery below to know in detail whether upcoming Mercedes-Benz pick-up truck appeals to you.