Ford has introduced a new feature that might help Mustang owners be less 'quieter' when arriving or leaving their homes. It helps lower the audible volume of the raspy exhaust notes emanated by the V8 equipped Mustangs, enabling owners to go about their activities without announcing their intentions to the entire neighborhood.
It's called the Quiet Exhaust Mode, which is available on the latest Mustang that is equipped with the active valve performance exhaust system. It can be activated through the car's infotainment system – offering three audible exhaust levels namely, Quiet, Normal, Sport and Track.
"Active valve performance exhaust gives Mustang owners the best of both worlds – that classic Mustang sound, and the ability to not wake up your neighbors when you leave the house early in the morning or arrive home late at night," said Matt Flis, Ford exhaust development engineer.
Also referred to as the 'Good Neighbour Mode' this addition to the Mustang line-up should refute the stigma that plague decent Mustang owners – obtuse driving etiquette. It will also allow them to enjoy the vehicle without disturbing the peace and activating about a dozen car alarms.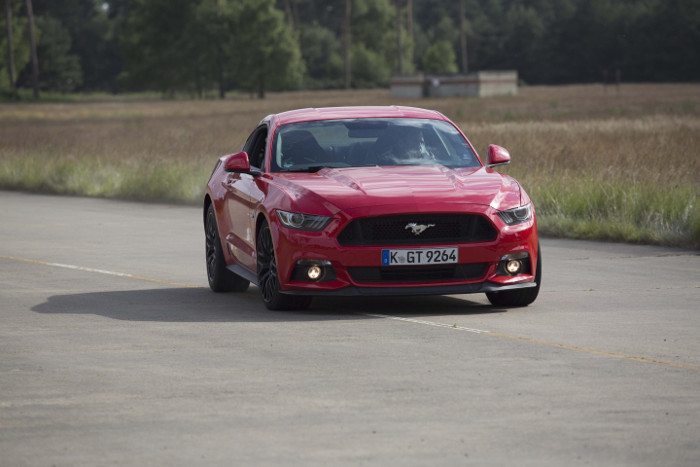 It's inception is a result of first hand experience by Steve von Foerster, former head of vehicle engineering for the Ford Motor Company. Apparently, Steve ruffled a few feathers when he drove his Shelby Mustang GT350 out of his driveway one morning. The loud and aggressive roar of the Mustang's Coyote V8 maybe music to our ears, but his neighbors of the quite suburb, were more than perturbed.
One of them phoned it in to the Police, requesting law enforcement deal with the disturbance. Steven was long gone by the time the cops come and as such, escaped being ticketed. But this goes to show that you can't really trust your neighbors to be tolerant with your way of life.
The video below was published by Ford to demonstrate the night and day difference that the new Quiet Exhaust mode feature has on the Mustang's exhaust note. And going a step further, the company has also introduced Quiet Start, which adds on another layer of stealth.
This feature enables drivers to schedule a time for when they require the engine started so as not to inconvenience their neighbors. Owners can set a time between 8pm and 7am to have this feature activated. Working together with the Quiet Exhaust mode, most people won't notice that they live right next door to the most advanced muscle car that Ford has ever made.
Apart from the exhaust system, Ford has equipped the new Mustang with a restyled exterior design and refined interior, Mustang will offer an all-digital 12-inch instrument cluster, a 10-speed automatic transmission, MagneRide damping system and SYNC® Connect with FordPass.
Check out the videos and picture gallery below and let us know what you think of these new additions to the new Ford Mustang.