Aston Martin has revealed the final two cars of its Zagato family. As the name emplys, all four have been designed by the world renowned design house, Zagato. They are based on the Vanquish S and feature unique styling that differ from that of the regular Aston Martin cars.
The Vanquish Zagato Coupe and Volante were introduced last year with a limited production run of 99 cars each. According to the automaker, the order books have already been filled and customers can expect to get their cars by 2018.
What many will find most intriging about this news however, is the introduction of the Zagato Speedster and Shooting Brake. The latter is rather unusual because it breaks convention and may have purists up in arms. Though it and the Speedster retain the same basic design of the Volante and Coupe models, their rear quarter sections are where things get interesting.
The Shooting Brake is still considered a two seater GT and is said to offer an airy experience thanks to the large rear hatch. The Roof's lines flow smoothly from front to rear without distortion or disruption to the suave silhouette.
Since all four are based on the same car, the Speedster shares a similar design to the Volante and Coupe safe for the double bubble rear roof. Though this many not be to everyone's taste but the subtlety of the design allows for a more uniformed finish.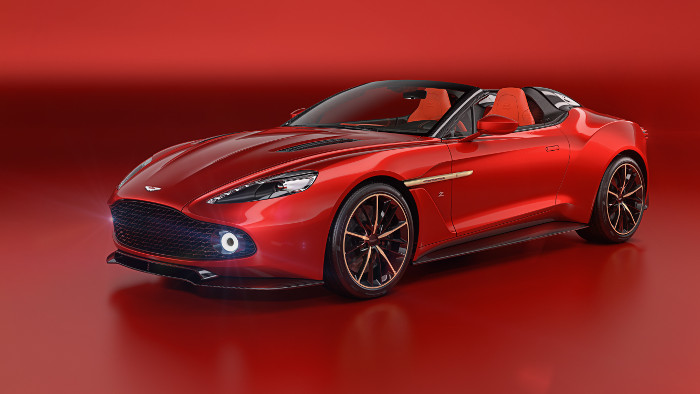 Aston Martin has limited the production of the Speedster to 28 cars in total, which is significantly less than the 99 car limit for the other three. This makes it a rare Aston and one that will probably become a collector's item.
Though each car has its own individual styling that make it unique when compared to the other three, all share certain similarities which include the Vulcan inspired 'blade' tail lights, 3D Cagato 'Z' motifs in the front grille and rear vent meshes.
Andrea Zagato, CEO of Zagato said of the enduring creative partnership: "Zagato's relationship with Aston Martin began with my grandfather and the DB4 GT Zagato, almost sixty years ago. To have a creative 'marriage' thrive for three generations is something as unique as the cars themselves."
All four get the Vanquish S' near 600bhp V12 engine, which is mated to a Touchtronic III transmission. Thanks to adaptive damping, rigid body structure and a balanced suspension setup, the cars will be able to offer a good amount of driving pleasure.
Check out the relatively large picture gallery below and let us know your thoughts on the newly introduced Zagato family of four.