Ariel, the boutique sports car maker that was responsible for the lightweight supercar killer known as the Atom, is currently developing a new vehicle called the P40. Unlike the outrageously fast Atom, the new vehicle isn't primarily aimed at track day enthusiasts.
Rather, its for those who want a performance car that can be hooned about on a circuit for a brief period of time. After about 15 minutes of on track action, the P40 will require about 30 minutes for it to recharge its battery pack, which hampers the hopes of practicality, somewhat.
According to a report by Autocar UK, Ariel's newest superstar will have a very different propulsion system compared to its current crop of vehicles. Touted as an electrified vehicle, it will feature electric motors and a turbine range extender that will help supply electricity when it's battery pack is depleted of charge.
Built on an aluminum chassis, the car will be offered as either a rear-wheel-drive or 4×4 model with the former being the less powerful of the two. The latter is said to have nearly 1200bhp and 1800Nm of torque. This is ludicrous for a vehicle that weighs a relatively light – 1600kg.
Thanks to torque vectoring and traction control, the power that is sent to the wheel should be manageable. But that is still a colossal amount of power that Ariel expects to reach the road via four narrow strips of rubber that it calls – tyres.
The rear-wheel-drive P40 will be powered by two electric motors and a 56kWh battery. Oddly enough, the more powerful 4×4 model will have four electric motors with juice being supplied by a smaller centrally mounted 42kWh liquid-cooled battery pack.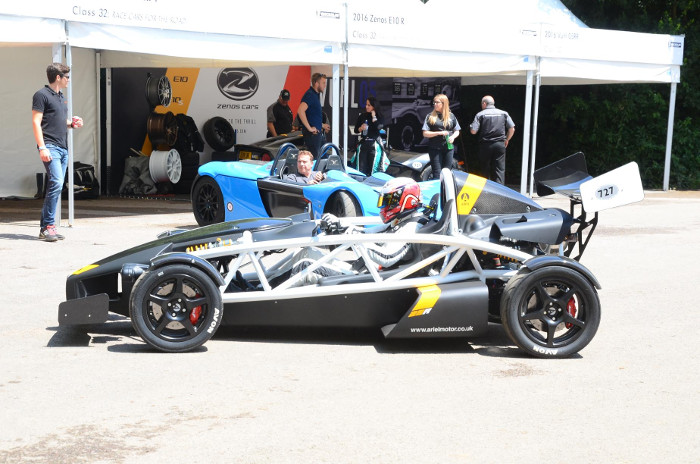 The logic behind this is still unclear but we suspect that it may have to do with weight distribution and making the car as light as possible. Like Lotus, Ariel resort to extreme methods when it comes to saving relatively small amounts of excess wight.
Their vehicles are built with the concept that, less is more. This is extacly why the Atom has a chassis that closely resembles that of crudely put together bits of scaffolding. Though functional, one can't help but wonder whether the lack of bodywork on the sides were really necessary.
Slated for release in 2020, the P40 should be a highly anticipated vehicle when launched but we would like to reserve judgement till we witness the turbine range extender function under real world conditions.
Source: Autocar UK