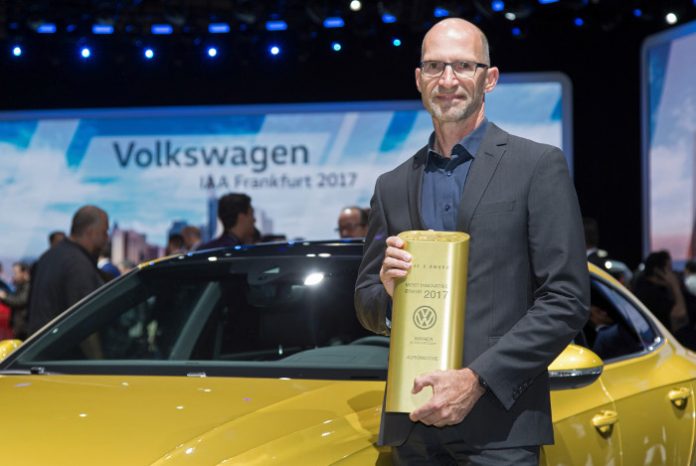 Volkswagen has been named 'Most Innovative Brand 2017' by a panel of judges for the Plus X Award at the Frankfurt International Motor Show (IAA). It is one of the leading innovation awards worldwide for technology, sport and lifestyle.
Klaus Bischoff, Head of Volkswagen Design, collected the top award on behalf of Volkswagen. Though not the only prize bagged by the brand, it is probably the most prominent of the lot.
The award is presented to brands in recognition of their products'
qualitative and innovative edge. Besides this, a number of VW models managed to win in their respective categories for the Plus X award. These vehicles include:
D.BUZZ as "Automotive Concept Vehicle of the Year 2017"
The Golf as "Compact Passenger Car of the Year 2017"
The Atlas as "SUV of the Year 2017"
The Arteon as "Saloon of the Year 2017"
In addition to picking up Saloon of the Year, the Arteon was also awarded the 'Best of Best' top ranking in the the categories "Exterior and Interior Volume Brand" in this year's "Automotive Brand Contest".
According to the jury that was responsible for handing VW the plethora of awards, "In the Arteon, the designers from Wolfsburg have embodied the shape of the future in a series production vehicle with exceptional aplomb."
"They have combined the design elements of a traditional sports car with the elegance and space of a fastback while at the same time managing to incorporate many of the concept car's innovative stylistic features and design details into the series production vehicle, " they added.
Despite the dark clouds that have loomed overhead these past few years, Volkswagen seems to have pulled its act together and is on its way to better times. If the latest string of awards are any indication of the company's future, it's safe to say that VW is back on top.