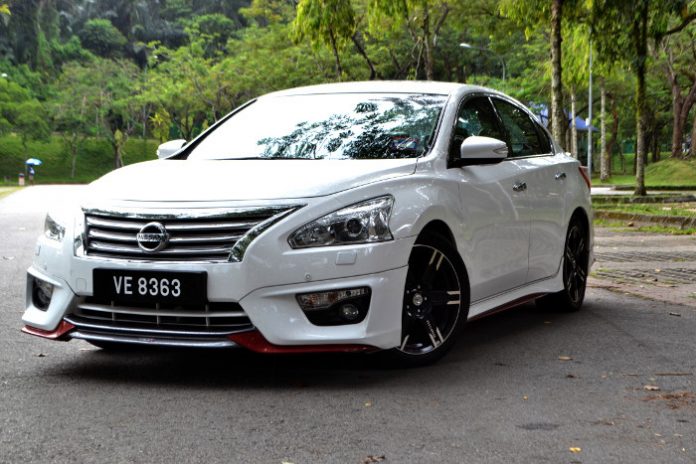 Automakers churn out D-segment luxury cars to cater to customers who appreciate decent legroom, acres of leather and steady road holding. Such vehicles take up the entire width of a road lane, which isn't ideal, especially when squeezing past cars that are double parked on both sides of the road.
Like other vehicles, these barges are governed by the laws of physics and common sense. And based on this understanding, comfort and sporty handling, in this case atleast, are both mutually exclusive. Unfortuntely, Nissan wasn't informed of this, and as such, went about creating a sporty D-segment car for the masses.
The automaker took its executive level sedan, the Teana, and gave it to its performance gurus at NISMO. The name is an acronym of the automaker's tuning arm, called Nissan Motorsport. Similar to what AMG is to Mercedes-Benz, so is NISMO responsible for turning regular run-of-the-mill cars into impressive machines.
Vehicles that have been given the NISMO treatment, differ greatly in terms of performance from that of the ones that they are based on. And they have pulled it off with the Teana, effectively making the term 'performance luxury car' less of an oxymoron. Don't ask me how, but Nissan has managed to grab a rabbit out of the hat with this one.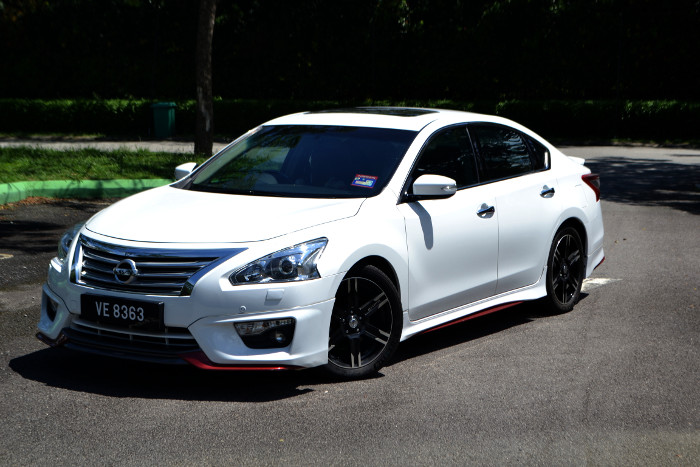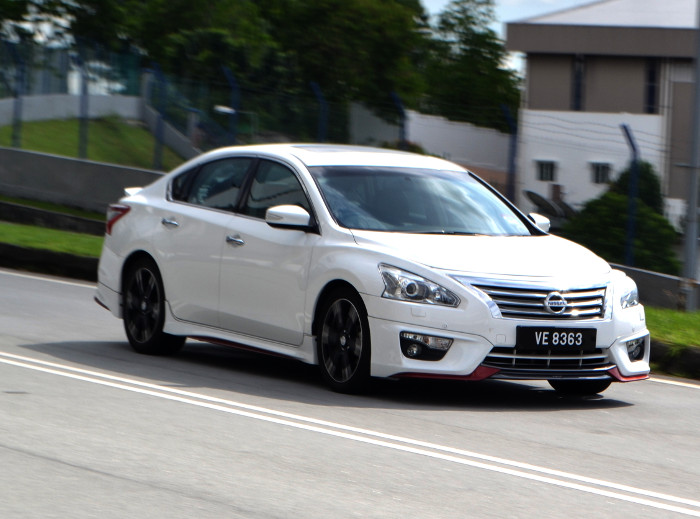 I was skeptical of the idea of a D-segment car being sporty. It's an unnatural notion, one that can be likened to seeing a two-headed whale. The reasoning behind it is, big cars are heavy and slow to react to a driver's input. Miraculously however, this isn't the case with the Nissan Teana 2.5 XV NISMO. In fact, its a damn good vehicle, period.
Nissan may have gone overboard with the spoiler kit though. The massive front spoiler adds length and girth to the front bumper. It protrudes a few centimeters at the bottom and sides, which increases the risk of getting it scuffed when making sharp turns or dealing with steep inclinations.. Besides this, the car's front overhang is slightly longer than the standard one.
The same is true for the rear as well, NISMO gave it the same dark grey spoiler with red pin-striping. This coupled with the fact that the car has an off-white body colour, provides an illusion to its overall size – the car feels far bigger than it actually is.
But the beauty here, is in the way it was crafted. It doesn't feel tacky or boy-racerish. Instead, it lends credence to the idea of a sporty luxury car. Topping it off, is the NISMO tuned suspension, which not only reduces the overall ride height, but alters the vehicle's driving dynamics in an immensely fun way.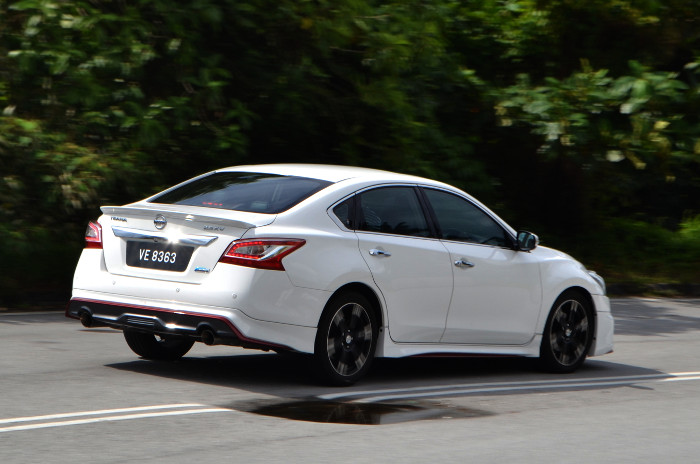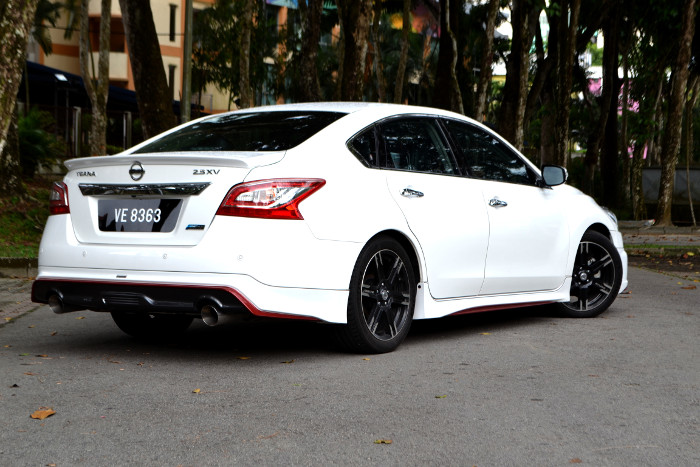 Its driving dynamics isn't the same as the regular base car. It rides 20mm lower due to the sports suspension and feels far more planted. Quick and brisk maneuvers are dealt with fairly easily. The body remains hunkered down and composed even when meandering past b-roads. This secure feeling gives you the confidence to take more daring risks.
Backed by a powerful 2.5-litre engine, the car is able to punch well above its weight. the Linear torque delivery right up to the redline leads you into believing that it can take on anything south of a proper sports car. It never leaves you wanting for a lack of power, instead it serves up dollops of it with a mere prod of the throttle pedal.
Though it's mated to a CVT gearbox, overall drivability is decent, and the performance is devoid of needless thunks and clunks that are considered as par for the course of regular slush boxes. Mind you, its no match for a DCT, lightning quick shifts are something that is alien to a car like the Teana, but that suits me just fine.
Having said that, the electric steering lacks feel and rarely invokes any semblance of confidence or sure footedness when making brisk turns. It isn't a deal breaker, but for those who require pin-sharp response, this isn't the car for you. Then there's the infotainment system that has been somewhat long in the tooth since 2014.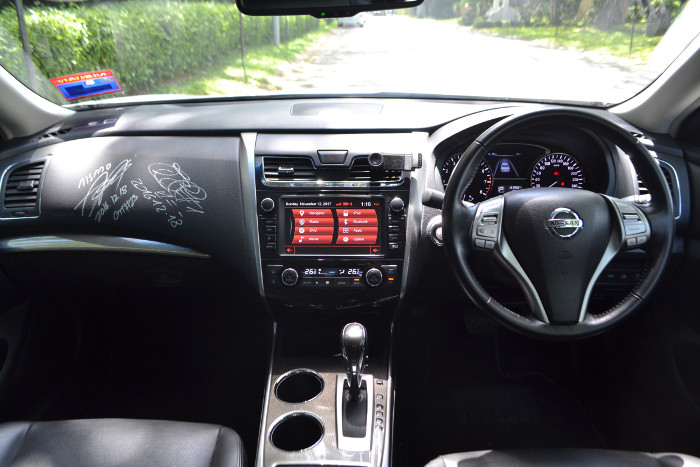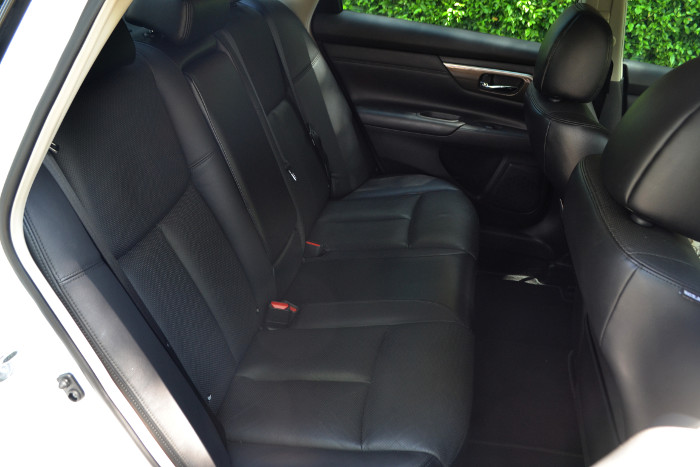 Controls and navigation buttons seem counter intuitive at times but are overall still usable. Newer setups require less interaction to yield the required results. That said, it is still usable and feature rich. This is one of the few qualms that I have with the car and that ruins an almost perfect experience.
See, I wasn't expecting much going in to this. I expected to receive mediocre handling coupled with a harsh ride quality, but the contrary was true. The Teana was able to cope with my demands with good composure, and the ride quality, though a bit stiffer than the standard car, was able to soak up road undulations pretty well.
If you are looking for a decent sized vehicle that fits the needs of your job and family, this car should be on your shortlist. It performs well and is able to offer a good blend of comfort and sporty handling characteristics.
Piston Review Rating: 8/10
Nissan Teana NISMO Specifications
Engine: 2.5 XV Twin CVTC
Transmission: CVT
Horsepower: 170bhp
Torque: 243Nm