In line with the Government's Sales and Service Tax (SST) implementation effective 1st September 2018, Edaran Tan Chong Motor Sdn Bhd (ETCM), the sole distributor of Nissan vehicles in Malaysia, has announced the new pricing for its Nissan models inclusive of 10% Sales Tax.
Nissan Almera, Grand Livina, Serena S-Hybrid and X-Trail will be priced ranging from RM 69,800 to RM153,800*, and are lower compared to the Goods and Service Tax (GST) price structure, whereas for the Nissan Navara, the pickup's price will remain at current 0% GST price while stocks last. This ranges from RM 77,330.97 for the 2.5L Single Cab to RM 119,869.08 for the fully loaded VL Plus (Double Cab). After-sales services by Tan Chong Ekspres Auto Servis Sdn Bhd (TCEAS) will be subjected to a 6% service tax for labor charge.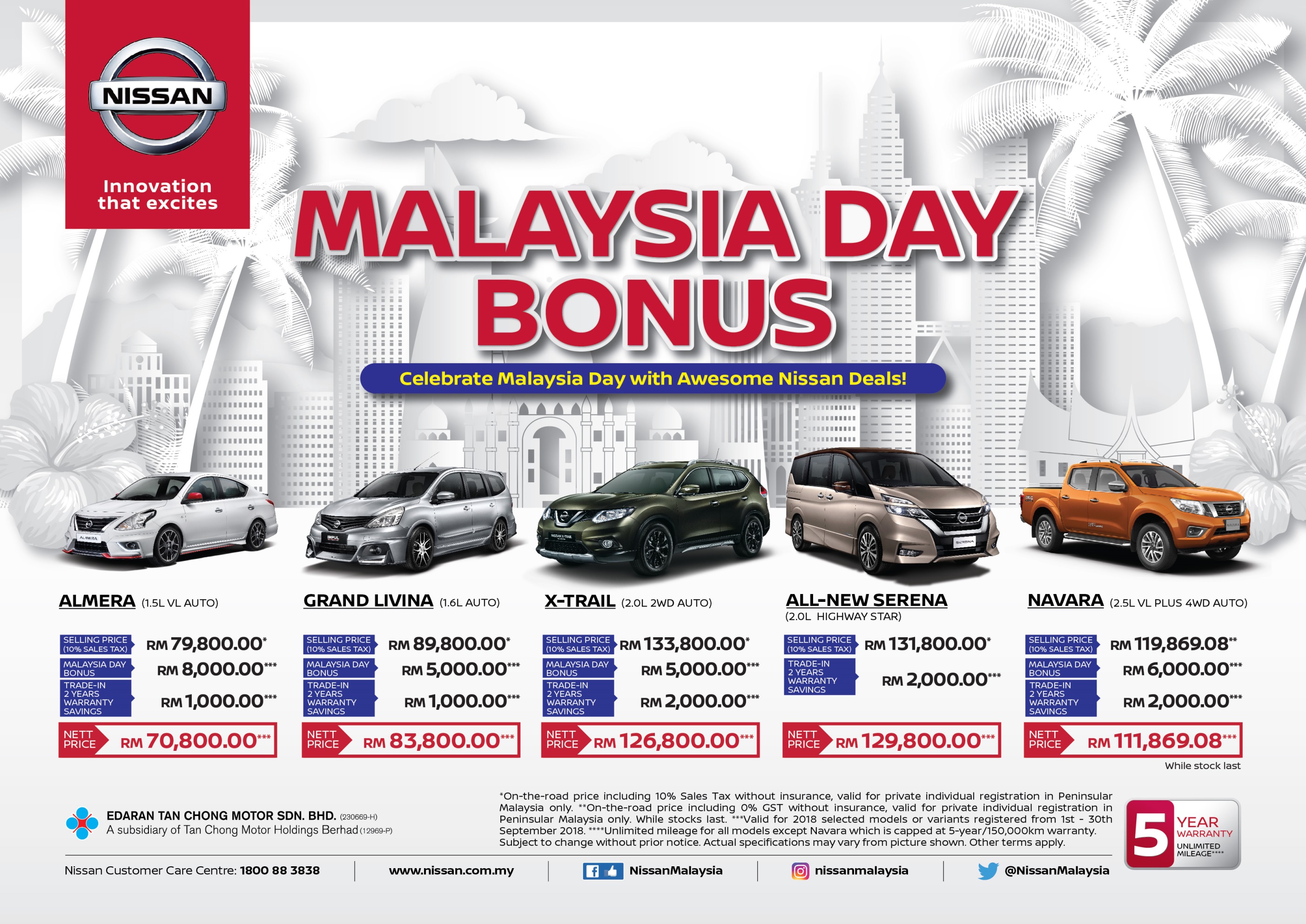 ETCM also introduced its 'Malaysia Day Bonus' campaign with attractive rebates up to RM 8,000* for selected Nissan models. Members of the public are invited to test drive the recently launched Navara VL Plus with Intelligent Around View Monitor (I-AVM) and other innovative Nissan models at any Nissan showrooms across the nation.
Below are the new Nissan prices with SST, compared to when 6% GST was in effect…
Model
Variant
OTR Price with

6% GST (RM)

New OTR Price with 10% Sales Tax (RM)
Price Difference

(RM)

Price Difference (%)
Almera
1.5L E AT
72,200
69,800
(2,400)
– 3.3%
1.5L VL AT
82,000
79,800
(2,200)
– 2.7%
Grand Livina
1.6L AT
91,100
89,800
(1,300)
– 1.4%
1.8L AT
102,800
99,800
(3,000)
– 2.9%
Serena

S-Hybrid

2.0L Highway Star
135,500
131,800
(3,700)
– 2.7%
2.0L Premium Highway Star
147,500
143,800
(3,700)
– 2.5%
X-Trail
2.0L 2WD
137,000
133,800
(3,200)
– 2.3%
2.5L 4WD
159,200
153,800
(5,400)
– 3.4%
*Terms & conditions apply, for more information, visit www.nissan.com.my or call ETCM's Nissan Customer Care Centre at 1800-88-3838.