The purpose of the Movement Control Order (MCO) has been to limit movement of people so as to cut back the transmission of the COVID-19 coronavirus. Close contact allows the virus to spread and from just one infected person, hundreds more can be infected.
Today would have been the last day of the Movement Control Order (MCO) which was introduced on March 18. It has been tough on many people, especially those with small businesses that are very dependent on daily earnings. Everyone thought that it would be for 2 weeks and then the MCO would end and life would go back to 'normal'.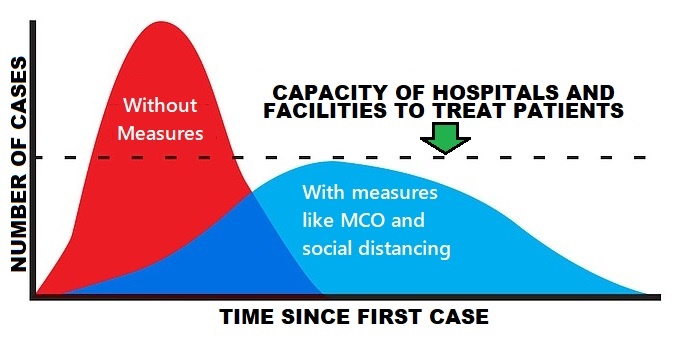 But the numbers have continued to rise and even though we don't have the frightening exponential increases in cases and deaths like in Italy or Spain, the fact remains that the 'curve' has not been flattened. This is the graphic representation of the number of cases and measures like the MCO and social distancing are meant to flatten the curve so that the number of cases can be lowered and the hospitals can then cope. In some other countries, the hospitals have been overwhelmed that doctors are facing the dilemma of who gets life-saving equipment and who does not and is likely to die.
We are actually luckier than people in other countries which have lockdowns and strict enforcement by police and soldiers. The MCO requires people to remain at home but it is still 'reasonable' in that those who are in need of food, additional essential supplies or medicine can still travel. They can go to get what they need and must then return, not wander around town and enjoy the empty roads.
Yet there have been stubborn people who just do not understand how important following the MCO is. According to the authorities, they are about 3% of road-users but these 3% have made things worse for the rest of us. The extension of the MCO by another 2 weeks is not necessarily their fault as the situation has been difficult to overcome, though it has been said to be 'stable' with 150 to 200 new cases daily. But because of the indifference and stubbornness of those 3%, we will all face stricter controls from tomorrow.
The National Security Council has given assurance that there will not be a curfew although operating hours for supermarkets, grocery shops, convenience stores and petrol stations will be limited to between 8 am and 8 pm. The same applies to places selling food which have not been permitted to allow customers to eat on their premises; they can only offer takeaways or cater to orders sent by food delivery services.
So it is almost like a curfew and between 8 pm and 8 am, there should be no reason to leave your home unless you have a real emergency – like your wife is about to give birth or your grandfather is in urgent need of medical attention.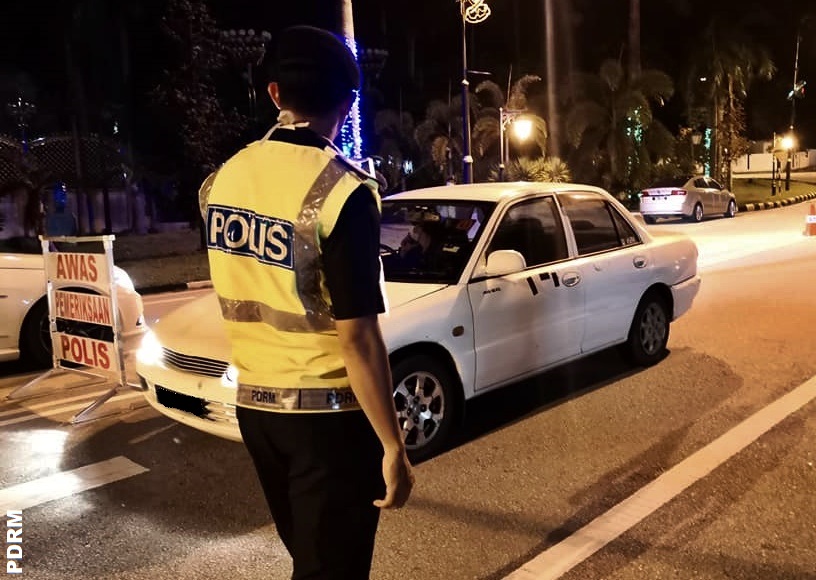 There are already restrictions on interstate travel but within towns and cities, things have been relaxed but it has been found that some people abuse the freedom permitted. For instance, some people from Penang island said they wanted to go to the mainland to buy groceries or their 'favourite food'! As a result, the police will now limit the distance that can be travelled and if the destination is far away, you will be asked to turn around and find a store nearby.
Besides the restriction to one person in the vehicle doing the errands, the police will also check on temperatures of the drivers. Anyone found to have a fever will be immediately held back and send for screening. In this way, some of those who are carriers of the virus can be stopped from spreading it to others.
Red zones – areas with a large or sudden increase in cases – have been identified and the new strategy is to close off these areas. They may be whole districts like the one down in Johor or they may be a condominium complex like Menara City One in Kuala Lumpur. Residents are placed under an 'Enhanced Movement Control Order' which will make things unpleasant for them as they cannot leave at all.

To manage things better, the police are also closing off some roads and filtering vehicles into specific channels for easier checking. More roadblocks will be set up so if you think you can get by one with your 'story', the police at the next roadblock might not accept it.
Terengganu is also considering a new approach using car numbers as eligibility for travelling. The idea to reduce traffic numbers was to have vehicles with numberplates ending with odd numbers allowed on one day and even numbers only on the next day. However, the plan which was to have started tomorrow has been postponed pending further study.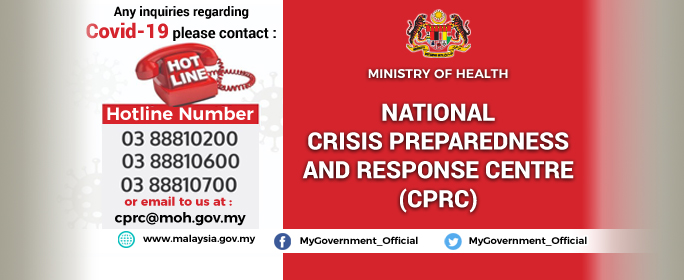 Details of new procedures that will be stricter will be announced tomorrow, according to Senior Minister Datuk Seri Ismail Sabri Yaakob. Meanwhile, Dr. Noor Hisham Abdullah, the Health Ministry's Director-General whom you see giving a briefing every day, has urged Malaysians to be more disciplined and abide by the MCO.
"It is really up to us. If all of us can come together as one, and stay at home, we at the Health Ministry can continue with public health activities and carrying out active case detection. We can increase testing and finding targeted groups, we test them and isolate them early. Then we can break the chain of Covid-19," he said, adding that another extension of the MCO after April 14 would only be made after assessing the situation during the first week of April.
So please abide by the regulations and stay at home unless you have a valid reason to venture out. This is not a situation affecting just people in one city or state, it is nationwide and all Malaysians are having to go through it.