An all-new Kia Carnival (also known as Sedona in some markets) has been revealed, marking the beginning of the fourth generation of the brand's flagship MPV. Based on Kia's new midsize platform, the Carnival has been dubbed a 'Grand Utility Vehicle' and is said to offer more refinement, efficiency and space compared to its predecessors in the model line which began in 1998.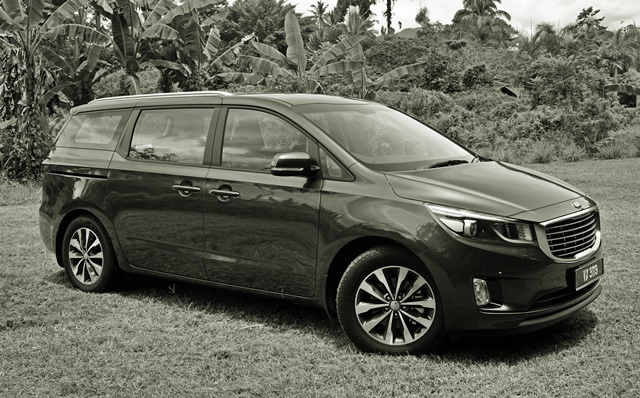 "The Carnival has been well-regarded by buyers for a long time and has become Kia's flagship family-friendly vehicle. The fourth-generation Carnival is a significant new vehicle for us, as it demonstrates every strength that makes Kia so popular around the world," said Thomas Schemera, Head of Product Division at Hyundai Motor Group, which Kia Motors has been part of since 1998.
"It improves the quality, versatility and usability of its predecessors, while making travel far more relaxing and more enjoyable for families. With a sophisticated design and cutting-edge technologies to provide owners greater value in their daily lives, the new model solidifies Kia's role in the minivan segment. It is a 'Grand Utility Vehicle' that sets a new standard for MPVs," he said.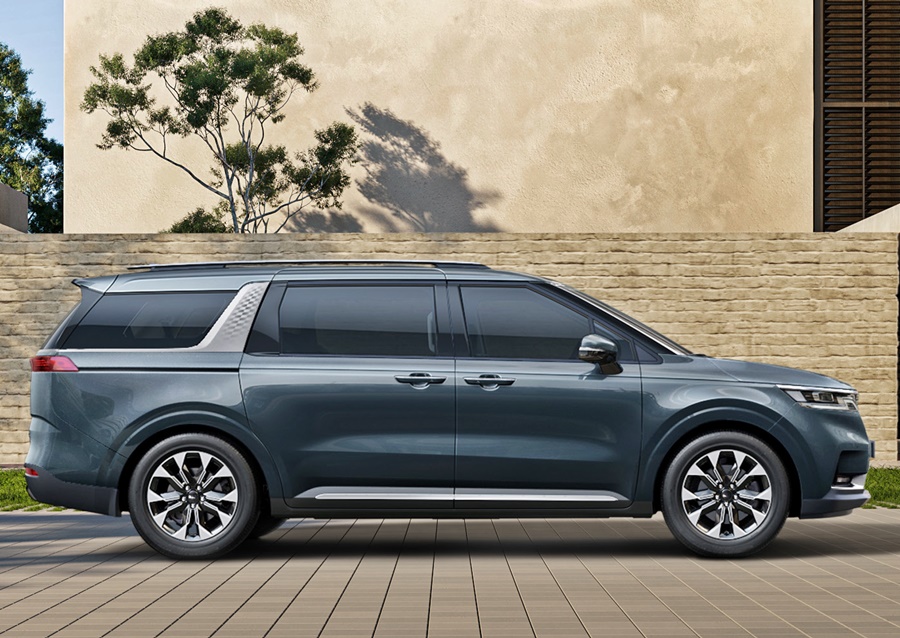 SUV-inspired form
The new Carnival represents a design evolution for Kia's flagship MPV and its SUV-inspired form and surfaces bring a stronger, more stylish presence to the MPV segment as a result. "The design of the new Carnival presents a concept focusing on two essential points. First, as a minivan with a great exterior design that feels like a premium SUV; second, maximized interior space satisfying our customers' needs, and maybe even surprising them with more intuitive and positive experiences," explained Karim Habib, Senior Vice-President and Head of Kia Global Design.
"The new Carnival's design has a great sense of solidity with a stable stance and powerful proportions. Detailed and futuristic elements further amplify its confident presence. We believe the all-new Carnival will be a fantastic looking vehicle and a great partner to our customers' lives."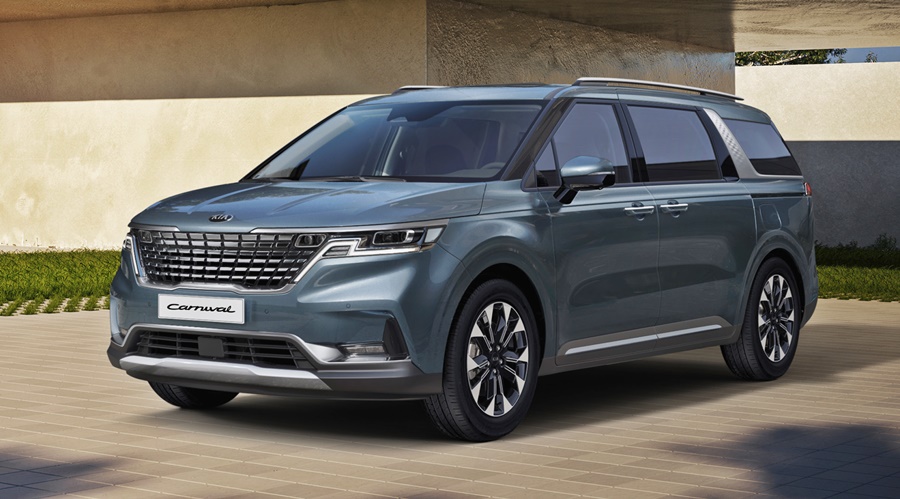 Compared to the outgoing model, the new Carnival has a shorter front overhang, with the base of the A-pillar moved backwards to create a longer bonnet. The new 'tiger-nose' design spans the width of the vehicle, integrating LED daytime running lights (DRLs), headlamps and grille, giving a futuristic new look and unique light signature. The sculpted bumpers and lower air intake at the front are matched with metallic trim and a black lower bumper – a treatment evident on the brand's SUVs.
A single character line runs the length of the MPV, with bold wheel arches and sharp lines giving a more modern, sculpted appearance. A key design highlight is its new 'island roof' design, with blacked-out A- and B-pillars beneath a body-colored roof. An eye-catching new C-pillar signature design also stands out, with a chrome fin bearing a subtle diamond pattern. Another element of its SUV-inspired design is the metallic lower skidplate at the rear.
Longer wheelbase, more cabin space
Its increased wheelbase contributes to greater space throughout the cabin which is based on the concept of 'Spatial Talents'. Besides roominess, combined with a sense of modernity and style, the interior has higher quality than its predecessor, with a futuristic new cabin.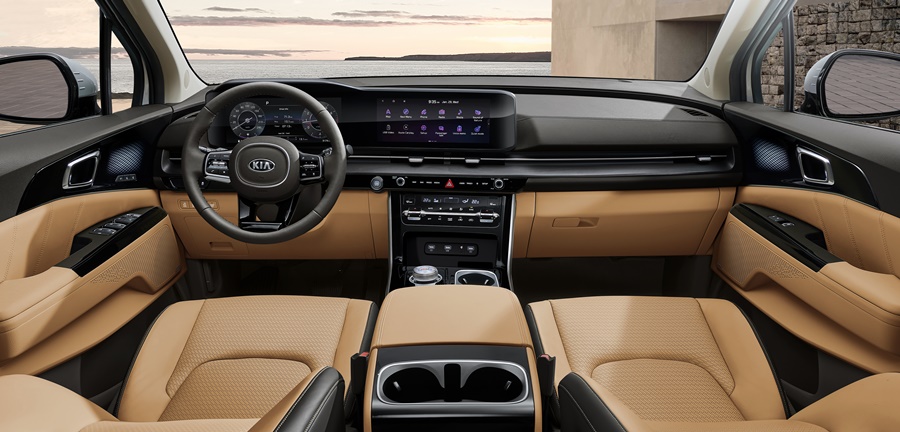 The hub of vehicle connectivity features a high-tech twin digital display. This links Kia's latest 12.3-inch digital driver instrument cluster and 12.3-inch touchscreen infotainment and navigation system under a single seamless piece of glass. The dual-screen display creates a panoramic, widescreen user experience, with many infotainment functions controlled via touch-sensitive buttons around the screen.
There is a similar haptic control panel further down the center console for climate control. A compact shift-by-wire dial for the transmission is located at the base of the centre console, freeing up space and falling easily to hand. The infotainment system also enables users to connect two smartphones via Bluetooth at the same time, enabling separate phones to be used for phone calls or media.
A new 'Rear Passenger View & Talk' feature enables front passengers to check on rear-seat occupants with a small camera linked to the infotainment system, instead of turning around in their seat. It also lets front occupants communicate more easily with other passengers, as the system amplifies their voice through the rear-seat speakers. Should front occupants allow, a new 'Rear Passenger Voice Recognition' technology also lets occupants in the second row issue voice commands to control the infotainment system.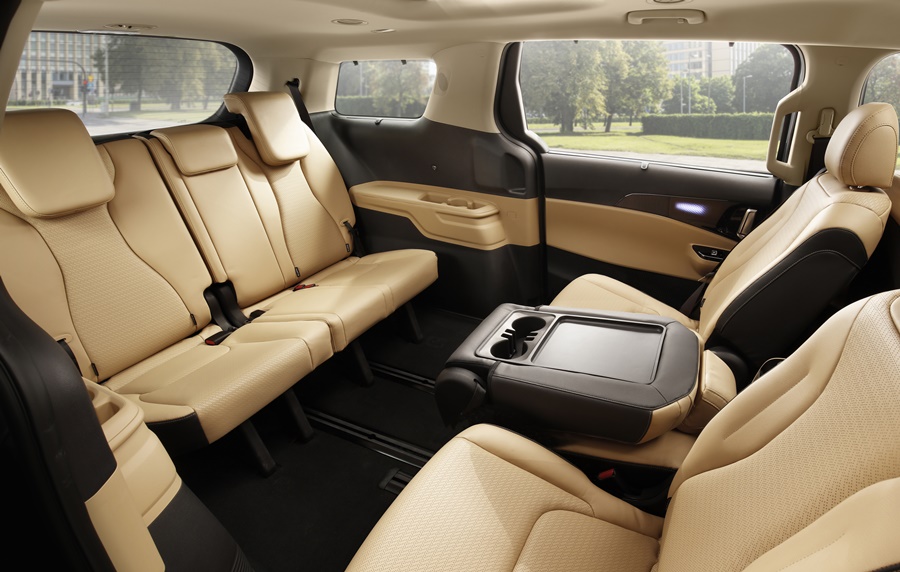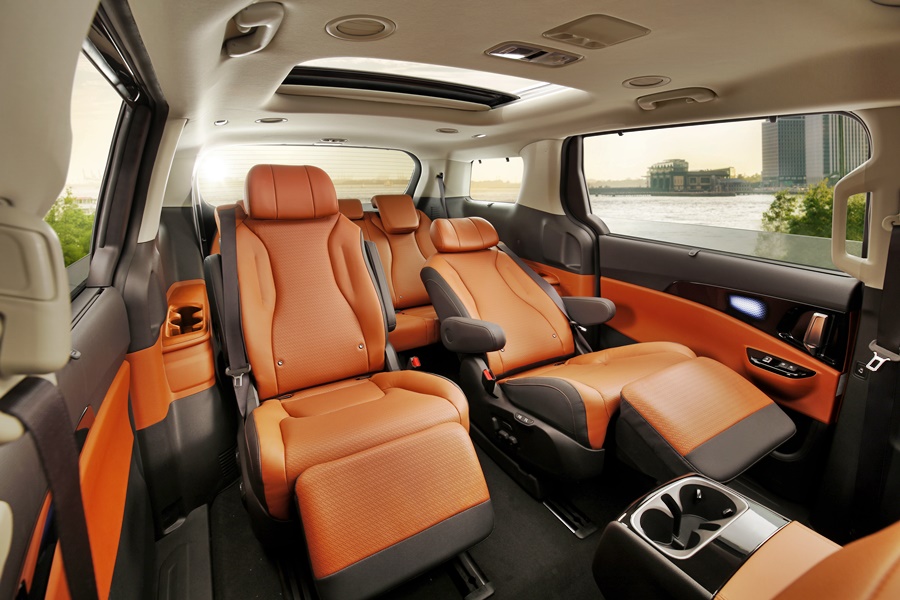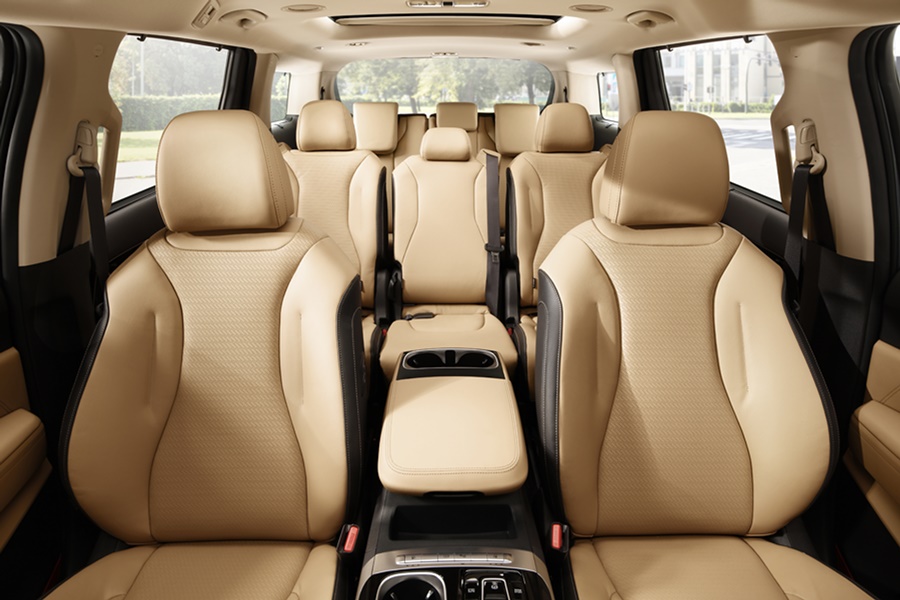 Depending on the market, the Carnival can have three or four rows of seat, with space for up to 11 occupants. This is possible with the 30 mm longer wheelbase (up to 3090 mm) and 10 mm wider body (up to 1995 mm). The overall length has increased by 40 mm to 5155 mm, with a 30 mm longer rear overhang (up to 1130 mm), creating more space for passengers in the third row and best-in-class luggage space.
New 'Smartstream' powertrain technologies
The new Carnival has Kia's latest 'Smartstream' powertrain technologies to enhance efficiency and performance. It has been engineered to use up to three different powertrain types. The most powerful engine is a 3.5-litre GDi direct injection V6, producing up to 294 ps/355 Nm. There's also a 3.5-litre MPi V6 producing up to 272 ps/332 Nm which features the new integrated thermal management system like its GDi counterpart.
The new 2.2-litre 'Smartstream' turbodiesel engine is said to be one of the cleanest diesel units that Kia has ever made. Producing up to 202 ps/440 Nm, this new engine replaces its predecessor's cast iron block for a 20-kg lighter aluminium block. All engines are paired as standard with 8-speed automatic transmissions.

ADAS technologies
The new Carnival comes with a range of passive and active safety and driver assistance systems. Kia's advanced driver assistance systems (ADAS) help to reduce many of the inherent hazards and stresses of driving.
The bodyshell has different grades of high-strength steel, maximizing torsional rigidity while keeping body weight low. The shell of the new model features newly reinforced pillars, and contains a higher proportion of Advanced High-Strength Steel and hot-stamped steel than its predecessor, again increasing torsional rigidity and adding strength. The more rigid bodyshell reduces road vibrations and enhances occupant safety in the event of a collision.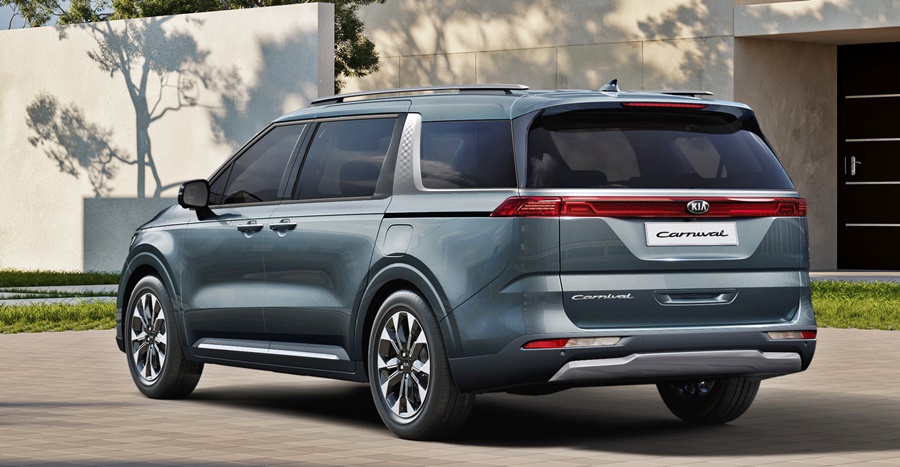 Pre-order record in Korea
The new Carnival has just gone on sale in Korea and prior to its sales launch, it set a new one-day pre-order record for any vehicle in Korea. The company said it received 23,006 bookings, breaking the previous record of 18,941 bookings set by the latest Sorento SUV in March this year. Exports to global markets will commence later in the year.