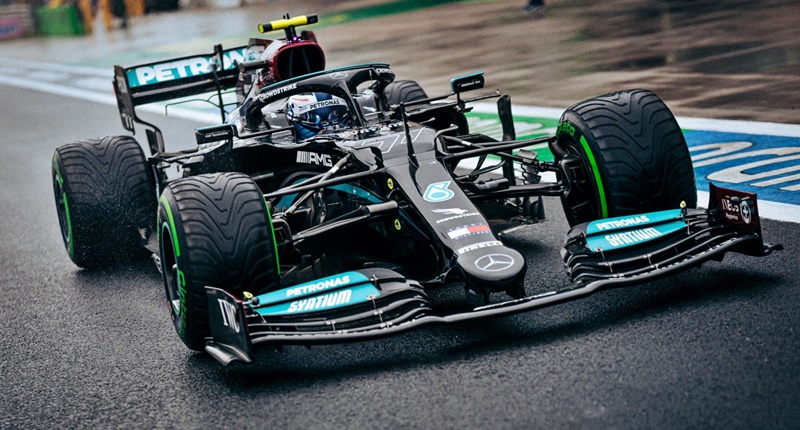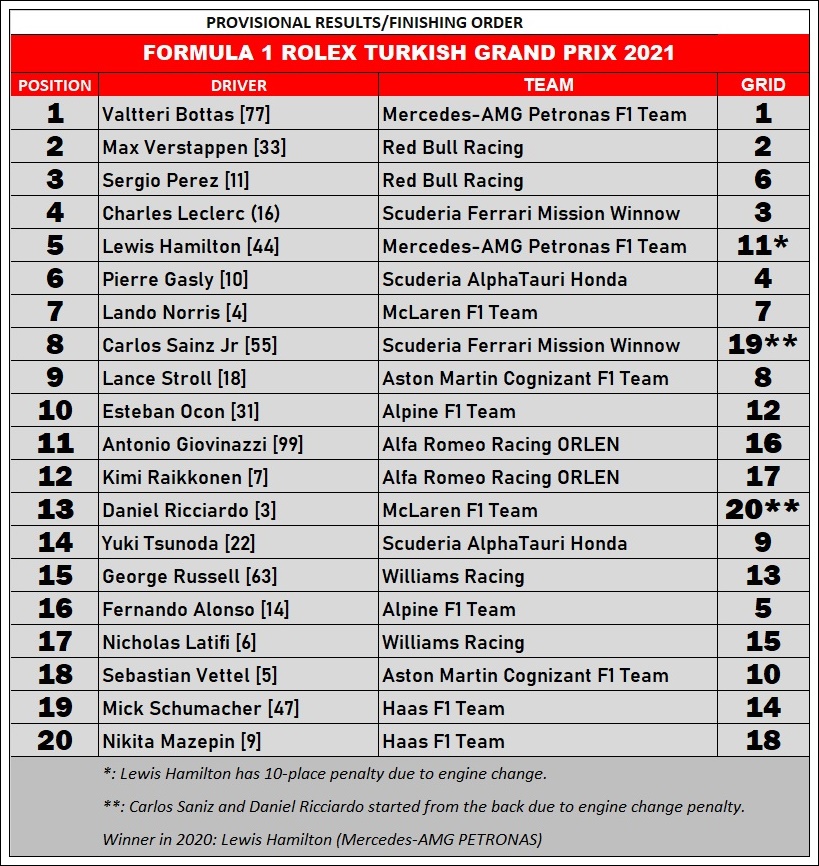 Rain was falling as the cars lined up, Valtteri Bottas in front with Max Verstappen alongside and the fastest driver in qualifying – Lewis Hamilton – down in 11th spot as he had to take a grid penalty for the engine component change. The wet conditions were expected to remain throughout the race.
The Mercedes-AMG driver got off to a good start, and Verstappen slotted behind in his spray. Not surprisingly, there was some drama as Alpine's Fernando Alonso, Williams Racing Nicholas Latifi and Haas F1's Mick Schumacher went into spins on the wet track. But Hamilton was quick to slice through traffic within the first few corners and started the second lap to positions higher. He was then held at ninth place for 6 laps as Scuderia AlphaTauri's Yuki Tsunoda proved difficult to get past.
In third was Ferrari's Charles Leclerc while Verstappen's team mate Sergio Perez was shadowing him and waiting for an opportunity to get forward to cover Verstappen. Track temperatures were low due to the rain and as the drivers tried to get the tyres warmer, the racing was still a bit tricky.
On lap 9, the first penalty of the race was imposed on Pierre Gasly. It was a 5-second time penalty for having bumped Alonso in a spin at the start. However, Alonso also got a 5-second penalty as well as he had later bumped in Schumacher.
Within 15 laps, Hamilton had moved from eleventh at the start to fifth and the difficult part would start – ahead were Perez and Leclerc. Meanwhile, Ferrari's Carlos Sainz, who had started from the back due to an engine change penalty, had moved up to ninth place after 18 laps. McLaren's Daniel Ricciardo was less successful and stuck at sixteenth place for some time. He would be the first driver to pit on lap 24.
At the halfway point of the race, it was still Bottas leading Verstappen and the gap was around 4 seconds. Leclerc was about 3 seconds behind the Dutchman but Perez was still some distance away with a gap of over 10 seconds. The prospect of more rain was mentioned in the pits.
Lap 36 saw Hamilton close in on the Red Bull driver and for a few corners, the two drivers were doing close-up duels. As with Tsunoda, Hamilton's attempts to overtake keep being frustrated by the Mexican driver. And then Perez headed for the pits on lap 37, letting Hamilton through to start chasing Verstappen. Bottas also came in at around the same time, his lead taken by Leclerc. The Mercedes-AMG driver was able to return to the race just ahead of Verstappen.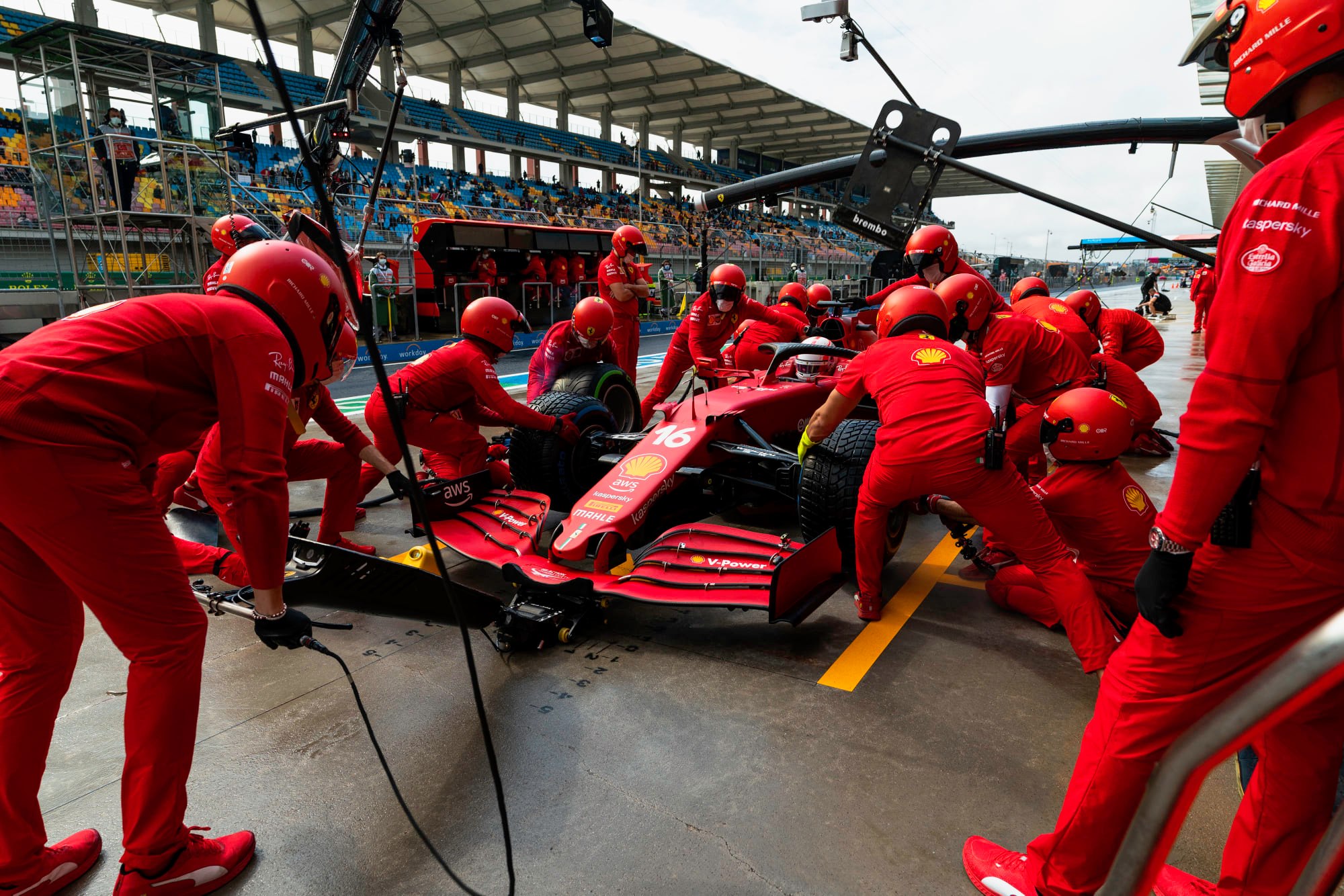 On lap 42, Hamilton was asked to come in but he was reluctant to do so, and remained on the track. Leclerc too was thinking that he might trey to stay with the tyres all the way till the end of the race. Aston Martin COGNIZANT's Sebastian Vettel had come in and taken the chance on intermediates which proved to be a very bad decision, dropping him totally out of contention.
Bottas started to close in on Leclerc while Verstappen was facing steering problems. With 10 laps remaining, the Mercedes-AMG finally regained the lead. Leclerc was displaced to fourth as Hamilton zipped past him but there was still a 6-second gap with Verstappen.  The pressure was on the Red Bull driver who was aiming for the Finn ahead but also having to keep an eye on his team mate in the mirror.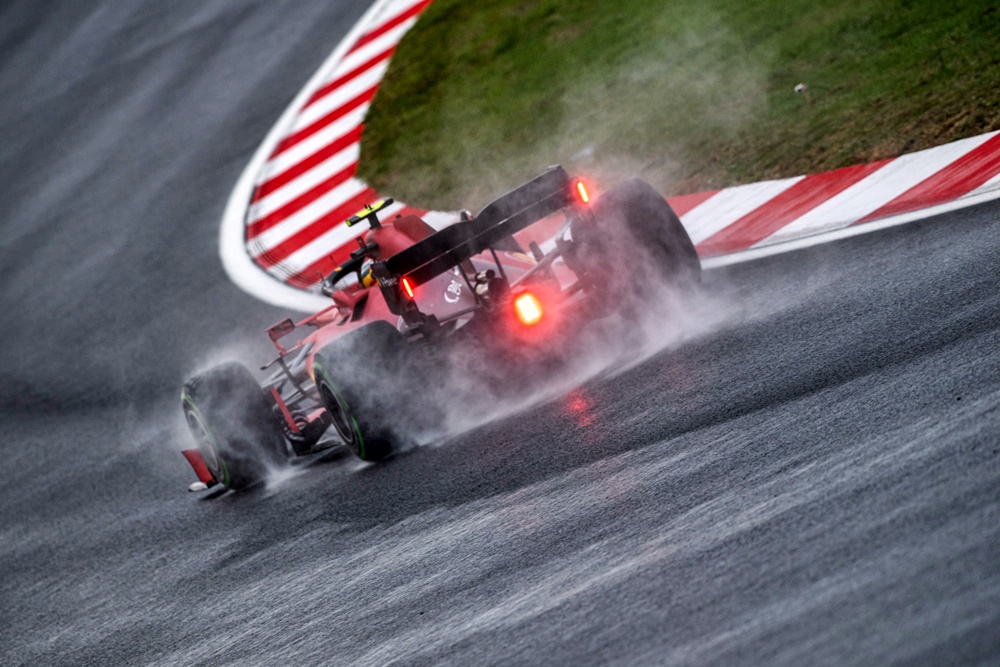 To be on the safe side, Hamilton decided to come in to change tyres with 7 laps remaining. His quick stop allowed him to return behind Perez and Leclerc. He had fresh tyres and could put in maximum effort all the way to the finish so the 5-second gap was nothing. But even as Hamilton closed in on Perez, he put in a spurt and overtook Leclerc, which was not what the Mercedes-AMG driver was expecting. It didn't help that Scuderia Alphatauri's Pierre Gasly had also closed in and was watching for an opening past. Only 3 laps remained.
In the final two laps, Bottas had a comfortable 10-second lead over Verstappen, enough for him to concentrate on picking up an extra point by going for the fastest lap just before he took the chequered flag to win the Turkish Grand Prix. It was his tenth win on Formula 1. Strange how, having been confirmed that he will leave the team at the end of this season, his fortunes are getting better.