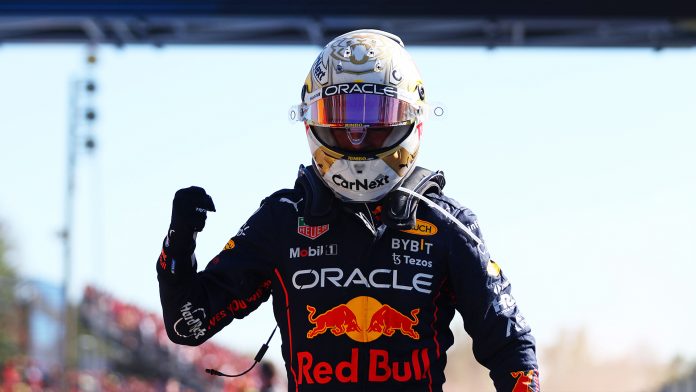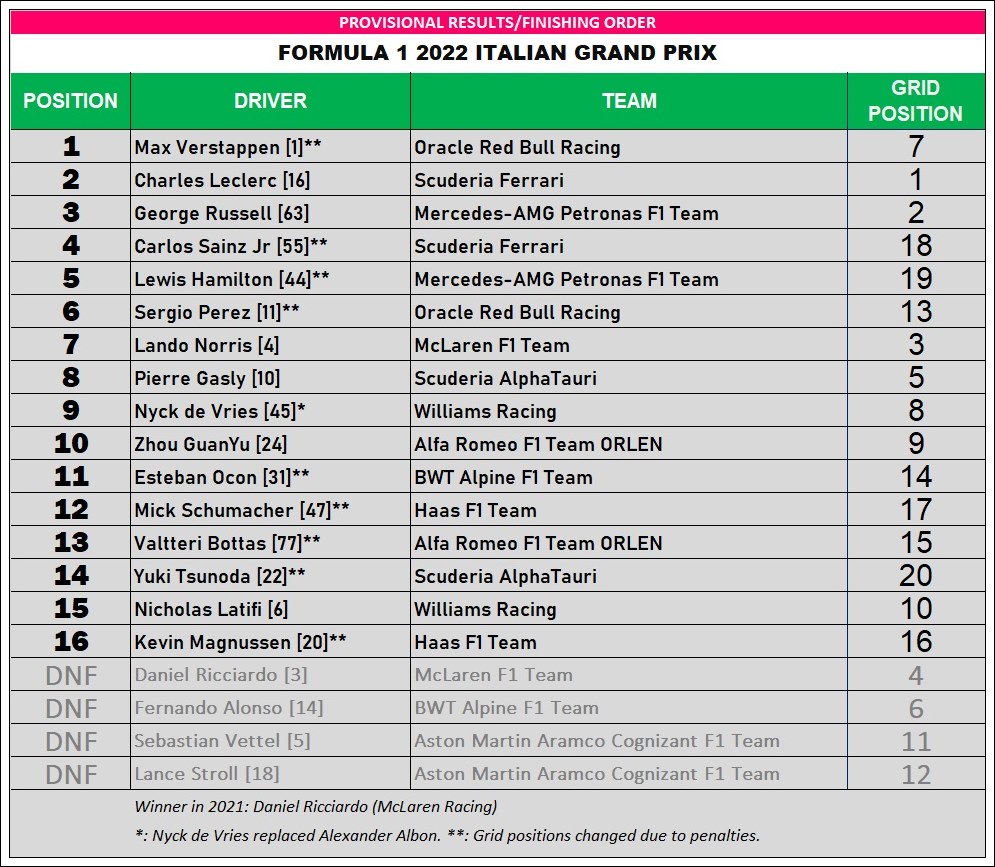 The starting grid for this F1 race did not follow the positions of qualifying as nine drivers had penalties that demoted them to other starting spots. While Ferrari's Charles Leclerc – who clocked the fastest time in qualifying – was able to keep his pole position, Red Bull Racing's Max Verstappen lost his second grid position which was taken by Mercedes-AMG's George Russell. The Red Bull driver had to start from seventh, just ahead of Williams Racing's Nyck de Vries who was taking the place of Alexander Albon who had appendicitis.
Leclerc got off to a great start but by the chicane, Russell had managed to position alongside the Ferrari as he had braked a bit later. However, Leclerc managed to hold his position and sped off after the near-contact.
Verstappen cut through the cars quickly to move up to fourth but Mercedes-AMG's Lewis Hamilton found it difficult to move ahead in the traffic at the back. But Ferrari's Carlos Sainz managed to get up a few places where he began to tussle with Red Bull Racing's Sergio Perez for 15th place.
Going into lap 5, Verstappen slipped past Russell who didn't seem to put up much of a fight and was about 2.3 seconds behind Leclerc.
At the back, Sainz was slicing through traffic and passed Aston Martin's Sebastian Vettel into 11th place. He was chased by Perez who was distracted by a determined Esteban Ocon in his Alpine.
On lap 8, Perez had to make an unscheduled pit stop as there was a problem with his car. While in the pits, he got another set of tyres and there appeared to be smoke and fire at the front brakes. Nevertheless, he was able to rejoin the race but was last in the pack.
Vettel reported that his car was losing power and on lap 12, he had to pull over near Turn 7. Race Control decided to activate the F1 Virtual Safety Car (VSC) so that the marshalls could remove the Aston Martin.
The VSC was on only briefly and Leclerc pit for tyres but Verstappen and Russell remained running. Fortunately, for the Ferrari driver, he was able to slot back in ahead of fourth placed Daniel Ricciardo of McLaren who had been about 9 seconds behind Russell. And just as Leclerc zoomed off, Riccciardo saw another Ferrari pass by as Sainz too took over his fourth place.
While Leclerc was getting worried about his engine, Verstappen was slowly extending his lead, with nearly 7 seconds between him and Russell at lap 18. The Ferrari driver was some 9 seconds behind Russell.

Alpine's Fernando Alonso didn't have the pace this time and couldn't keep McLaren's Lando Norris from getting past. He became increasingly concerned but his engineer said nothing showed in the data. De Vries, on his first F1 outing, was holding on to 8th spot but got black-flagged for exceeding track limits.
As the race reached near the halfway mark, the cars in the midfield began heading into the pit for new tyres. Leclerc's early stop still meant he might have to come in again and he was warned of this when told of 'Plan C'.
Verstappen was beginning to lose grip and came in on lap 26. Going to medium compound tyres. He was still for 2.4 seconds and managed to rejoin behind Leclerc who had inherited the lead. The gap would start to close once the Dutchman got his tyres up to temperature.
Meanwhile, on lap 28, Hamilton was beginning to make progress as he passed Alonso into sixth. His next target was Norris who was 9 seconds away. Russell in fourth was not letting Sainz get far. But on lap 31, Sainz gave up his position as he went into the pits, rejoining in eighth.
Alonso turned up in the pits on lap 32 after being called in when his engineers found an 'issue' (suspected water pressure problem). It was serious enough that he had to retire from the race. His retirement gave Ricciardo the 10th spot and a point, valuable for the team.
Leclerc was called in on lap 34 and got soft tyres, so Verstappen was back in the lead. The Ferrari managed to rejoin ahead of Russell who was still watching out for Norris. Hamilton also came in but when he rejoined, he encountered a bunch of slow back-markers whom he had to work his way through. It took him 3 laps to get back up to sixth.
With the fresh and soft tyres, Leclerc started to push harder and set a fastest lap. 13 laps remained and Verstappen also worked harder to respond to the Ferrari's increased speed.
It was a bad day for Aston Martin as Lance Stroll was also called in – and then had to retire. However, his car's problem was brake-related, different from Vettel's powertrain issue.
As 8 laps remained, Leclerc was still unable to close the gap with. However, his team mate was able to close in on Russell to try to take the podium spot.
The F1 Safety Car was called out on lap 47 as Ricciardo was forced to a stop when his car lost power. The crews quickly ran into the pit lane in preparation for arrivals. Russell was the first of the front-runners to come in and so did Sainz, but Hamilton stayed out.5 laps remained.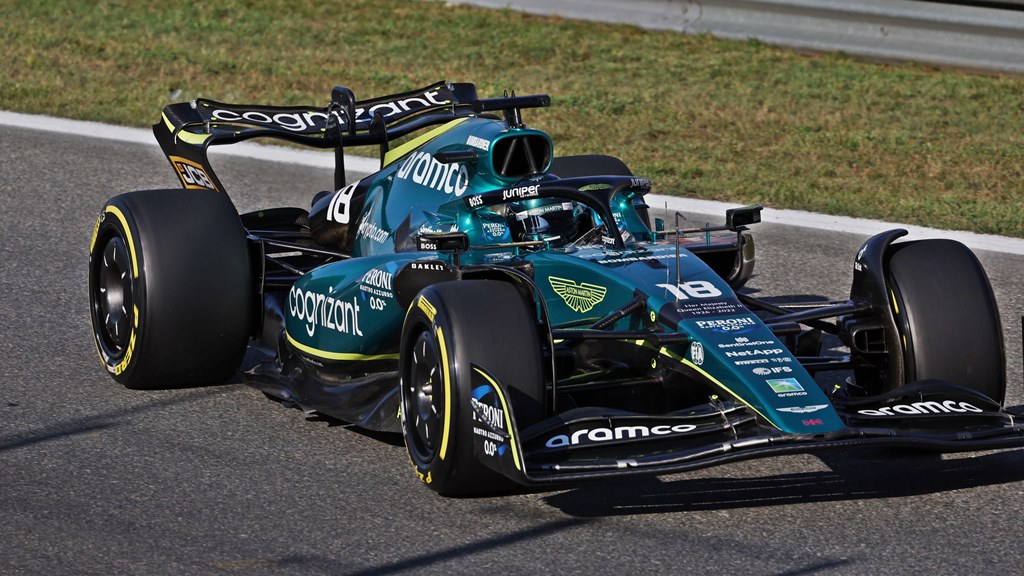 Verstappen came in on lap 49 to get soft tyres and was followed by Leclerc. No change to the two front positions while Russell and Sainz were in third and fourth.
As 3 laps remained, the Safety Car was still circulating because the McLaren was still parked next to the track. The cars began to line up behind the Safety Car on lap 51 and even after another lap, it had not departed. And on the final lap of 53 laps, as the F1 cars crossed the finish line, it was Verstappen who claimed victory – which he deserved considering where he started from.