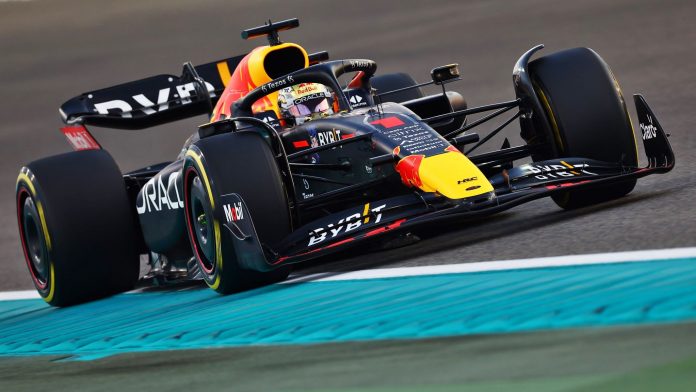 As the 20 F1 cars lined up on the starting grid for the last time in 2022, attention was focussed on Sergio Perez in P2 and Charles Leclerc in P3, both even in points. Max Verstappen was also world champion so the question was whether he would 'cooperate' to help his team mate take runner-up in the championship.
But much attention has also been on Aston Martin COGNIZANT's Sebastian Vettel, who will be racing in F1 for the last time. Much liked, admired and respected, there were many messages of farewell (with 'DANKE SEB' as the tagline) and gatherings to mark the German driver's last time with the F1 community that he has been a part of for the past 15 years.
As the lights overhead went out for the final time in 2022, Verstappen led the field with Perez right on his tail. Lewis Hamilton from a bit further back also had a good start to slip past Carlos Sainz but George Russell didn't get off cleanly and had McLaren's Lando Norris alongside.
However, Sainz was not willing to let Hamilton get away and by Turn 6, he pushed his way in so the Mercedes-AMG driver went wide and came out ahead. That attracted the attention of the Stewards who discussed it and decided there was no need for any action.
Verstappen was under pressure from behind, with only a 2-second gap from his team mate. Hamilton was trailing Sainz and made his move heading into Turn 9 with the help of DRS to pass the Ferrari. But 2 laps later, Sainz managed to regain his position – at the same turn.
By lap 10, Verstappen still led Perez and Leclerc, with Sainz in fourth. Russell had managed to turn it on and overtook his team mate – also in Turn 9 – to get into fifth. It seemed that Hamilton, though quick, was losing power in his car. There could well have been some damage when he left the track at the start.
Further back, Vettel, the retiring F1 driver, was dicing with Alpine's Esteban Ocon for eighth place. He could get close but not get past. Ocon's team mate, Fernando Alonso, was also close enough to put pressure on Vettel and distract him.
The pit stops began on lap 16, with Perez, Russell and Norris coming in. They all went to hard tyres and when Perez rejoined, he was in fifth but Russell dropped to ninth. Besides the slow stop, Russell was also spotted to have an unsafe release and receive a 5-second penalty.
Other drivers followed, but the top three frontrunners – Verstappen, Leclerc and Hamilton – still remained out, with Hamilton feeling his tyres were getting better. Nevertheless, on lap 19, Hamilton was called in. Care was taken while lifting up his car to change the tyres as it was suspected that the floor might be broken. When he rejoined, he was down in ninth.
Verstappen gave up his lead to Leclerc on lap 21 and after a quick stop, rejoined in second. He would be back in the lead as Leclerc gave it up on the next lap to pit. So the order was still as it was at the start, with two Red Bulls at the front, followed by two Ferraris.
Just before the halfway point of the 58-lap F1 race, Alonso cruised into the pits… and the word was that he would not go out again (suspected water leak). A sad end to his time with Alpine but he has not had a good run all season either.
The order at that point was Verstappen in the lead with Perez less than 3 seconds behind, and Leclerc in third, followed by Sainz who was 4 seconds further back. Tyre changes were going on more frequently as hard tyres were preferred. Hamilton was showing signs of picking up the pace too.
Verstappen remained comfortably in the lead, as he had done for most of the race. He had a 5.1-second gap ahead of Leclerc and barring any incident, he could collect his 15th race victory for this season.
Lap 39 saw yellow flags waved as Williams Racing's Nicholas Latifi and Haas F1's Mick Schumacher collided. The Williams got more with a rear puncture and had to slowly head back to the pits. The Stewards noted that Schumacher had caused the collision and gave him a 5-second penalty.
Another incident that attracted the attention of the Stewards was what seemed to be Aston Martin's Lance Stroll forcing Alfa Romeo's Zhou GuanYu off the track. However, after looking closely at what happened, they decided there was no action needed.

Hamilton was about 11 seconds ahead of Sainz but the Ferrari driver was quick and slowly closing the gap. The Mercedes-AMG F1 driver had been busy trying to keep Perez behind but on lap 46, the Red Bull driver got past. But he still had 7 seconds to close on Leclerc and he had about 11 laps left to do it if he wanted to be runner-up this year.
Observers and commentators were wondering if Verstappen would help in some way. Leclerc was 7 seconds behind in the final laps. Perez was working hard to close the gap and the calculations were that he would be right up to the Ferrari by the last lap.
Just 2 laps from the end, disaster struck for Hamilton as he lost shifts and started to move aside. It was a lousy season and it was certainly not the way to end it either. He had said that he was glad he would be rid of the car after this race. Hamilton's retirement allowed Vettel to at least move up one position into 10th to collect his last points of the season.
Verstappen streaked across the finish line to win the race, and behind Leclerc was just barely staying ahead of Perez and managed to finish ahead of the Mexican and take runner-up in the championship.