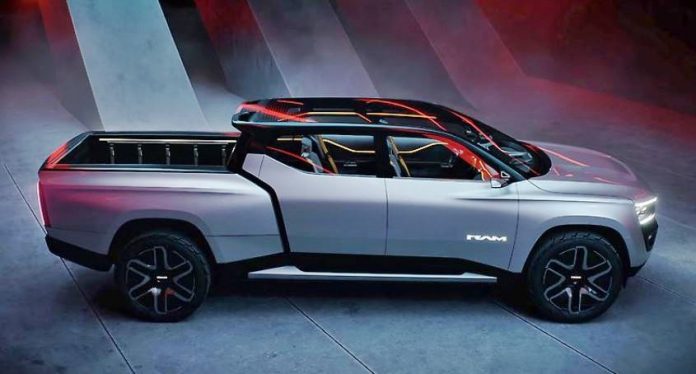 Ram is unlikely to be known to Malaysians as it is a brand presently mainly in North America. It used to be the name of a truck range in Dodge but got spun off in 2010 to become a brand on its own within the Fiat Chrysler Group. With the merger of Fiat Chrysler and the PSA Group in 2021, Ram became part of the enlarged Stellantis group.
Ram has always been a truck specialist and when it was a division in Chrysler, it focussed on delivering 'real trucks' and not the 'lifestyle' machines that have become common in recent times. It therefore has a solid niche in the market where capable trucks are sought for serious work.
At CES 2023 recently, Ram gave a preview of what it's looking at further down the road in the age of electrification. It presented its vision in 3-dimensional form as the Ram 1500 Revolution Battery-electric Vehicle (BEV) Concept which also gives an idea of its design direction.
The cabin design is something that is a bold departure from the norm with three rows of seats. Demand for 3-row SUVs has been growing, and Ram probably sees a similar demand in trucks in time to come. To get three rows of seats, the 1500 Revolution BEV Concept has a cabin that is 100 mm than today's typical production truck sold in America.
Known as a 'one space environment', the cabin has one continuous space front to back that enables several different interior configurations. The theme is bolstered by a new interior layout that offers lots of flexibility with room to configure a workspace.
The significantly more spacious interior and greater cabin length are the result of a new architecture while the battery pack's size allows for more cargo volume. Ram Track, the brand's rail attachment/floor track system, provides cabin flexibility for the seats and console, as well as usable tie-downs or other storage potential. Ram Track is also incorporated in the frunk at the front, as well as the cargo bed, allowing for flexibility from front to back.
Nearly 50 years ago, the club cab was introduced with second-row seating. Now Ram installs a third row which are really jump seats for infrequent use. The jump seats have a removable lower section for placement in the bed or outside the vehicle. The mid-gate with powered glass enables a pass-through (and into the frunk) that can fit long objects with the tailgate closed.
Seating and console flexibility was a focus with the centre console's ability to be removed for even more space. If desired, the centre console armrest individually converts to a workstation surface. Combined with mid-gate and jump-seat options, the 1500 Revolution BEV Concept offers multiple flexible seating configurations.
Lightweight seats feature integrated seatbelts, grab handles and speakers with the ability to fold flat along with extended recline, work, conference modes and deploying the jump seats. Vastly more interior volume benefits second-row and third-row jump seat passengers who enjoy limo-like space.

On the technical side, powertrain details are brief since this is just a concept model. Ram says that it is proposed with two electric drive modules (EDMs) which are positioned toward the front and rear of the vehicle, maximizing interior space and enabling the cavernous frunk. Designed to accommodate larger capacity EDMs, there is potential for future high-performance applications.
With 800V DC fast charging at up to 350 kW, 10 minutes is claimed to be enough to provide around 160 kms of range for the Ram 1500 Revolution BEV Concept. Ram aims to customers what is most important to them: range, towing, payload and charge time.
The Ram 1500 BEV Concept will be the basis of a new production model which will appear in 2024. It is part of the Stellantis 'Dare Forward 2030 'strategic plan to deliver innovative, clean, safe and affordable mobility solutions.