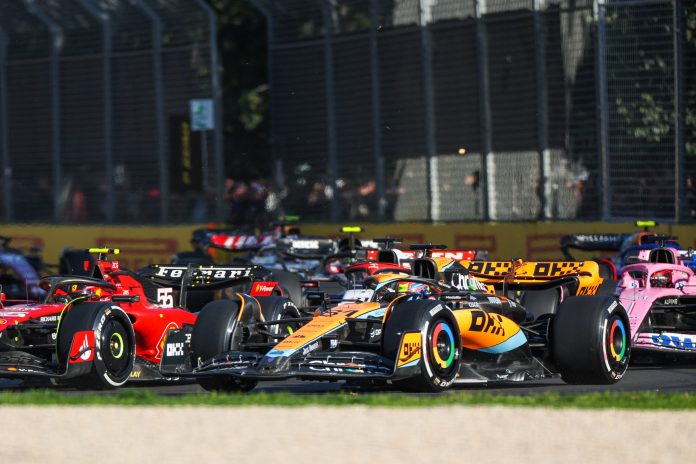 With no rain likely, the Australian GP was expected to have just one stop for most teams, with tyres switched from starting mediums to hards. The first cars were expected to start coming in around lap 15 of the 58-laps of the Albert Park Street Circuit,
Max Verstappen rocketed off from his pole position, but Mercedes-AMG'S George Russell was close as Turn 1 came up and got through the turn first. Fernando Alonso and Lewis Hamilton also moved forward together and somehow, after getting ahead of the Aston Martin driver, Hamilton also slipped past Verstappen.
Ferrari's Charles Leclerc, however, had a bad start and spun off in Turn 3 after a collision with Aston Martin's Lance Stroll, bringing out the Safety Car for 3 laps. Stuck in the gravel, Leclerc would have to watch the race from the pits. The Stewards looked at the incident and decided that no further investigation was needed.
As the second lap began, Esteban Ocon came into the pits to switch to hard tyres. Sergio Perez, who had started from the pits, also came in but took on mediums (and then came back again for hards), while both Alfa Romeos also rushed in and out with new tyres.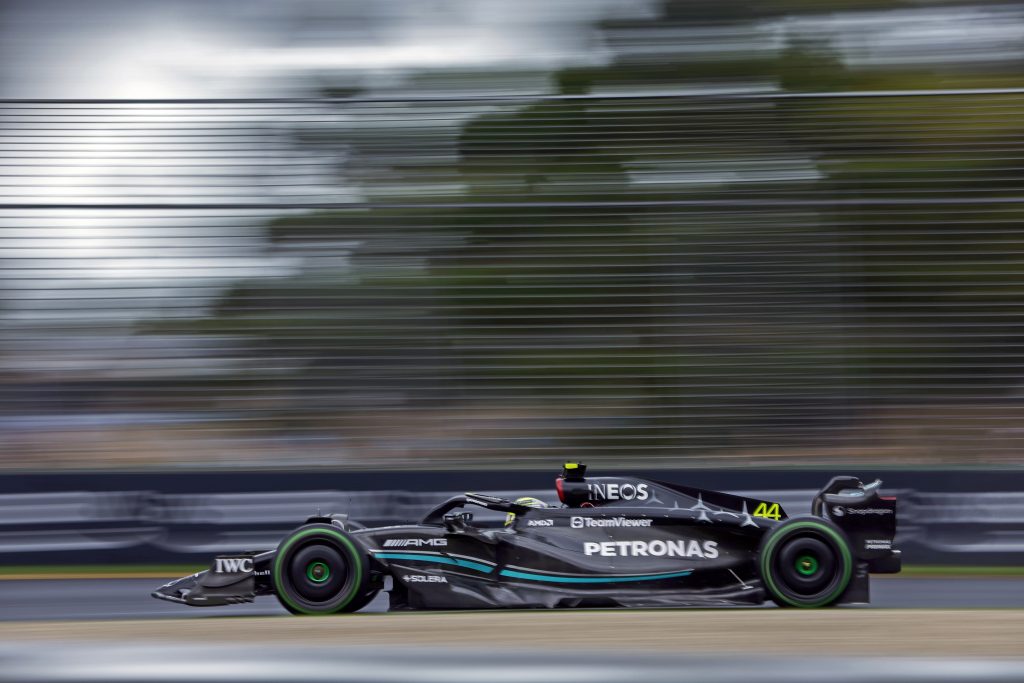 Russell was ready when the Safety Car left and racing resumed. The Mercedes-AMG driver sped off, with his team mate providing a buffer with Verstappen for the time being. The Dutchman was right on Hamilton's tail looking for a way to pass but it's not easy on the Australian circuit.
Further back, Alonso has lost his fourth place as Ferrari's Carlos Sainz pushed past him. Having seen the capability of the Aston Martin this year, Alonso was determined to make full use of it to take another podium in Australia.

Williams Racing's Alexander Albon also went off at Turn 7, destroying his front wing. Out came the  Safety Car again. This allowed Russell to shoot straight into the pits and switch to hard tyres. But then red flags appeared – the signal to stop the race – as there was too much remedial work to be done at Turn 7. Besides removing Albon's car, a lot of gravel had been thrown onto the track and the barriers also needed to be checked and repositioned properly. This brought all the cars into the pits and tyre changes were carried out. 49 laps of the Australian GP remained and the race was stopped for 10 minutes.
For Russell, the timing was very bad. When he had come in, it was just the Safety Car procedure but then the red flags came out and things changed. Hamilton and Verstappen got their free change of tyres and suddenly gained leading positions on merit – with Russell down at seventh. This put him behind Nico Hulkenberg and Pierre Gasly as well as the two Aston Martins.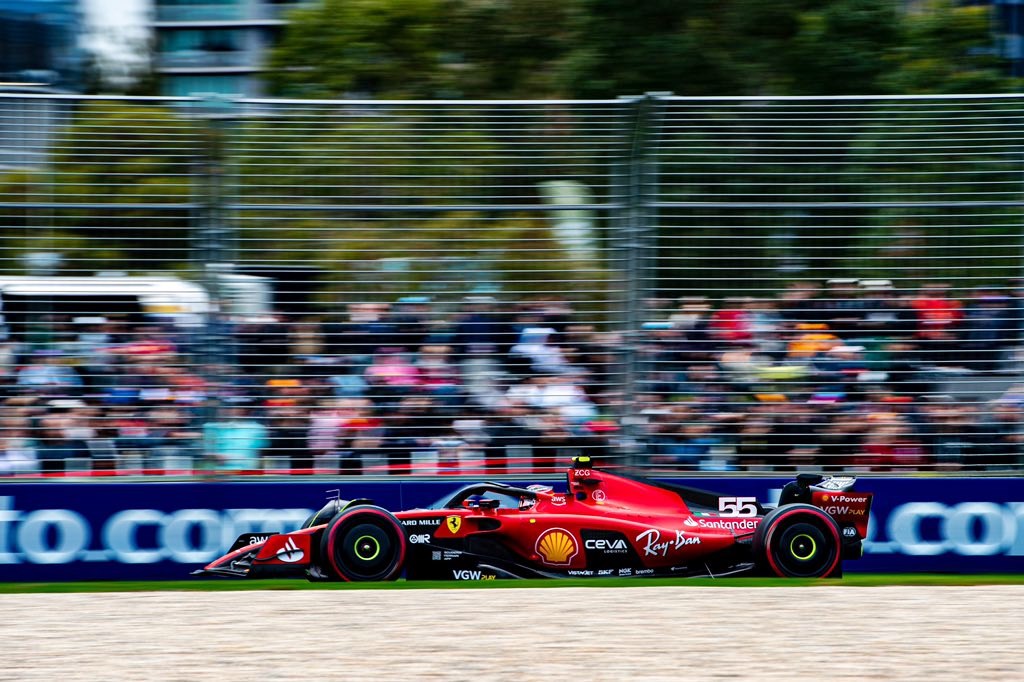 33 minutes after the Australian GP started, the race was re-started as the Safety Car led the racing cars to the starting grid for another standing start. But this time, it was Hamilton in pole position, with Verstappen alongside. And the Mercedes-AMG driver made full use of his position to try to stay in the lead. Verstappen chased after him, followed by Alonso, while Gasly got past Stroll. Russell was eager to climb back up and overtook Hulkenberg and Stroll easily to move into fifth about 4 second behind the leaders.
As lap 12 of the Australian GP started, Hamilton could just barely keep the Red Bull from passing and into Turn 9 on lap 13, Verstappen blew past him on DRS to take over the lead. The superiority of the Honda-powered car was very clear as Verstappen began to widen the gap right away.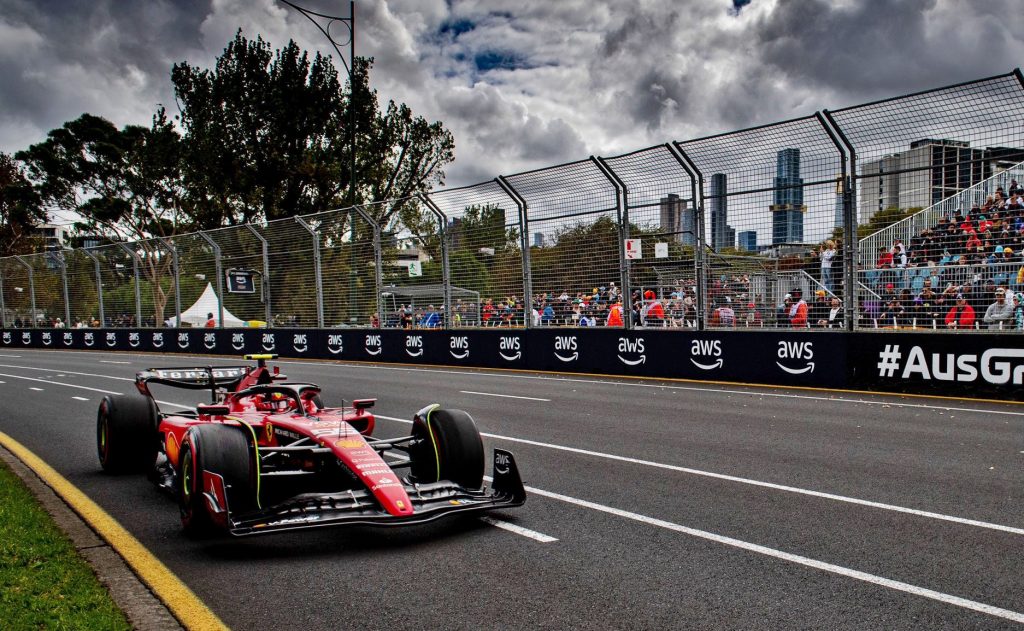 Russell was also on DRS and easily got past Gasly, coming within 1.6 seconds of Alonso. Stroll too was in the case and working on Gasly as well. But the Aston Martin driver also had to watch out for Sainz coming up from behind and having focussed too much on Gasly, he let Sainz slip by!
On lap 17, Verstappen's team mate was still struggling to move up but there was a lot of traffic. He made it past Kevin Magnussen and Zhou GuanYu and was still 3 places from the points-paying tenth place that was held by Yuki Tsunoda at that time.
Drama came on during lap 18 as fire appeared at the back of Russell's car, prompting activation of the Virtual Safety Car (VSC). As Gasly passed him, the Mercedes-AMG driver pulled to the side on the main straight and climbed out of the car, ending his Australian GP. The VSC was only active for one lap and then racing continued.
Perez finally reached Tsunoda on lap 23, almost an hour after the race started. The Scuderia Alphatauri driver was helpless to prevent the Mexican from passing and taking over tenth place. He was 20 second behind the leaders but there was still more than half the race left.
Verstappen had a comfortable lead of 6 seconds, and the close fighting was between Hamilton and Alonso, who had to watch for Sainz creeping up. But as the Ferrari driver kept pushing ahead, he was also pursued by Gasly. Though the hard tyres could last, there was still attention given to preserving them as degradation seemed to be more than expected.
The home crowd was cheering for Oscar Piastri, who grew up in Melbourne. He was trying hard to get past Tsunoda but the Alphatauri driver was able to keep him back. Piastri was too focussed on Tsunoda that he didn't notice Ocon and before he could do anything, the Alpine driver got past the McLaren to grab tenth place.
Barring engine problems and an unexpected Safety Car appearance, it looked like Verstappen could win for the first time in Australia. The hard work was going on 8 seconds behind him, with Hamilton keeping Alonso from displacing him. Then Sainz, Gasly and Stroll were within reach of each other, and Perez was still trying to reach Lando Norris and Hulkenberg.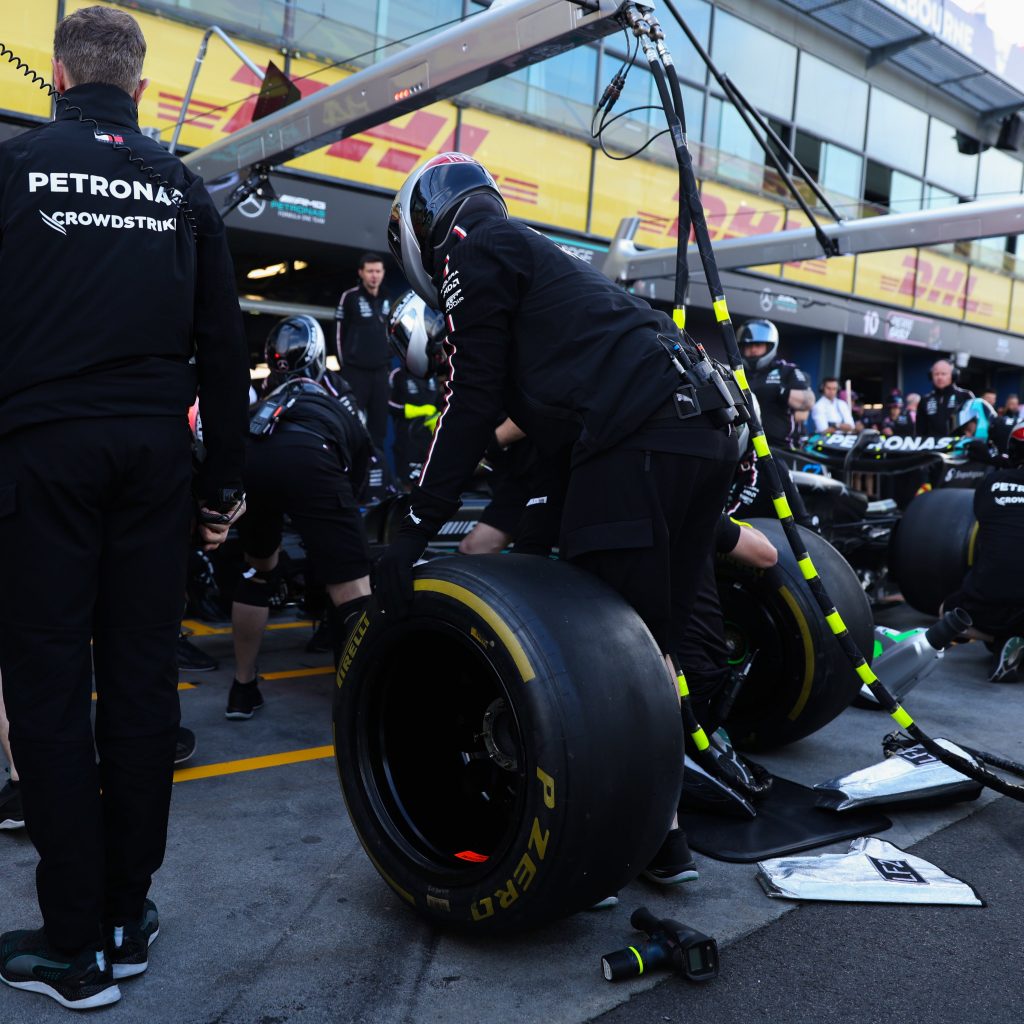 Hamilton was warned by his team not to be forced by Alonso into using up his tyres too fast. But it seemed like he was hardly doing any tyre management as he went on to set a fastest lap time (which is worth a bonus point if it is the best of the day). Alonso kept Hamilton in his sights as it seemed that Sainz was not close enough to be a threat. The Aston Martin driver's team had given him the green light to push harder in the remaining 13 laps. This saw him setting a new fastest lap (for himself) to close the gap to just under 1.3 seconds.
Verstappen was comfortably in the lead and may have had a moment's break from concentration during lap 48 as his car was seen to detour onto the grass. It appeared like a wheel locked up and lost him about 4 seconds of lead. But that was hardly useful to Hamilton who was more intent on ensuring he would end the race as runner-up.
With 6 laps remaining, the battle between Hulkenberg and Norris was getting more intense. The McLaren driver kept tight lines alongside Hulkenberg until he had the advantage and pulled ahead to capture eighth place. But for the Haas driver, it was okay as he was likely to remain in the top ten till the end with Ocon sufficiently far behind.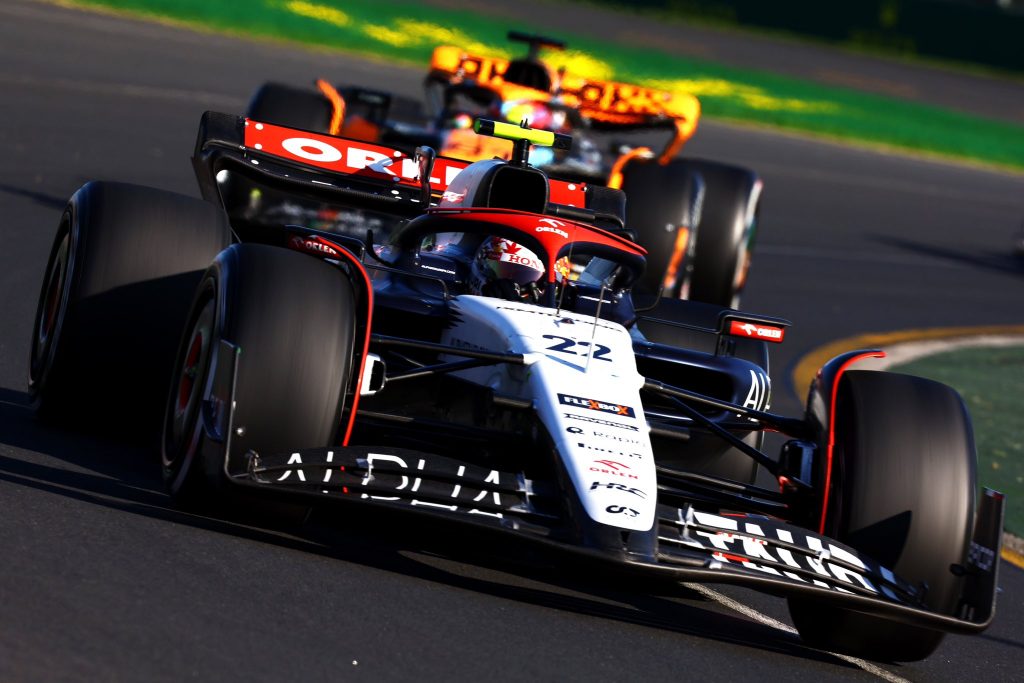 But then Hulkenberg's team mate, Kevin Magnussen, lost his right rear wheel as his suspension broke after he went wide and hit the wall at Turn 2. Though his car was off the track, tyre debris was still on the track which meant the Safety Car had to come out with 4 laps remaining. Neither Verstappen, Hamilton or Alonso chose to go into the pits and their teams stayed silent but ready.
And then the officials decided to show a red flag, stopping the race for 15 minutes. Just as Russell had lost his lead suddenly when the red flag came out at the wrong time, Verstappen's position was also at stake now. It would be a 2-lap sprint race to the finish line and with no concerns about tyre management, every driver would go flat out on the soft tyres.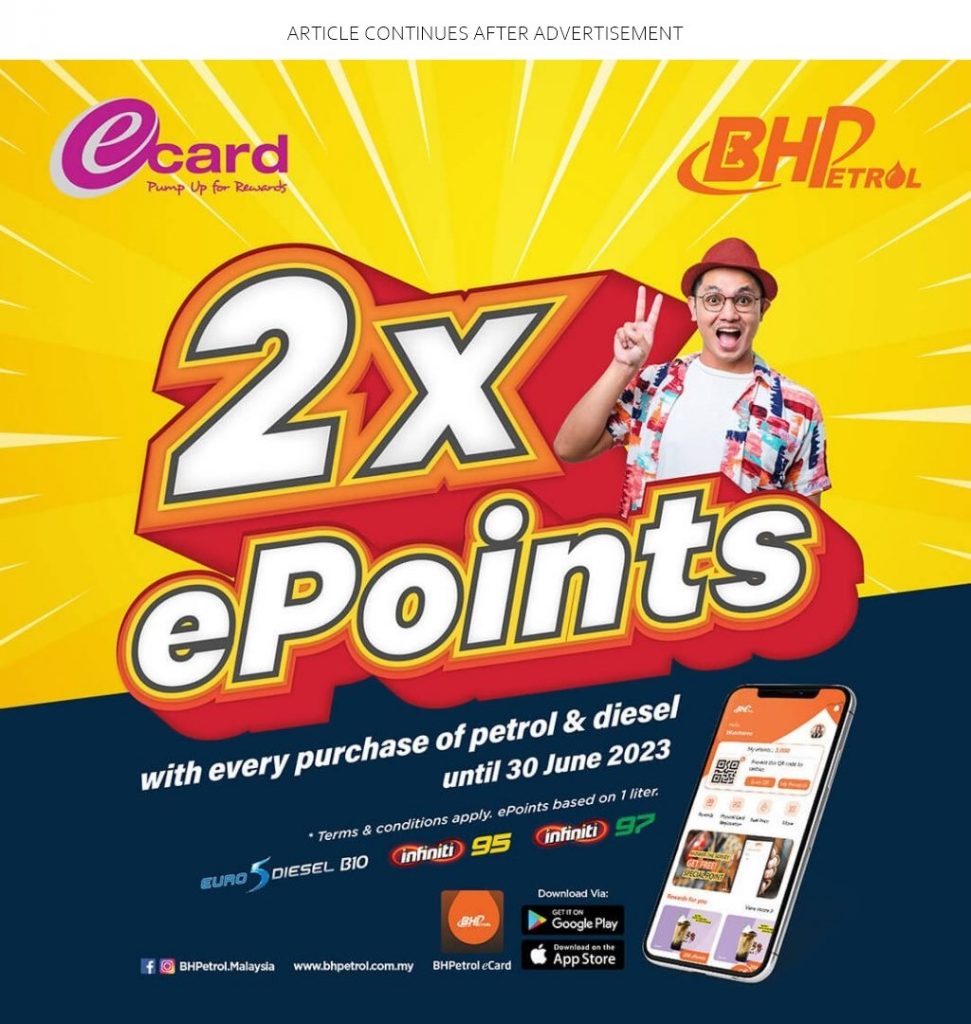 4 minutes before 5 pm in Melbourne, the Australian GP restarted and it was Verstappen who streaked forward, followed by Hamilton and Alonso side by side. Then the Aston Martin driver got bumped by Sainz and went into a spin. But even worse… there was chaos behind the frontrunners as Stroll and Gasly ended up off the track – and the red flags were waved again to stop the race! De Vries, Sargeant and Ocon were casualties, joining the DNF crowd for the day. Norris and Piastri were the beneficiaries, inheriting sixth and seventh places, respectively.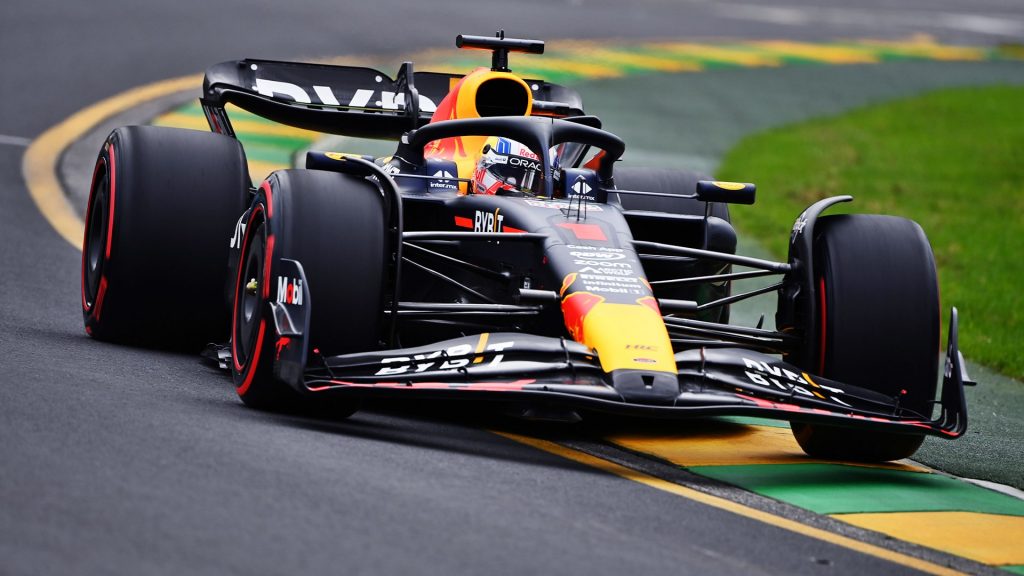 The situation became complicated since some of the cars had completed a lap – which meant that there was only a single lap left to go. Clearly, it did not make sense to run a 1-lap race to finish off – and to restart also meant that one lap would be taken behind a Safety Car.
But then the Stewards decided there would be a final lap, with a rolling start. 12 of the remaining cars – including Alonso in third position – would continue racing; too bad for those cars that got knocked out. Sainz was very unhappy, having received a 5-second penalty for being the guilty one in the incident with Alonso.
With overtaking not permitted, the final lap seemed largely ceremonial to end the race in a 'formal' fashion. No doubt this Australian GP, especially the chaotic ending, will be well remembered for years to come!