A Facebook user shared her frustration through a post regarding her experience with an insurance company and the 'Loss of Use' claim.
What is the 'Loss of Use' claim?
The standards for claim settlement procedures have undergone numerous revisions since 1995. Just be aware that "compensation for actual repair time" (CART) is the same as the term "Loss of Use" that you may have previously heard.
A third-party insurance claim allows you to get CART or compensation for the loss of use of your vehicle in addition to damages to your vehicles. Other unanticipated costs, including paying for alternate sources of transportation from using ride-hailing services or apps, may occur while your car is getting repaired. When this occurs, you can request CART to help pay for some or all of these unforeseen costs.
Bank Negara Malaysia's (BNM) Guideline On Claims Settlement Practices (consolidated) states as follows: "Where a claim for compensation for assessed repair time (CART) is payable, the Insurer should adhere to the scale of CART agreed by the industry and explain how the amount is derived in its offer of settlement to the claimant".
| | |
| --- | --- |
| Vehicle Type | CART/Day |
| Up to 1500cc | RM30 |
| Above 1500cc up to 2000cc | RM40 |
| Above 2000cc | RM50 |
The Issue
The only issue to determine here is whether the amount offered by the Takaful Operator is in accordance with the Claim Settlement Practices and the Guidelines issued by Bank Negara Malaysia for such compensation.
When the mentioned Facebook user stated that she received a letter from the insurance company noting that her claim was only approved for less than a thousand. Her car was hit badly from the rear end and according to her post, her 2,500cc BMW had to be repaired in a shop for 98 days.
According to her Facebook post, the letter from the insurance company did not make sense at all. They stated that the reason for this is because the insurance company thought the time needed to repair the BMW was only 76 hours, or 3 days and 4 hours. Anyone with a sane mind would take one look at the damage done and know that 3 days to repair this is utter nonsense.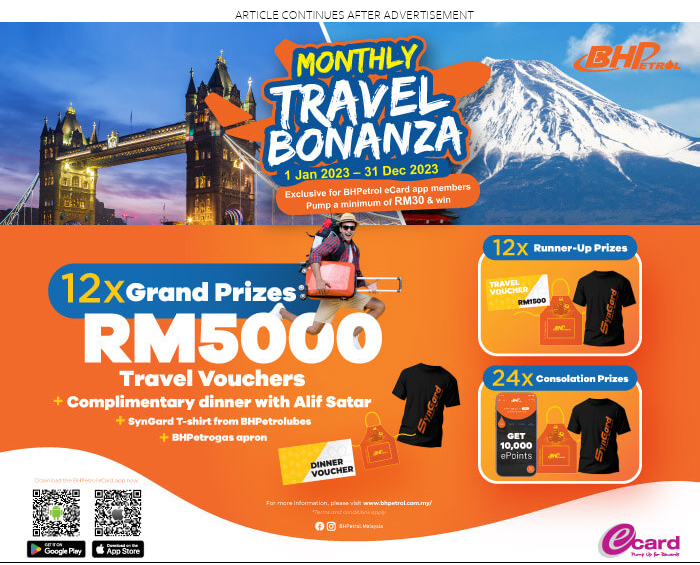 After taking into account weekends, holidays, and the supply of spare components, she calculated that it should take more than 50 days (at RM50 per day).
When she contacted the adjuster to demand justification for this, the reply she received was, "My boss is the one that asked me to do the stated calculations". On top of that, she did not receive any black-and-white guidelines as to how this calculation was made despite asking for it.
After writing a complaint and quoting the Bank Negara guidelines in the letter, she received an email stating that her loss of use was extended by a further 14 days, making it a total of 28 days. Perhaps good for some who will settle for less, but not her.
Dissatisfied about this, she proceeded to write an appeal letter demanding the full claim and this time she made sure to keep Tribunal Tuntutan Pengguna (TTPM), Bank Negara and her lawyer's office in the loop.
To her surprise, she received emails from agents with these responses:
If possible, do not involve Bank Negara, in my experience, it is difficult for us to involve the national bank.
Miss, did you send a copy letter to Bank Negara?
If you haven't, don't send it yet… because we can check the claim, ma'am.
If we can give a full claim, you don't need to involve Bank Negara.
Just minutes after this, she received an email stating that her demand for the full claim had been approved and after two days, the money was transferred to her bank account.

Imagine the number of people who have fallen for this tactic and lost money. People should know their rights when it comes to matters such as this. As a customer, you have the right to fair judging, which includes payment for any goods or services you acquire.
Her post has gone viral ever since with more than 10,000 likes, 3,500 comments and over 35,000 shares. Netizens have also shared their experiences in the comment section regarding this issue.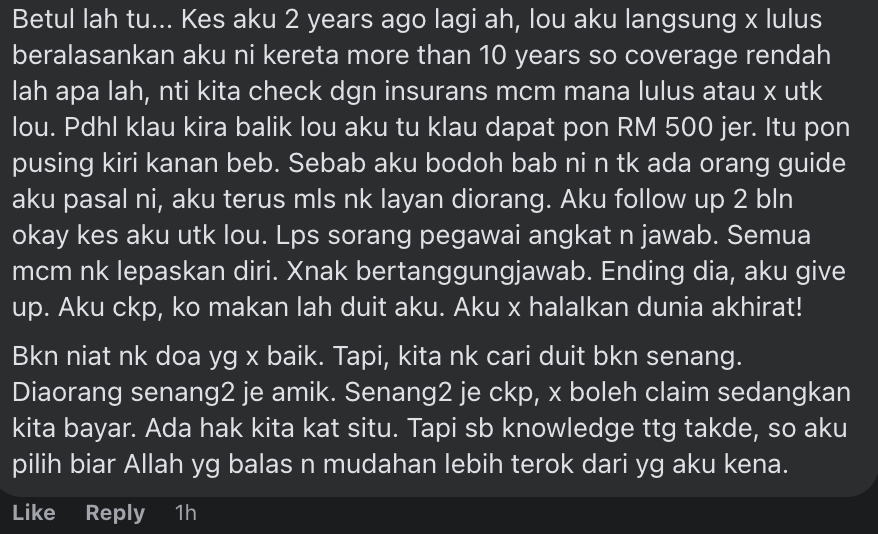 It is nice to see good samaritans out there feeding people with useful knowledge in hopes that others do not fall for these tactics or scams.
If you are in a similar predicament and need to get Bank Negara involved, here's a link to the official website which we think may be of help: https://www.bnm.gov.my/consumer-info/complaints
We also suggest getting a lawyer. Most lawyers will be happy to take up a case like this so it shouldn't be too difficult securing a good lawyer.