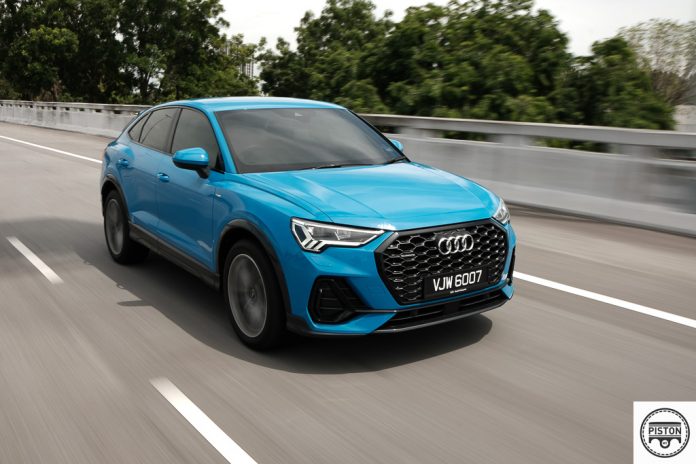 The Audi Q3 was introduced back in 2011 as a subcompact luxury crossover SUV for those who wanted an SUV but found the Q7 to be way too big and the Q5 to be better suited for families.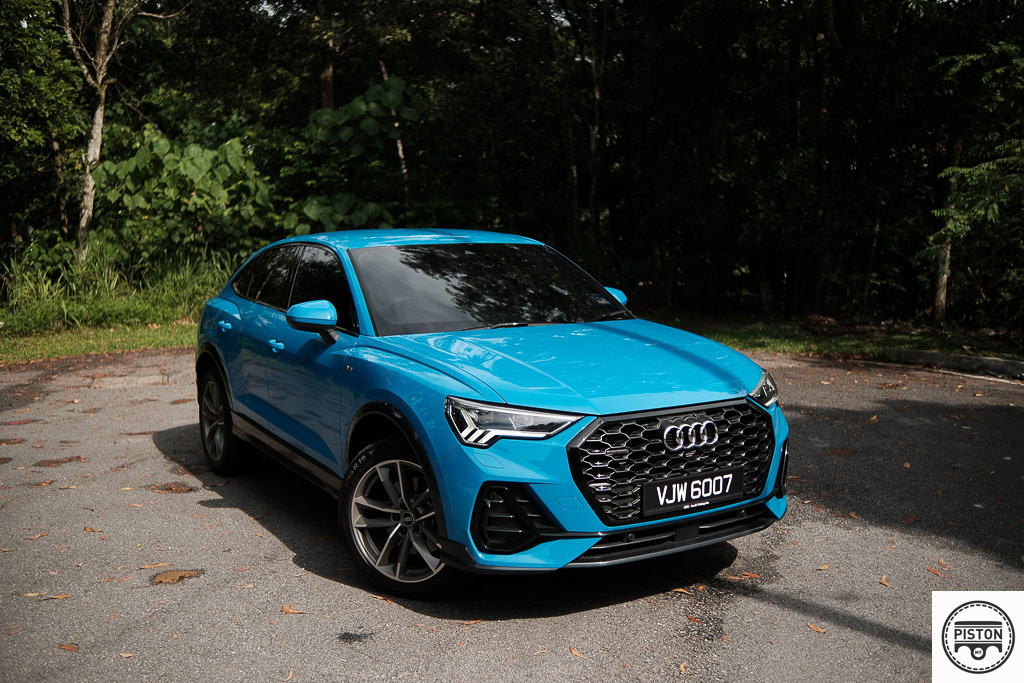 The Q3 went up against the likes of the BMW X1, Lexus UX, Mini Countryman and to some extent, even the Range Rover Evoque.
When first introduced, there were many criticisms levelled against it, alleging that it lacked space and imagination. And not having enough power.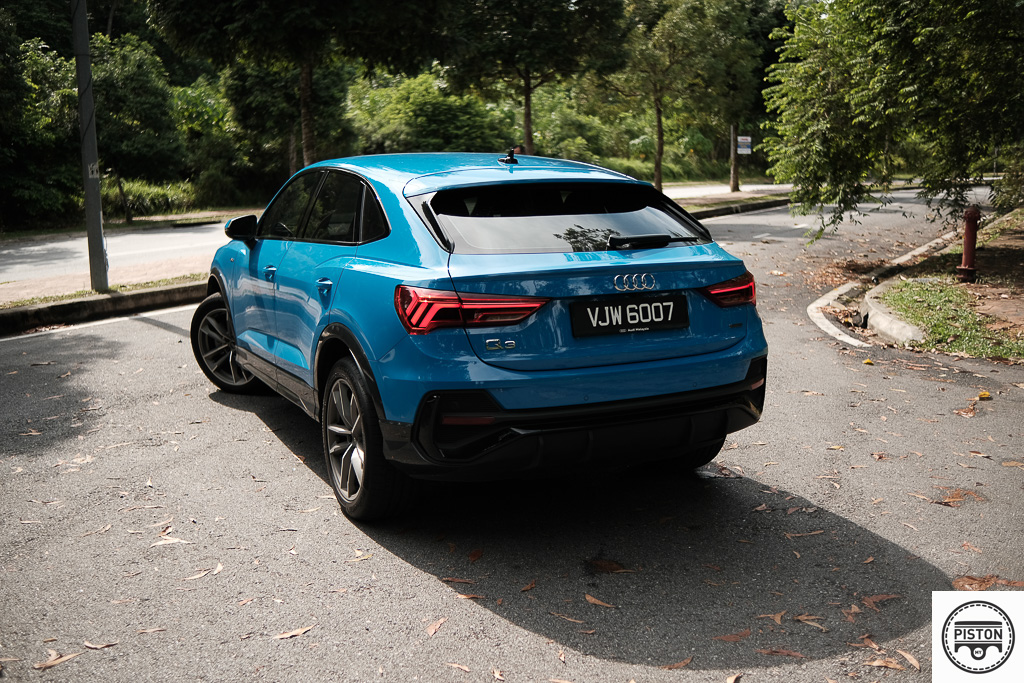 But since its introduction, over a million units have found a home worldwide. Proving those criticisms to be unwarranted.
Closer to home, the Audi Q3 has enjoyed brisk sales as well. Whether bought officially or from parallel importers, it is easy to find a Q3 on the road as you go about your business in major Malaysian cities. And it is easy to understand why as well.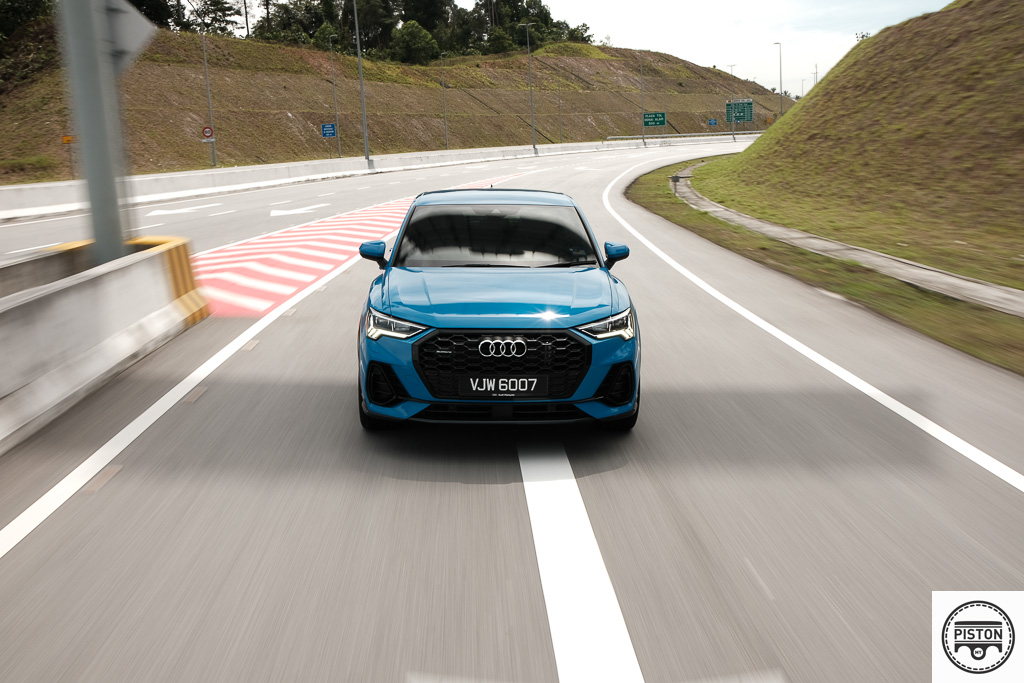 Over the years the car has grown in size, offering more interior room a comfortable interior and dare we say it – decent power. But other than all of that, it has even become quite efficient despite some models offering all-wheel-drive capabilities which inadvertently equals to increased fuel consumption.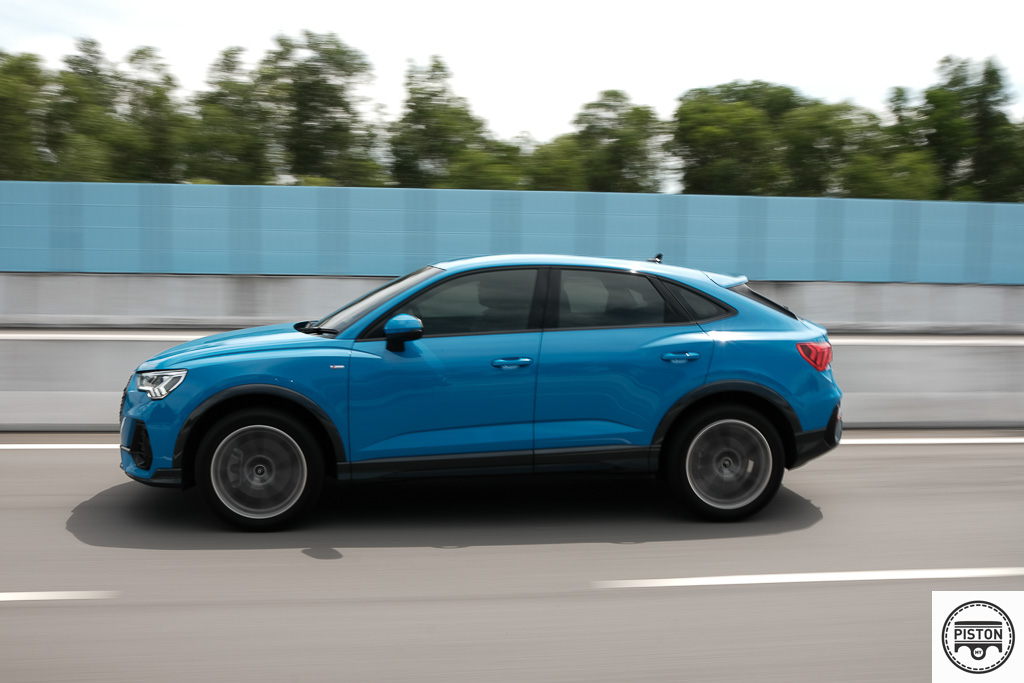 The Audi Q3 Sportback that you see here though takes it all up a couple of notches and even warrants the use of the word stunning; a combination of the sports coupe bodyline and the intense blue colour which Audi calls Turbo Blue.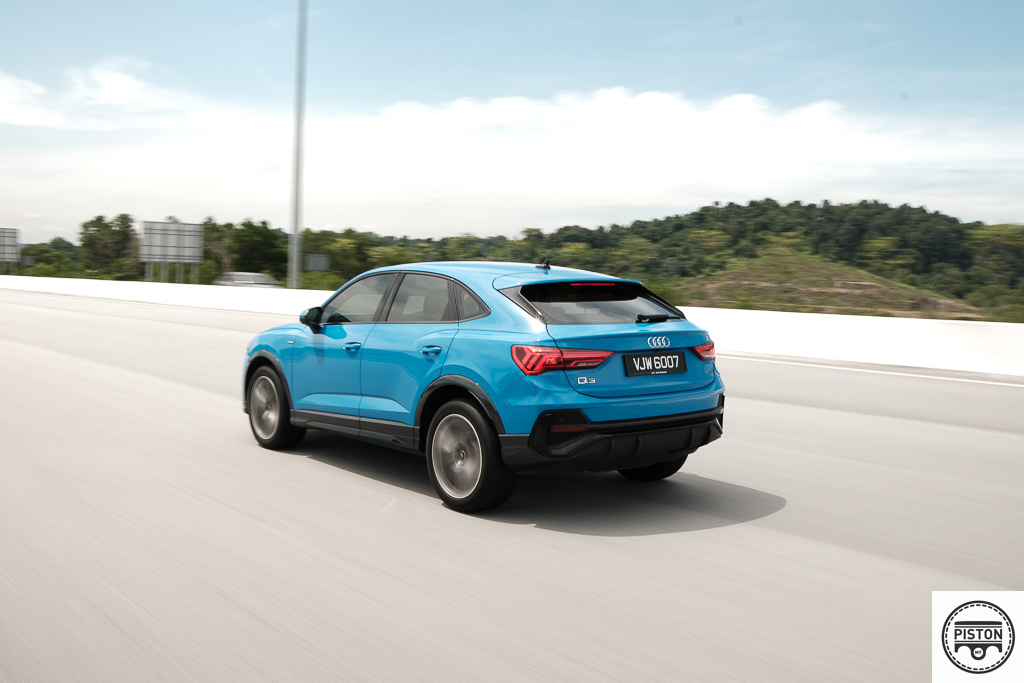 The colour does seem to suite the overall character of the Q3 Sportback. Afterall the Sportback is meant to appeal to those who wanted all the functions of a compact SUV but with a tinge of style and aggression sprinkled in either to match their age or personalities.
One thing for sure though, everywhere the Q3 Sportback went, people noticed. This was evident by the cringed necks as observers struggled to get one final look or with gawking looks and pointed fingers at traffic lights.
The Q3 Sportback is undoubtedly stylish and that's saying the least.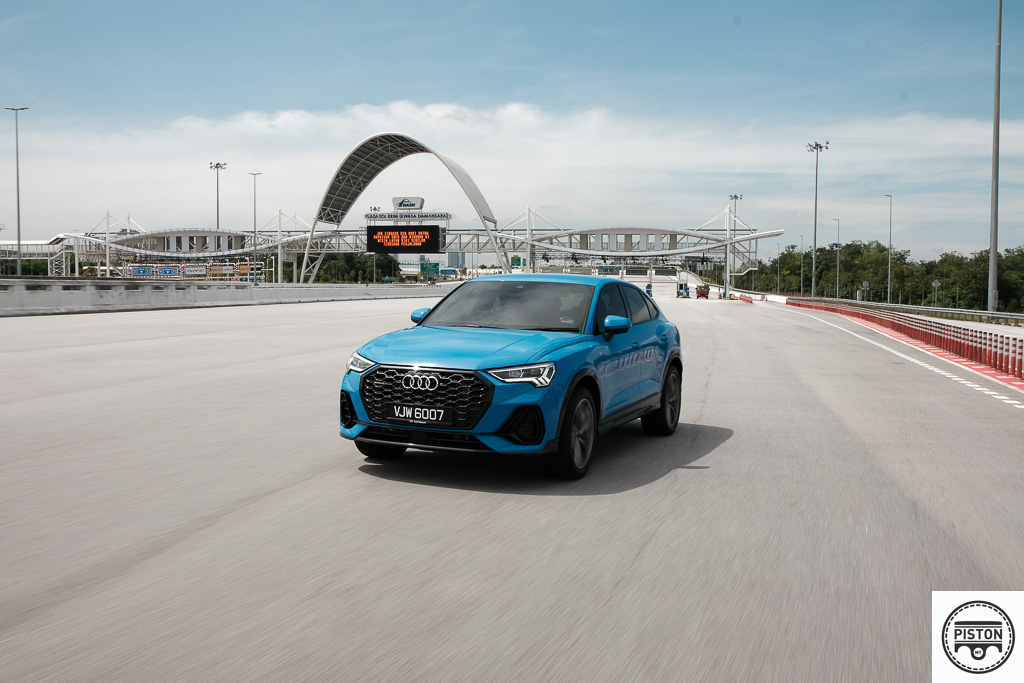 But the Q3 Sportback is not exactly new. It has been in the market since 2020, launched by Audi Malaysia right before the pandemic at an eye watering RM360,223.60 with the Audi Assurance Package that provides for a five year warranty and three year maintenance package with unlimited mileage.
As what we have discovered before in our previous reviews of Audi cars in Malaysia, the fact that Audi cars are fully imported units means they are taxed heavily in every way possible. Hence the prices. And the lack of overall demand does not warrant a local assembly program – not yet at least.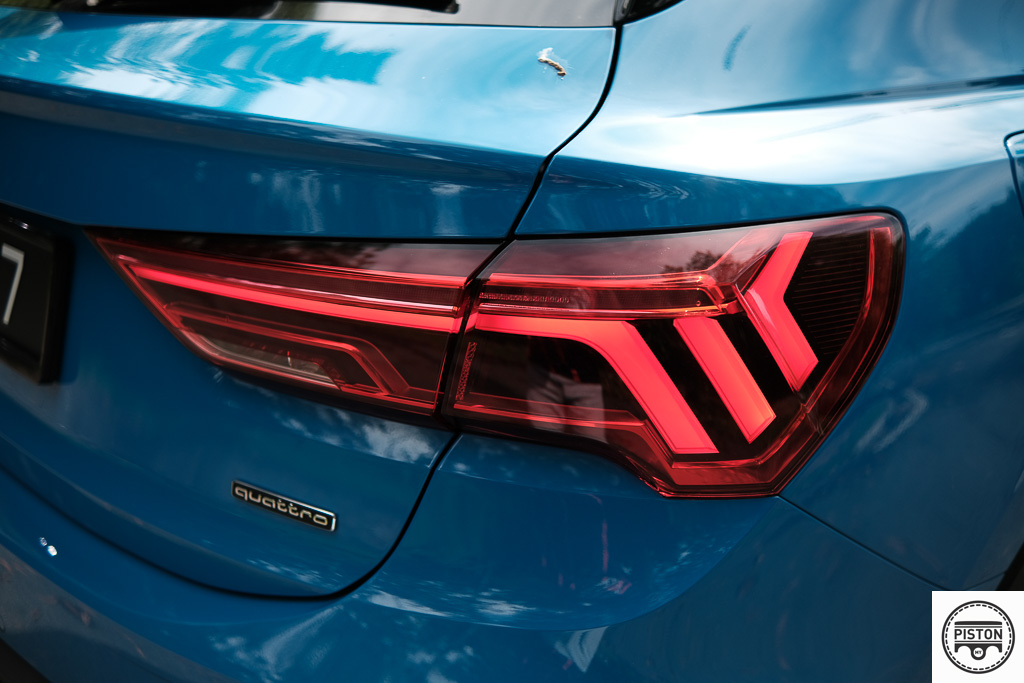 You could buy a used one or an imported unit but that would deprive you of access to the official service centres and official Audi spare parts. Besides, a quick check on some of the leading used car websites shows there's only a handful of units.
So why would you bother with an Audi Q3 Sportback then?
Because in all intents and purposes, the Q3 Sportback is a really nice car to drive and to cocoon yourself in on a day-to-day basis. Let us explain why.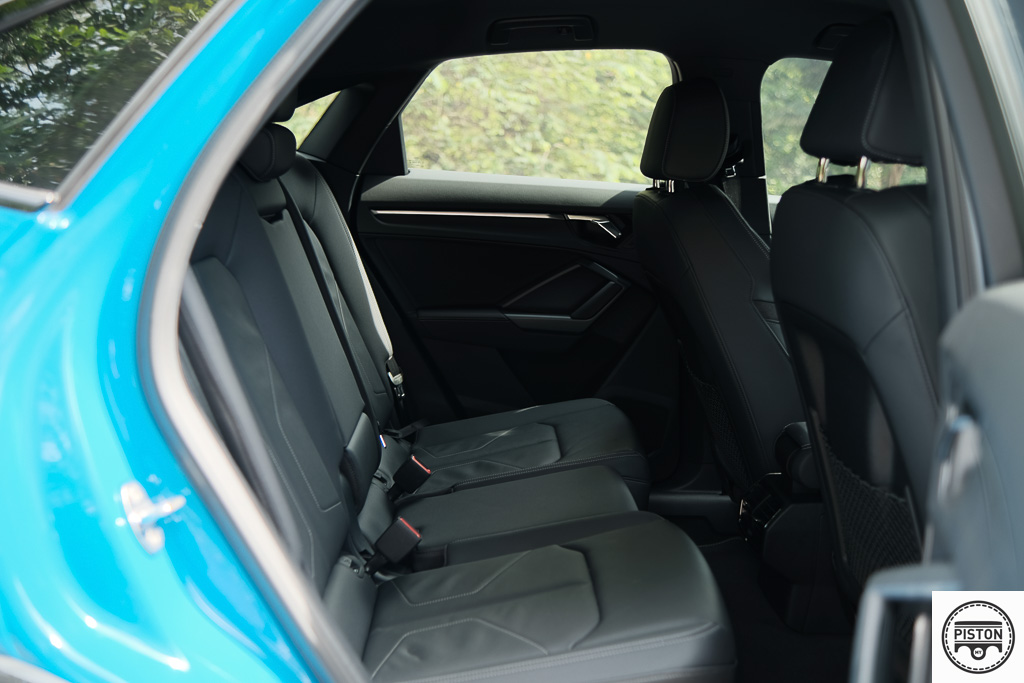 But before that, let's just make one thing clear, the interior – especially the back seats – are not very big. As we found out after latching on a child seat, there's not much legroom for a three-year-old seated in his chair. And as soon as a six-footer takes the driver's seat, there's very little space left at the back seat directly behind the driver.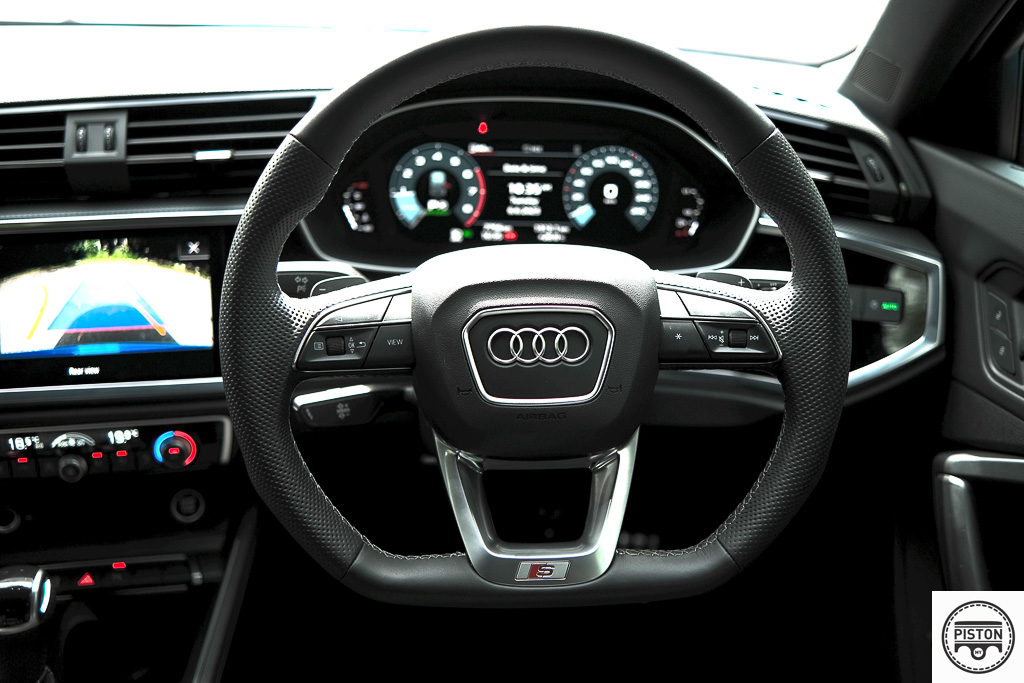 But that's about it though. That is the only complaint we have about the interior. But that can be forgiven if you don't have a family to transport and don't intend on using the back seats much either.
Up front, the multi-function, flat-bottomed S-Line steering wheel greets you as soon as you take a seat. It has well placed buttons and dials that have a firm click and feel like they will last a long time.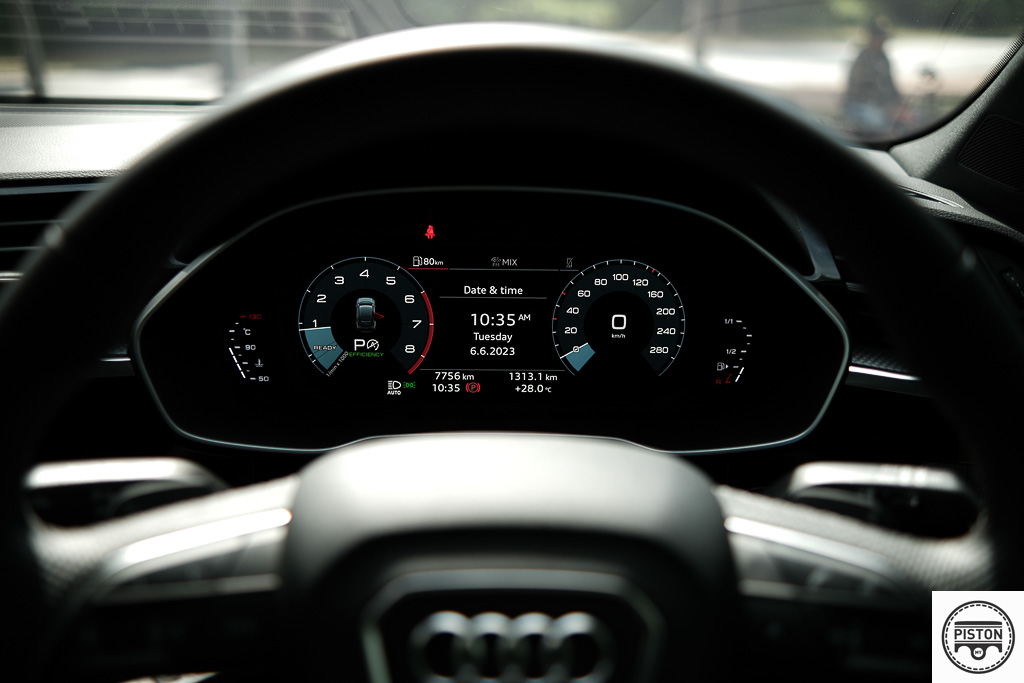 Directly behind the steering wheel lays a 12.3-inch TFT digital meter panel that gives you multiple readouts and is capable of displaying the navigational map, the music and all of the onboard data, all at the same time.
This is part of the Audi Virtual Cockpit Plus system and it is one of the best in the industry. The screen refreshes at a rate of 60 times per second; so fast that the human doesn't even see it refreshing. Instead, what you see is an ultra-sharp display of all the important readings.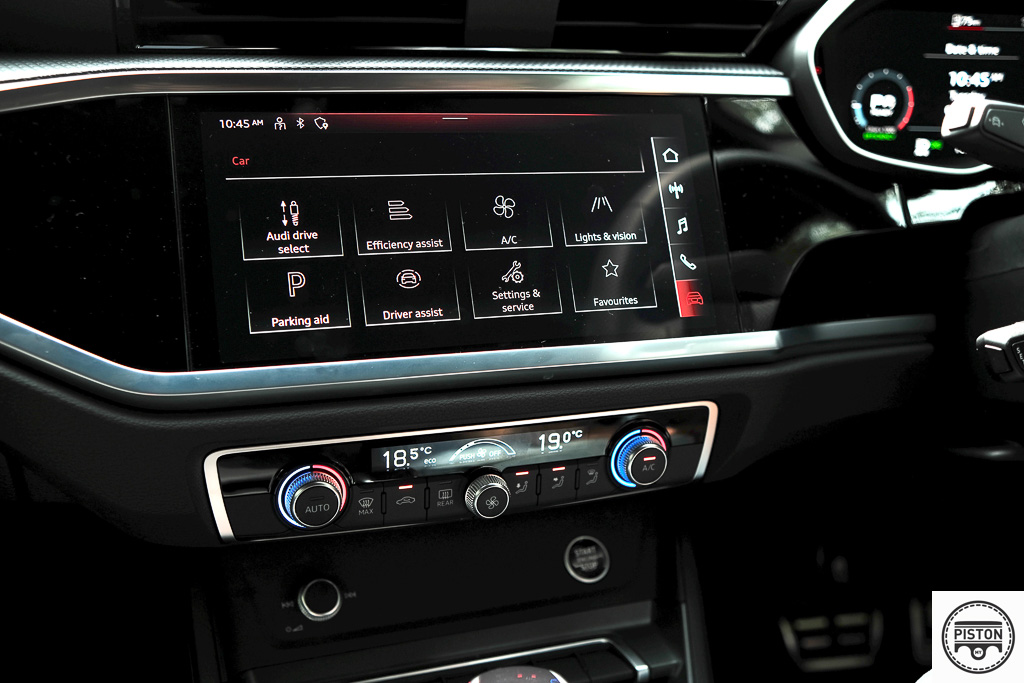 On the left of that is the Audi MMI system that is accessible via a 10.1-inch screen. Here you get access to all of the onboard systems such as Wireless Apple CarPlay and Android Auto. The software that governs everything is arguably the best in the industry as well. The fact that it is simple and controls are not hidden deep in its programs makes it easy to use even when driving. Car makers like Mercedes, BMW and even Lexus could take a card out of Audi's software book.
Besides all of those onboard gizmos, the real fun is how the Q3 Sportback drives.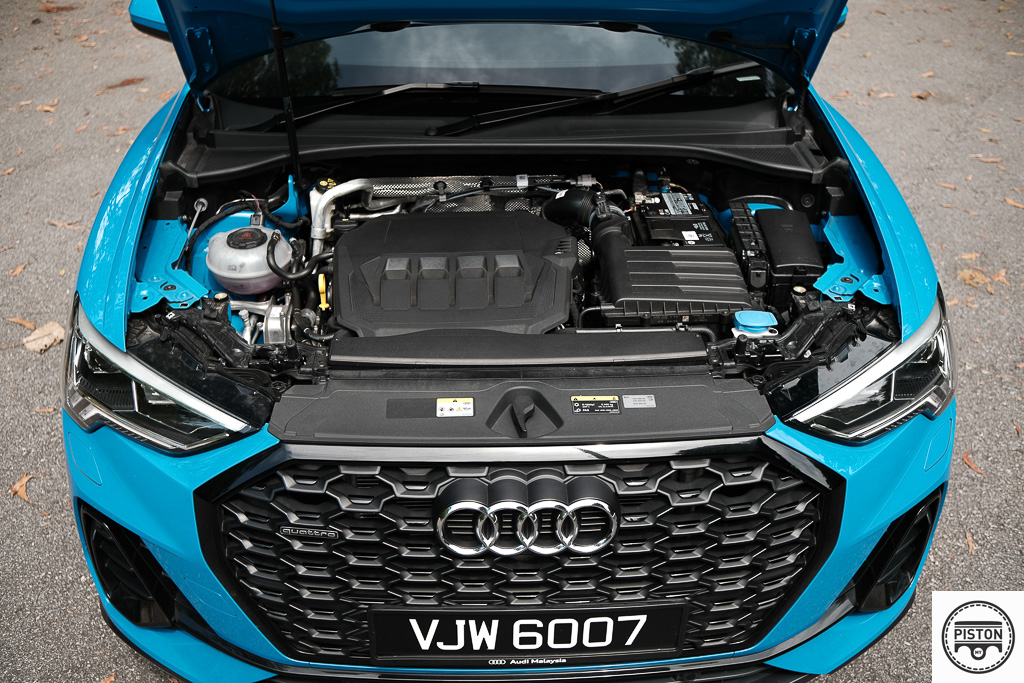 Powering the car is the Volkswagen group's famous 2.0 TFSI engine that can be found in cars like the Golf. However in the Sportback, the engine has been tuned to make 180PS from 3900rpm and 320Nm of torque from just 1400rpm.
It does the charge to 100km/h in about 7.3 seconds and maxes out at 220km/h. This is decent enough for your day to day business. And if you are the type that likes to attack some corners, the quattro all-wheel-drive system lets you dig deep for traction.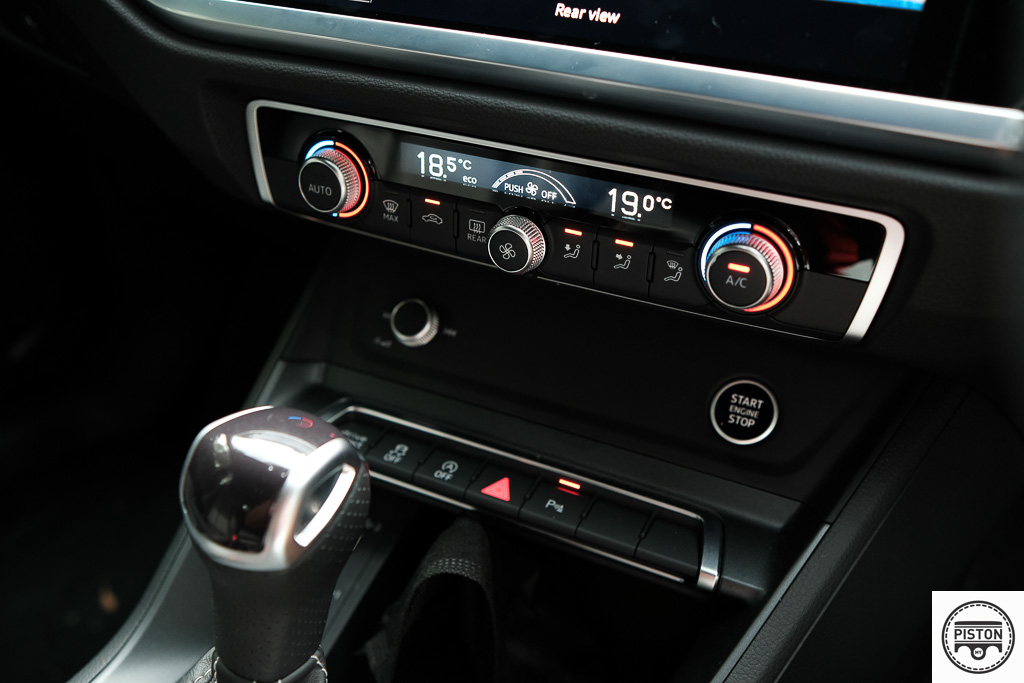 But you can't rely on the suspension to match your intent though as it is comprised of a regular multi-link set up at the back and MacPherson struts up front without any adaptive capabilities.
If it were adaptive, it would respond to the selected driving mode and would have stiffened up in Dynamic mode for better control. In Comfort mode it would have calmed down and soaked up the roads for max interior comfort.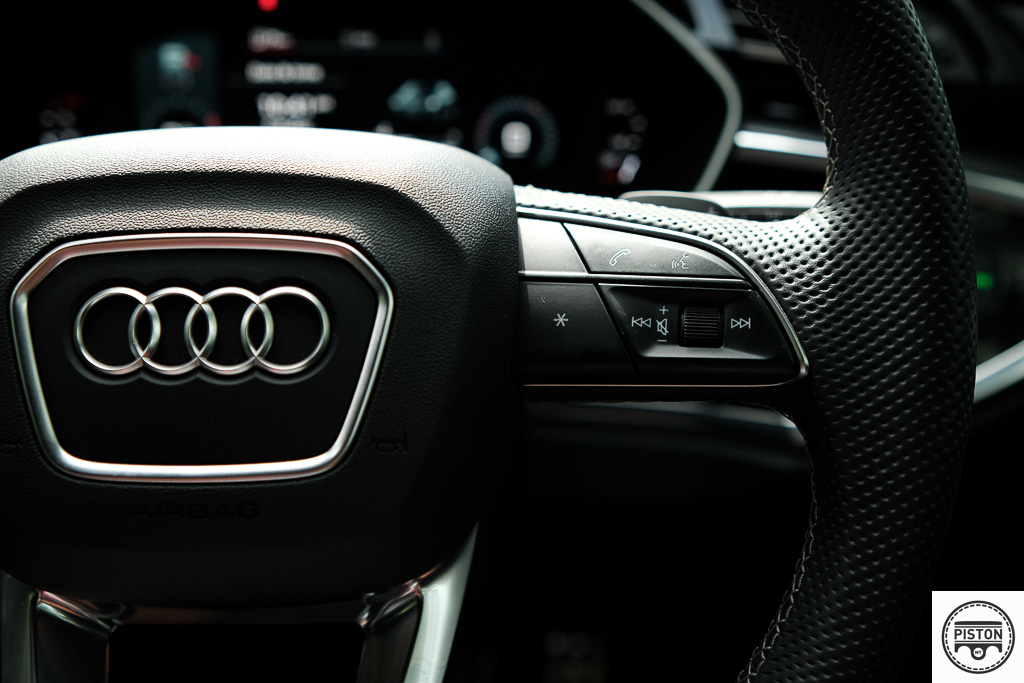 However, the Sportback is better suited for long distance drives, highway cruises, urban commutes and does an excellent job at isolating the cabin from the outside world. This results in a comfortable and even silent ride quality, which is what ultimately the Q3 Sportback is designed for.
The Audi Q3 Sportback is a fun car designed for daily drives with a focus on comfort, practicality and a tinge of power. It's Sportback roofline gives an impressive 530-litres of luggage capacity which makes it ideal for small families as well.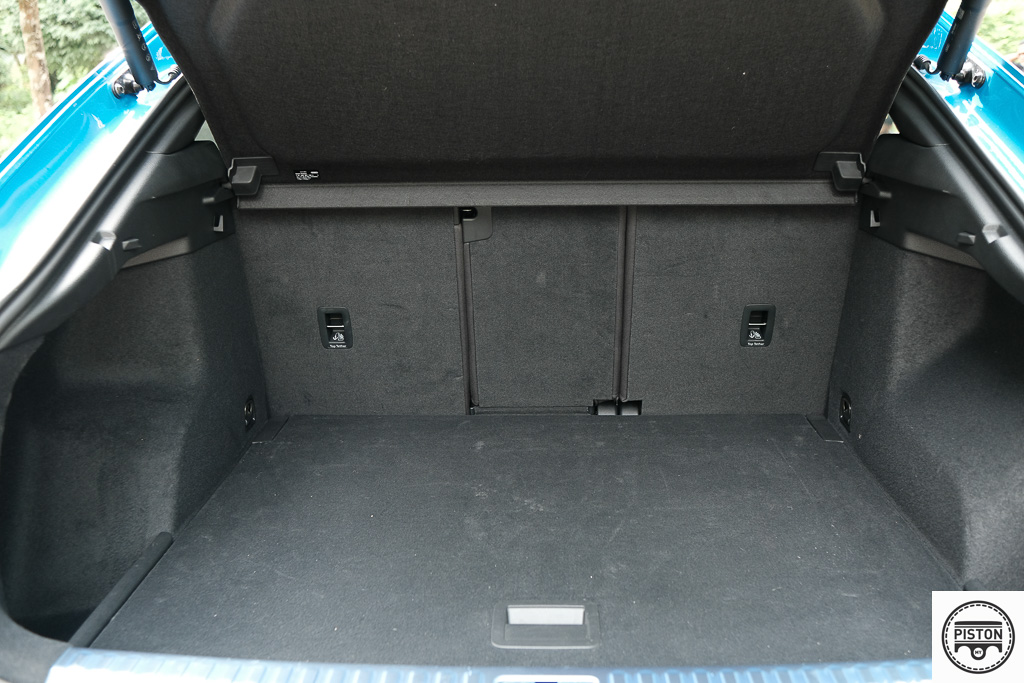 Perhaps the only stumbling block may be the price. And the fact that competitors like the BMW X3 are newer and can be had from just about RM329,000. It may seem difficult to justify the asking price of the Audi Q3 Sportback, but there is no doubt that it has quite a lot to offer, but it all comes with a hefty price tag.
Specifications
Engine: 2.0 TFSI, 4-cylinder, Turbocharged, all-wheel-drive
Power: 180PS @ 3900rpm
Torque: 320Nm @ 1400rpm
Fuel consumption: 8.1-litres / 100km
Suspension: MacPherson Struts (front) / Multi-link (rear)
Price: RM360,423.60 with Audi Assurance Package
We like: Does everything quite well
We don't like: Hefty price tag