Recently, Mercedes-Benz Malaysia hosted a trip to Penang for members of the media to drive some of their SUVs. We were paired with the EQB350 4MATIC. Yes, this was a little bit worrisome due to the fact that this SUV does not boast a long range when it comes to interstate travelling.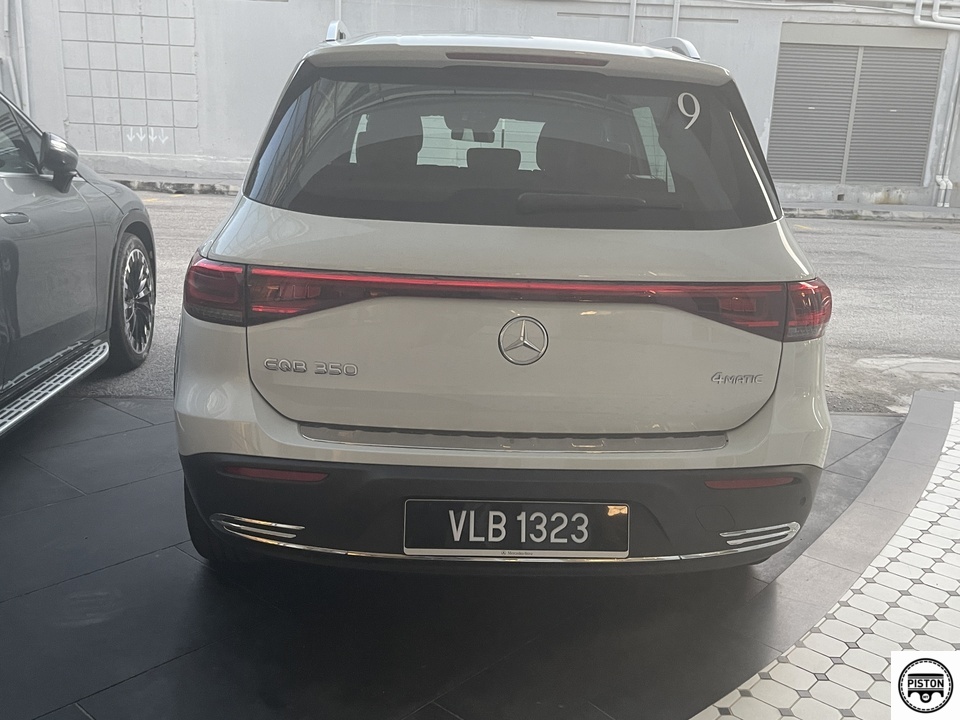 Let's begin with the specs before we go further ahead. With two motors, the EQB 350 produces a total of 292PS and 520Nm of torque. Its energy is contained within a 66.5kWh, 420-volt lithium-ion battery pack. It includes an 11kW charger by default, and it takes around five hours and 40 minutes to fully charge the battery using the 11kW three-phase charging outlet. The 10% to 80% charge using DC charging at 100kW will take about 30 minutes, and a 15-minute charge will add 140km to the range with the said DC charger.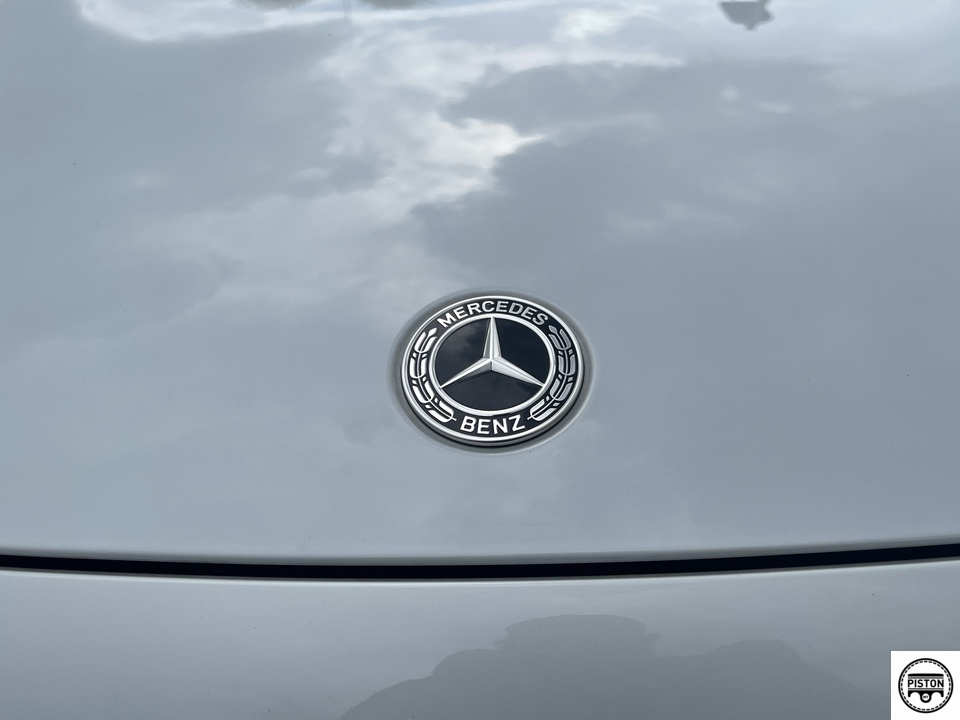 Obviously, when we were first handed the keys to the EQB, it was fully charged with a range of 370km. The drive was from Terra Camp Cafe, Petaling Jaya to The Prestige Hotel, Penang, which is approximately 360km and takes around four hours to reach. Of course, when reviewing the time and travelling distance, we took into consideration the road and weather conditions.
To make things more interesting, we were paired with a member from another publication and had to swap drivers halfway. So with this, we also had to take into consideration driving styles.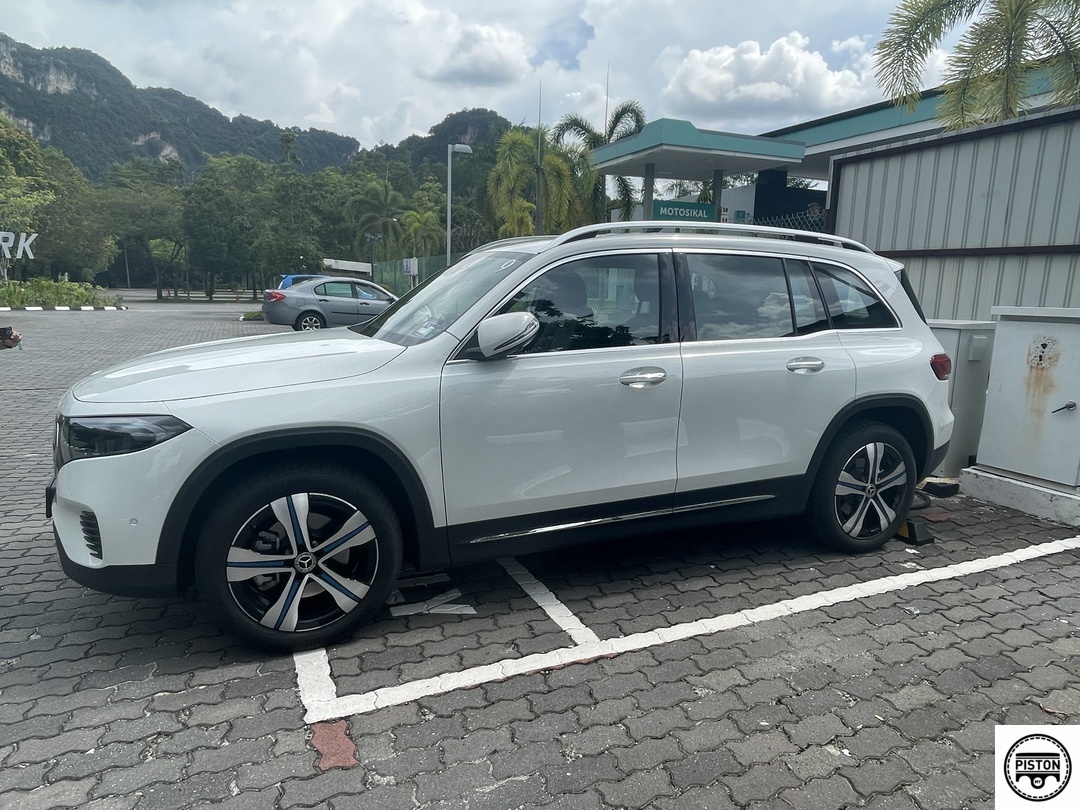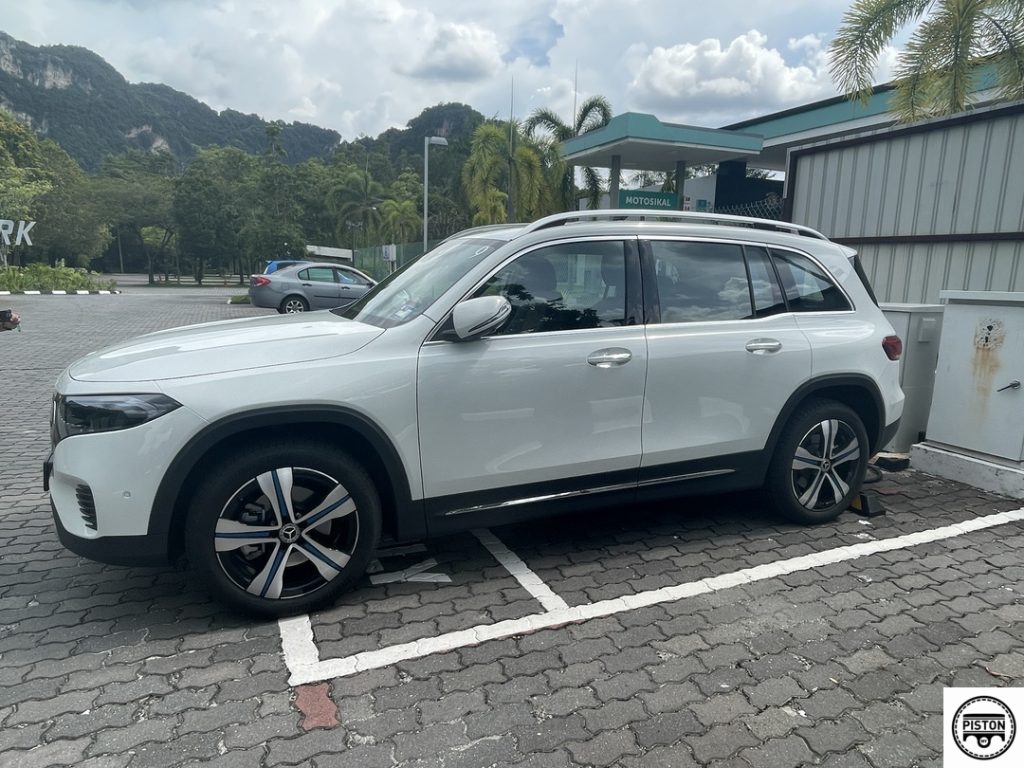 In terms of size, the dimensions of the EQB 350 are 1,834mm in width, 1,667mm in height, 4,684mm in length, and 2,829mm in wheelbase. Which means it is roughly about the same size as the GLB. This seven-seater model has a luggage capacity of 465 to 1,620 litres with the seats folded, with an additional 190 litres of room available thanks to a second-row bench that slides 140mm. Now, since there were only two of us, there was no need for us to use that much luggage space. But we could have easily fit five to seven travel-sized suitcases if we wanted to.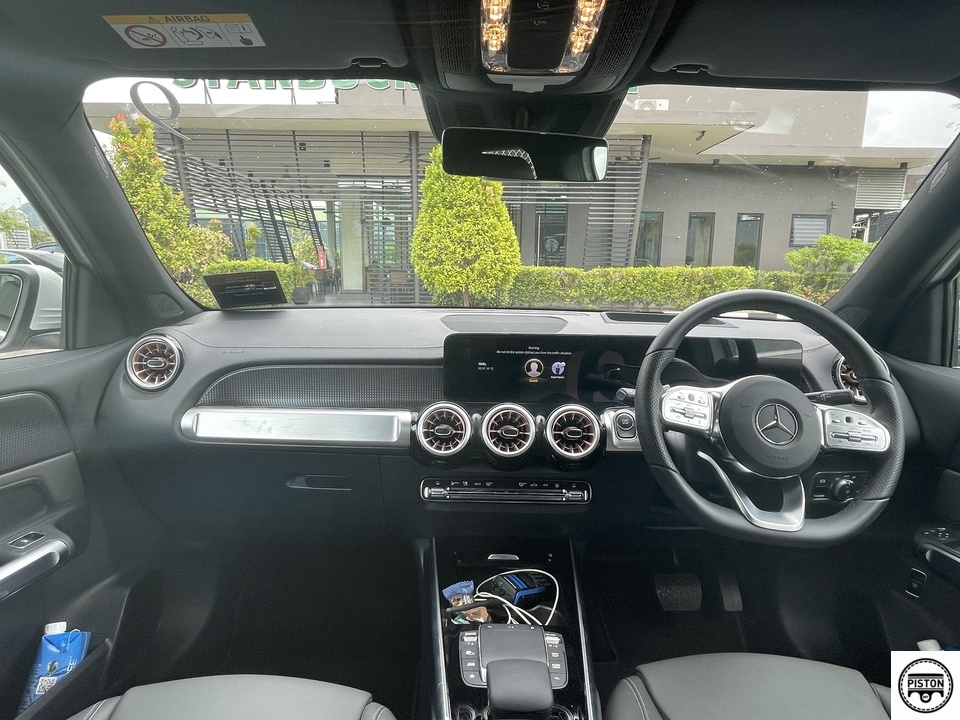 The interior was a little bit of a letdown with its wobbly air conditioning vents and buttons/rollers on the steering wheel that did not feel all that smooth. However, it comes with Artico synthetic leather and Cupertino fabric, and the steering wheel is upholstered in Nappa leather. It does not scream luxury but it does the job of giving you the feel of sitting in a Mercedes-Benz.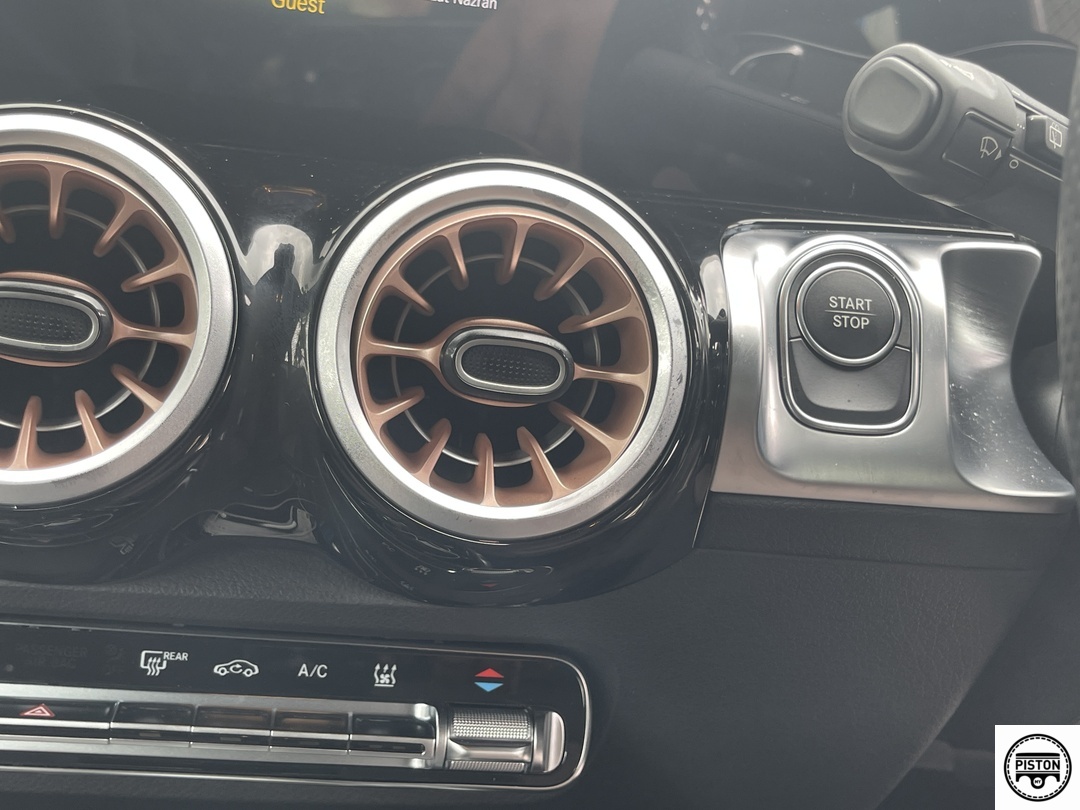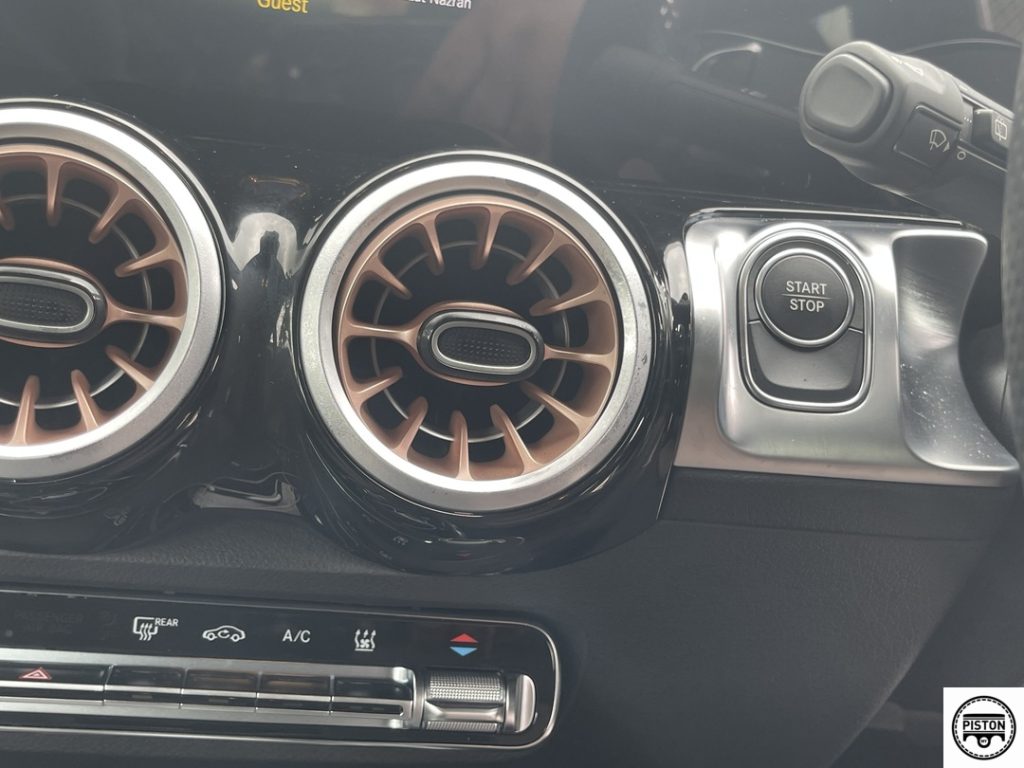 With this being an electric vehicle (EV), you can expect the interior to be quiet. But it was not. Bear in mind that this was not built for speed because it maxes out at 160km/h. However, it has 520Nm of torque, and it accelerates really well and you won't even realize that you're already hitting the max speed.
But, it is because of this, that you get a lot of road noise leaking into the interior. But we didn't mind it because we had our Apple CarPlay connected for us to vibe to great tunes and for easy navigation.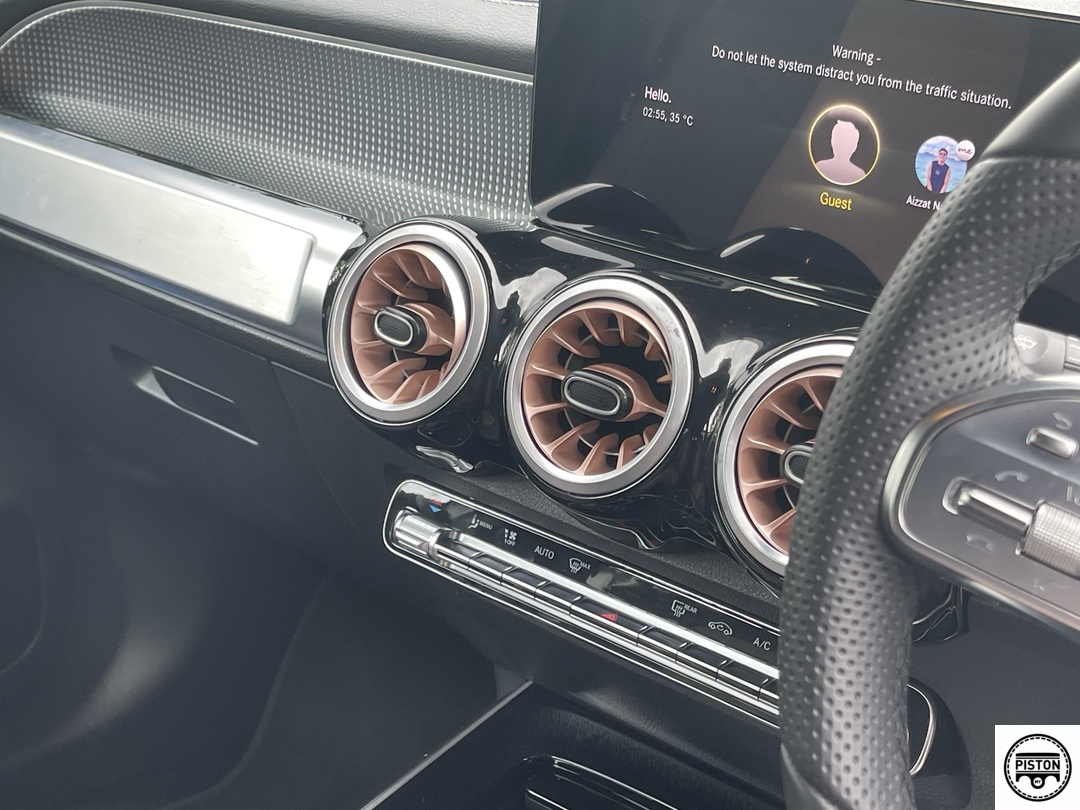 We also tested out the different driving modes which were Individual, Eco, Comfort, and Sports modes. As expected, Sports mode is a battery drainer. It allows you to steer more precisely and makes the car feel more alive. To us, Comfort mode was the best selection for this long journey. It still gave us enough torque to overtake other cars and especially lorries that were hogging the middle lane.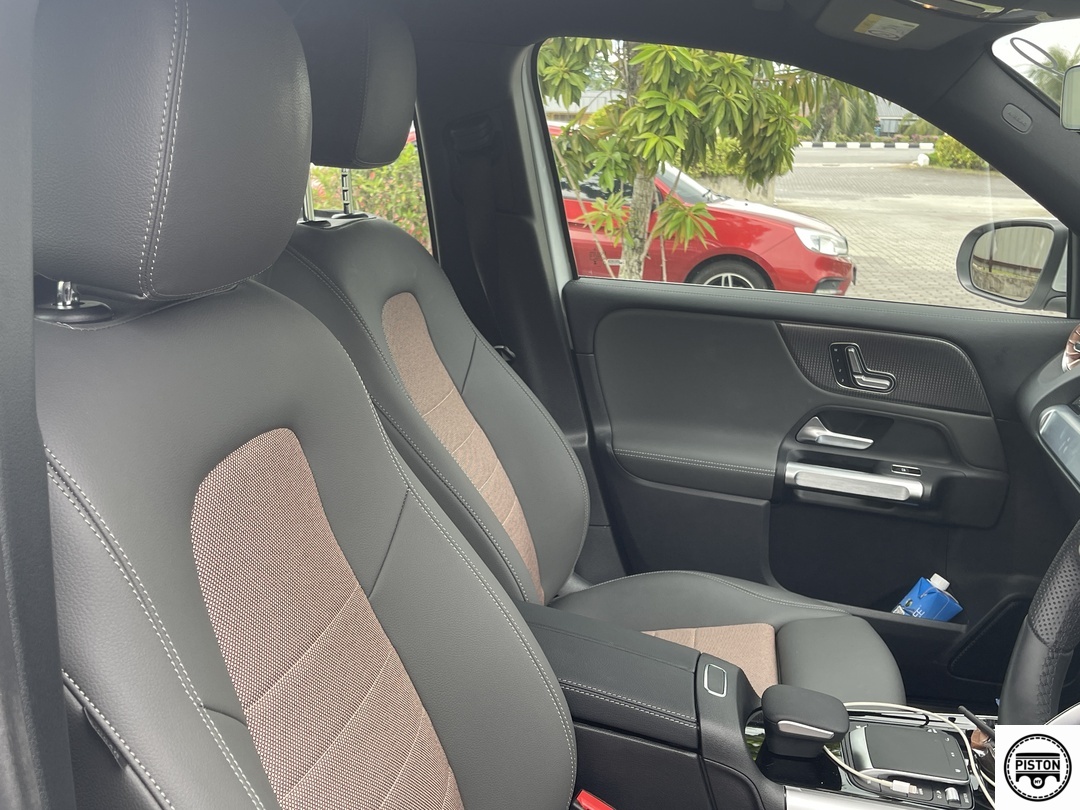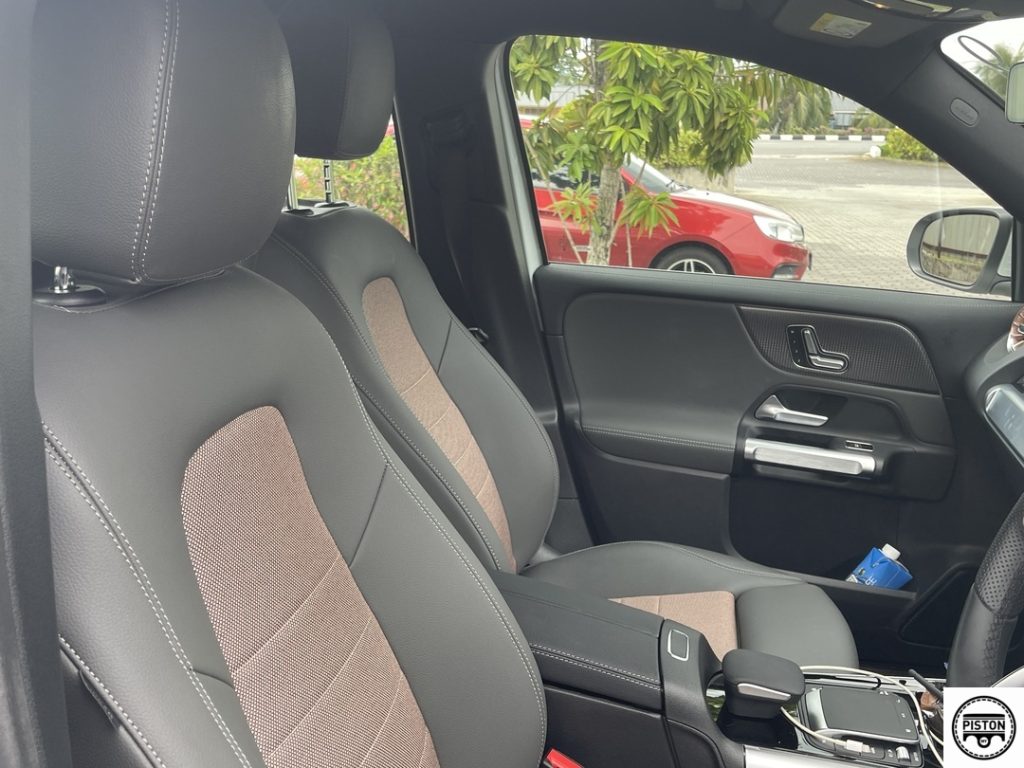 The suspension though was typically Mercedes-Benz, brilliantly comfortable to the point that we did not really feel much of the bumps and imperfect roads. It kept us in place so we were not bouncing around our seats when it came to driving over multiple rumble strips.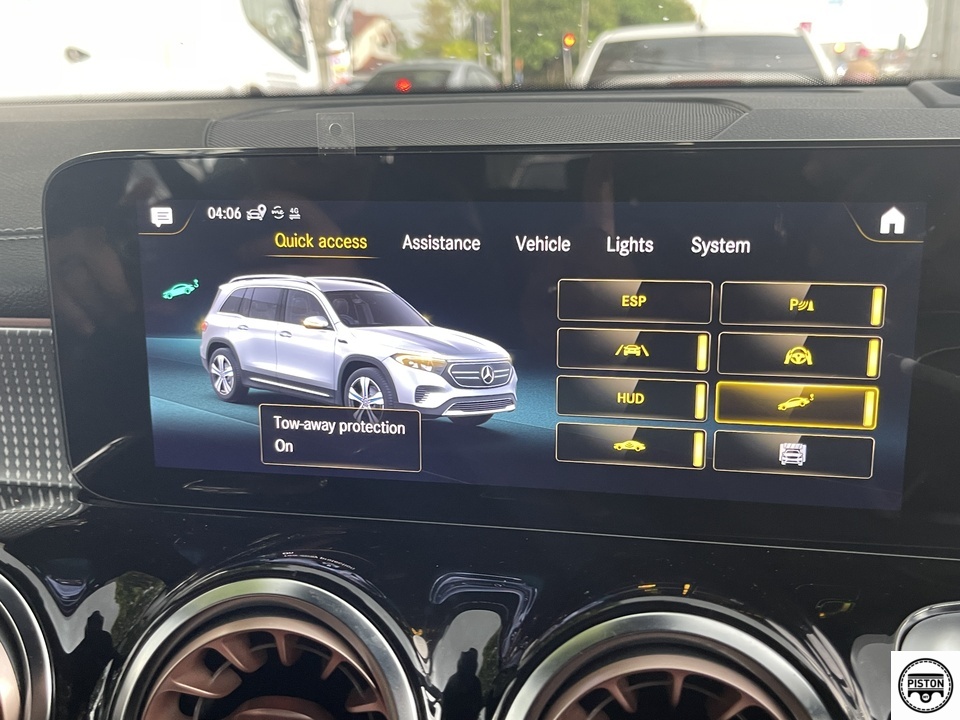 We had to make a pit stop at Tambun, Perak for a quick charge because we only had around 113km left in the EQB 350 and we had 160km of travelling left to do.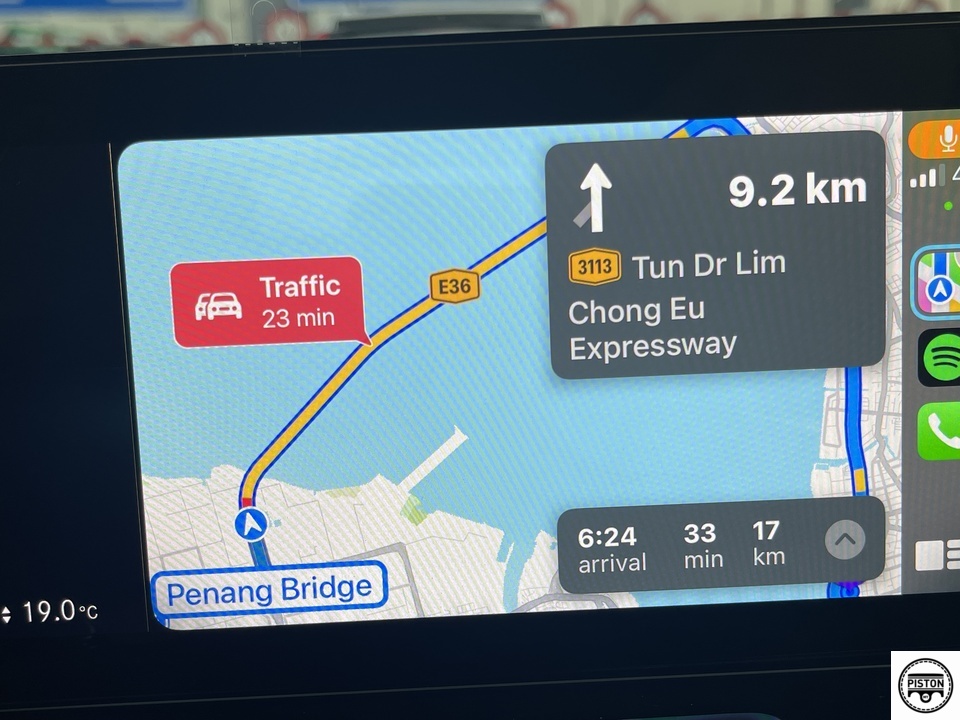 We departed PJ at 12:50 pm and reached Tambun at about 3:20 pm, which was not too bad but we could have done it a bit faster if we did not have to consider battery preservation.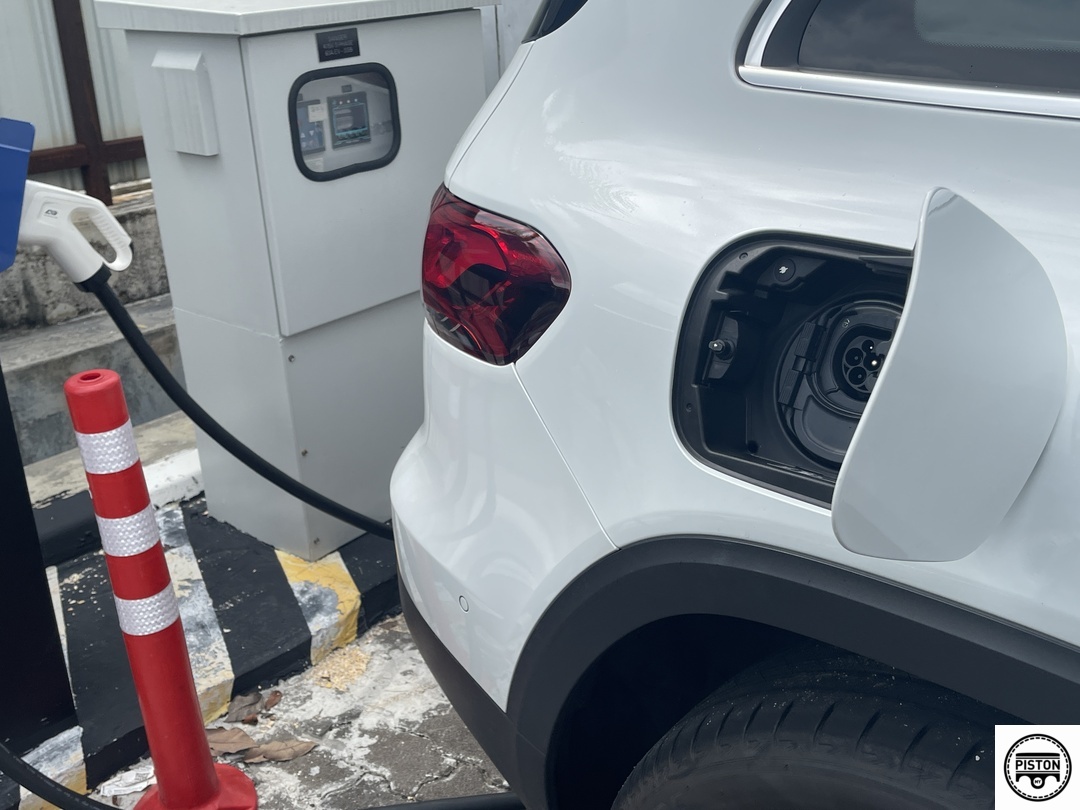 We hooked it up to a 100kW DC charger for about 30 to 40 minutes, which gave us an additional 210km of range. So, in total, we had about 323km of range.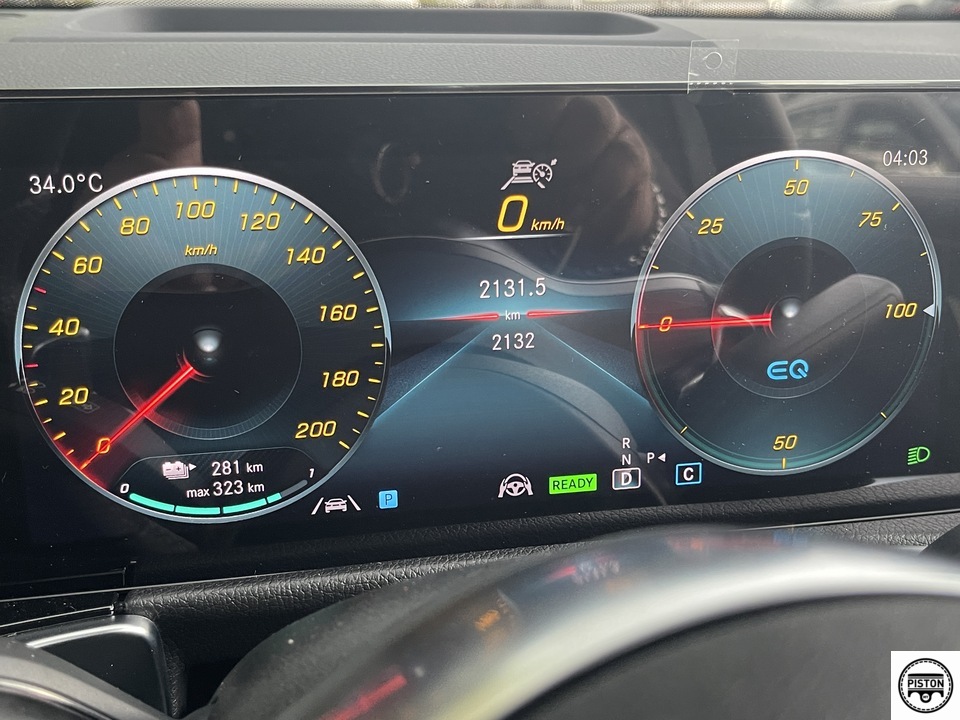 As soon as we left Tambun, it started pouring hard, to the point where we could barely see the roads, the traffic was heavier than ever, and it was flooded in some parts. This caused a huge delay in our arrival time. Those who drove the petrol SUVs reached at least an hour ahead of us.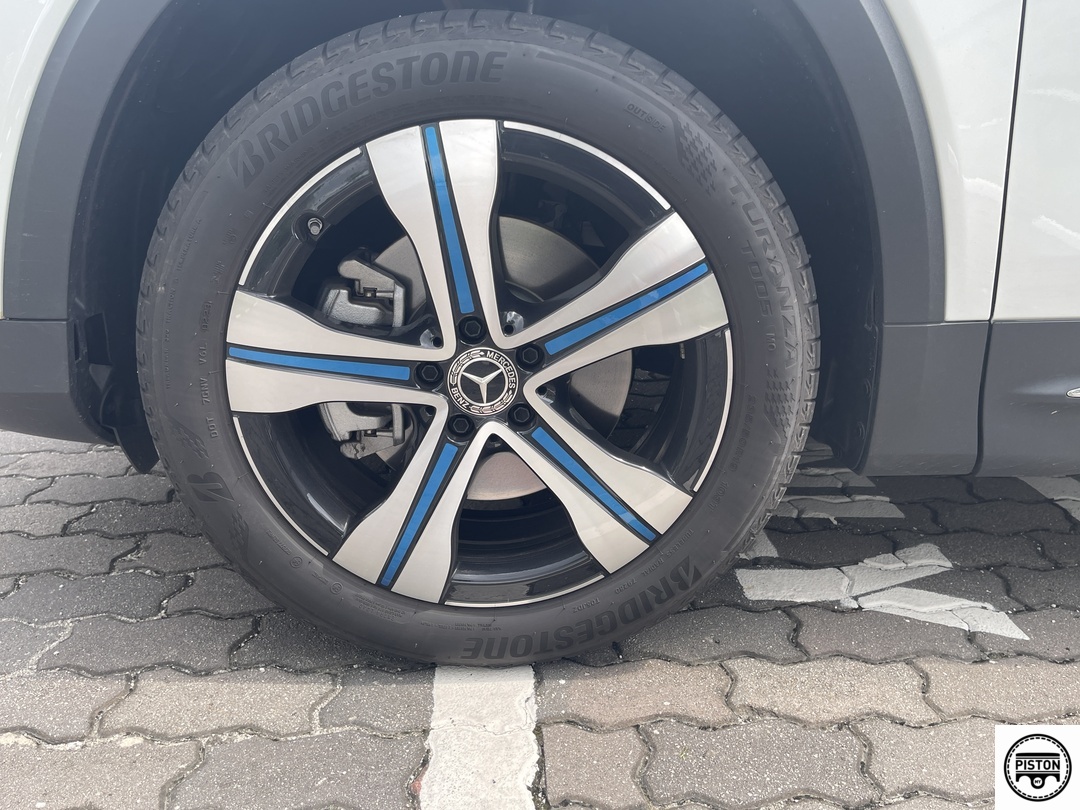 Thankfully, the EQB is equipped with a driving assistance package that includes Active Lane Keeping Assist, Active Steering Assist, Active Blind Spot Assist, Exit Warning Function, Active Brake Assist, and Extended Automatic Restart in traffic jams for added safety. Moreover, there is an anti-theft alarm system, an interior monitoring system, Adaptive Highbeam Assist, and the Parking Package with a 360-degree camera configuration and Park Assist. This really assisted us throughout the entire journey and kept us away from disaster during the horrid weather.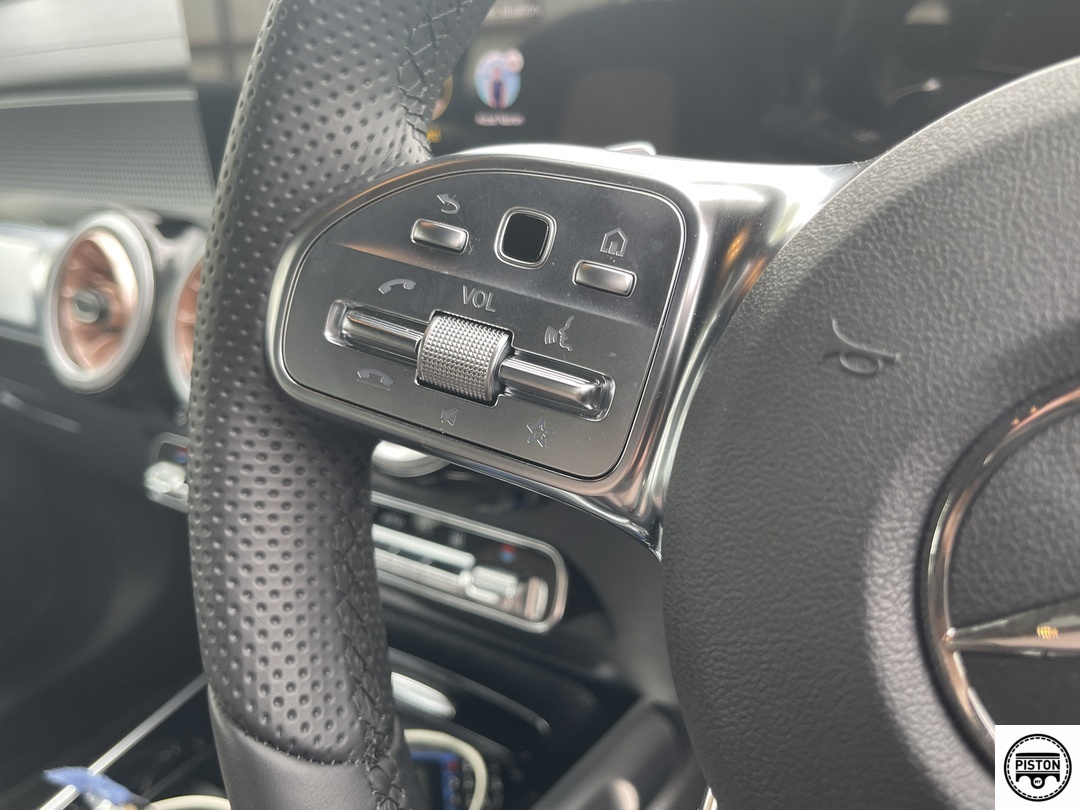 Even on wet roads, it handled corners like a champ and we felt safe taking corners at high speeds, following the speed limit, of course.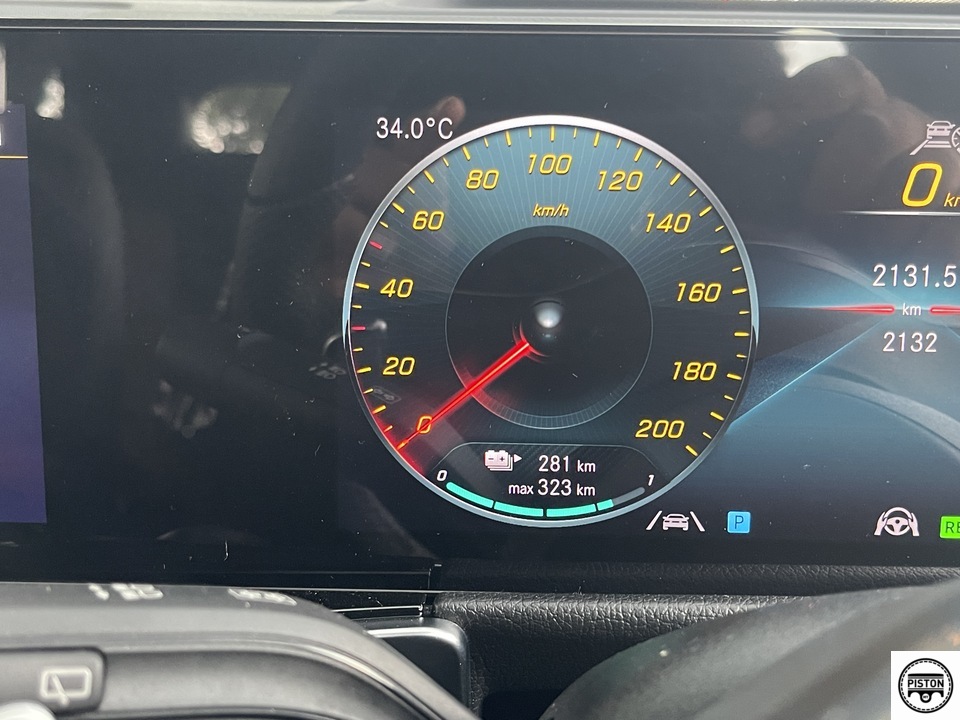 Now, most people who aren't well-versed in EV operations would probably say that the traffic jam will eat up your battery usage and lower the range. Actually, according to research, even when delayed in traffic with the air conditioning, music, and headlights on, electric cars can effectively maintain their battery power. Think of it as a smartphone on standby, it can go on and on with very little battery consumption. So, our range anxiety wore off because now we did not actually have to worry about the range.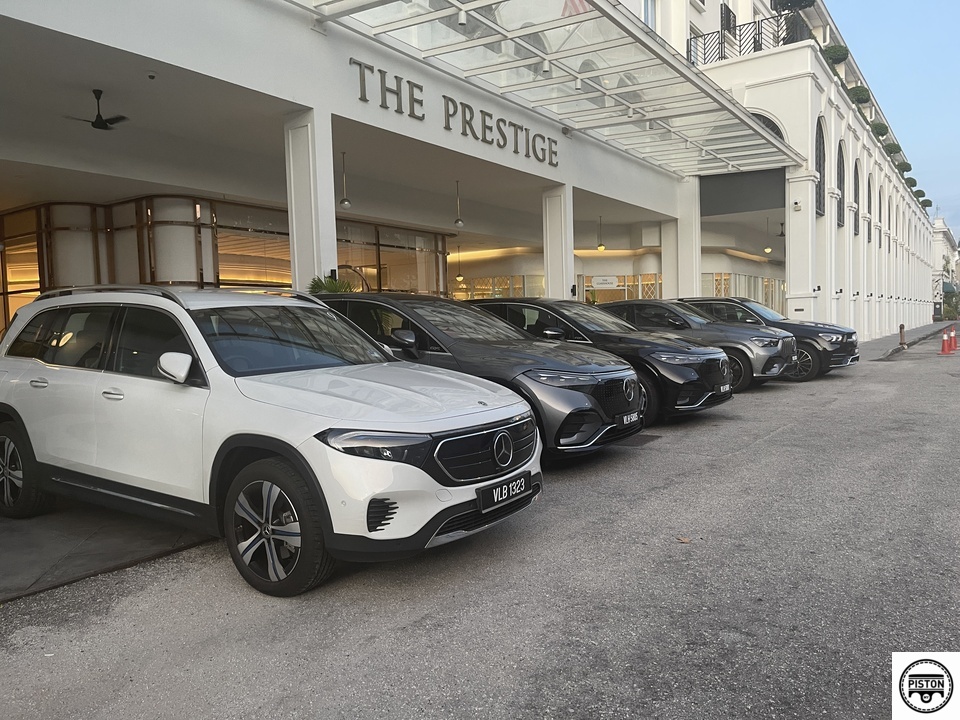 Eventually, we reached our destination at 6:30 pm with 140km of range left. Which was not too bad at all. We could still drive around for some sightseeing. One thing is for sure, we were really comfortable throughout the whole drive and did not really feel fatigued. The comfort level in the EQB 350 is exceptional and is well-suited for long drives.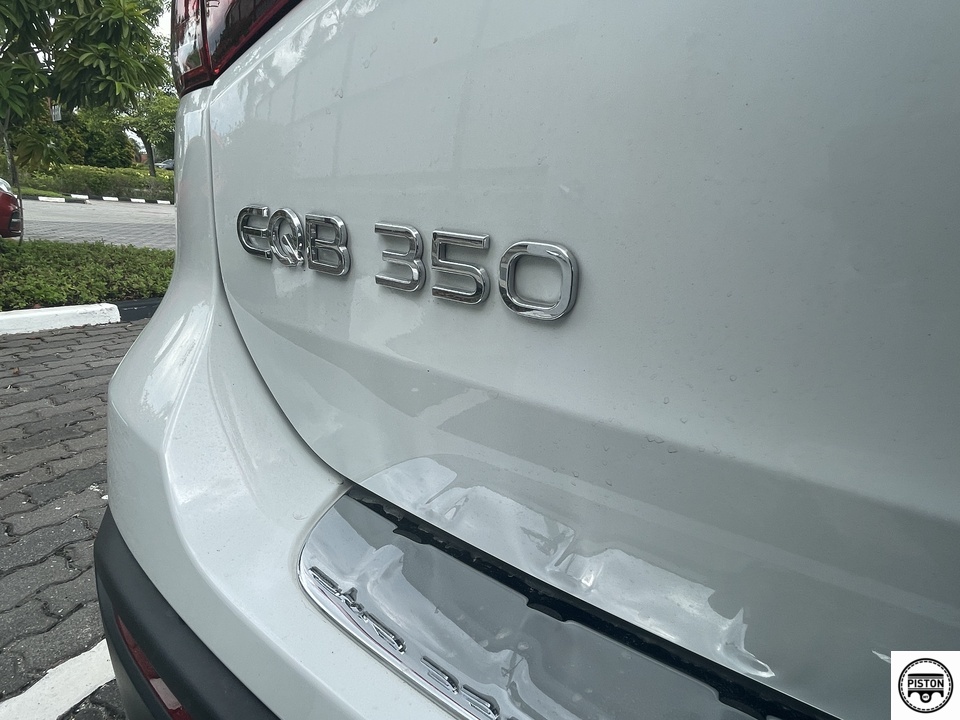 Although we had to make a stop to get it charged up, we still enjoyed the comfortable journey. But it's not every day that you drive up to 400km, so if you're thinking about getting an EV SUV that can host your family for below RM400,000, this would be a good choice. You just have to do some proper planning for those interstate journeys.