A rare and unassuming 1992 Porsche 911 (964) RS Touring will be one of the first cars to grace the Silverstone Auctions Porsche Sale taking place at the Wing, Silverstone on 21st October. Only 11 such cars have ever been made, fewer still that are in right-hand-drive.
Porsche started selling the car to customers as a way to homologate the model for the Porsche Carrera Cup race series. Customers could choose between two different variants, namely the Sport and Touring. Though lighter and more bare-bones than the Touring, the Sport wasn't as appealing to many customers.
It's punishing ride quality and stripped out interior wasn't to everyone's tastes. Rather, the Touring variant with its more refined equipment, sound proofing and creature comforts similar to that in the Carrera, made it the favoured choice.
Compared to the standard 964, the RS Touring had a blueprinted 3600cc air-cooled engine, lowered and stiffened suspension, 'Uniball' top strut mounts, strengthened engine and gearbox mounts, and uprated brakes.
Though fewer weight saving measures were carried out on the RS Touring compared to the Sport, the former still managed to be lighter than the standard 964. Porsche worked on the engine by re-chipping the engine management system and fitting a lighter, single mass flywheel.
Though the improvements only added 10bhp to the overall performance, the engine's torque was significantly higher than that found in the standard car. As such, it's a nimble sports car that is able to hold its own on racetracks.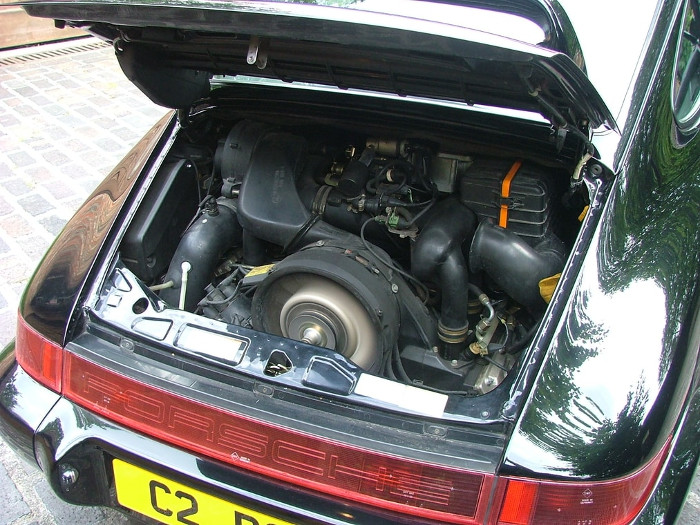 The RS Touring that is up for sale sports a black body colour, black interior, sports leather seats with triple colour inlays, tinted windscreen and a sunroof, as well as unique magnesium 17-inch wheels rims and low-profile Michelin N3 tyres.
Earlier on, certain performance upgrades were carried out on the car by JZ in King's Langley, which included a "de-cat system and Supply and fit performance chip." As a result, power is now rated at 279 bhp at 5909 rpm.
"This is a very special Porsche, the rarest of the rare," declares Guy Lees-Milne, general manager of Silverstone Auctions. "These cars are actively sought after by serious Porsche collectors all over the world, and this is a truly superb example."
Current estimates peg the asking price for this particular 964 RS Touring at £185,000 (RM1,048,211) – £210,000 (RM1,189,861), which is a significant amount of money for that has not isn't really a classic Porsche. If you would like to know more about this or the auction, please visit www.silverstoneauctions.com