Lewis Hamilton will not be driving in the Sakhir Grand Prix, the second of two F1 races being held in Bahrain this year, this weekend as he has been tested positive for COVID-19. In accordance with the strict rules and procedures of the health authorities, he has to be in quarantine which is at least 2 weeks for most countries.
This would likely mean that the British driver would not only miss the round this weekend but also the final round in Abu Dhabi which takes place on December 13 . It would end the 17-round season that had begun with 22 rounds but had to be modified and compressed as a result of activities being suspended in the first half of the year due to the pandemic.
Negative even on Sunday
It's not known who Hamilton could have contracted the coronavirus from as three tests he had last week (including one on the day of the race) had negative results. However, yesterday, he had mild symptoms of the coronavirus which are typically fever, cough and shortness of breath. Upon testing, a positive result was reported and reconfirmed by a second test.
"Lewis is now isolating in accordance with COVID-19 protocols and public health authority guidelines in Bahrain. Apart from mild symptoms, he is otherwise fit and well, and the entire team sends him its very best wishes for a swift recovery," said a statement from the Mercedes-AMG PETRONAS team. A  replacement driver will be announced soon.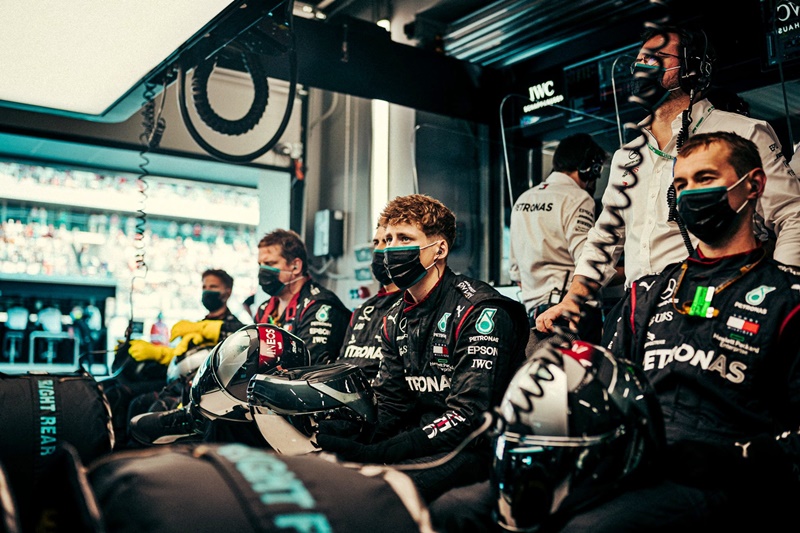 Already the 2020 champion
In as far as the championship is concerned, Hamilton already has enough points to be the 2020 World Champion – his seventh title – even without racing in the final two rounds. Likewise, his team has also won the Constructors Championship again, its seventh consecutive title.
In 11 of the 15 races already completed, Hamilton grabbed the 25 points that the winner gets (along with a few for the fastest lap). Without him at the front, it presents an unexpected opportunity for other close contenders to improve their position during the final rounds.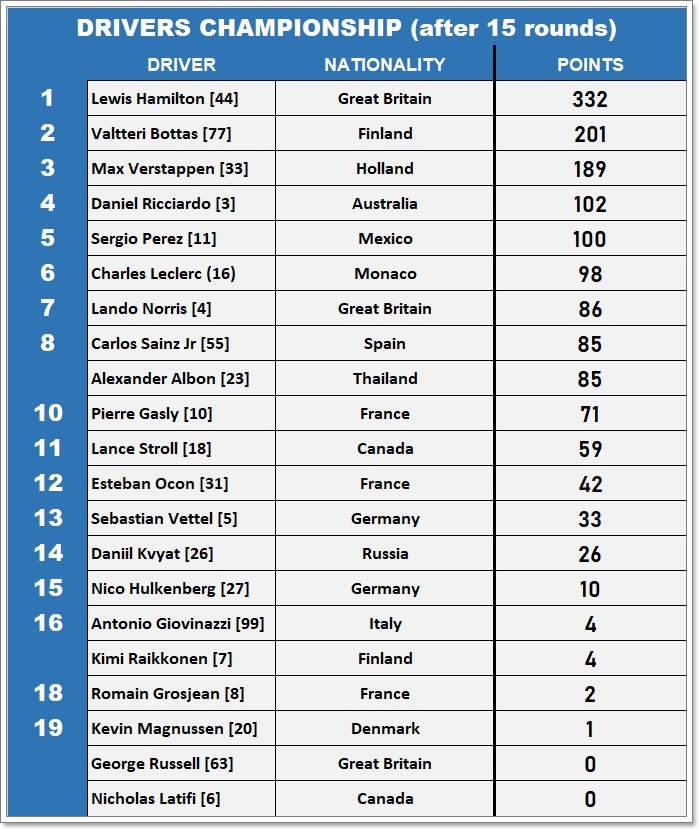 This weekend's race – the 2020 Formula 1 Rolex Sakhir Grand Prix – is at the same circuit as last Sunday's will be a 'filler' for the 2020 calendar which was disrupted by postponements. It is one of three circuits this year to run two rounds back to back, the others being the Red Bull Ring in Austria and Silverstone in the UK.