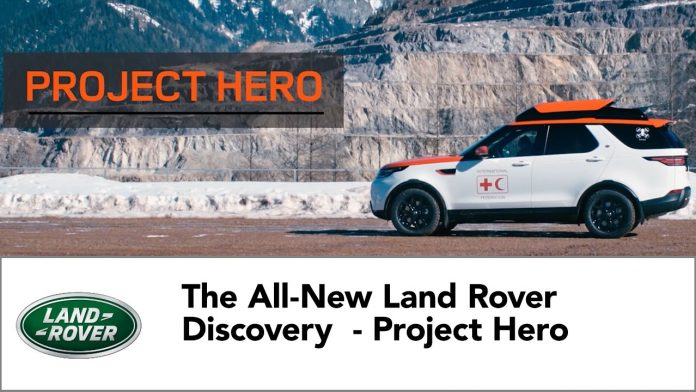 JLR's emergency response unit is set to take on the harshest conditions to save lives
Project Hero is essentially a bespoke version of the Land Rover Discovery built for use by the Austrian Red Cross. Unveiled at the Geneva Motor Show, it's an advanced communication vehicle to support the International Federation of Red Cross and Red Crescent Societies(IFRC), which are the world's largest humanitarian network.
This rather unique Discovery will be trialed by the Austrian Red Cross emergency response teams in the hopes of aiding the saving of lives by speeding up the response times to disasters.
Project Hero's main party piece is the roof-mounted drone. There's a fully integrated landing system with self-centering and magnetic retention technology that enables the drone to land on Project Hero's roof even when the vehicle is moving.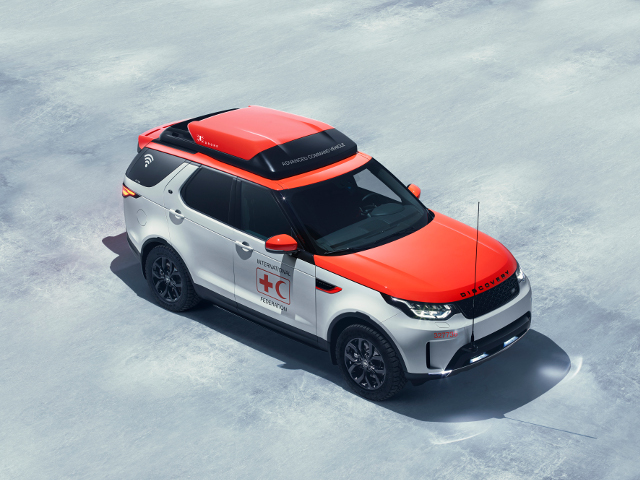 Through the use of the drone, the capacities of the emergency response unit is enhanced by allowing airborne, live footage to be transmitted to the Red Cross's emergency response teams, helping them respond more quickly and effectively to landslides, earthquakes, floods and avalanches. Due to the changing terrain of unsettled landscapes, the aerial view provided by the drone will enable rescues to assess the situation from a safe distance and deduce an effective plan to rescue survivors.
Powered by the same 3.0-litre TD6 engine of the standard Discovery, Project Hero features a number of enhancements which include a heavy-duty sliding floor in the rear load space, segregation panel behind the rear seats providing additional equipment mounting points, LED lighting to aid night vision and innovative power supply points which accept multiple plug arrangements. It also features a multiple frequency radio equipment enabling contact to be made to other teams.
Project Hero will be stationed at the Austrian Red Cross training centre in Erzberg, in mountainous Eisenerz mining area, and in Vienna, for 12 months from June 2017. Its drone, will be used in simulations in order to develop new techniques of disaster relief. Project Hero will be dispatched when the Red Cross provides support at times of natural disasters, such as heavy snow or floods, or accidents.