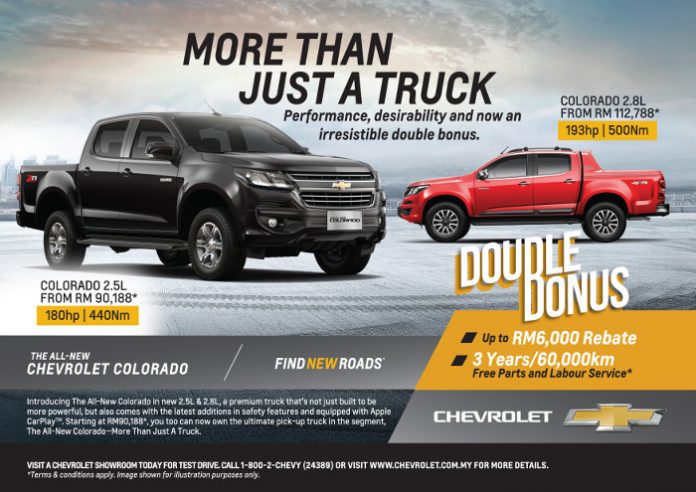 Naza Quest Sdn Bhd, the sole distributor of Chevy vehicles in Malaysia has launched a new sales promotion called the "Double Bonus".This promotion provides a rebate of up to RM6,000 and 3 Years/60,000km complimentary Parts & Labour Service for all variants of the new Chevrolet Colorado. Buyers are eligible for the deals from 1st March 2017 onward.
Chevy's high spec Colorado is offered with a 2.8-litre Duramax VGT engine that produces 190hp and 500Nm of torque is priced at RM112,788. The variant offered with the 2.5-litre engine on the other hand develops 180hp and 444Nm of torque and is priced at RM90,188.
Features for the various variants of the Colorado include Engine Remote Start, 8-inch infotainment touchscreen system with four speakers and compatibility with Apple CarPlay, Traction Control, Front Collision Alert, Lane Departure Warning, Tire Pressure Monitoring System and 3 airbags (Driver, passenger and knee).
Chevrolet Malaysia is also offering a comprehensive 5 Year/ 200,000km warranty and 1 year complimentary Chevy Assist Membership on all variants of the new Colorado as part of the manufacturer's Complete Care programme. Visit your nearest Chevrolet dealership to learn more.