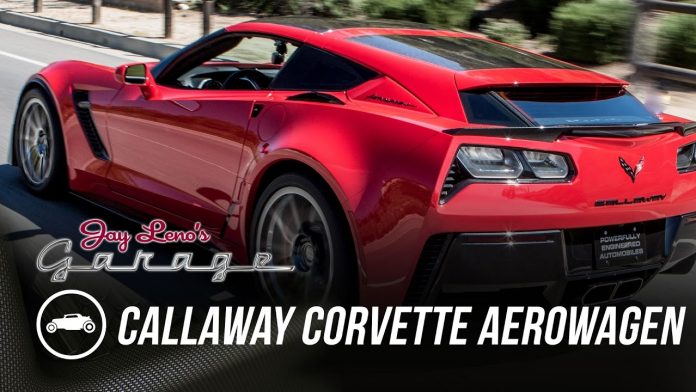 Ever wondered what a shooting brake Corvette would look like? Well, wonder no more because Callaway, a US based company has done to the C7 Vette. Considered sacrilege by die hard Corvette fans, the car is offically known as the Aerowagen. Despite the extensive work on the car, the styling and fitment wouldn't look out of place if it did roll off GM's production floor.
The Callaway name is synonymous with modified performance Vettes since the early 2000s. And this Aerowagen in particular, has received more than just styling adjustments, Callaway gave the car performance tweaks as well. Originally, the Vette's 6.2-litre V8 produced 650 horsepower in stock form, but Callaway has bumped up the power to 757bhp.
The car was featured on former The Tonight's Show host Jay Leno's famous YouTube channel, Jay Leno's Garage. Jay did his usual walk-around of the car while interviewing owner/producer of the respective car that is on his show. This time around for the Aerowagen, it was Peter Callaway, General Manager of Callaway Cars Inc and his father Reeves Callaway, the founder of the company. And as you will see in his video, and as expected, he takes the car on his signature test drive. Take a look at this clip for the full video:
Like Brabus is to Mercedes-Benz, Shelby is to Ford, Callaway has been been tuning and upgrading Corvettes for a very long time. That said, the company, which was incorporated in the 1970s, initially gained recognition for offering Alfa Romeos and BMWs with a lot more horsepower then when they came from the factory. And despite being supercharger experts today, from the 1970s to 1990s, the company's bread and butter was turbochargers.
As impressive as the Aerowagen is, this particular type of styling isn't to everyone's liking as it's more of an acquired taste. Ferrari too tried its hand at a shooting brake with the introduction of the GTC4Lusso and despite coming from the Mac daddy of sports car makers, it wasn't a stellar hit. Only time will tell if the Aerowagen does gain any popularity.