Jaguar Land Rover has racked up another accolade and this time, its for the highly sought after F-PACE. It was awarded World Car of the Year and World Design Car of the Year 2017 by a panel of jurors. The mild off-roader has been tasked with leading Jaguar's foray into uncharted waters for the UK based automaker, which is the SUV market.
Prior to the introduction of the F-PACE, Jaguar, since its inception, has never produced an SUV before. And as such, getting it right on your first attempt, is a remarkable feat that deserves praise. Like the rest of the current line-up the SUV shares the same design language utilised by the XF and XE cars. The prominent honeycomb grille occupies most of the front fascia and are complemented by the equally wide projector headlamps.
Overall, the proportions of the exterior have been well thought out and designed with respectable attention to detail. As a result, its no surprise that Jag walked home with both awards. And to commemorate the win, the UK representatives of the panel of jurors visited Jaguar Land Rover's Solihull plant, the location where the F-PACE is being produced.
Steve Fowler, World Car of the Year Juror and Editor in Chief at Auto Express said, "It's been wonderful to present these awards to the Solihull workforce. The Jaguar F-PACE looks great, looks sporty and it looks like a Jaguar should. It's built brilliantly."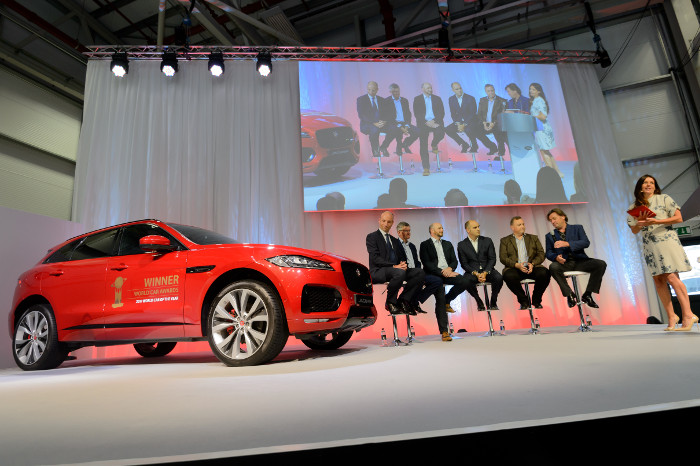 Jaguar Land Rover CEO, Dr. Ralf Speth and Solihull Operations Director Nigel Blenkinsop were handed the awards by World Car of the Year. Later, Blenkinsop paid tribute to the Solihull workforce who were responsible for the manufacture of the F-PACE as well as contributing to it being the fastest selling Jaguar of all time.
The F-PACE will face some serious competition as it goes up against more established models from Mercedes-Benz, BMW and Audi. However, based on past experiences, Jaguar has managed to carve out a section of the market due to its unique styling, sporty attributes and general appeal of the brand. We shall have to wait and see if it's looks are able to win over many potential buyers and provide the brand with better sales numbers.