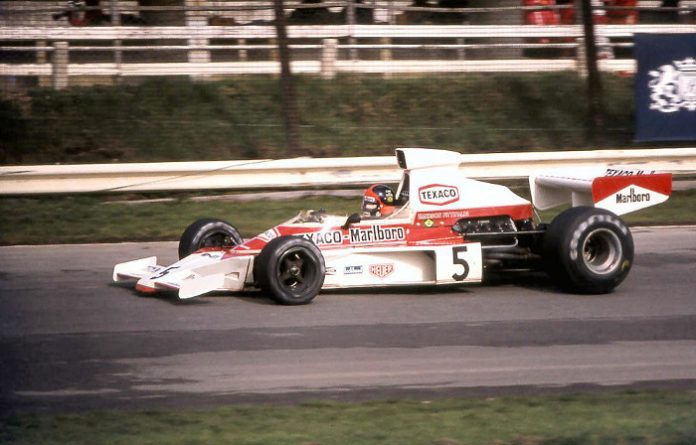 Former Formula One champion and arch rival of Micheal Schumacher, Mika Häkkinen has been tasked with belting a McLaren M23 at the Rolex Monterey Motorsports Reunion, this August. The car belonged to F1 legend, Emerson Fittipaldi and helped him clinch the 1974 championship.
Häkkinen will complete a couple of 15-minute exhibition laps to entertain fans as well as showcase the capabilities of the vintage racer. Back in the 1970s, Formula was still a crude, unsafe and unfiltered sport that offered both the best as well as the worst of Motorsports racing.
Between 1973 to 1978, this McLaren-Ford M23 won 16 of the 80 grand prixs that it competed in. Three world championship titles were won with it, including the 1974 drivers' and constructors' title and 1976 drivers' title.
Häkkinen will be sitting in for Jenson Button who was the original choice of McLaren. Since the latter wasn't able to fulfill this task, the automaker turned to its most trusted ambassador and icon of Formula One.
Nicknamed 'The Flying Finn'. Häkkinen drove 130 grand prixs for the McLaren team between 1993 and 2001, and winning 20 of them. This included two Drivers' World Championship titles in 1998 and 1999 respectively.
The rivalry between the Finn and Schumacher was extremely fierce, which gave rise to exhilarating edge-of-your-seat action that is seriously lacking in the current F1 era. Their battles were so intense that they have become part of Formula 1 folklore.
"Though we were looking forward to having Jenson Button at the Rolex Monterey Motorsports Reunion, we are delighted that a driver of Mika's caliber is able to take his place," said Gill Campbell, Senior Vice President of Event Operations at Mazda Raceway Laguna Seca.
He later added, "Formula 1 is the pinnacle of racing advancement, and Mika will be able to showcase a car with great racing history during his spirited exhibition laps. Fans will surely enjoy the link between past and present during the exhibitions and throughout the event. Thank you to McLaren for making this happen."
This year's Rolex Monterey Motorsports Reunion will be held at the Mazda Raceway Laguna Seca. The event will see more than 550 historic cars taking part in the race weekend. Like many shows of this nature, fans will get to see a range of vehicles ranging from the pre-war era cars to more modern ones.