This year's warm summer has left much of Northern Europe without snow, and as such, the dogs training for the winter championships may not be sufficiently prepared. In an effort to circumvent the problem and challenge the arctic's best sled pullers in the process, Land Rover stepped up to the plate.
This is only fitting, considering that an estimated 50 per cent of Land Rover customers own or regularly travel with a dog. This not only proves that its vehicles are dog friendly, but are capable of travelling through tough terrain to get to their destinations.
A short film has been released by the British automaker, documenting the feat of transporting a team of sled dogs to the underground Vesileppis Ski Tunnel in Finland for a unique training challenge. The vehicle of choice was the Discovery Sport, which will go head to head with these dogs around this dedicated underground tunnel for a unique 1km sprint.
The undulating tunnel is carved into the bedrock 35m below ground level and kept at constant -2°C to maintain a blanket of snow 20mm deep throughout the summer. This will not only push these sled dogs to their limit, but also demonstrate the capabilities of the Discovery Sport and its various offroad technologies.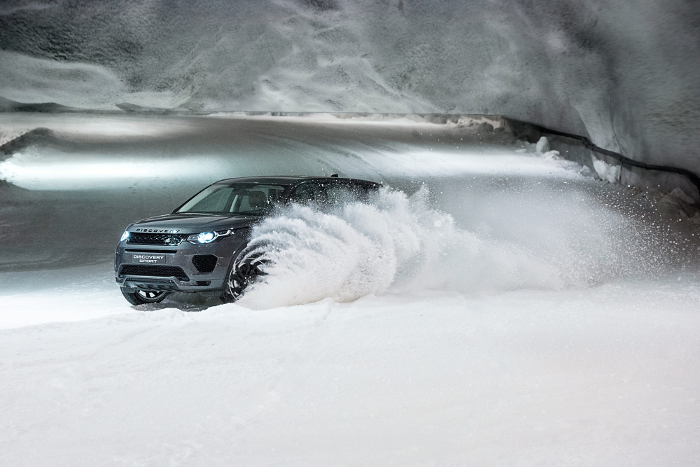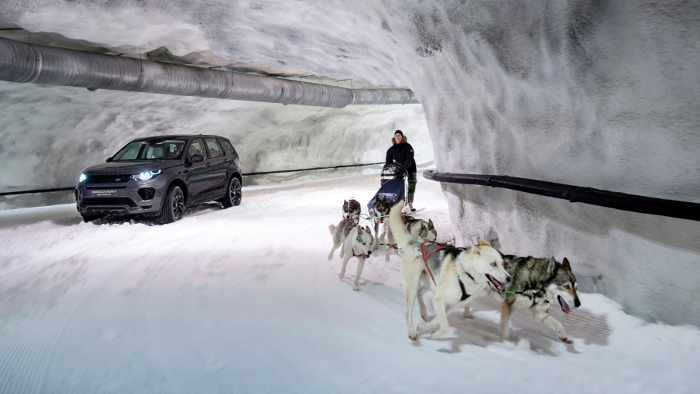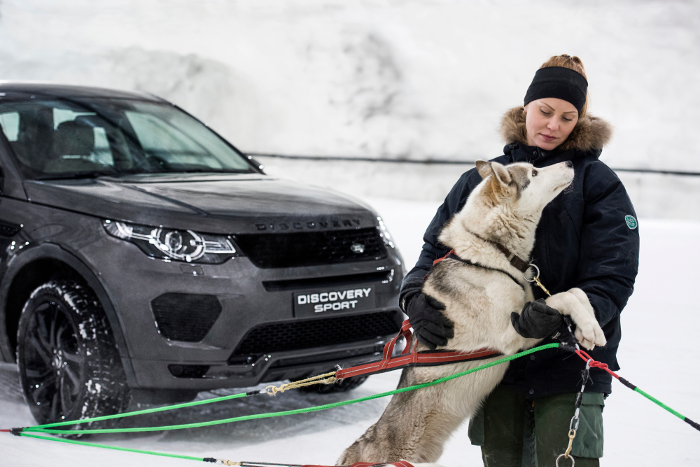 The competitors set off in opposite directions, however the dogs had a much simpler circuit to deal with compared to the Land Rover. Once they had negotiated the first incline, all they had to to was pick up and maintain speed throughout the race.
The Land Rover on the other hand had to deal with maneuvering past ice blocks, putting its wheel articulation and traction control systems to the test. Despite what many might think, the Discovery has inherited quite a bit of offroading tech from its bigger brothers.
Driver of the Discovery Sport, Lead Engineer for Stability Control Systems at Jaguar Land Rover, Karl Richards, said, "Snow is one of the most demanding surfaces drivers will encounter during winter around the world and Discovery Sport proved to be as comfortable in these conditions as the dogs."
He then added, "Land Rover's advanced Terrain Response technology and intelligent four-wheel drive system ensure our premium compact SUV is in a class of its own when it comes to off-road driving – whether you've got two legs or four."
As we know from this video, the two lap race was a close one with the Land Rover winning it by a whisker, no pun intended. But this goes to show how advanced automotive technology has become that a family SUV now has the capability of shadowing the most reliable method of transportation in arctic conditions – the sled dog.
The 290bhp Land Rover Discovery Sport may not be as prestigious as its more expensive Range Rover siblings, but its still a very capable vehicle.