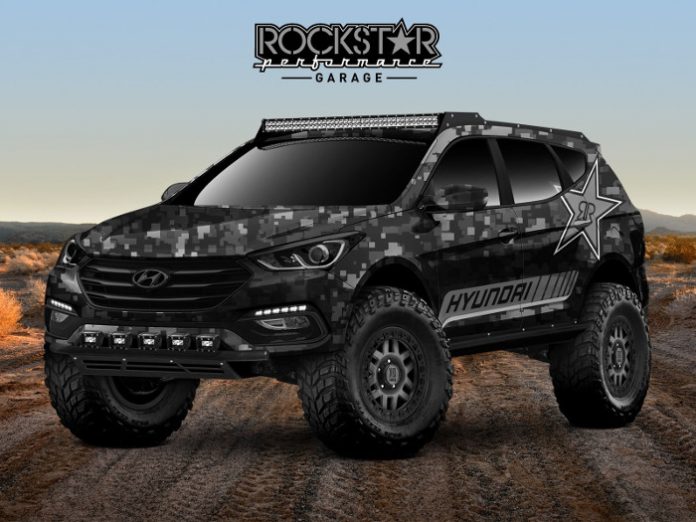 Hyundai has released a teaser image of a highly modified version of its ever popular Santa Fe, called the The Rockstar Energy Moab Extreme Concept that will be on display at SEMA 2017. The vehicle has been kitted out with some high performance upgrades which include massive oversize tyres.
"The Rockstar Energy Moab Extreme Concept was specifically designed to withstand the extraordinary demands of Moab off-road terrain," said Nic Ashby, Rockstar Marketing. "Leveraging the outstanding Santa Fe Sport platform and powertrain, we definitely pushed its capabilities to new limits to conquer the pinnacle of challenges at Moab."
Though the vehicle sports a similar overall look compared to its base model sibling, this Moab edition features a modified off-road suspension kit to accommodate the massive tyres and superior ground clearance.
There's also an array of lighting equipment fitted to the front bumper guard as well as on the vehicle's roof to help with visibility especially during excursions at night. The bodywork features a subtle grayed camouflage-like paint scheme that blends well with the theme of the vehicle.
The following is the extensive list of modifications that have been carried out on the Rockstar liveried Sante Fe:
R1 Concepts, 6-piston front and 4-piston rear big brake kit
KING, Coil-over Suspension and 2.5" Internal Bypass shocks with reservoirs
KMC 17-inch Machete off-road bead-lock wheels
Mickey Thompson 35×12.50R17 Baja MTZ off-road tires
HID Projectors OEM upgraded headlights and taillights
Mishimoto Intercooler, Downpipe, Rockstar Energy Catch Can, Coolant Overflow Reservoir
Yukon Gear and Axle Drive train Accessories
AEM Intake
KICKER audio sound system
Roadwire custom leather interior
Odyssey battery Dry Cell
Rockstar Performance Garage Skid plates, Bumpers with Warn® winch & Factor 55 Link
Rockstar Performance Garage Custom roof rack with Bulldog LED lighting
Heatshield for heat protection
MagnaFlow exhaust
Scosche Magic Mounts, Bluetooth Speakers and Lifestyle Accessories
Nitrous Express wet system
Bulletliner Bedliner protection
Casacadia Tents
Tintman, Thermal Heat protection
Powertank Portable Tank for refilling tires on the trail
This mean Hyundai will be on display at this year's SEMA show for attendees to view and admire. The SEMA or Specialty Equipment Market Association show, is a trade exhibition in the US, that brings together aftermarket manufacturers, original equipment suppliers (OEM), specialty equipment distributors, installers, retailers and restoration specialists under one roof.
It also serves as a platform for the aforementioned entities to showcase their finest work and network with other companies or customers to increase their brand presence and grow their businesses.
It's the 'go to' destination for anything that relates to aftermarket parts or modifications of the automotive industry. And this year, Hyundai will put on display, a vehicle that will certainly turn a lot of heads.