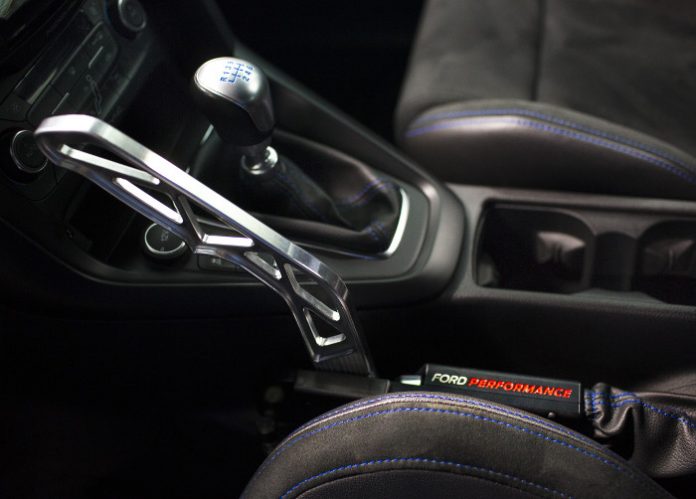 Ford has developed a new technology that will enable Focus RS owners to have more fun with their hot hatches in a way that wasn't possible before. It's called the Drift Stick and is basically a rally-inspired electronic handbrake, developed and designed specifically for this car and was approved by rally and stunt driver Ken Bock.
The car already had a feature called Drift Mode, where the electronics would allow the Focus RS' rear wheels to break traction to perform a controlled slide around a turn. Now, Drift Stick will make this maneuver far easier, which was the point of its inception.
Referred internally as Project Wicked Stick, its development was led by Ford Performance program manager John Wicks. This kit is basically an aluminium lever between the driver's seat and manual transmission.
Tugging on it, opens up the rear-drive unit's clutches of the AWD system, and then hydraulic pressure is applied to lock the rear wheels to induce a drift. This results in clutch-free tails-sliding action, which is similar to maneuvers executed by rally drivers around sharp turns.
"The passionate engineers at Ford Performance are also enthusiasts," said Dave Pericak, global director, Ford Performance. "Everyone here is encouraged to think outside the box, so project 'Wicked Stick' was born."
"Our engineers will leverage the learnings from its development for many future products for Ford Performance and, ultimately, take back even more of an innovative spirit when they rejoin our mainstream engineering teams," he added.
Ken Block, who is known for his eccentric and creative stunts performed in his viral Gymkhana videos, contributed to the project and was responsible for the final sign-off. He is a seasoned veteran of using the hydraulic handbrake in rally cars, to execute the same maneuvers.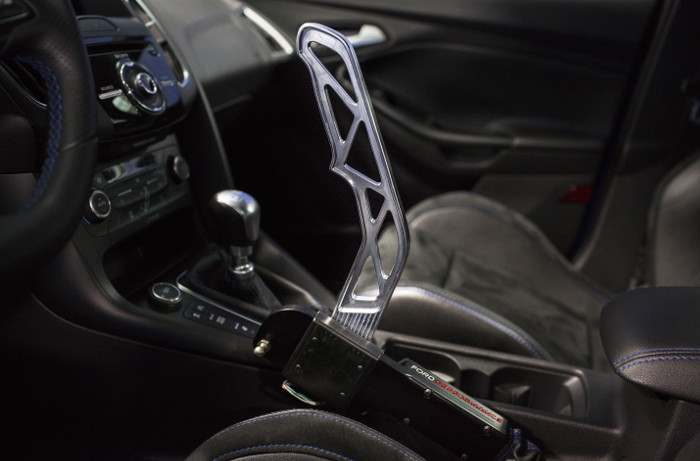 Incorporating the hydraulic handbrake into the current Focus RS wasn't considered because substantial modifications would need to be done to the car. These changes couldn't be easily reversed should an owner want the car returned to its original configuration.
Using electronic technology to accomplish the same goal, was considered a more sensible choice. The following are the benefits that this system offers:
Instantaneous engagement and release – just five to six pounds of pressure is required to operate the Ford Performance Drift Stick – significantly less than a hydraulic handbrake – for easy, precise use
Installation and removal is easy, as there is no welding, hole drilling or calipers as necessary in a hydraulic kit
It also connects to the onboard diagnostics port on the car, allowing it to function as a professional calibration tool
The Drift Stick is available as a kit for Focus RS owners in the US and Canada, which includes the Drift Stick lever, mounts and circuit board with professional calibration functionality. Owners won't void the factory warranty by choosing to get this installed in their vehicles.