There's not much to say about the Porsche Panamera which has not been said already. The world knows of its capability and opulence by now. But did you know that it's name is short for Panamericana? And that it is named after a popular 1950s endurance race that lasted up to six days in Mexico called the Carrera Panamericana in which Porsche was successful in.
And that the world actually got a first glimpse of a four-door Porsche back in 1988, though it was called the 989 back then instead of Panamera (shown below).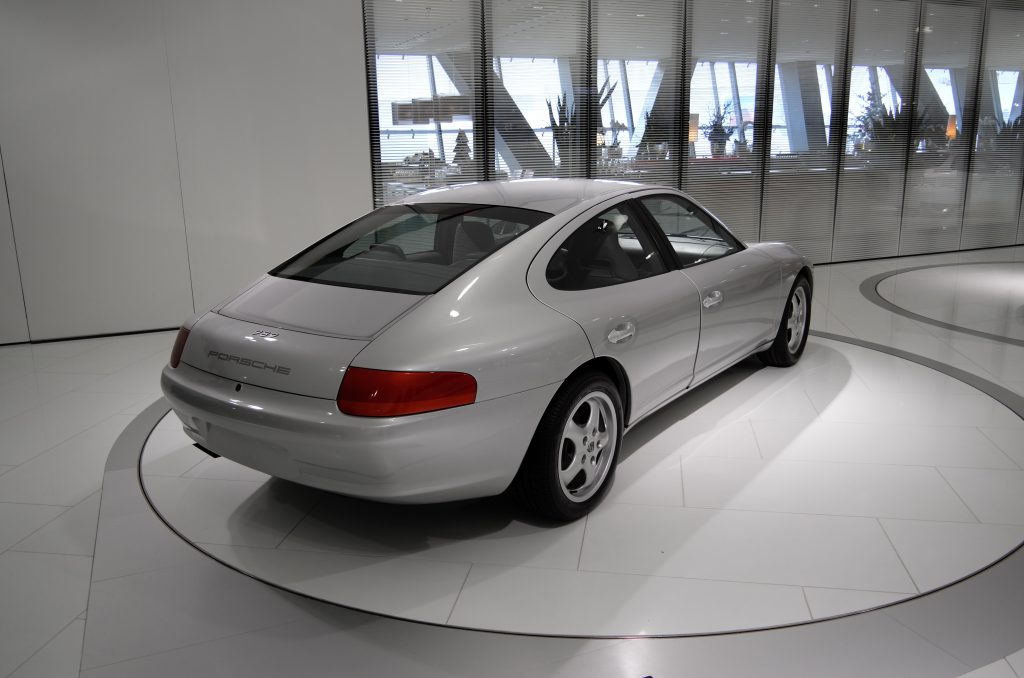 Porsche actually spent three years developing the 989, until a halt work order came in at the end of 1991. The fact that a four-door Porsche like the 989, Panamera and the Cayenne infuriated Porsche purists is well documented so we will not repeat that story here, but the four-door models sold well and Porsche kept the purists happy by producing some mega wild cars like the Carrera GT, GT3 RS and the GT2 RS, all of which stood true to Porsche's roots.
So the company found a way to make money without losing its core values. Some purists even softened up to the four-doors models when it became clear that the Panamera is Porsche's answer to those who want a performance car with four-door practicality. Simply put, it had the performance of a true to word Porsche and the practicality of a proper sedan.
But the Panamera has been awkwardly limited as far as practicality goes. Instead, it has focused on being a luxury performance car for four people, or even a car to be chauffeured in. It is for the man who knows and loves his cars, but not attacking corners, he prefers to take the back seat in a car made by arguably the world's best car maker. The Panamera offered all of that.
So, enter the Porsche Panamera Sport Turismo – a Panamera that offers performance that rivals modern sports cars and yet also has the style, character and dare we say it, even the practicality of a sports wagon. And for very long the Audi RS6 was the king of that domain, but there's a new contender for the title of world's most practical performance car.
Some even suggest that the Sport Turismo is a better Panamera than the Panamera itself. Perhaps because it offers everything the Panamera does, but adds a huge amount of space, lots of style, and retains the Panamera's touch of luxury and class. Its versatile; you can choose to drive the car, be driven in it, or pack your entire family in it for a long getaway.
Sime Darby Auto Performance, the company in charge of Porsche in Malaysia, may have just officially introduced the car recently, but a small group of journalists were allowed some time behind the wheel of a Sport Turismo Turbo for a blast around the Sepang International Circuit.
The Sport Turismo Turbo is a big, heavy car, so as far as dynamics go it really shouldn't do very well on a specialised circuit like Sepang. But hey, we live in an era where we are sending robots to explore mars, so it really shouldn't be very difficult to make a big, heavy car feel as agile as a ballerina on track. And that is exactly what the Sport Turismo Turbo does quite well.
We witnessed for ourselves as the Sport Turismo Turbo hunted down a lightweight Porsche and passed it as if it were standing still. We may have had two-time Le Mans winner Earl Bamber driving the Turbo, but the other Porsche had a half a circuit's length head start. Not sure who was driving it though.
To be fair, the Sport Turismo Turbo has some trick electronics and a 4.0-litre V8 engine producing 550hp and 700Nm of torque; a true masterpiece of an engine. But that said, this is also the same car in which you can pack the family into and go on a long drive to Phuket. No seriously, you can, with space for the dog too.
Unlike the standard Panamera, the Sport Turismo actually comes with five functional seats and seat belts. But for those who prefer taking life easy in the back seat, the Sport Turismo can also be had with two electric seats at the back. So it can either be a car for captains of industry, or it can be a car for the family. Either way it is brilliant at what it does.
Earl Bamber was at the Sepang Circuit testing his own GT3 Cup Car in which he races in the Carrera Cup race series. He then took some of us for a ride in the Sport Turismo, and though we were allowed to drive the car for a few laps, it was in his hands features like the Rear Axle Steering could truly be felt as his aggressive driving style truly worked the systems. At turn three of the circuit for example, a fast right hander where the car can carry speeds of over 200km/h, the rear felt as if it were on rails. It felt as if it was shadowing the front end instead of trailing behind it, planted.
Of course the rear axle steering system, a feature that turns the rear wheels in the same angle as the front during high speeds, couldn't have done it by itself. There's also the Porsche Dynamic Chassis Control that manages the body roll of the car in corners as well as the Porsche Traction Management which is an active all-wheel-drive system that sends and cuts power in individual wheels to help maintain maximum grip at all times.
Besides that the car has other neat tricks as well like an adaptive roof-mounted rear spoiler (above). The spoiler works in three stages depending on the driving situation and vehicle setting. It is a central component in the Porsche Active Aerodynamics, and when it stays in a retracted position of minus seven degrees it helps to reduce drag thus optimising fuel consumption. On track and at high speed, the spoiler moves to the performance position with an angle of plus one degree, this helps to increase stability. It also helps to lower the noise in the cabin when the sliding panoramic roof is open. It does this by inclining to a position of plus 26 degrees, keeping the wind noise away from the cabin.
When a car offers plenty of space for occupants and their luggage, we usually call it a practical car. And if a practical car is also incredibly powerful yet agile at the same time, well that's what we would usually call a once-in-a-lifetime type of car. And if there was one car which we could drive for the rest of our lives, one car that seemingly had it all and more, well, then it would be the Porsche Panamera Sport Turismo Turbo. Except that it costs RM1.95 million with taxes but before options.