Folks around the planet have received some rather good and not so good news regarding the 2020 Nissan GT-R. The good news is that it's coming with a host of upgrades that'll give anyone a smile, but the not so good news is that it's an upgrade, not a brand-new model like most of us had anticipated.
The reason being is that the Skyline is celebrating its 50th anniversary this year and while there's no new Skyline yet, we're pretty confident that it is coming. In the meantime, the 2020 Nissan GT-R has been updated with a few updates to increases performance, handling, and iconic styling for the R35.
Regarding performance, the 2020 Nissan GT-R comes with a 3.8-litre V6 that is equipped with a couple of new turbochargers which helps in increasing its low rpm response and better overall efficiency. Gear shifts are also faster with the new engine, especially when you kick it into R-Mode.
All in all, there are a few variants on offer which offer close to 570hp from the base Pure model all the way up to the Track Edition. If you have a bit of cash to splurge, there's the top-of-the-range Nismo variant which kicks the power up to around 600hp.
The top two bad boys come with carbon brakes, carbon seats, carbon roof, and carbon spoiler (that's a lot of carbon, folks). Other updates include an improved electronically controlled suspension for better cornering stability and more comfortable ride. Only a minimum amount of steering correction is needed at higher speeds thanks to a more linear and precise steering.
Other upgrades for the 2020 Nissan GT-R include:
New brake booster – better initial braking response
New exhaust manifolds with optimized turbo flange
New titanium exhaust muffler
New 20-inch 20-spoke alloy wheels
Perhaps one of the most iconic moves since the introduction of the R35 is the reintroduction of the legendary R34 colour, Bayside Blue. Orders around the globe starts in November and you can get this very iconic colour if you desire. Pricing for the UK market starts from £83,995 – £174,995 (around RM429,293 – RM894,389).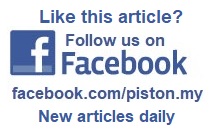 2nd generation all-electric Nissan LEAF launched in Malaysia at RM188,888