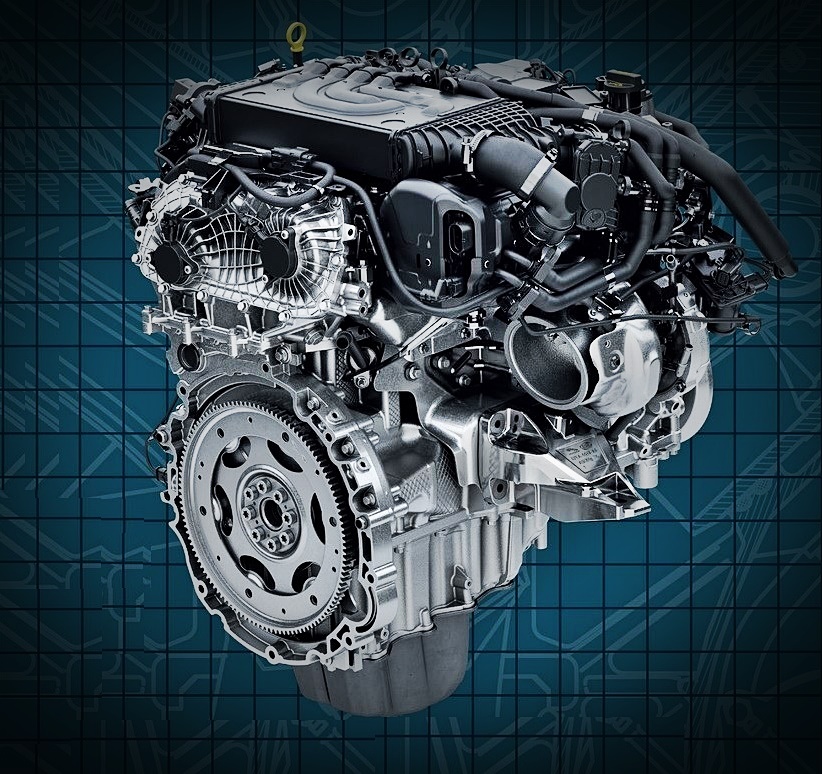 Throughout its 67-year life, the original Land Rover Defender was offered only with petrol or diesel engines. That's not unusual since it was developed from a product of the late 1940s, long before the era of zero emissions and greater consciousness to preserve the environment. Its powertrains were robust, as required by customers, and had been improved to deliver better performance and meet progressively stricter emission control regulations.
However, when it came to developing the successor, the world had become a very different place. From the 1970s onwards, air pollution – blamed largely on exhaust emissions from motor vehicles – persuaded governments to introduce regulations forcing carmakers to reduce emissions. These regulations, especially in the more developed countries, kept getting tougher and tougher. And with rising fuel prices, there was also a need to reduce fuel consumption even if there was indifference to concerns about fossil fuel supplies diminishing and running out at some point in the future.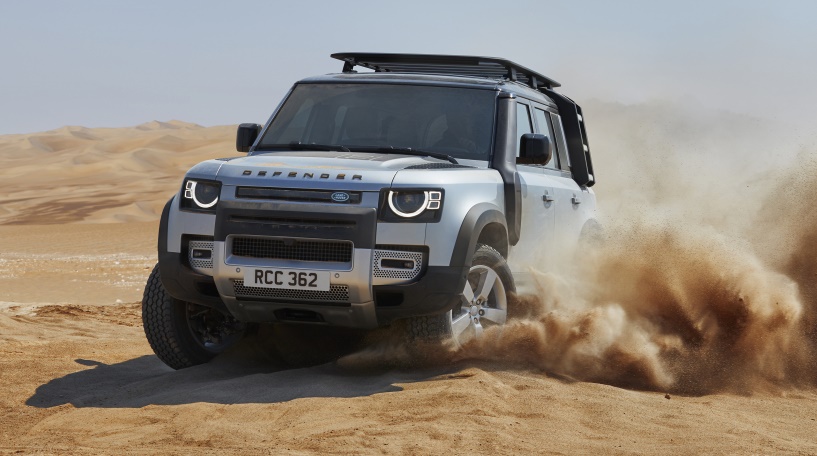 Electrification the way to go
For Land Rover, as for other carmakers, it was clear that there were limitations to engineering the internal combustion engine to meet toughest regulations. The better solution was to use electrification, an approach that had become increasingly viable since Toyota and Honda introduced hybrid powertrains in the late 1990s. Pure electric powertrains remain expensive due to the high technology costs but hybrids are now into the mainstream and almost every carmaker has adopted the technology.
So for the new Defender, it was clear that while less developed markets would still require conventional engines, the future dictated that there must be a hybrid powertrain under the bonnet. This led to the development of Mild Hybrid Electric Vehicle (MHEV) technology that is available from launch while a Plug-in Hybrid Electric Vehicle (PHEV) powertrain will join the range next year. This will offer silent zero-emissions driving in EV-mode, giving Land Rover owners an entirely new experience off-road.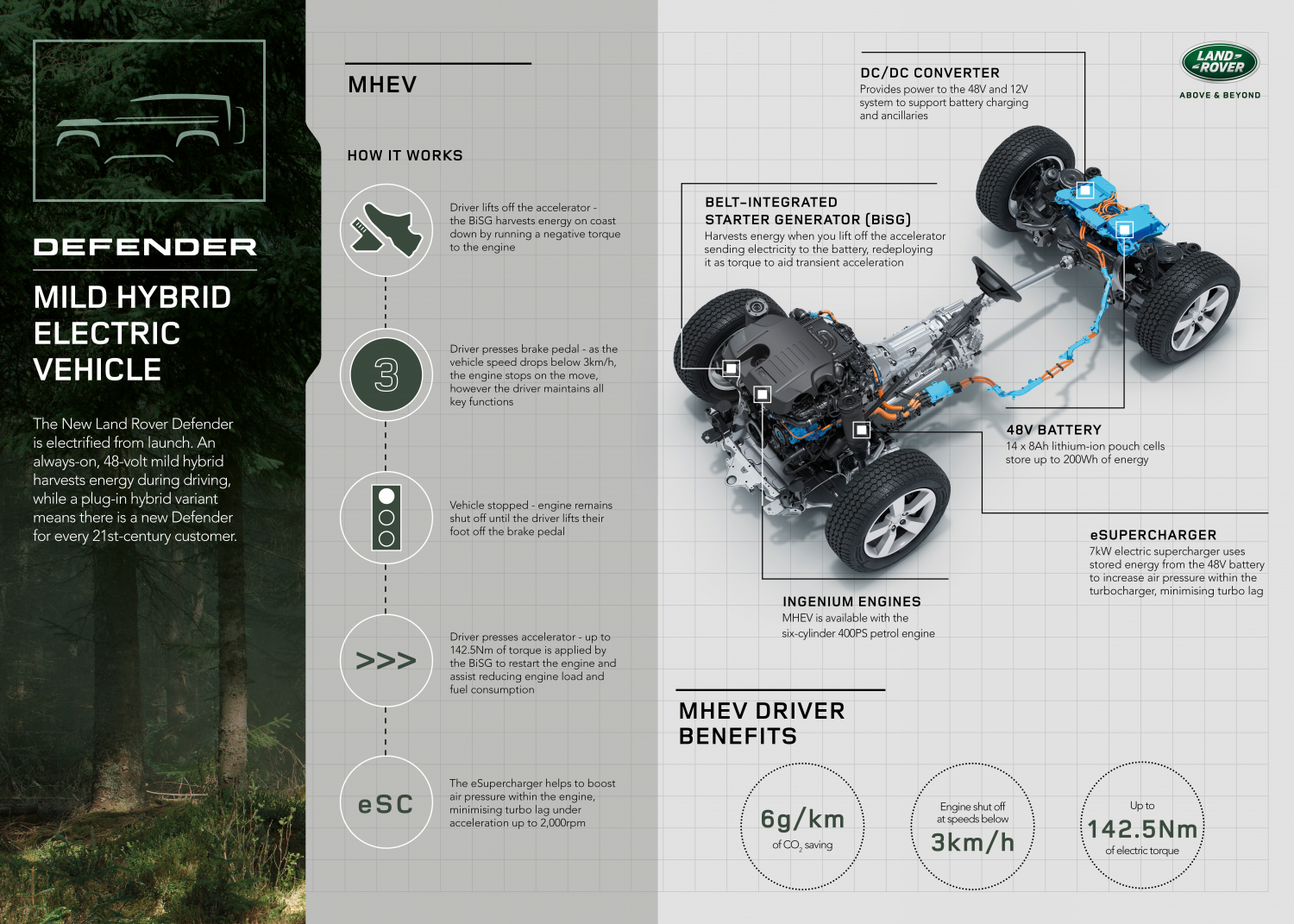 MHEV with 48V system
A key feature of the Defender's MHEV is its 48-volt battery pack consisting of 14 x 8Ah lithium-ion pouch cells that can store up to 200Wh of electricity. The MHEV system is not new to Land Rover, having first been used in the Evoque and has been further refined. Separate from the normal vehicle battery, it generates up to 142.5 Nm of torque which enhances acceleration.
A DC/DC converter installed at the back provides energy to the battery pack as well as the vehicle's conventional battery. There's also a Belt-Integrated Starter Generator which 'harvests' electrical energy while driving. Whenever the driver lifts off on the throttle pedal, electricity is regenerated to the battery pack where it can be utilized.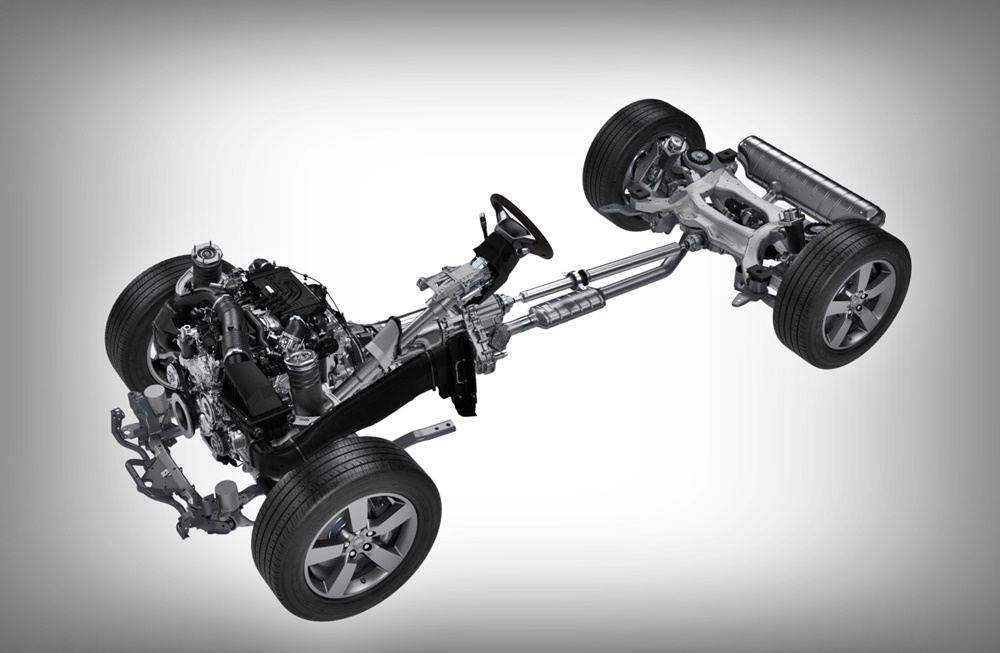 The in-line 6-cylinder 3-litre Ingenium petrol engine features both a conventional twin-scroll turbocharger and an advanced 7 kW electric supercharger. In combination with the other advanced technologies, total output is 400 ps/550 Nm with a claimed 0 – 100 km/h time of 6.1 seconds. Fuel consumption is claimed to be 10.4 kms/litre.
Software updating – without going to the service centre
The extensive array of electronic systems in the new Defender mean that 'future-proofing' is necessary and software updates can be sent over the air periodically. Up to 14 onboard electronic control modules, more than any previous Jaguar Land Rover vehicle, can receive updates, without the need to visit a Land Rover service centre. In this way, the Defender will get better with age. Customers in remote locations can still get the updates – all that's required is a data connection via a satellite-phone.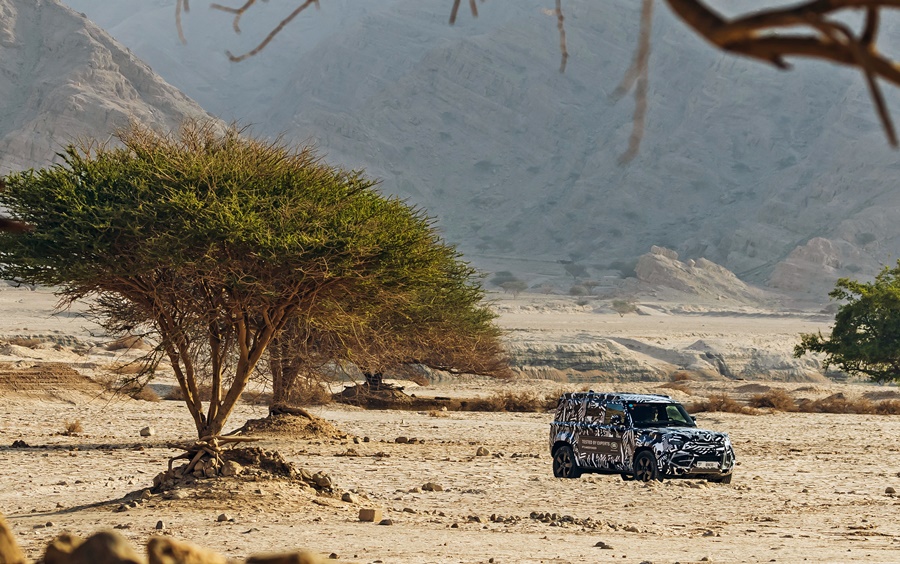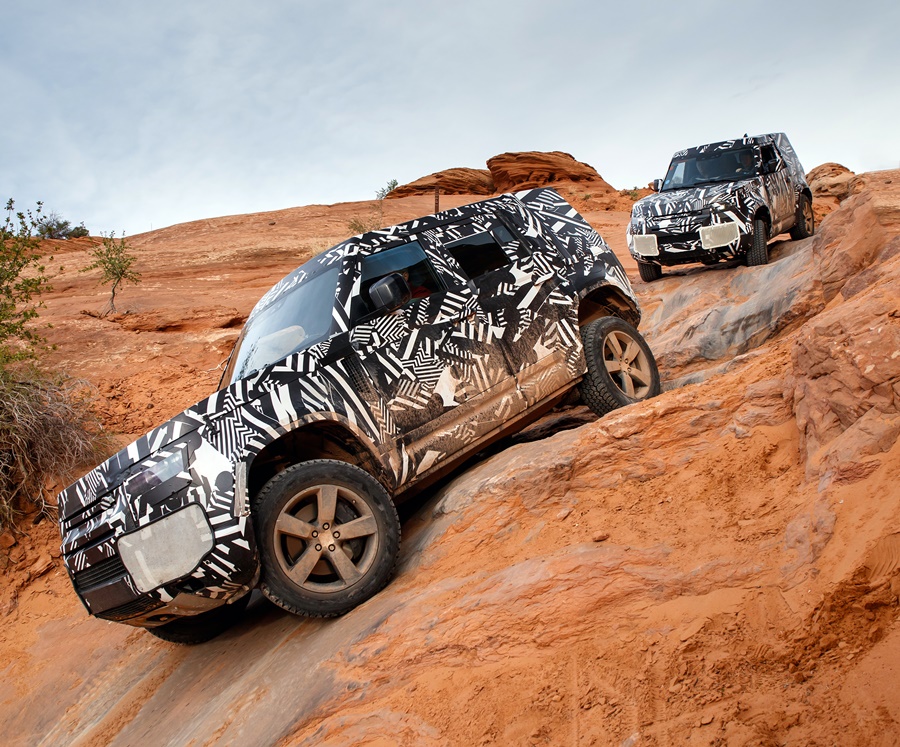 Although electronic systems installed in motor vehicles these days are 'hardened' and able to withstand the harsh conditions during daily use, they have to endure even more severe and extreme conditions in a vehicle like the Defender. Given that many owners will go off-road and over the roughest terrain on the planet, Land Rover engineers had to conduct rigorous testing all over the world and in the most extreme conditions. Serious attention was given to electrical connections and the effects of impacts on components like the battery pack. Even in the 21st century, the original 4×4 reborn has to maintain as well set new standards for toughness and capability.
Click here to read more about the New Land Rover Defender