Following the earlier announcement that an N95-grade Cabin Filter will be installed in the latest Proton X70 SUV, the carmaker has announced that it is also introducing the Proton  Intelligent Air Purification System (P-IAPS) that combines the benefits of the filter and an Air Purifier System.
The P-IAPS will be offered as standard equipment on the 2020 X70 as a comprehensive method to improve cabin air quality. The system also provides enhanced filtration for the air flowing to the vents for the rear occupants.
The new N95 Cabin Filter is capable of removing 95% of particles larger than 0.3 microns and also removes 98% of PM2.5 dust particulates. It is therefore an effective barrier against smoke particulates, dust, bacteria and other pollutants. It filters air in both fresh and recirculation modes for the air-conditioning system.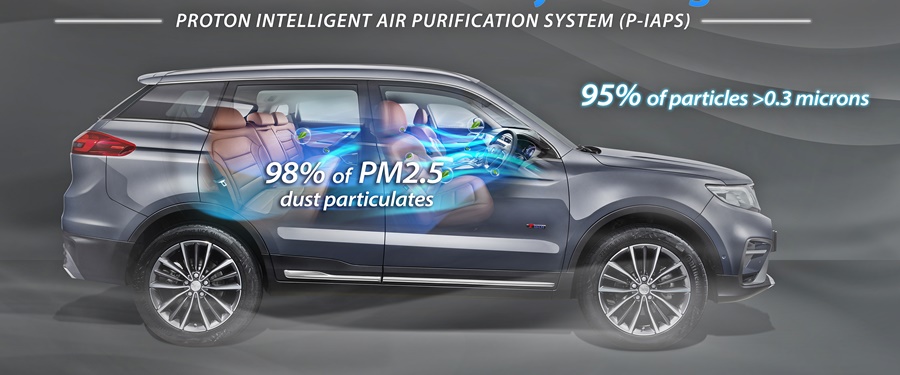 The existing Air Purifier System fitted to all Proton X70s will remain. It uses a High Efficiency Particulate Air (HEPA) filter that removes 99.97% of particles larger than 0.3 microns. It also has an activated carbon filter which removes odours, formaldehyde and adsorbs and purifies smoke particulates.
Additionally, a built-in ioniser discharges negative ions to cleanse the air. The ions are electrically charged and attract tiny airborne particles, causing them to drop from the air. By combining the Air Purifier System with the N95 Cabin Filter, the P-IAPS acts as a barrier against contaminated air making its way into the cabin, offering a high level of protection against airborne pollutants for a cleaner and healthier environment.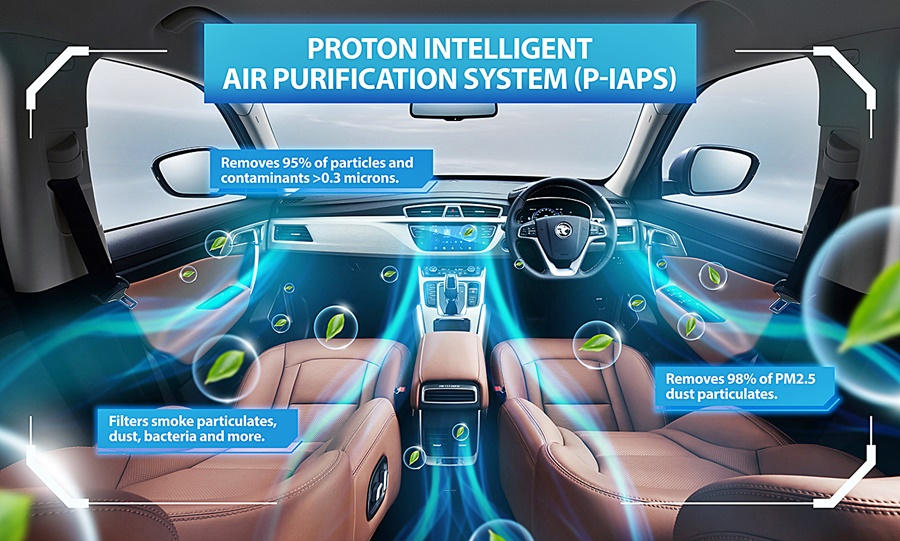 Proton does not, however, mention filtering viruses which have diameters of approximately 0.125 microns. The smallest particles are 0.06 microns, and the largest are 0.14 microns. Nevertheless, improving the air quality is still good since you spend a lot of time inside the car daily.
"Proton is constantly looking at ways to improve our offerings. The introduction of the N95 Cabin Filter is particularly relevant in today's global environment and by improving the quality of air in the cabin, we hope to deliver a comfortable contaminant-free experience to our customers. For now, P-IAPS will only be offered on the Proton X70 but our designers and engineers are working to fit the N95 cabin filter in our other models too," said Dr. Li Chunrong, COE of Proton.
Whilst the N95 Cabin Filter will be fitted on new units of the 2020 Proton X70 produced at Tanjung Malim, Perak, those who already have the SUV can upgrade their dust and pollen filter to the N95 Cabin Filter for RM79 (excluding labour charges). Contact any authorised Proton service outlet for more information. A service campaign scheduled to run from May 19 – August 18, 2020 will offer 15% discount on the price of the filter.