As the Royal Malaysia Police (PDRM) has a large fleet of patrolcars, it takes a while to change the fleet. Evaluations must be conducted on potential replacements with reliability, durability and performance being important considerations.
After its assessments, the PDRM finally chose the Honda Civic 1.8S as its new patrolcar, with the first 425 units being delivered recently. The delivery was to have taken place in March but had to be postponed due to the Movement Control Order (MCO) restricting movements at the time.
"We are delighted that we are now able to resume the plan to deliver these new mobile patrol and enforcement vehicles which are expected to assist in the tasks and responsibilities of the police force in effectively responding to emergencies, maintaining law and order," said  Honda Malaysia's Managing Director & CEO, Toichi Ishiyama. "We are pleased that the Royal Malaysia Police have chosen the best-selling model in C-segment to assist them in their daily tasks, enforcements and administrative duties for the country."
All 10 generations assembled in Malaysia
The current Civic is the 10th generation of the model and was launched in 2016 in Malaysia. Since the first generation introduced in the 1970s, every generation of the model has been assembled in Malaysia. The latest one comes from Honda Malaysia's own plant in Melaka.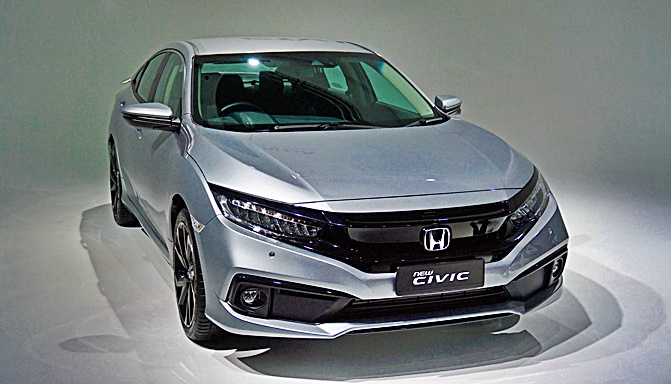 The police personnel using the Civic will be assured of good performance from the 1.8-litre i-VTEC engine which delivers power through Honda's Earth Dreams Technology Continuous Variable Transmission (CVT). Maximum torque is 141 ps with 174 Nm of torque for strong acceleration and meeting Energy Efficient Vehicle (EEV) standards, fuel economy should be good. This would be important since the cars will be in use a lot for daily duties.
Honda's Next Generation Safety Technology – the proprietary Honda SENSING suite – will help protect the personnel in the event of an accident while also allowing them to have good control over the car if they are in high-speed pursuits. The Civic, which is rated 5-star by ASEAN NCAP has safety features such as 6 Airbags, Vehicle Stability Assist with Agile Handle Assist, Hill Start Assist, Emergency Stop Signal, ABS, Brake Assist and Auto Brake Hold.
The retail price of the Civic is around RM114,000 although with the recent announcement of exemption of 10% Sales Tax, the price will be lower from June 15 until the end of 2020. More information on the model as well as other Honda models in Malaysia can be found at www.honda.com.my or any of the 101 authorised dealerships nationwide.
Updated Honda Civic officially launched, priced from RM113,600 – RM139,600