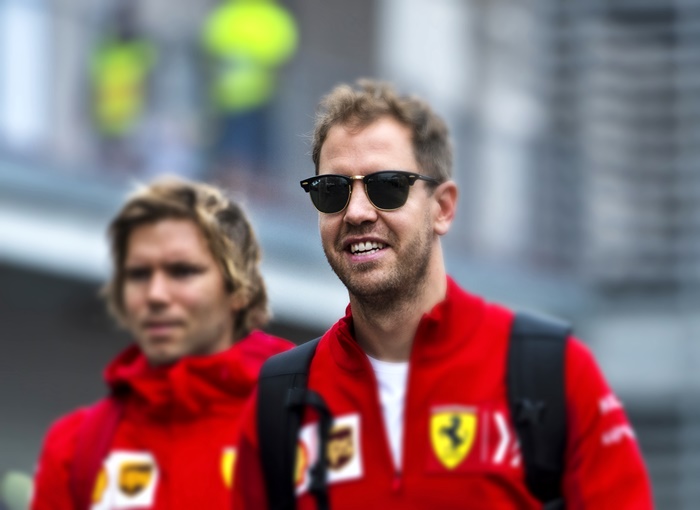 It was already known that Sebastian Vettel would not get another season with Ferrari, the team he has driven for since 2015. So who he would be with in 2021 was the question in the air, and it's been answered – Racing Point.
The 33-year old driver who has won 4 championships in his 13 years as a F1 driver is expected to be with Racing Point – to be renamed Aston Martin – for at least 3 years, although the team has not indicated the contract period.
"It's a new adventure for me with a truly legendary car company. I have been impressed with the results the team has achieved this year and I believe the future looks even brighter. The energy and commitment of Lawrence [Stroll] to the sport is inspiring and I believe we can build something very special together," said Vettel.
Though Vettel has had a lousy season this year and is 13th in the current championship standings after 8 rounds, he remains one of the top drivers and a good catch for the team. "On a Saturday or Sunday afternoon, Sebastian is one of the best in the world, and I can't think of a better driver to help take us into this new era. He will play a significant role in taking this team to the next level," said Otmar Szafnauer, CEO & Team Principal of Racing Point.
Perez departs
However, a team can have only two active drivers which has meant that the services of Sergio Perez won't be needed in 2021. Lance Stroll, 21, being the owner's son, obviously would not be the one to be ejected…
Perez revealed that his notice only came the day before Vettel himself announced that he will join Racing Point but suspected something like that would happen. The 30-year old Mexican driver, nicknamed 'Checo', has been racing in F1 for 9 years, having started with Sauber in 2011. He has been with Racing Point since 2014 when it was known as Force India. At this time, he said that he is uncertain whether he will join another team though he is keen to remain in F1.
Racing Point's change of name is more than just that and it will be an official Aston Martin works team. The intention is to run the team for at least 10 years, and it will be the first time the carmaker has been directly involved in motorsport in many decades although it currently has a partnership with ProDrive in Aston Martin Racing.
Who is Lawrence Stroll?
The move does not surprise observers since Racing Point's owner, Lawrence Stroll, is Aston Martin's Executive Chairman (after making a £182 million investment via a consortium and getting a 16.7% stake).
Stroll (the father), who is a Canadian billionaire, is well known in the fashion industry, with shares in Tommy Hilfiger and Michael Kors. He is a car-lover with a collection of vintage Ferraris and has been involved in F1 via brand sponsorships for many years.
Movements so far
There are still 9 races to go on the revised 2020 calendar and team owners may well be having private discussions with drivers. At this time, the confirmed movements are Fernando Alonso joining the Renault team which will be known as the Alpine F1 team, and Carlos Sainz, Jr. going to Ferrari to join Charles Leclerc. The vacant seat left by Sainz at McLaren will be taken by Daniel Ricciardo, which means Red Bull Racing is looking for a partner for Max Verstappen.
4 more rounds added to F1 calendar, making it a total of 17 for 2020