There used to be a time when the Toyota Hilux used to be the first and last word in the world of pick up trucks. Nothing else came close.
Conceived from a time when the world needed hardcore work horses to help with everything from construction sites to moving timber and such, the Hilux made a reputation for itself as a reliable truck that never seemed to give up.
But it was too utilitarian. It served a singular purpose – to work, to complement a worksite and to never give up.
It was far from comfortable, had very little creature comforts save for air-conditioning and radio, and safety equipment was almost non-existent.
Then the market shifted. Suddenly people wanted a pick up truck that looked cool, impressed the office mates and looked in place at the valet parking lot of the hottest club in town.
The mighty Hilux was caught off guard in a territory it once dominated. People no longer wanted a hardcore workhorse alone, but they wanted that workhorse to also come with comfortable suspension, interior comforts for the family, entertainment and yet at the same time unrelenting reliability and the ability to tow a bungalow.
There is no doubt in the world that the Hilux offered Toyota's renowned reliability and durability in all conditions, but it was caught out in every other category that involved the passengers.
Come the second decade of the 2000s and the Hilux was pinned. Faced with an onslaught of modern pick ups like the Ranger, Navara and the Triton, the Hilux seemed like it only had a couple of things going for it – Toyota's unrelenting reliability and a reputation for toughness forged over decades of hard work.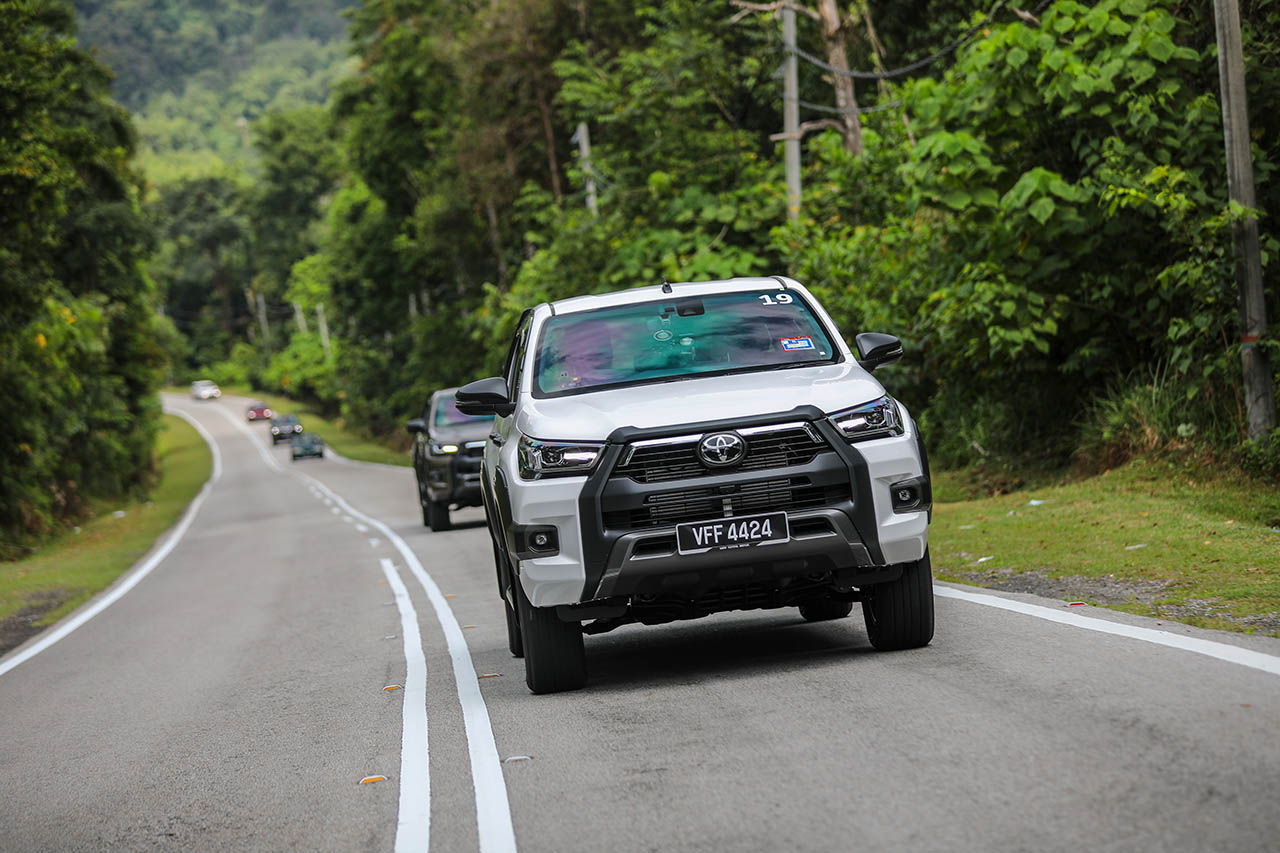 But that did not seem like a bad thing, because though the market was shifting towards more urbanised pick up trucks so to speak, the Hilux still sold in the tens of thousands and has always been among the top three best selling pick up trucks. Talk about a grand old reputation.
So here we were then, at the introduction and test drive of the latest Toyota Hilux – the Hilux Rogue. A supposedly more urbanised version of the Hilux with creature comforts meant to cuddle and entertain its passengers.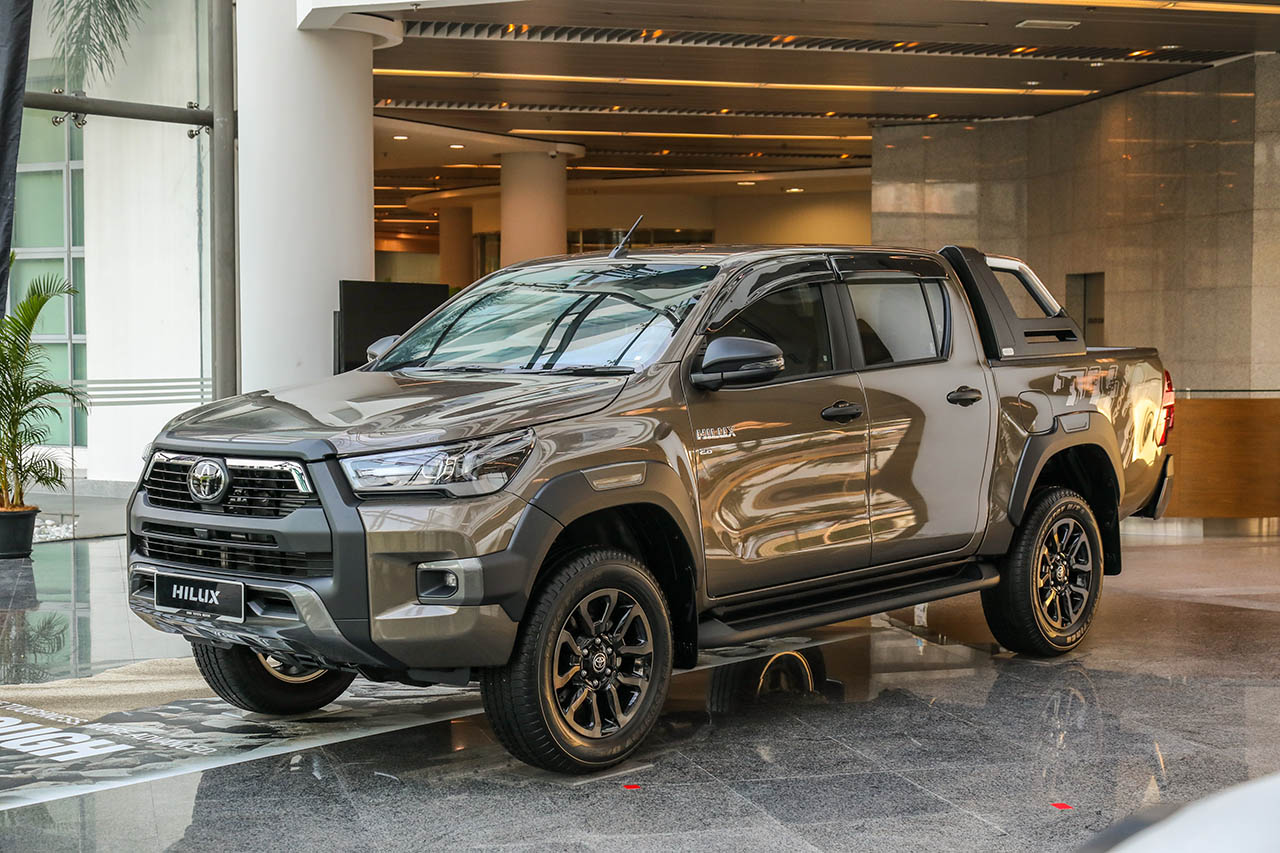 But has the Hilux really softened down to become one of those urban pick ups that do well on tarmac as their owners indulge in car like comforts but are totally hopeless when it comes time to get down and dirty with tough work?
Well, did Arnold Scharzenegger soften up and lose his muscles in his role as a kindergarten teacher in the 80s flick – Kindergarten Cop? No, he did not. Likewise with the Hilux Rogue, it is still as tough as ever and you feel it from the moment you get inside.
The steering wheel feels like it would survive a nuclear fall out and we simply love the near vertical dash that gives you ample of knee space and adds to the overall macho feel of the interior.
Interior quality is great and the buttons are soft to the touch. On the topic of pampering its passengers, the Hilux Rogue offers automatic air-conditioning, an entertainment system that offers Apple Carplay and Android Auto as standard (a must have in cars these days if you ask us), and even rear air-conditioning vents. Now surely anyone can appreciate that.
But that's not all for the interior actually, it also comes standard with a Digital Video Recorder so you don't have to get a third party unit with the cables dangling in your line of sight. And though we didn't actually see it, Toyota says that the interior of the Hilux now features an illuminated door trim that "elevates the atmosphere within the cabin".
But it doesn't end there – the Hilux Rogue also comes loaded with technology designed to make life behind the wheel all the better. This comes in the form of passive safety systems such as Pre-Collision System that alerts you of an obstacle and automatically applies the brakes in case you do not respond.
And then there is the Lane Departure Alert with Yaw Assist that lets you know when you drift out of your lane, gently tugs at the steering wheel to pull you back into your lane, and if all else fails and you still keep straying out of your intended lane, it will apply brake pressure to the two inner wheels as a final effort to keep you from crashing.
And our favourite feature that truly makes life behind the wheel comfortable is the Dynamic Radar Cruise Control. Simply set your desired cruising speed and let the car do the braking and accelerating, all you have to do is steer. It is even smart enough to accelerate slightly to help you overtake the car in front. The radar mounted into the Toyota emblem in the grille (seen above) will detect obstacles and other cars and will brake the car automatically, and once that gets out of the way the Hilux Rogue will then automatically accelerate again.
Combined, all these systems are called the Toyota Safety Sense. And so far it is only available in the top of the line 2.8 Rogue edition. But expect this to trickle down the model line or to be offered as an option in other variants as well.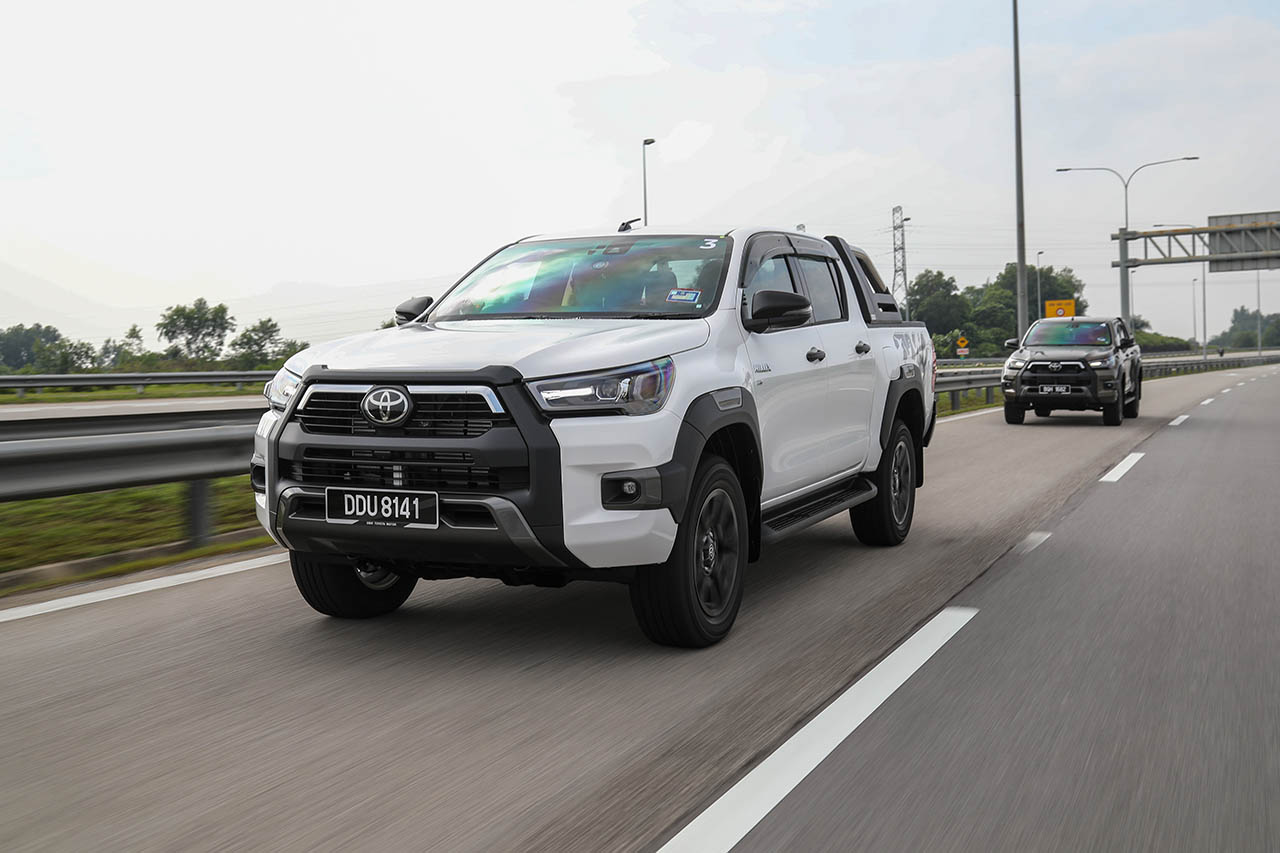 Outside the Hilux Rogue takes on a love it or hate it design. The overall design is still typical Hilux, there is no mistaking it for anything but, and the new LED headlights look fantastic with the Daytime Running Lights. But from a personal point of view, the blacked out body kit that starts from the grille and loops over the wheel arches looks a little cheapish – as if the paint shop had forgotten to paint it. But if ruggedness and machoism is the name of your game, then the Rogue body kit should appeal to you.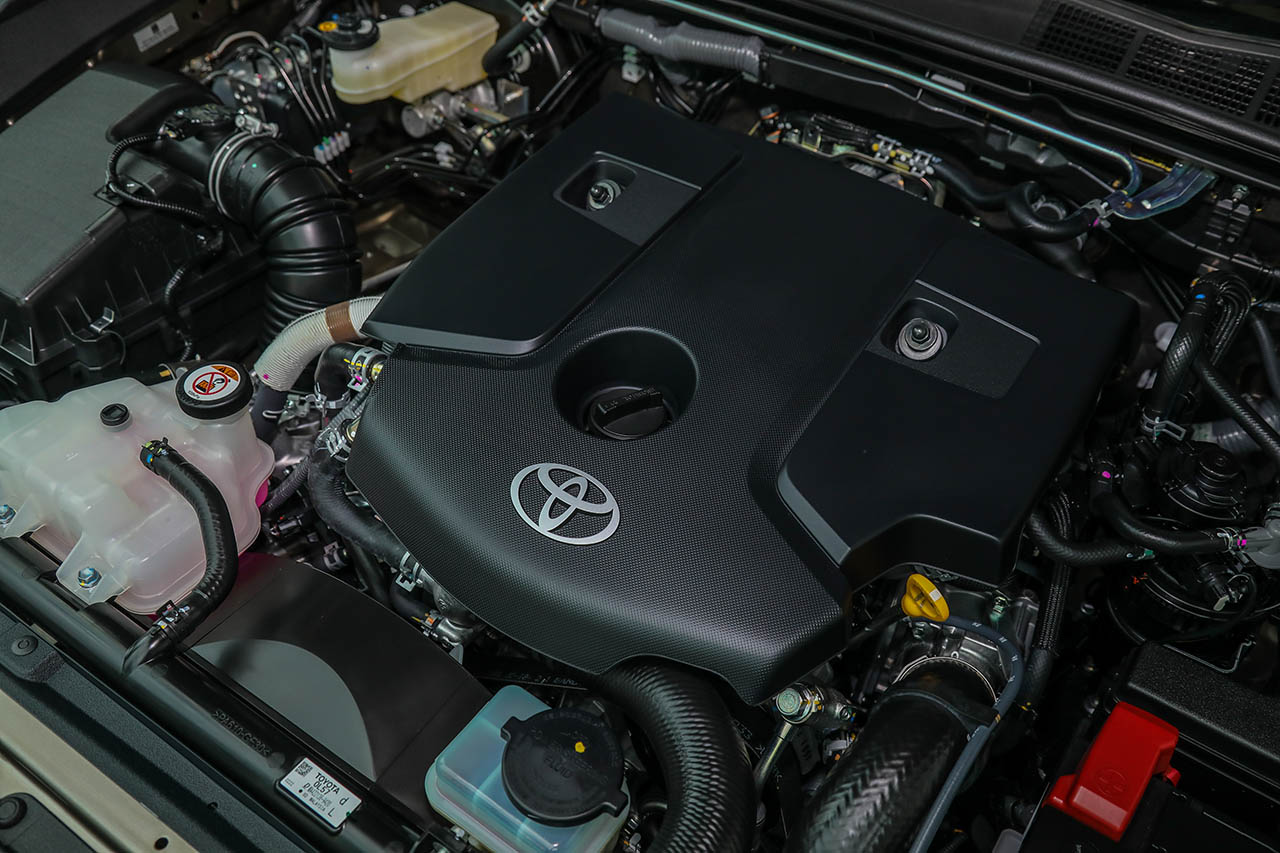 Driving the Hilux Rogue is still a mundane affair – a character typical of pick up trucks, save for perhaps a Tundra TRD, F-150 Raptor or a Dodge Ram SRT-10. Power is of course available in abundance thanks to an improved 2.8-litre turbocharged engine that puts out 204hp and 500Nm of torque. Despite that fuel economy has also improved by 4%, something we will testify to after driving from Shah Alam to Rawang and up to Janda Baik via Ulu Yam and then to Goh Tong Jaya and back to Shah Alam. The damage? Just a quarter tank of fuel, which is quite impressive considering stop start traffic, uphill climbs and lots of acceleration.
As for handling, Toyota has updated the Hilux with something called a Variable Flow Control Power Steering, this makes the steering speed sensitive – light at low speeds, and heavier at high speeds. But interestingly it is not an electronic steering rack, it is still hydraulic. Which is not a bad thing because a hydraulic rack requires fewer sensors, which means there is a lesser chance of failure.
In the product brochure of the new Hilux Rogue, Toyota says that the suspension has been improved and now offers a more comfortable ride. But as a first impression, we found that the suspension still picks up on the slightest unevenness, bumps and even hops and skips over rumble strips rather than absorbing them.
Now this is also typical of a pick up as it comes with all pick-up trucks (except for the Nissan Navara) come with independent suspension up front with leaf springs at the back. This is normal because pick-ups are designed to carry loads rather than offer a plush ride, absorbing bumps and such. The direct consequence of which is a somewhat stiff ride, which is a character of the new Hilux Rogue.
But what the Hilux Rogue does have though is an impressively quiet interior, it is not as quiet as the interior of a Ranger Wildtrak (which uses Anti-Noise Cancellation technology to cancel out ambient sounds), but it is still quite good, almost like the interior of early 2000 continental cars. Well done to Toyota for that.
All in all, the new Toyota Hilux Rogue is a mighty impressive machine. It is still not as urban centric as some of its competitors but it is fast catching up. And you can always rely on a Hilux to never fail you in any situation. It still comes with the usual array of off-roading gizmos like Downhill-Assist Control and an Automatic Limited-slip Differential, so you can trust that it will always deliver in any situation.
If there ever was an award for the most hard working and most reliable pick-up truck to ever grace the earth – the Hilux would win it hands down. And if ever the call came for this writer to suddenly drive to the end of the world, the Toyota Hilux would be the vehicle of choice, each and every time.
The new Toyota Hilux Rogue is now available for RM146,880, but if you go to a Toyota showroom as soon as you're done reading this, Toyota will give you a RM2,000 early-bird discount. It also comes with a 5-year warranty.
Click here for the New Toyota Hilux pricelist for all Malaysian regions.