The all-new Hyundai Elantra will be officially launched in Malaysia shortly and while Hyundai Sime Darby Motors (HSDM) still won't tell us the price, they have shown us the new car and provided some insights into the new design and features.
This time round, for the seventh generation of the 30-year old model line (also called Avante in some countries), HSDM is not having it assembled locally – at least for now. This is perhaps why the model can be launched in Malaysia just 9 months after its global debut. Normally, models that are assembled locally need additional time as the plant has to be set up and suppliers need to also start producing parts.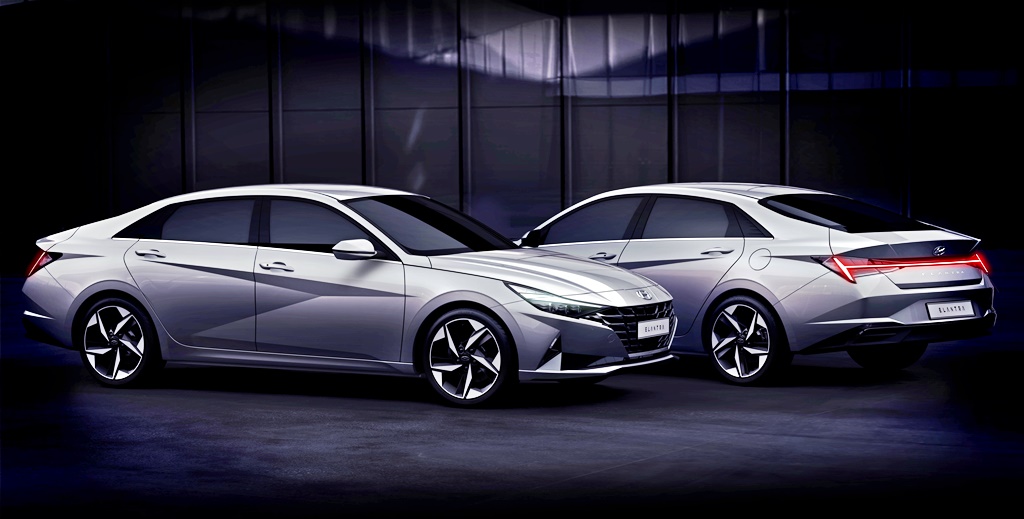 The HSDM people were first shown the new model in 2019 and then made the decision to combine with Brunei and Singapore on ordering, thereby having a bigger volume that could mean better pricing. However, that also meant that the specifications had to be common as well, so Malaysia too would have to take cars made in Korea. And that is how the new Elantra has reached us so fast and not in 2021.
From the preliminary specifications available, it appears that there will only be one variant offered and in order to get the latest technologies, HSDM opted for the 1.6-litre SmartStream powertrain rather than stick to the older 2-litre unit.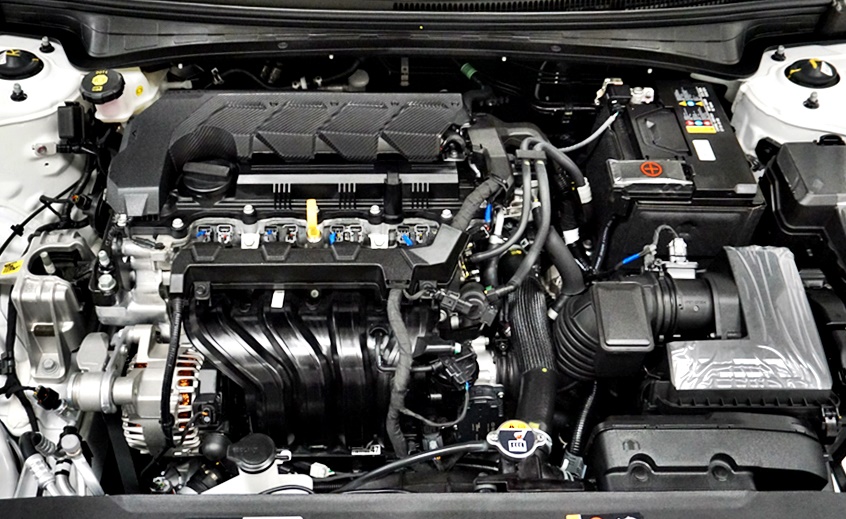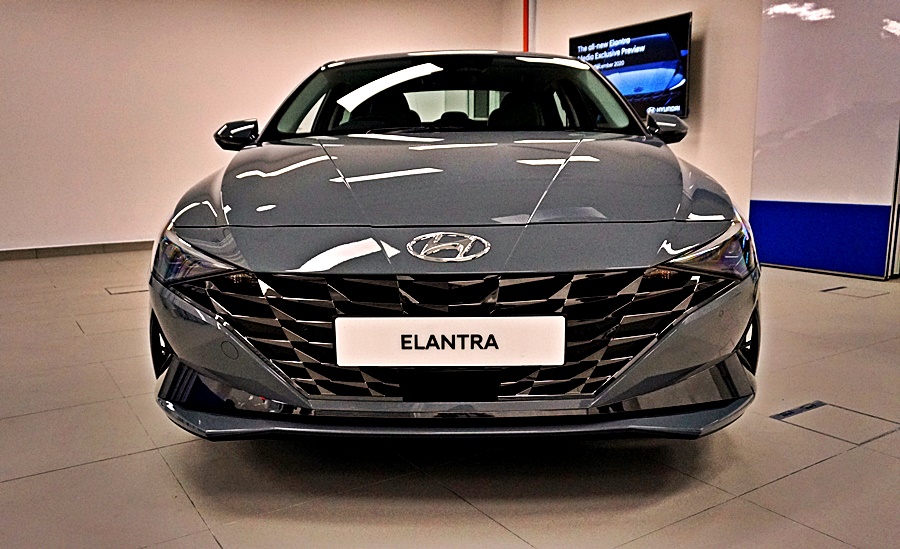 Parametric Dynamics
Hyundai's design philosophy in the early part of this decade was known as 'Fluidic Design' which evolved into 'Fluidic Sculpture'. Its inspiration was drawn from nature, with organic shapes, flowing lines and curvaceous forms. However, as a new decade starts, the philosophy has changed again and is now going for geometric shapes. Hyundai calls it 'Parametric Dynamics'.
The company used advanced digital design technology to bring the Parametric Dynamics design language to life. Having three lines meet at one point is the main element of Parametric Dynamics and this formation has actually been avoided in car design. So the new Elantra aims to be a 'disrupter', an approach that is popular these days.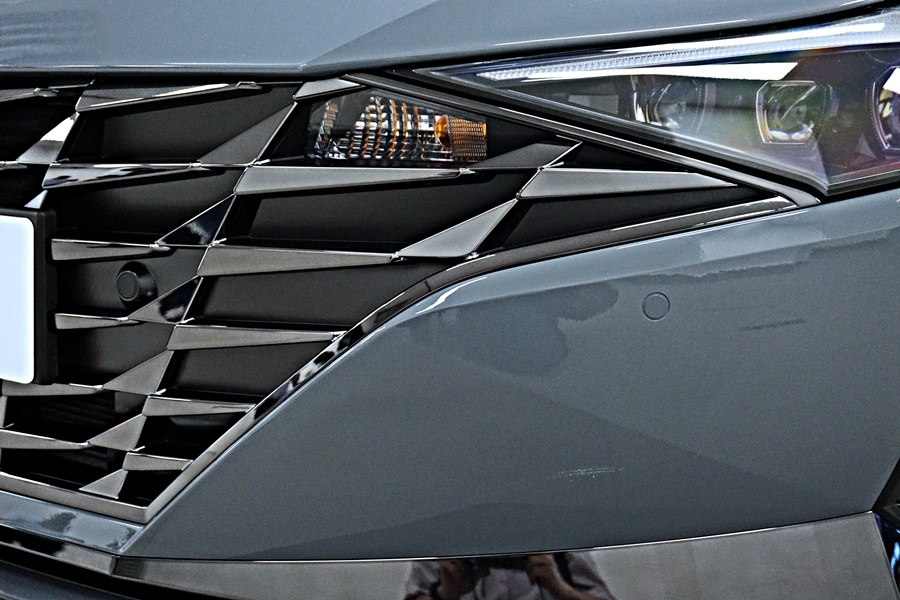 Parametric Design is evident in the grille with its honeycomb-like structure as well as on the sides and even in the tail light units. However, Parametric Design is applied to details and it is not a return to an overall wedge form which was popular in the early 1980s. Hyundai designers favour a coupe-like profile even for sedans, which is helpful to aerodynamics apart from having a sporty appeal.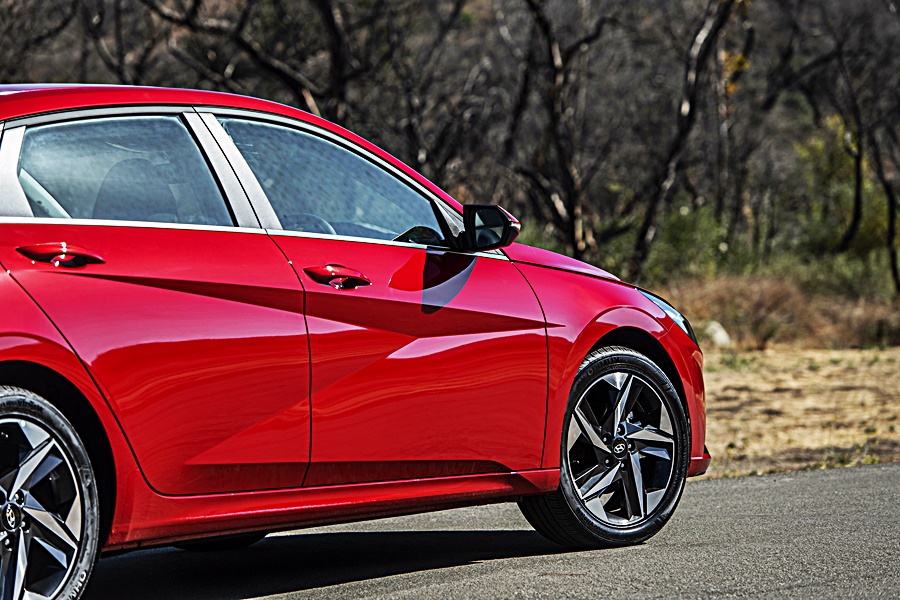 There are a lot of intersecting lines and grooves around the car and while they make for an interesting view (especially when light is shining across the car), we wonder about the implications on bodywork repair. With the plastic parts like the bumper and grille, there's no choice and they just have to be replaced completely. But owners might still prefer to repair metal body panels like the doors and boot compartment.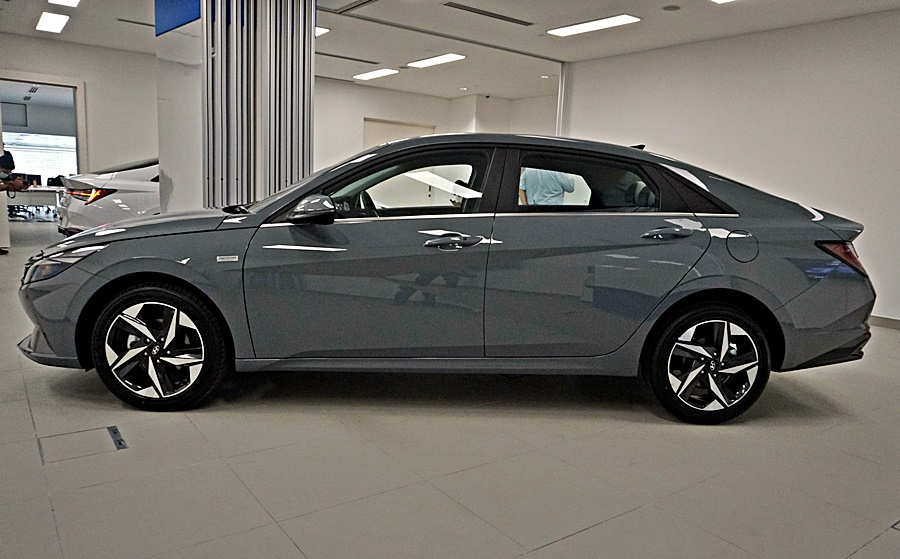 ---
Related: Hyundai SmartStream powertrain for new Elantra
---
More interior space available
Generally, the new body is longer, lower and wider with improvements in occupant space within the 'Immersive cocoon' cabin. Structural elements within are wide but low and intelligent packaging has freed up more space.
Interior designers often like to use an aircraft cockpit as the theme for the driver's area and this is the case for the new Elantra. A large interface consisting of two connected expansive touchscreen displays will give that sort of feel. While there is no Head Up Display (HUD) like a fighter jet, the TFT LCD Supervision cluster provides a lot of information about the car's operation, including the air pressure in each tyre. The meter display is available in three different presentations, each giving more emphasis on certain information.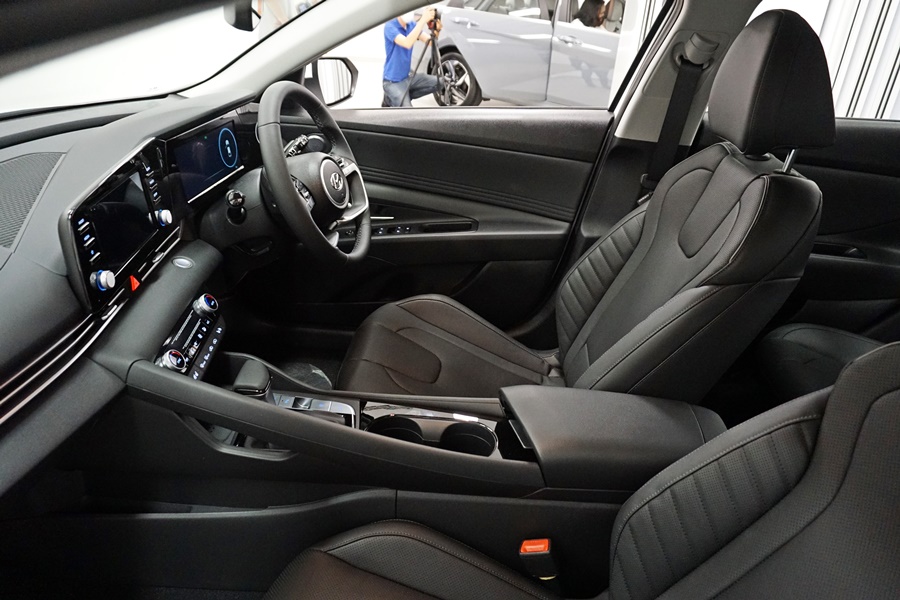 For connectivity, there's Android Auto/Apple CarPlay to bring the apps on the smartphone to the 9-inch display panel in the middle of the dashboard. 4 electrical outlets are available for charging or powering devices and there's also a wireless charging pad for those smartphones that have the capability.
CBU instead of CKD
Getting the cars from the Korean factory in CBU form is good and bad from the point of specifications. If the model is assembled locally (referred to as 'CKD'), HSDM can 'customise' a bit to meet its target pricing but if it is CBU, then it may be forced to take more than it would like to. For instance, while there is no sunroof, the Elantra we get has heated seats, a heated steering wheel and heated door mirrors and these are probably part of a package that includes some other items HSDM really wanted. The same sometimes applies to wheel sizes; if you want 20-inch wheels, you must take a sunroof as well as well and that may mean extra cost.
Of course, it's usually good for the customers as there are more features available. Furthermore, some of the features might not be available if the model is assembled locally as a more 'basic' system might be used instead.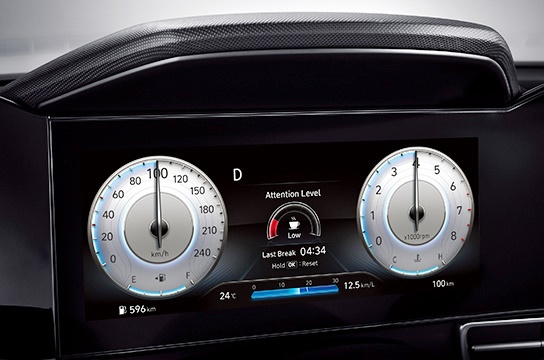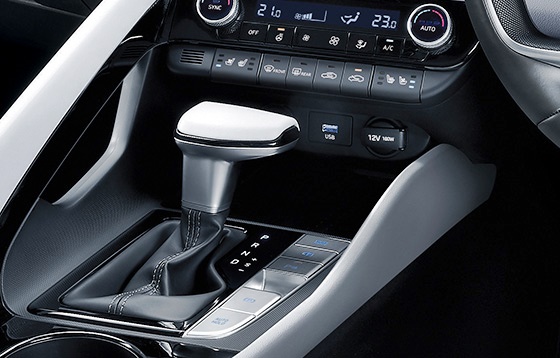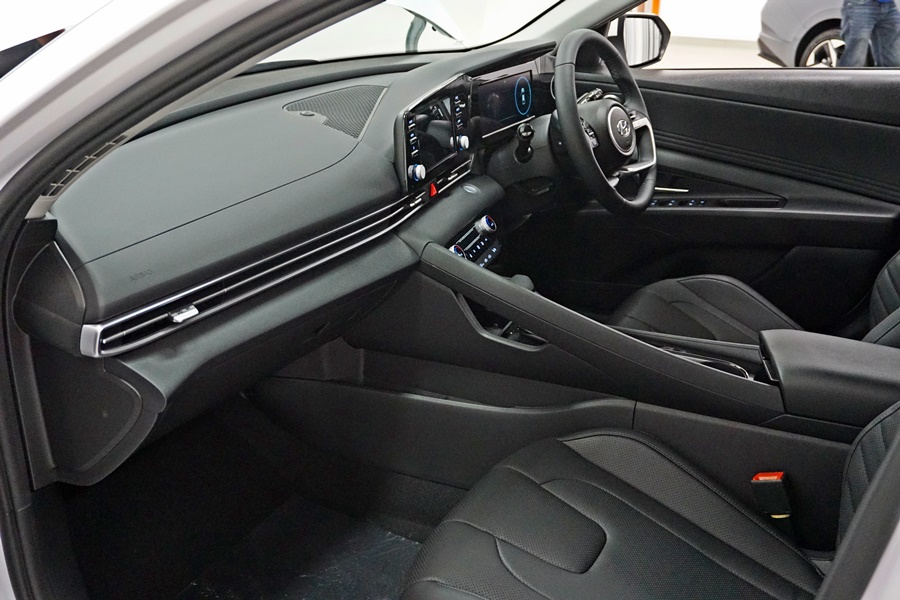 There are many convenience features that come with the new Elantra, apart from the keyless entry and pushbutton engine starting/stopping. It doesn't have the 'kick the bumper to open' (our term, not an industry term) feature but the bootlid can still open automatically with the Smart Trunk feature besides pressing the button on the key fob.
Another way of automatic boot opening
The Smart Trunk feature works on the same concept as keyless entry and you must have the key fob (which has the electronic security code) on you for it to work. The boot does not open right away when within close range but after a certain time standing behind the car, then it will open. This is a security measure to avoid unwanted opening.
While the 'kick the bumper' method is also convenient, it does mean that a person will momentarily stand on one foot. That might not be good as the person may lose balance, especially if carrying heavy items in both hands. So Hyundai's idea may offer a safer way of handsfree opening.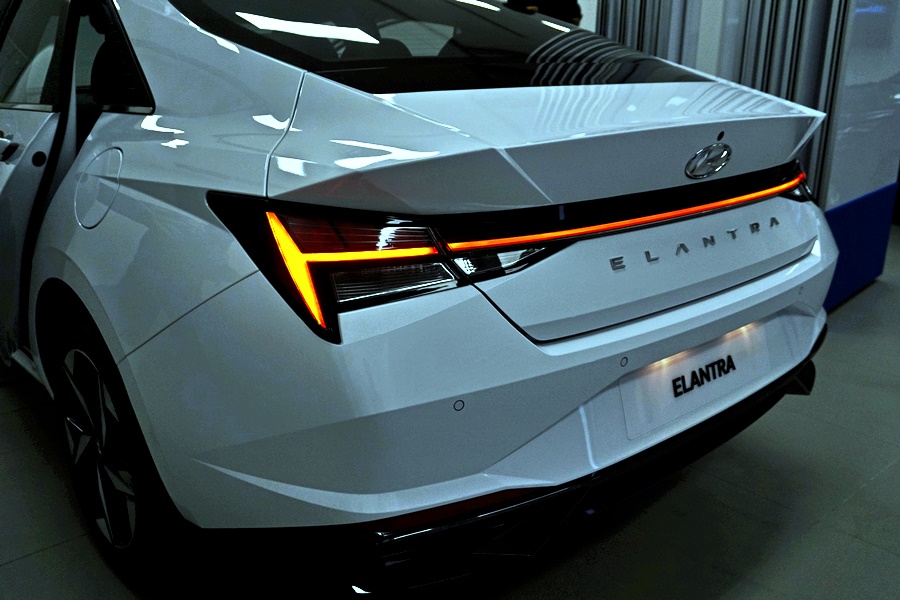 Hyundai SmartSense
On the subject of safety, the new Elantra follows the industry trend with integrated safety systems that work together and use common sensors – a camera on the windscreen and a radar in the grille. The Korean carmaker's system is known as Hyundai SmartSense and consists of 8 active safety systems. These are in addition to the usual ABS, EBD, ESC, Traction Control, etc.
There is Forward Collision Warning with scanning at junctions as well, Lane Keeping, Driver Drowsiness Monitor, Smart Cruise Control Leading Vehicle Departure Alert, Blind Spot Warning, Safe Exit Warning (when opening doors), and Rear Cross Traffic Alert when reversing.
The Smart Cruise Control is adaptive and adjusts the speed to ensure there is a safe gap with the vehicle ahead. The additional feature it has – usually found on more expensive models – is Stop & Go which allows the speed to be adjusted right down to zero. This means that you can operate on cruise control and even follow a car through a toll plaza. If the car stops, the Elantra will also stop and resume moving when the car ahead starts to move off. It's as good as autonomous driving!
The new Elantra sit on Hyundai's third-generation vehicle platform and besides weighing less, this new platform also allowed the engineers to lower car's centre of gravity, which should enhance handling. For passive safety, there's a strong structure and up to 6 airbags within to provide cushioning during an accident.
Click here to read other news and articles about Hyundai.