Tonight is a big night for Toyota with Malaysian importer and distributor UMW Toyota Motor (UMWT) unveiling three new models as well as announcing future activities which centre around motorsports. The increased motorsports activity has been going on for some time now since the Vios Challenge One-Make series began a few years ago, complemented by UMWT being the first local car company to get into eSports (simulator racing).
Toyota GAZOO Racing (TGR), which manages the brand's global competition activities, also began to develop into a brand of its own, focused towards high performance products like the GR Supra. The motorsports involvement by the brand could be largely attributed to Toyota's President, Akio Toyoda, who is a racing driver and sees motorsports as a way to build better cars.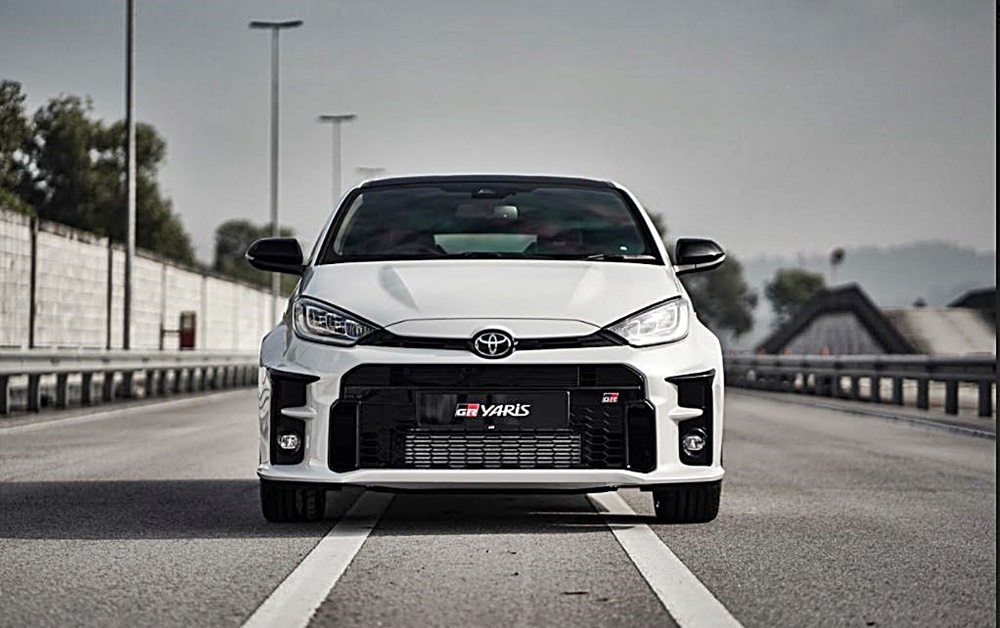 Second GR model
Now comes the second GR model – the GR Yaris – which is a 'Homologation Special', meaning its original brief was for a model that could qualify for use in FIA-sanctioned motorsports events. The FIA requires a manufacturer to make no less than 25,000 units of a model and if they want to have a high-performance variant, there must be a minimum of 2,500 units which are really the Homologation Specials.
However, Toyota has decided to develop a high-performance model that can be offered to more customers, so it is building 25,000 Homologation Specials! At the same time, the car is road-legal with all the required safety systems and should the owner want to enter a rally, he or she can do so as well (with the fitment of additional safety equipment for racing purposes).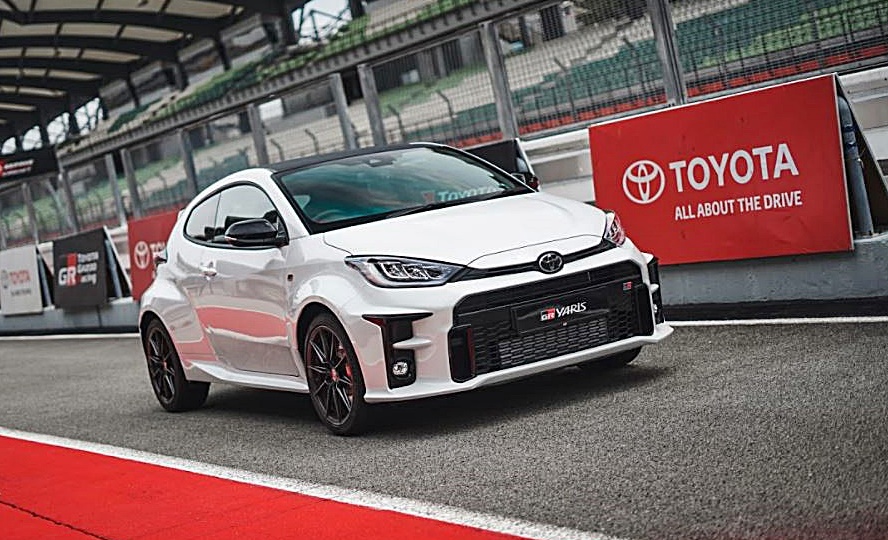 "The manufacturing process is a first for Toyota, whereby the competition elements and requirements dictated the building and engineering of the GR Yaris. The end product and the results have been phenomenal," said UMWT's Deputy Chairman and Gazoo Racing Malaysia's Chief Motorsport Officer, Akio Takeyama. He added that the GR Yaris is made in Japan in the same factory that built the Lexus LFA.
Developed in collaboration with Tommi Makinen
Development of the GR Yaris was carried out by TGR in collaboration with Tommi Makinen Racing, the organization led by the legendary WRC driver who was champion for 4 years in a row (1996 – 1999). His WRC-skilled team of designers and engineers focused on perfecting the aerodynamics, weight distribution and weight optimization of the car to achieve the best performance and drivability.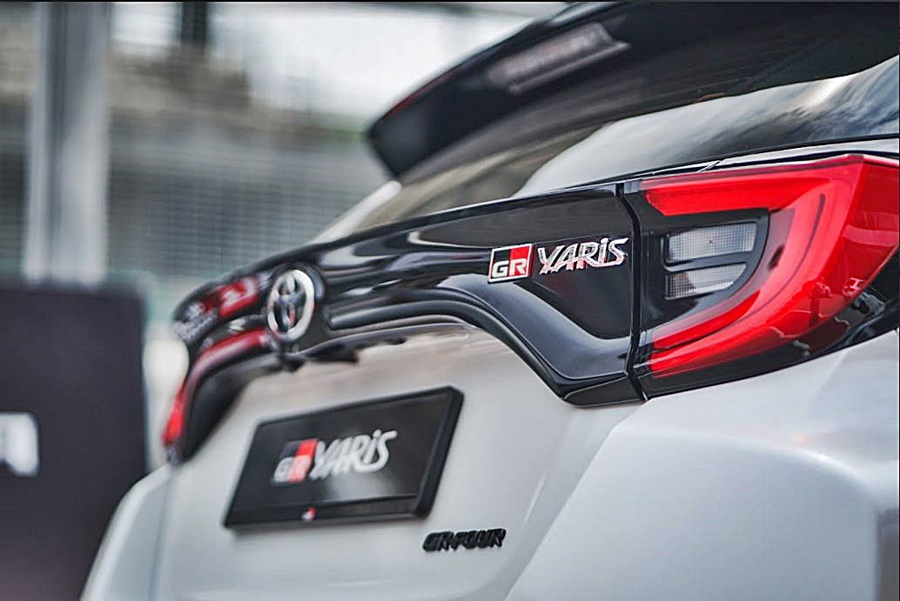 Unique model line
The GR Yaris is different from the latest Yaris hatchback assembled and sold in the Malaysian market. It is a unique model rather than a variant and has a 3-door hatchback bodystyle which provides increased area for the inclusion of aerodynamic parts. Its overall length is 3995 mm with the wheelbase at 2560 mm.
As with most of the latest Toyota models, it sits on the TNGA (Toyota New Global Architecture) platform which is highly variable. For the GR Yaris, the variability was taken further as half the platform is the GA-B which is mated to the GA-C platform that is used for the Corolla and C-HR.
The reason for this hybrid architecture is to allow the rear suspension to use the more sophisticated double wishbone layout of the GA-C Platform (instead of the torsion beam rear suspension of the GA-B platform). The special platform also accommodates all-wheel drive and achieves high levels of agility and stability.
Aerodynamically optimised, lowered weight
For competition cars, aerodynamics and weight reduction are crucial factors which influence performance. These were areas the TGR team gave much attention to and as mentioned earlier, instead of just making 2,500 units with superior aerodynamics and the lowest possible weight (1,280 kgs), Toyota is offering the same benefits in all 25,000 units. This can save costs for those who want to use the car for competition as they don't have to change to lighter parts.
Aluminium is used in many areas, including the bonnet, and the roof is made of C-SMC, a carbonfibre material which saves 3.5 kgs compared to a steel roof. Besides aluminium, another lightweight material used is TSOP (Toyota Super Olefin Polymer), for the rear bumper which reduces weight by 38 kgs. By lightening the upper part of the body, it also helps lower the car's centre of gravity (by 2.5 mm),
Even though they run over rough ground, rallycars travel very fast so aerodynamic performance is just as important as on the racing circuit. Reducing wind resistance is one thing but increasing stability is also important – even when going sideways! Various aerodynamic aids have been installed on the optimized shape of the car, and as with many modern cars, the underside has been made as smooth as possible to minimize turbulence and lift.
The roofline is low to increase the amount of wind hitting the deep, high-mounted rear spoiler, maximizing the downforce generated. The roof and rear pillars are also tapered to promote better stability at high speeds. Shaping the rear diffuser (the aero step) to fold into the bumper unit also helps in managing airflow to reduce turbulence as it leaves the car.
High performance suspension
Drawing on experience developing the WRC cars, the engineers had a lot of data to use for suspension geometry and settings to maximize tyre grip. The front MacPherson strut suspension is both lightweight and highly rigid as is the specially developed trailing double wishbone suspension at the rear.
With the high speeds that the GR Yaris is capable of, the braking system has been engineered to provide strong stopping power. At the front are 356 mm ventilated discs with 4-pot, lightweight aluminium calipers (in red), while the rear brakes have 297 mm ventilated discs with 2-pot aluminium calipers.
Incidentally, the brakes fitted to the GR Yaris are comparable in size to those used on the GR Supra and in fact, the front discs are larger in diameter. And there is also a mechanical hand-operated parking brake for additional cornering control in rally driving.

Most powerful production 3-cylinder engine
The GR Yaris is powered by an all-new 1.6-litre 3-cylinder turbocharged engine (G16E-GTS) producing 261 bhp at 6,500 rpm and 360 Nm of torque between 3,000 and 4,600 rpm. This makes it the world's most powerful 3-cylinder engine and the lightest and smallest 1.6-litre turbo unit currently in production. The engine conforms to WRC 2 regulations and its 3-cylinder configuration was preferred by Toyota engineers due to light weight and compact size, making it simple to install.
It goes without saying that a car intended for competition use would come with a manual transmission and the GR Yaris is available only with a 6-speed manual transmission with i-MT (Intelligent Manual Transmission) function detects the driver's shifting operation (disengaging the clutch and shifting) and matches the engine speed after shifting (constant speed shifting).
Rallying experience also dictated that the gearshift lever should be positioned higher and set closer to the steering wheel for quicker shifting. The shift stroke is also shortened and lightened for a more engaging feel.
New 4-wheel drive system
20 years ago, Toyota developed its own Sports 4WD system which was used in the Celica GT-4, one of its successful WRC cars. Lessons learnt in the past plus new technologies developed for today's Yaris WRC rallycar have gone into the new GR-Four 4-wheel drive system fitted to the GR Yaris.

This advanced system has an aluminium central transfer case and distributes power between the front and rear axles using a high-response coupling with an electronically controlled multi-plate type clutch managing the split power between the front and rear wheels. Besides intelligent distribution of power in Normal mode when the torque is split 60:40 front to rear, the driver can also select a Sport mode which is 30:70 and Track mode which is 50:50.
Comfortable cabin for 4 persons
While weight-reduction was a priority, the cabin of the GR Yaris is not barren or uncomfortable (as racing cars often are because unnecessary items have been removed). It has the same comfortable feel as a Yaris hatchback but with a much sportier image. There is still weight-saving but it's not visible, eg in the structure of the sports seats.
The overall interior theme is in black with smoke silver trim details. The front and rear seats are upholstered in black leather with red stitching for those at the front. There is also a GR 3-spoke leather-wrapped steering wheel and drilled aluminium sports pedals with wider dimensions. The pedal position, pad angle and pressing angle have also been calculated in line with the driver's hip point to gain the best possible controllability.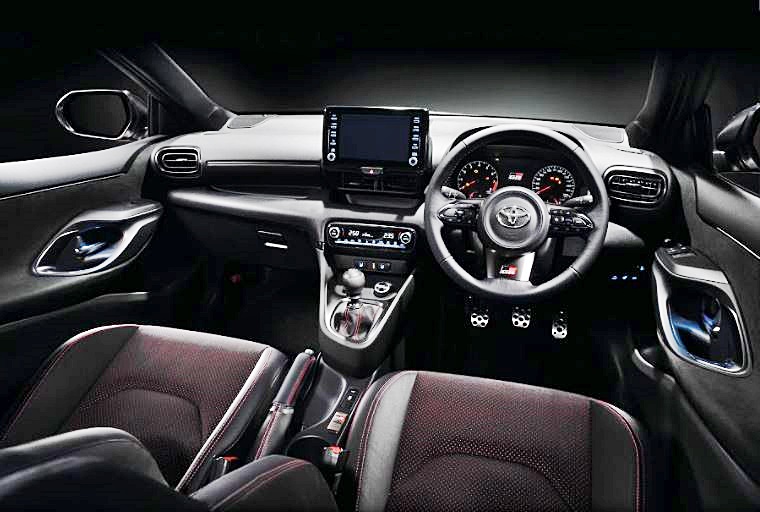 Instrumentation in the GR Yaris consists of an analogue meter with white calibrations and red pointers, and a 4.2-inch TFT colour Multi-Information Display (MID). The MID shows various operating information and includes an all-wheel drive indicator showing torque distribution. There's also a turbo pressure monitor and gearshift indicator, besides the 4WD Mode indicator. The driver can also refer to the standard Head-up display (HUD) projected on the windscreen.
For those who use the GR Yaris for highway cruising, there is also an infotainment system and all the convenience features that are found in other Toyota models – even dual-zone air-conditioning. To provide a more sporty feel, the engine sound transmitted into the cabin is enhanced in accordance with the engine speed.
Toyota Safety Sense
The GR Yaris comes with Toyota Safety Sense (TSS) driver assistance systems consisting of a Pre-Collision System (PCS) with Automatic Emergency Braking, Lane Departure Alert (LDA) with Lane Tracing Assist (LTA), Dynamic Radar Cruise Control (DRCC) and Automatic High Beam (AHB). The systems use data from a camera and radar to monitor the road ahead, intervening with counter-measures whenever there is a risk of an accident.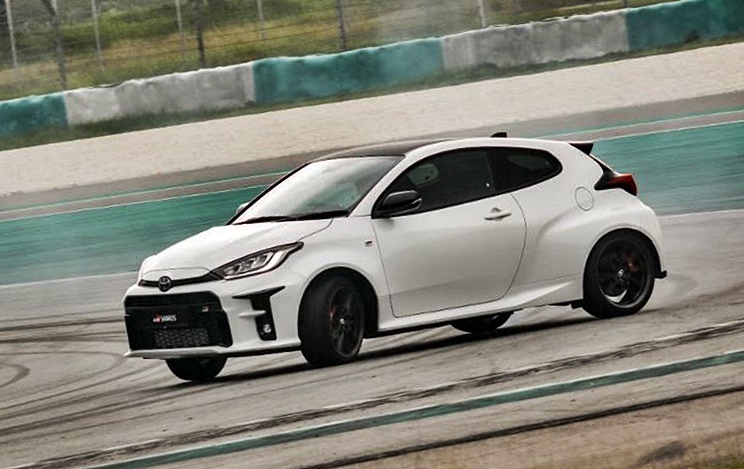 Additionally, the GR Yaris also has ABS, Traction Control, Electric Brakeforce Distribution, Brake Assist and Hill-start Assist Control. The Vehicle Stability Control (VSC) system includes an Expert Mode that can be activated by skilled and experienced drivers. Basically, it disables Traction Control and the VSC but the engine and brakes may be controlled depending on the car's behaviour.
5-year warranty too
Although the GR Yaris is a high-performance competition-capable car, it has been thoroughly tested (even by Toyota's President himself) for durability and reliability. For this reason, it comes with a warranty that is similar to what is offered with other Toyota passenger cars which is 5 years long – with no limit on mileage.
"We are absolutely excited and thrilled to welcome the GR Yaris to Malaysia. It is a car that has attracted so much of attention and praise globally. It sets a new and higher benchmark not only for a vehicle in its segment but also in the very way in which the car is actually built, and when you're finally confronted with it, all I can say is the GR Yaris' reputation as a competition-bred performance car precedes it," said UMWT's President, Ravindran K.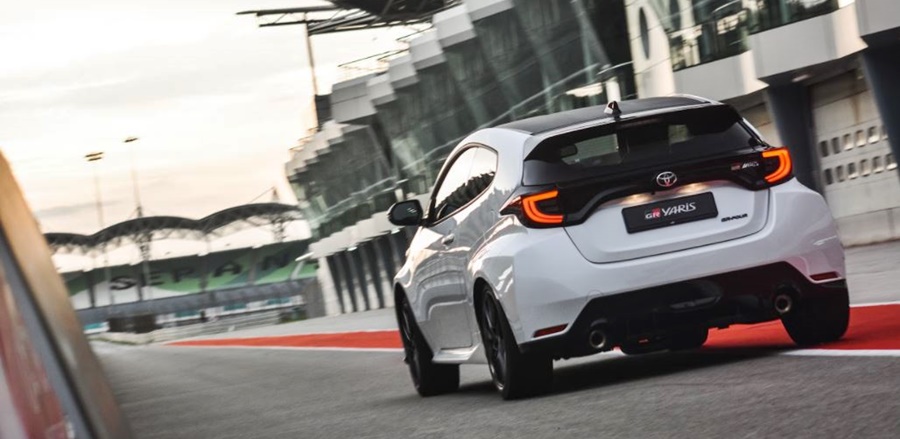 Of the 25,000 units Toyota will produce, less than 200 units of the GR Yaris will be available for sale in Malaysia. Each one is priced from RM299,000 (excluding insurance and roadtax) and a limited number of units will have the Performance Pack, with each car bearing a special plate to indicate its exclusivity. Customers can choose from three colours: Platinum White Pearl, Emotional Red and Precious Black.
Additionally, UMWT is also offering an 'Early Bird Package' (worth a total of RM5,000) which consists of an exclusive helmet bag, a GR Yaris scale model and participation in a GR Yaris Driving Experience in 2021 to learn to enjoy the GR Yaris to the fullest.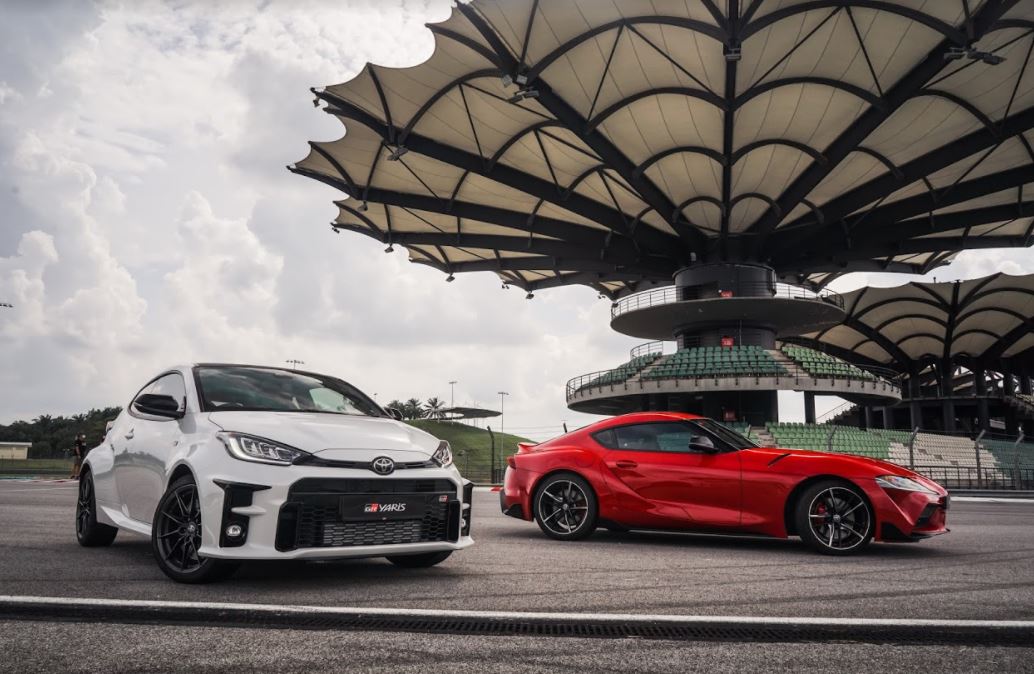 While the other Toyota models are available at all authorized Toyota outlets nationwide, the GR Yaris (and GR Supra) are available only at outlets which have the GR Garage. To locate these outlets, visit www.toyota.com.my.