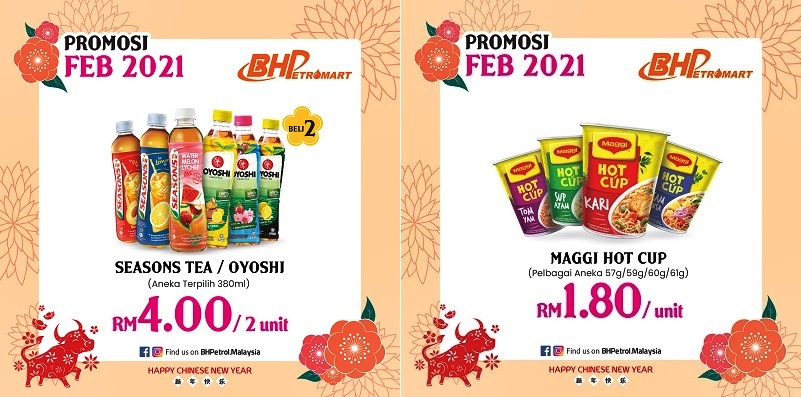 During this period of the pandemic, we are urged to 'Stay indoors' to avoid being infected and also to help cut the transmission of the virus. For many people, 'indoors' may mean a boring time but not for racer Leh Keen: while being 'indoors', he achieved a Guinness World Records title for the fastest speed by a vehicle indoors.
It's not a new category in the world famous list of records and the last person set it at a speed of 138.5 km/h. That was 7 years ago. The rules – strictly enforced by Guinness World Records – are tough. The record tun must be done up to a standstill within the space of the building. There can be no run up, no safety net and no doors open and therefore no escape route. It means not just being able to accelerate to a very high speed but also being able to come to a stop in time.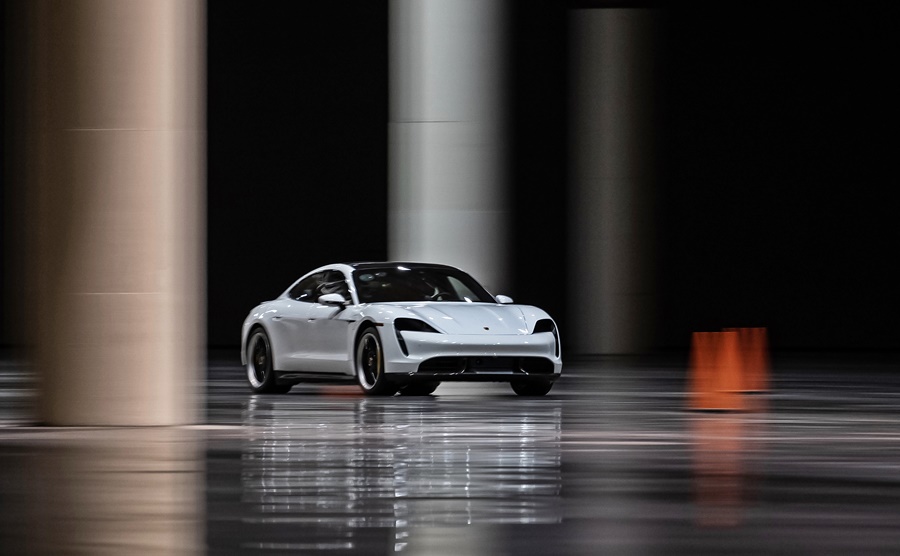 Leh  therefore required a car that would be able to perform with such challenging conditions. It had to be one that he could trust his life with in order to safely break the record safely. With an output equivalent to 750 bhp, 4-wheel drive providing maximized grip, powerful carbon ceramic brakes and the ability to accelerate to 60 mph (96 km/h) from standstill in just 2.6 seconds, the all-electric Taycan Turbo S by Porsche was the car to use.
Selecting the right building was just as challenging. In the end, it was the Ernest N. Morial Convention Centre in New Orleans, Louisiana, USA. At around 93,000 square metres, the convention centre boasts having the largest contiguous exhibit hall in the country, ideal for the distance it provided. However, like many other indoor facilities, the polished concrete surface replicated ice when being driven over at speed…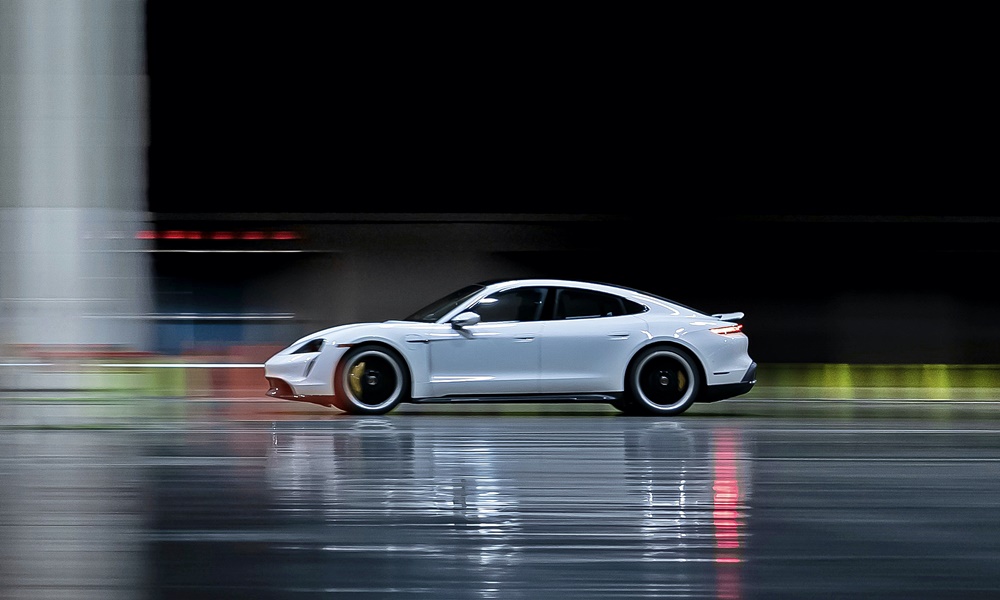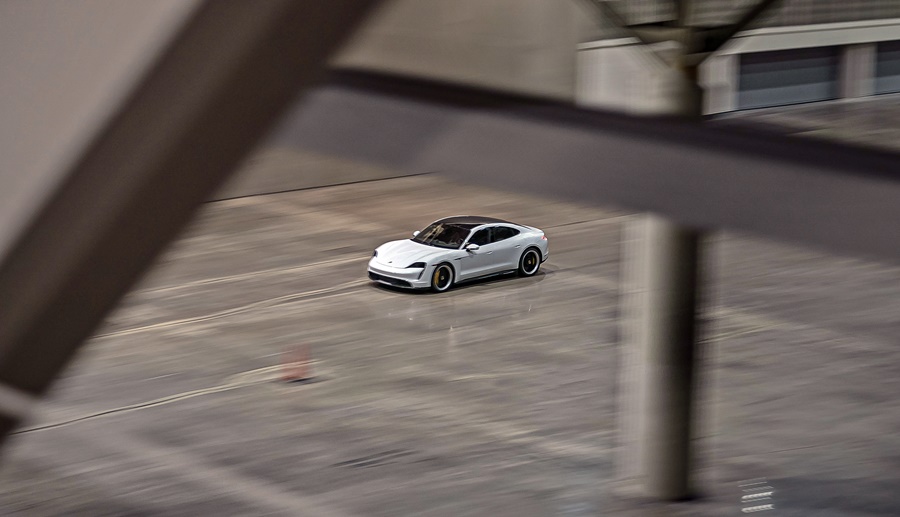 "I didn't really appreciate the scale of the record attempt until my first exploratory run. The surface is so unpredictable, so slick, that you have to have complete trust in your car. It truly was like ice – and you're accelerating flat out, facing a really hard wall at the end. Suddenly, even in a massive space like the one we had, it seemed very small," said Leh Keen after his record attempt. "I could feel the Taycan's systems figuring it out, working so hard to keep me heading straight – it was such an impressive feat. To accelerate so hard on such an erratic surface was incredible. Not for a moment did I doubt I could do it."
Leh's strategy was to build up slowly, with low-speed exploratory runs. The standard street tyres were pre-heated as a precaution. And, when it came to the record attempt, one run was all it took. "I did take a moment on the starting line – knowing I was going to have to go as fast as I could – and stop again –  all before reaching the wall I was facing. It got my attention."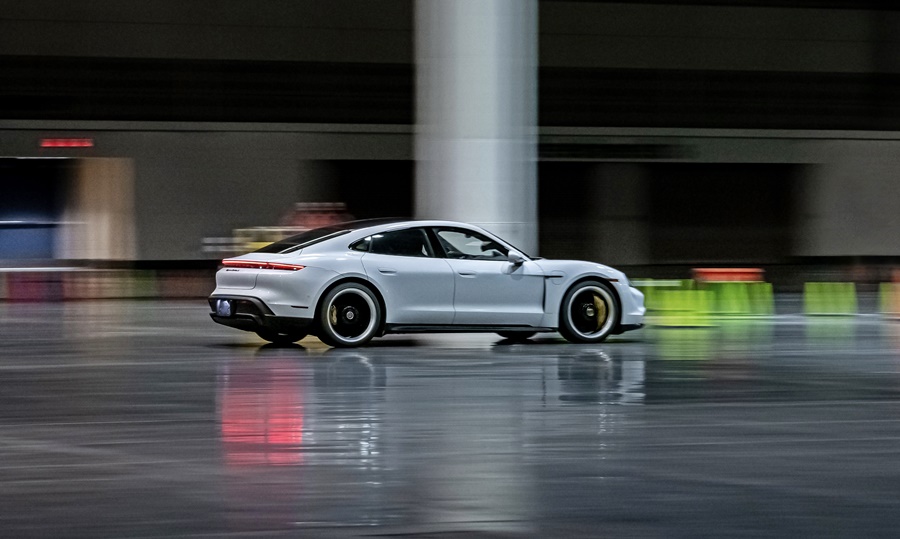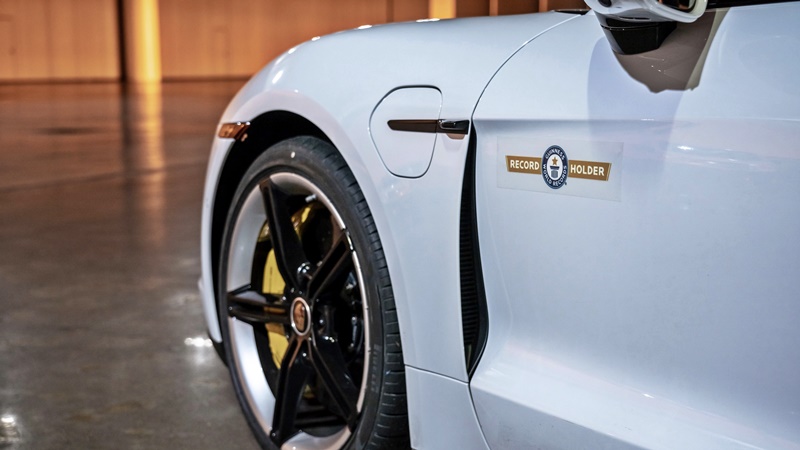 "I used the car's launch control and the Taycan just hooked up – the sensation of speed indoors, even in such a big space, is enormous – that wall rushed up fast. I was gentle on the brakes at the end… the Taycan's brakes were more than up to the job. Of course, I didn't look down at my speed, so it came as a surprise and a relief that I'd beaten the record, and by such a margin. It was a rush! I'm thankful for Porsche for trusting my abilities and for their preparations and encouragement – 165 km/h (officially 102.6 mph) inside a building. What was I thinking?"
The Taycan is available in Malaysia from Sime Darby Auto Performance. Click here to find out more.
All-electric Porsche Taycan sets a drift world record (w/VIDEO)