When there is mention of clocks in cars, one famous advertisement will often be remembered. It is the one where David Ogilvy (regarded as the 'Father of Advertising') used the comment of the Technical Editor from The Motor magazine to create a memorable headline. It said: "At 60 miles an hour, the loudest noise in this new Rolls-Royce comes from its electric clock."
In the years that followed 1958, the year that advertisement came out, the clocks in Rolls-Royce cars have remained one of the notable elegant features. And with Bespoke commissioning, many clocks have been uniquely designed to their owners' specifications and with modern technology, they no longer click.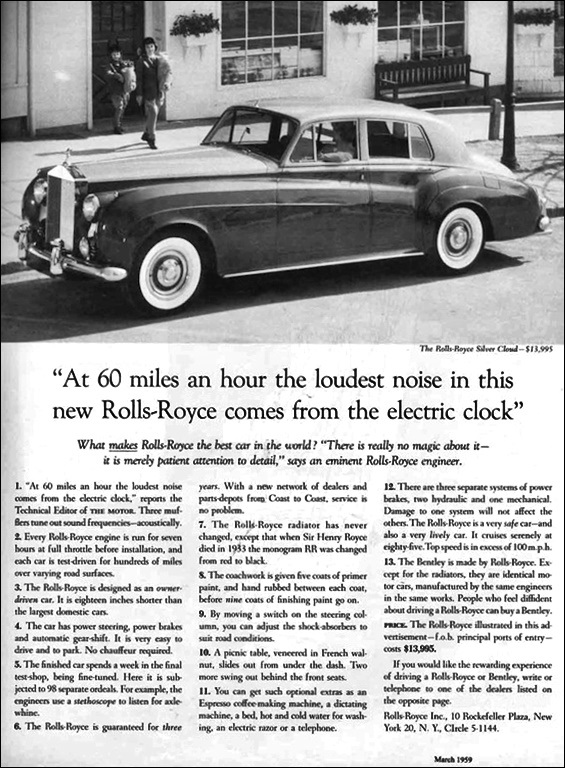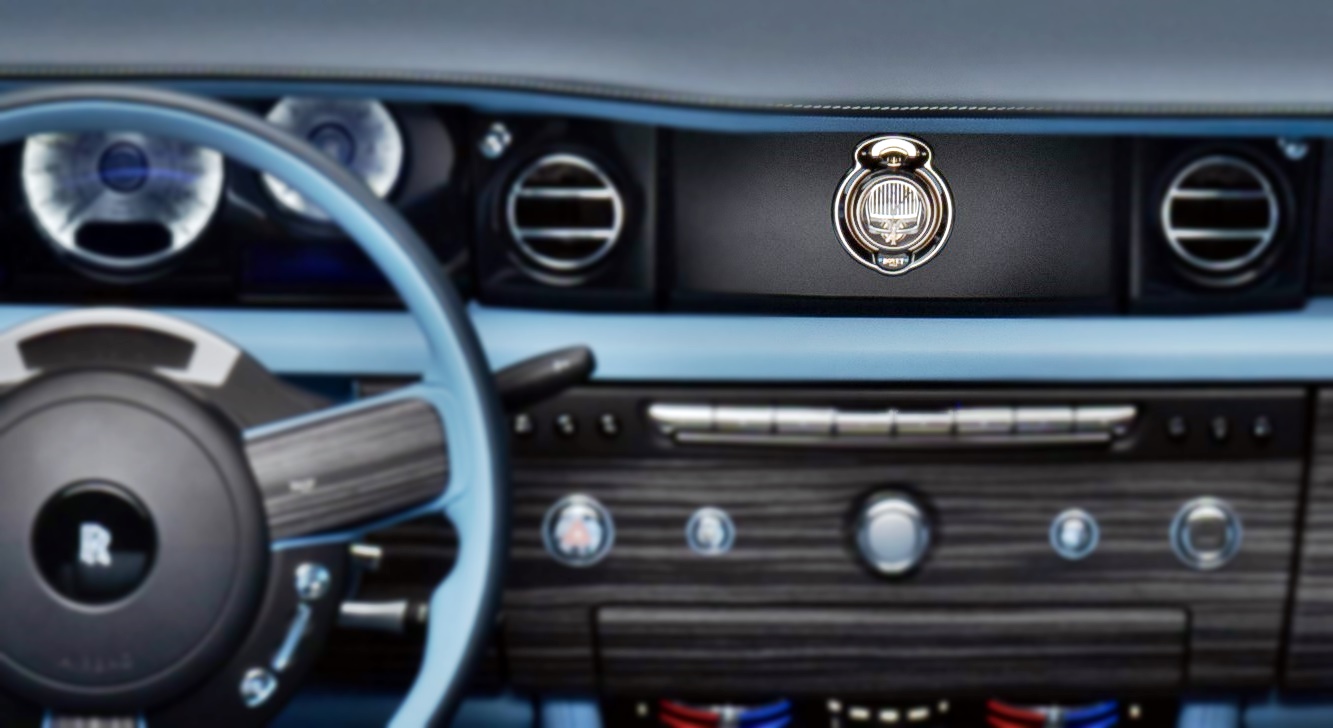 New technical and aesthetic heights
Epitomising this significant item of detail, precision, and beauty is the pair of timepieces for first Boat Tail coachbuilt commission done by Rolls-Royce. They have been created with BOVET 1822, a Swiss specialist in tourbillion timepieces, to be iconic centrepieces elevated to new technical and aesthetic heights.
The timepieces are unique to both the horological and automotive worlds. Made as a pair – in lady's and gentleman's versions – they are reversible, and housed in BOVET 1822's patented Amadeo case, which allows them to be worn on the wrist, or used as a table clock, pendant or pocket-watch, as well as being placed front and centre in Boat Tail's fascia as the car's own timepiece. Both are fitted with tourbillon mechanisms to ensure perfect accuracy.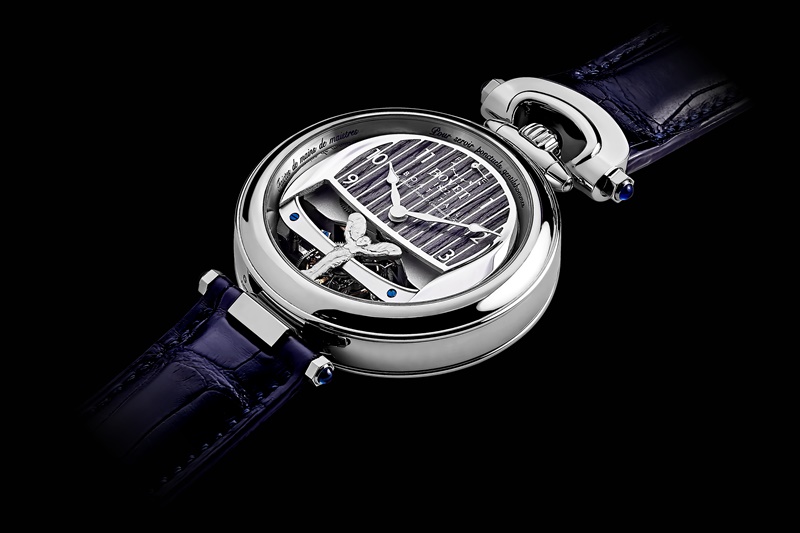 His and hers, and the car's
The timepieces have specially designed 18K white gold cases and feature matching front dials with the same Caleidolegno veneer found on the aft deck of Boat Tail itself, and are finished with the owner-couples' names. The gentleman's timepiece is highly polished; the lady's is ornately engraved then filled with blue lacquer.
On the reverse side, the dials are more individual. The gentleman's features an aventurine dial with the celestial arrangement of the night sky over the place of his birth on his birthdate; the lady's is decorated with an ornate miniature painting of a flower bouquet on a mother-of-pearl dial. This design is a traditional BOVET 1822 motif, chosen by and personalised for the owner.
Both reverse dials have hand-engraved Bespoke sculptures of Boat Tail, complete with wheels, door handle, mirrors and other fine details. By working closely together, the teams at Rolls-Royce and BOVET 1822 were able to achieve a precise colour match between the lacquer on this tiny work of art and the very exclusive car.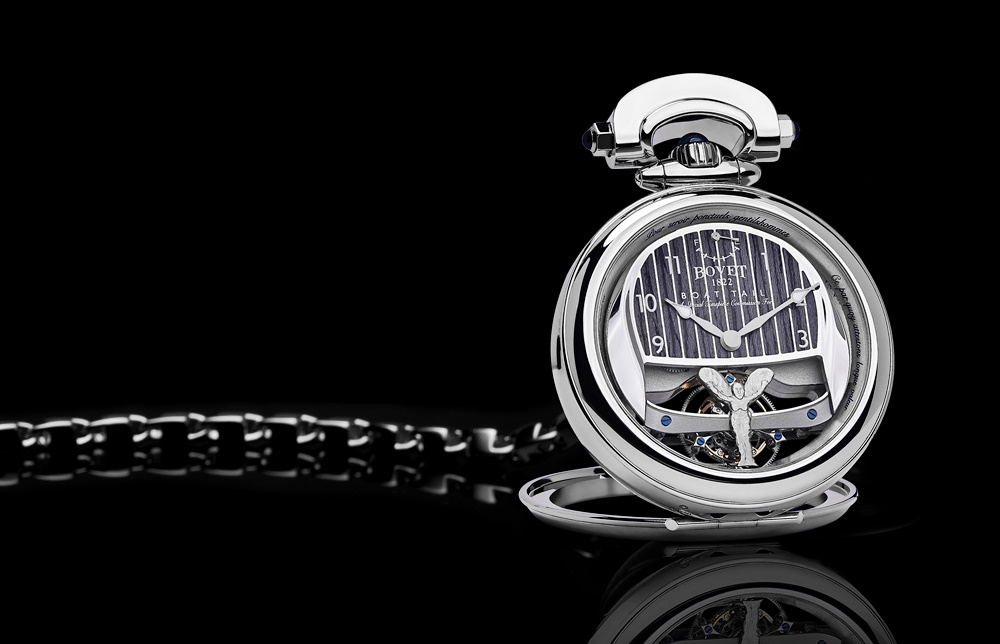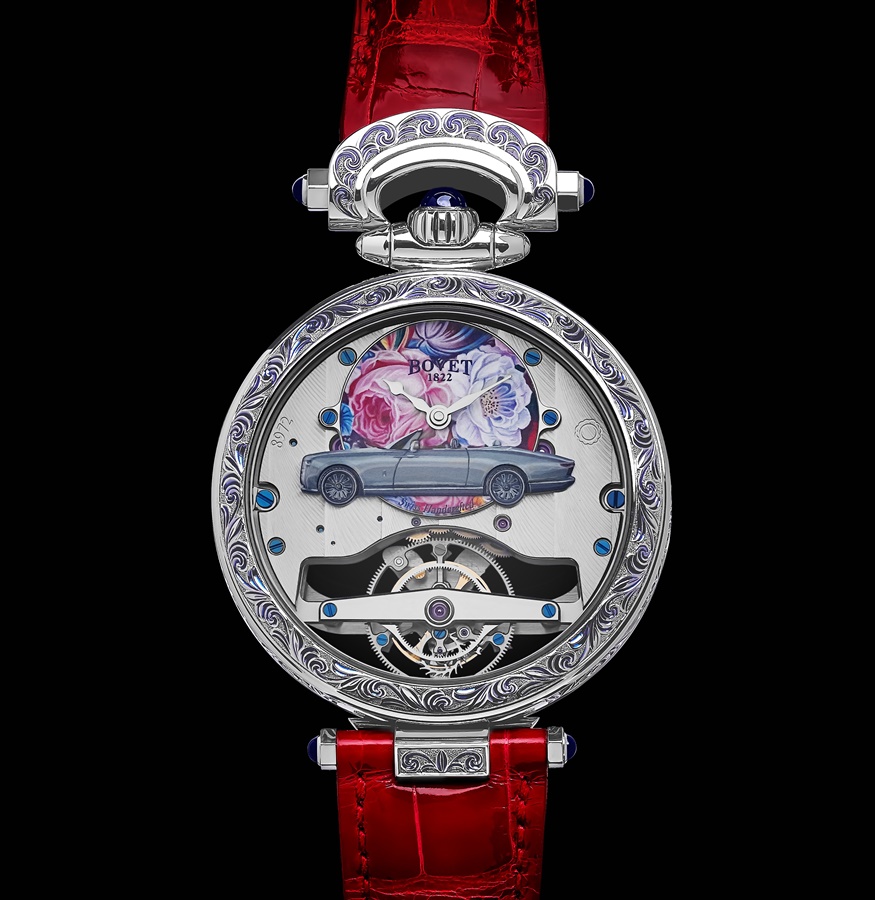 Tested to auto industry standards
Further close cooperation was required to ensure the timepieces conformed to the demands of their unique role as clocks for use in a car. In watchmaking, weight is rarely an issue for a complex timepiece but in this instance, there was a limit on the combined permissible weight of the timepieces and their holders.
BOVET 1822 met this requirement by creating an entirely new 44 mm white gold case. In addition, the timepieces and holders also had to be tested to automotive industry standards for vibration and crash safety – something never previously undertaken on mechanisms of this kind.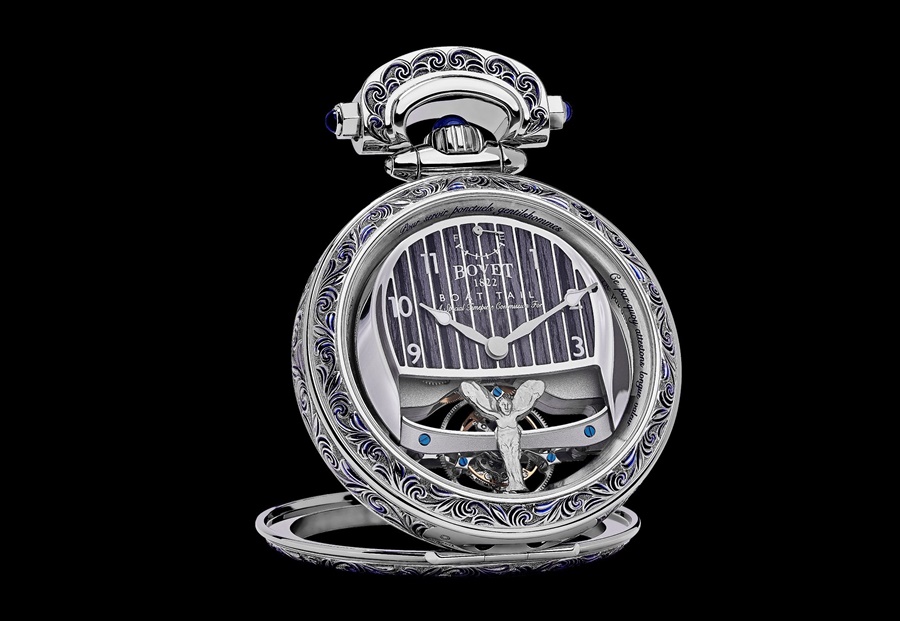 At a conservative estimate, the timepieces' design, engineering, sculptures, miniature painting, marquetry, bespoke movements and cases took a total of 3,000 hours to complete.
BOVET 1822 holds a number of patents and has received many industry awards, and is also one of the only companies in the watch industry to manufacture its own spirals and regulating organs. To reduce potential impact from the vibration from the car, the tourbillon has pivots rather than the traditional ball bearings; a heavier balance wheel and an increased oscillation rate to aid precision. Finally, the tourbillon bridge is finished with a miniaturised Spirit of Ecstasy handcrafted in gold. The timepieces have an astonishing 5-day power reserve, rather than the 42 – 48 hours of a 'standard' watch, to allow for their role as car clocks.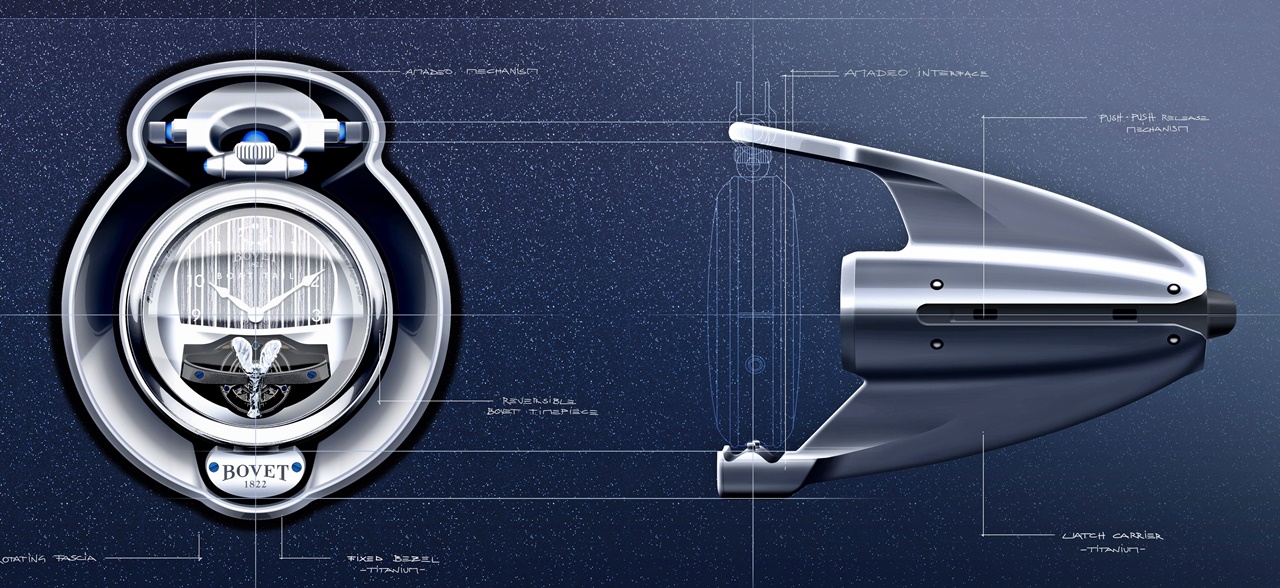 The holder mechanism is unique to Rolls-Royce Boat Tail and was designed by BOVET 1822 engineers and the Rolls-Royce Coachbuild design team from a blank sheet of paper. Although in a Rolls-Royce, vibration is naturally reduced to an absolute minimum, undetectable vibrations are inevitably still present. This highly complex mounting assembly serves to isolate the timepieces from these micro-vibrations. It also ensures they operate silently, are easy to mount and remove from the dashboard and, above all, remain safe and secure.
These challenges were unlike any normally encountered in watchmaking and car manufacture. From the start, BOVET 1822 was determined to follow a purely mechanical approach in keeping with its tradition of Swiss handcrafted production. The engineers' innovative solution was to keep all the system's moving parts external, with the dashboard providing a solid setting for the aluminium and titanium holder.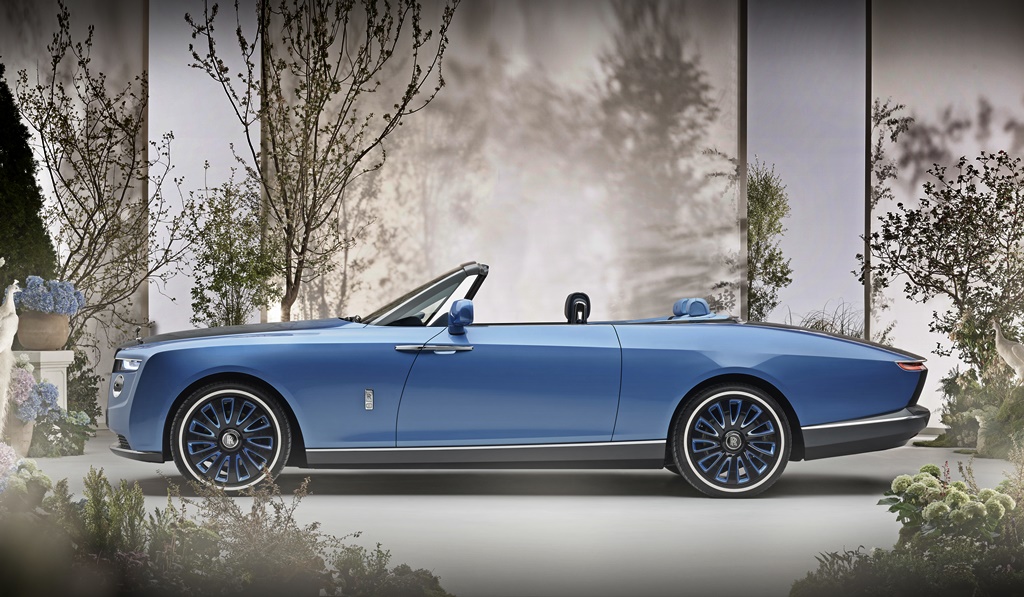 Finally, Rolls-Royce ensured that when the holder is not housing one of the timepieces, it can be covered with a beautiful engraved and lacquered display plaque.  Below the clock, the dashboard is fitted with a special drawer, lined with the same leather as Boat Tail's seats, which serves as a safekeeping receptacle to house the timepieces, straps, chain and pendant when not in use.