The finale of the fourth season of the Vios Challenge one-make racing series, part of the TOYOTA GAZOO Racing Festival, saw lots of suspense and on-track drama from start to finish. Like the F1 race held in Qatar the same night, the final round (consisting of two races for each class) was run at night, a first for the series.
Malaysia's prince of drift and also TOYOTA GAZOO Racing Malaysia ambassador drove to his third  overall championship title in the Super Sporting Class for veteran drivers, while Clement Yeo charged to his first ever overall title in the Sporting Class for amateur drivers. Actor Shukri Yahaya finally captured his first overall title in the Promotional Class after 4 seasons of racing, and young simulator racer Naquib Azlan was crowned the first ever overall champion in the Rookie Class.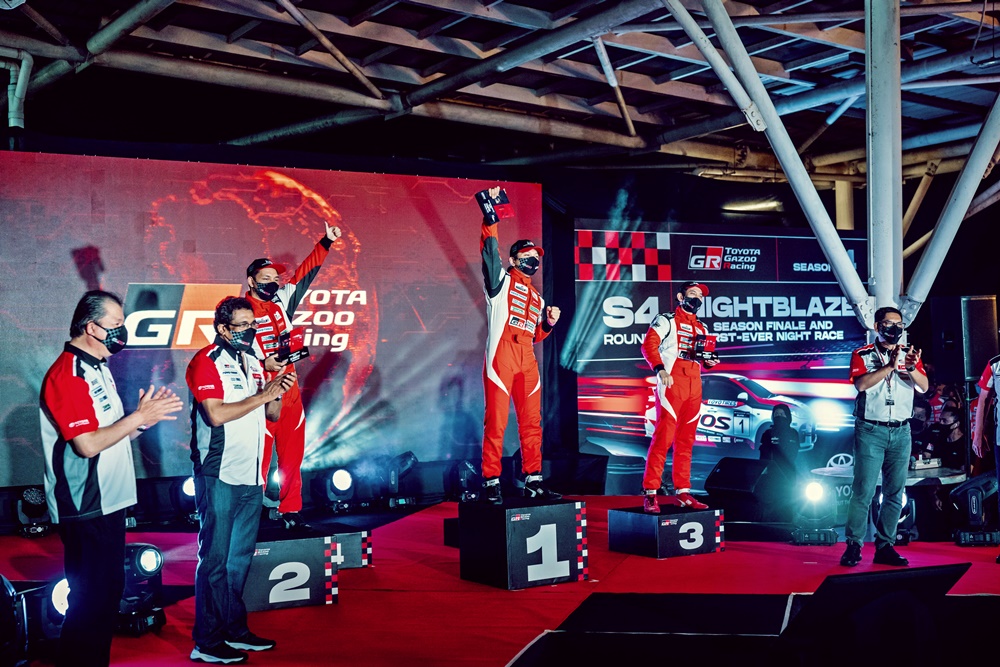 The final race of the season at the Sepang International Circuit produced some of the year's most  intense battles on track as no less than 3 individuals were in close contention for the overall  championship title in each of the four classes.
"We could not have asked for a more exciting finish to the season," said TOYOTA GAZOO Racing  Malaysia Chief Motorsports Officer Akio Takeyama, who was also a participant in the races. "Faced with an incredibly challenging season as a result of the global pandemic, we are thankful that we were able to conclude the championship. The introduction of a night race also made the Vios  Challenge even more unpredictable and quite a spectacle enjoyed by both drivers and spectators."
SPORTING CLASS
The second night's race started in dramatic fashion with no less than 6 cars involved in skirmishes from the very first lap of the race as a result of the wet track. Clement Yeo made a brilliant start from fifth position on the grid to stay within a car's length of Panglima City Racing Team's Kenneth Koh, before eventually passing him for the lead. Behind, the  battle for third, fourth and fifth positions was even more intense which saw 23 Motor's Ady Rahimy  being the first to be pelted off the track, followed by Team Fokus Tetap's Lim Chun Beng and  subsequently Dato' Ken Foo, A. Shanmuganathan, Eric Yong and Amirul Haikal.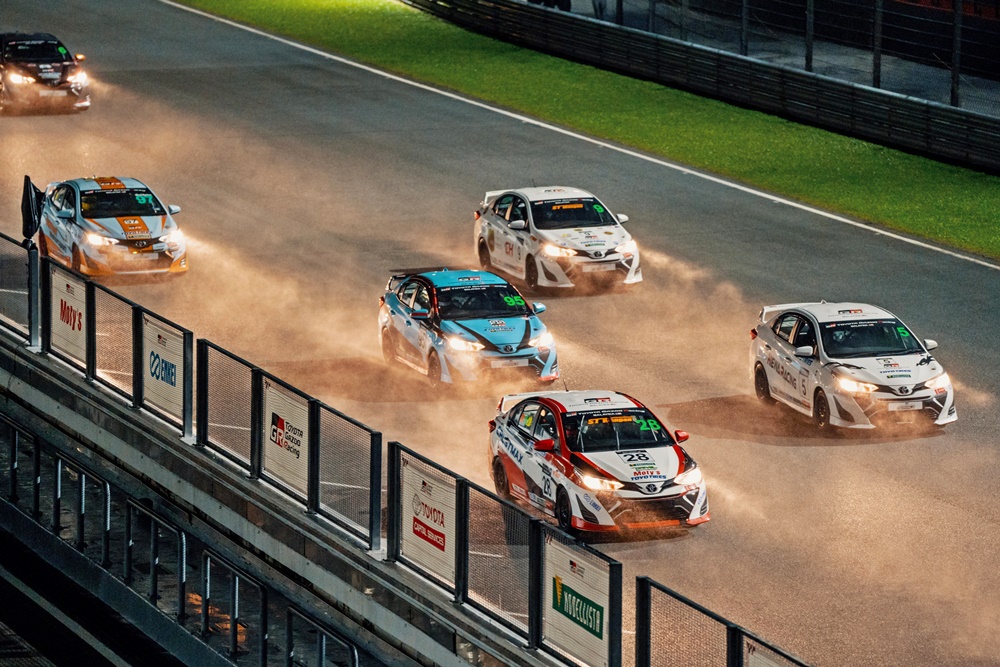 The early incidents brought out the Safety Car on lap 6 of the 20-lap race, reducing what little gap Yeo had built over Koh. When the race resumed 3 laps later, all the attention then shifted to  Dream Chaser's Bradley Benedict Anthony and Ady who were trading places for third position.
Yeo paced himself well in the remaining 10 minutes of the race, but it was once again Bradley who  stole the limelight when he shot pass Koh for second place and that was how the first 3 places  on the podium would be decided. The race victory sealed Yeo's campaign to become Season 4's Sporting Class overall champion which got him a prize of RM50,000.
PROMOTIONAL CLASS 
All eyes were on actors Shukri Yahaya and Zizan Razak who both had their sights set on becoming the  overall champion in the Promotional Class. Of the two, Shukri could be considered the most experienced, having participated in all four seasons. Overall victory had eluded him so far and he was determined that this time, he would take home the crown.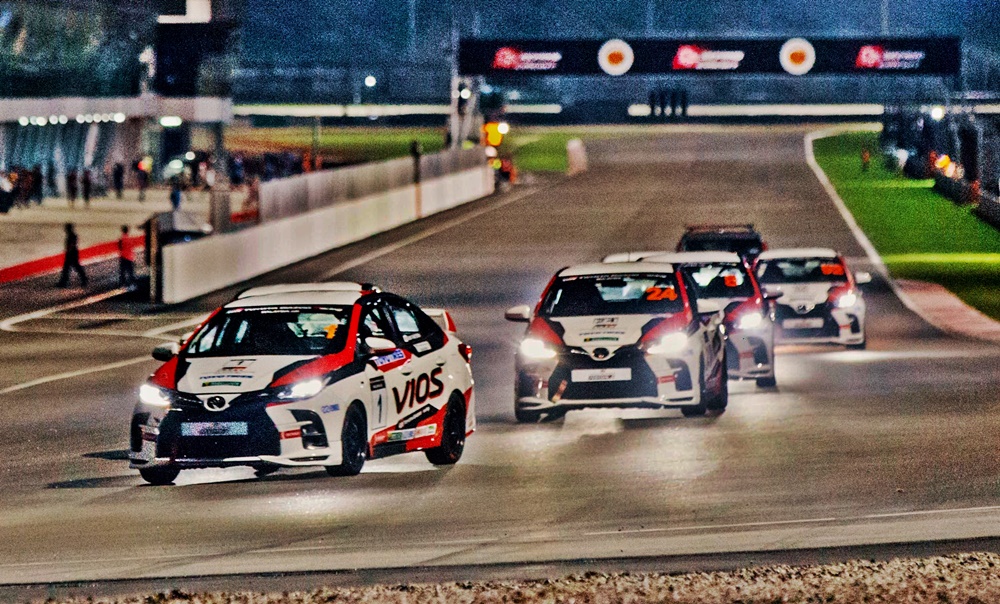 The 18-lap race began fiercely with Zizan taking the lead and Shukri in tow, while singer Khai Bahar  was in third. Positions remained unchanged in the first 5 laps of the race until Zizan made a mistake  by going wide. While Shukri grabbed the lead, Zizan never recovered from that mistake and remained in third while the front two drivers consolidated their lead to being almost 10 seconds ahead.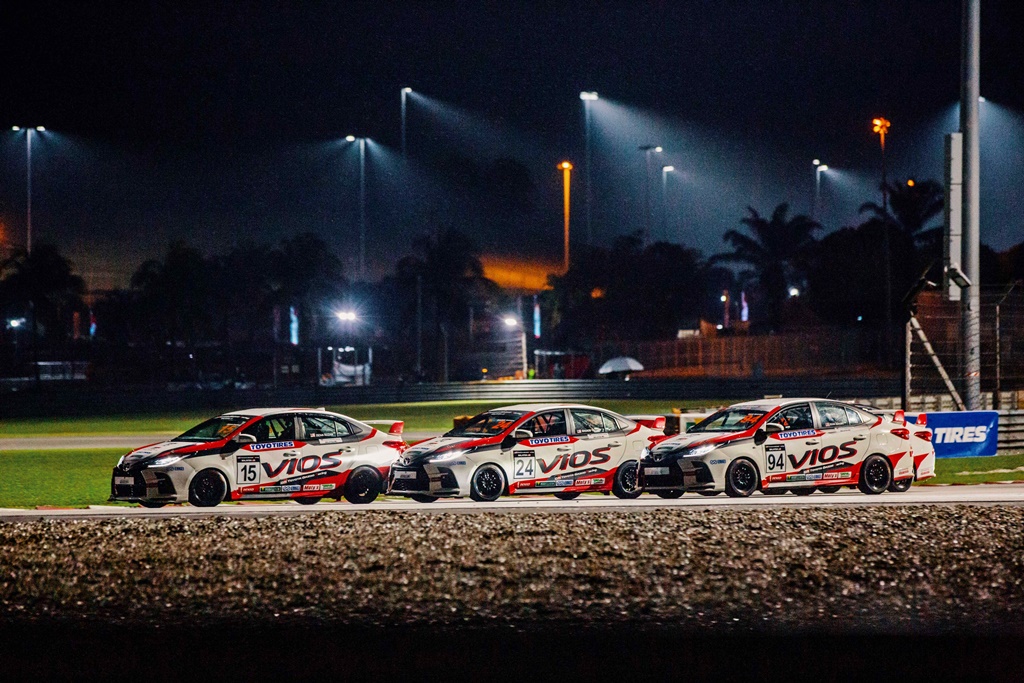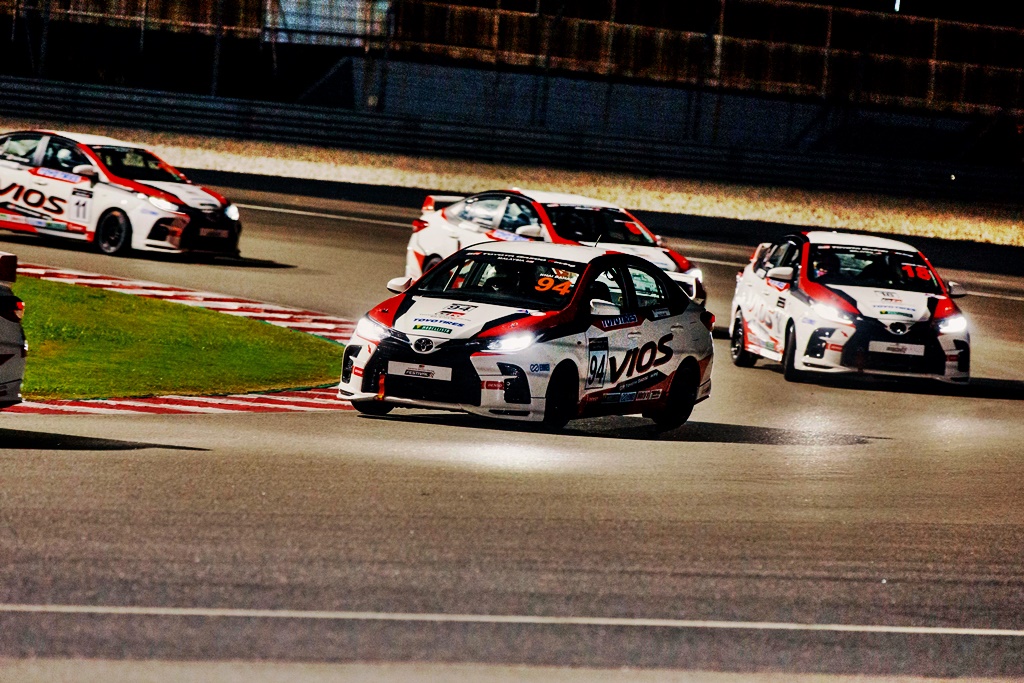 Shukri was determined to win and put up a strong resistance against Khai who seemed to have a quicker pace. The two were separated by only 0.3 seconds when the chequered flag came out with Shukri barely ahead. A penalty meted out to Shukri however, relegated  him to second and promoted Khai to race winner, but the overall points he had consistently accumulated throughout the season was enough for Shukri to claim the overall championship title in the Promotional Class.
SUPER SPORTING CLASS
The battle of the pro racers saw an incredibly fierce battle at the front between 3 drivers, each  of whom could win the overall championship. In the end, it was 23 Motors' Mitchell  Cheah who exerted his dominance to win the 20-lap race ahead of Prima Pearl Auto's Tengku Djan Ley and Telegamas Toyota's Freddie Ang in third place. However, a post-race penalty against Cheah promoted Tengku Djan to first place.
"There was tremendous pressure going into tonight's finale with so much being at stake, but I told  myself that I needed to run a smart race," said Tengku Djan Ley who claimed his third Super Sporting  Class overall championship title to win a prize of RM70,000.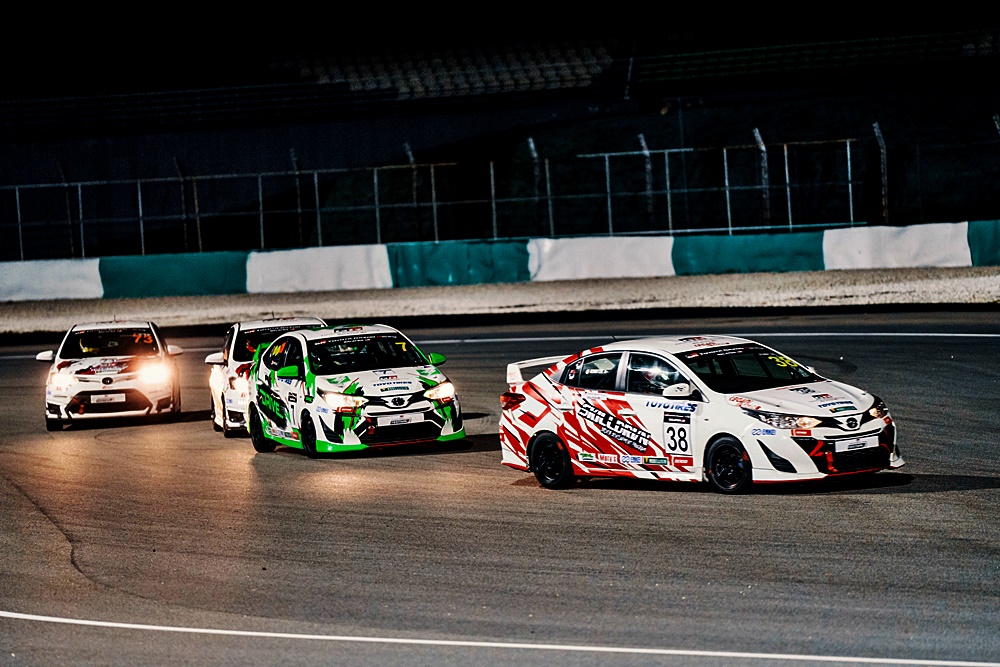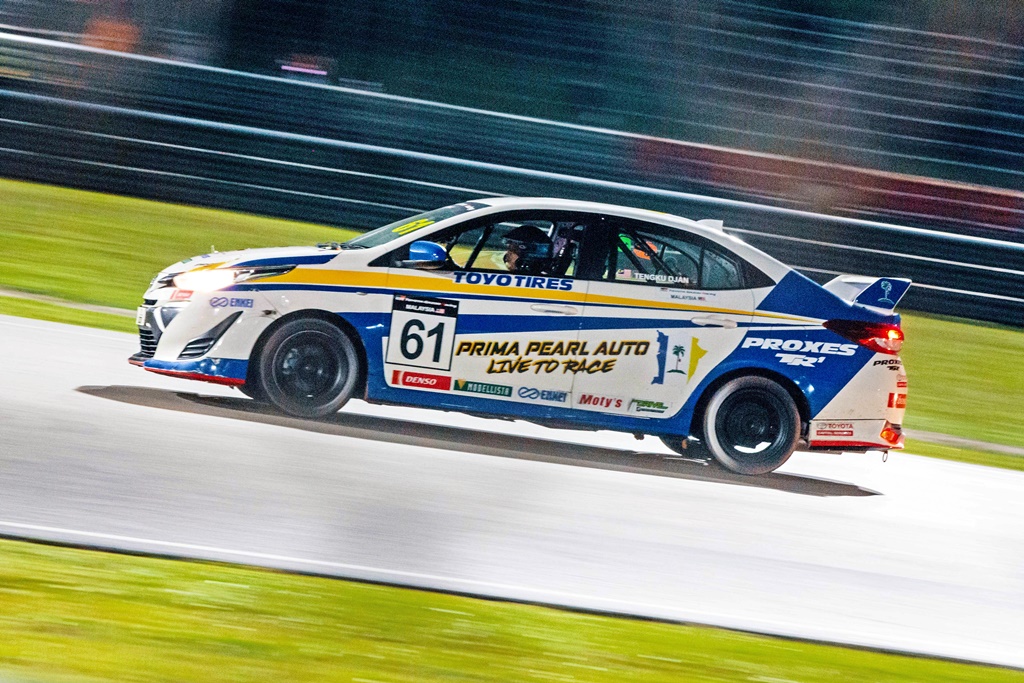 "It has been both an incredibly challenging and rewarding season. I started the first 2 races of the  year very well with back-to-back victories, but the following 2 races did not turn out favourably and  as a result we lost a lot of valuable points. A third-place finish in the Saturday race and a win tonight gave us the result that we needed. I would like to take this opportunity to thank not only my team and sponsors, but also to commend everyone in the Super Sporting Class for a very hard-fought  season," he added.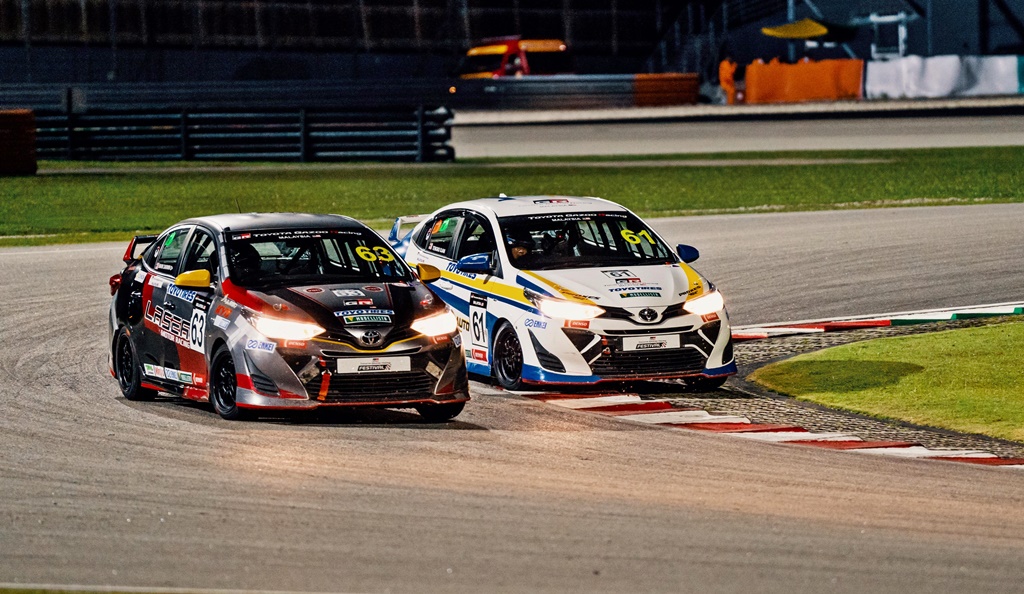 ROOKIE CLASS
This season also saw a bunch of newcomers who received guidance and training under the GAZOO Racing Young Talent Development Program, a demonstration of Toyota's commitment towards the development of Malaysian motorsports. The programme, for those between the ages of 14 and 20,  identified young racers with potential, based on their karting and sim-racing accomplishments, overall performance and level of commitment. They underwent intensive training both on and off  the track under the close guidance of instructors to prepare them for racing in Season 4.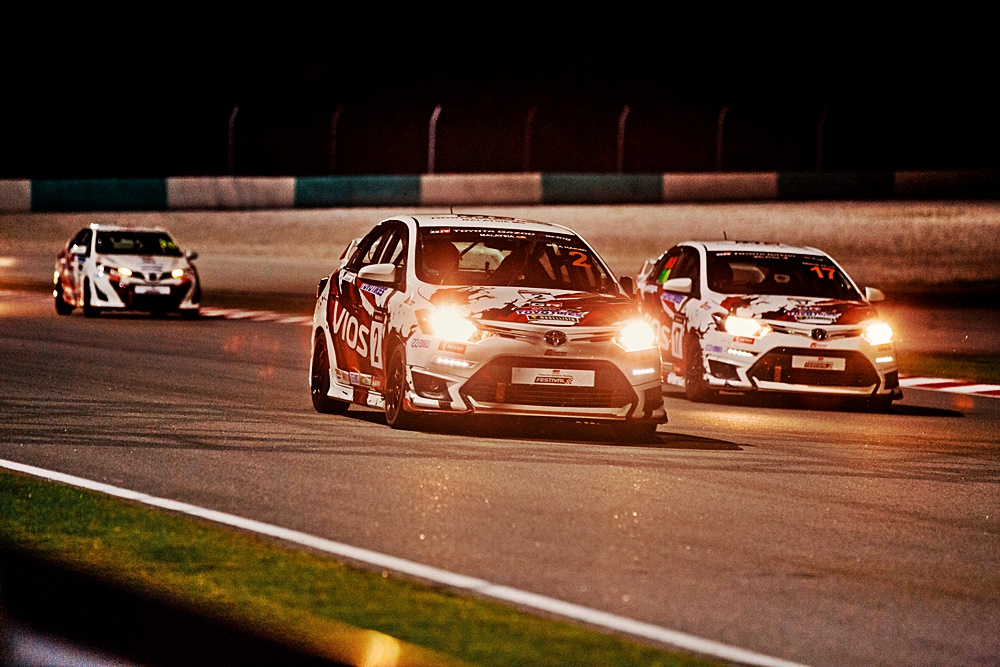 Naquib Azlan turned out to the surprising star of the season, having performed consistently and remaining at the top of the results. Impressively, he participated in a saloon car race with only experience drawn from competing as a simulator racer. It showed that there is value in simulators too as well as the realism that can help drivers gain experience in the virtual world.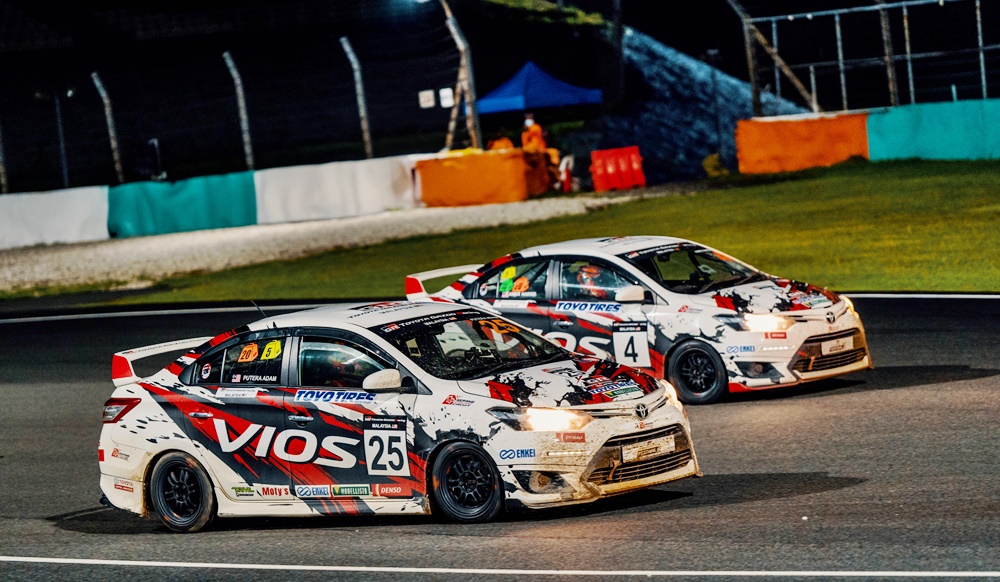 "It was a dream come true. Never did I expect to enter racing in real life and to have been able to  perform as well as I did. I am extremely thankful. I have to say a very big thank you to Toyota for having the trust in me and giving us the opportunity, the team, to Alex Yoong who helped all of the rookies throughout the entire journey. This is something that no other manufacturer has done and  to represent Toyota is such an honour. I look forward to doing this again next season," said Naquib.
Bringing Malaysian motorsports to a higher level
UMW Toyota Motor President, Ravindran K., said the TOYOTA GAZOO Racing Festival and  Vios Challenge is aimed at not only creating a series that is more affordable and accessible to the racing community – especially the younger generation of drivers – but setting out to bring as well as  promote motorsports to the masses.
"The Vios Challenge has also become an attractive breeding ground for young racing talent due to its  lower cost of entry and one-make format that is greatly centred on honing driving skills and racecraft. And with 4 separate categories of racing, the series showcases incredible talent on track for the delight  of spectators. Throughout the 4 seasons, the event has successfully attracted more than 5 million spectators (both on-site and online) which I hope will contribute to growing local awareness, interest and especially greater appreciation for motorsports in Malaysia," said Mr. Ravindran.
Highlights of the Season 4 Vios Challenge Night Races (first night)