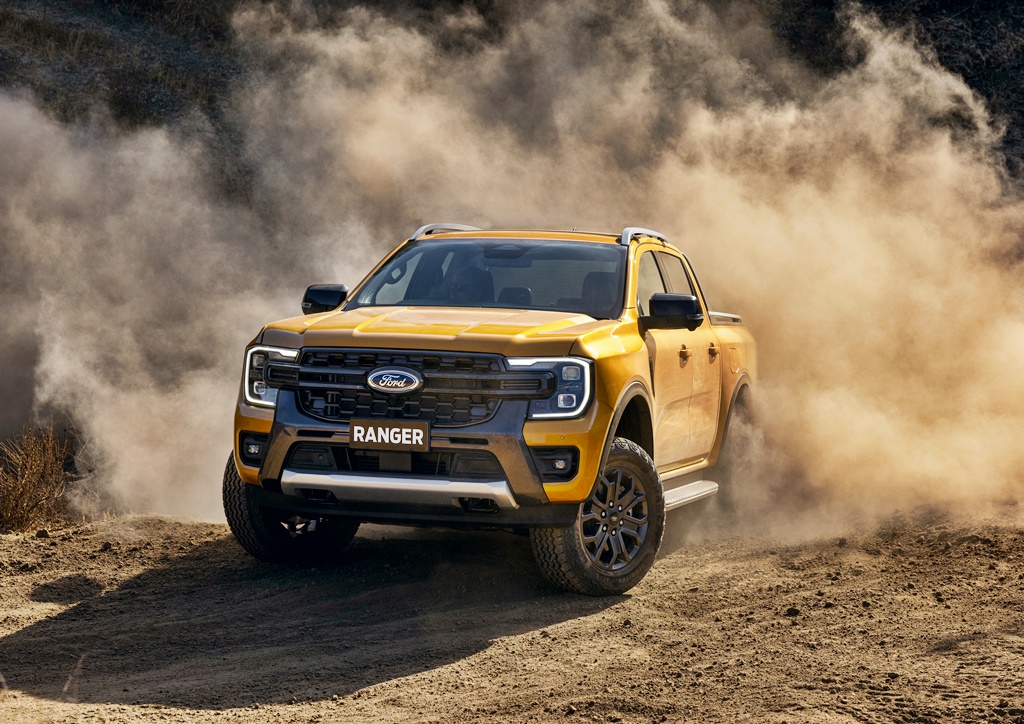 The Ranger nameplate has been used by Ford since the late 1950s (for a sedan at that time) although it is only since the 1990s that the name gained prominence globally. This was when Ford used it on a new pick-up truck which it developed as an 'Asian Car' – in contrast to the low-priced sedans that Toyota and Honda developed (the Soluna/Vios and City). Ford had developed it as a 'compact' (by American standards) truck primarily for the ASEAN and emerging markets.
The Ranger was to be produced at a brand new factory built in Thailand in preparation for the ASEAN Free Trade Area (AFTA) which would enable vehicles from one country to be imported into another ASEAN country with no import duties imposed. In other words, AFTA would be a single trading bloc with over 550 million potential customers.
The new model was developed jointly with Mazda, which called its model the BT-50. The vehicles would be built at the Auto Alliance Thailand factory which was also jointly owned by the two companies. Since the late 1990s, three generations have been produced there and today, Ford has revealed the fourth generation that should start going on sale early next year.

New product development partner
Apart from a generation change, this new Ranger is also no longer a joint development by Ford and Mazda. The partnership ended with the third generation and Mazda has been working with Isuzu for its next BT-50 while Ford teamed up with Volkswagen, which will use the new model as the basis for its next Amarok.
From what reports suggest, Ford's expertise in trucks (its first purpose-built truck was introduced in 1917) has given it a lead role and much of the new Ranger will be used by Volkswagen, although the German carmaker has been quick to also say that its model will have unique 'Volkswagen DNA'.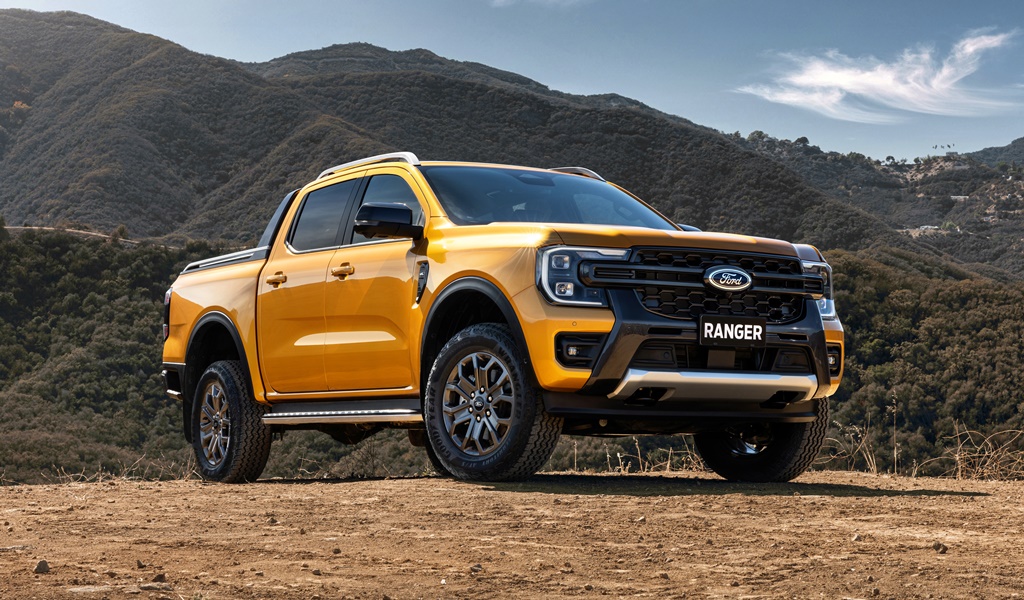 It won't be the first time that Volkswagen is working with another company for its trucks. Back in the late 1980s, the carmaker signed a deal with Toyota for the supply of its Hilux model which would be assembled in Germany as part of the VW range. The model was called the Taro and it was produced from 1989 till 1997. With Ford, Volkswagen is probably involved in a more meaningful way than was the case with the Hilux Taro. However, it is Ford that is giving the new truck its global debut first, and VW will probably unveil its new Amarok sometime next year.
Iconic features with F-150 inspiration
To most people, the new Ranger probably looks pretty much like the previous one. After all, with a truck, how different can the design be and it is more of the styling in certain areas that usually receive the radical changes. For this new model, the design team looked at the much larger F-150 truck and also considered the iconic features that have evolved with the Ranger over the years.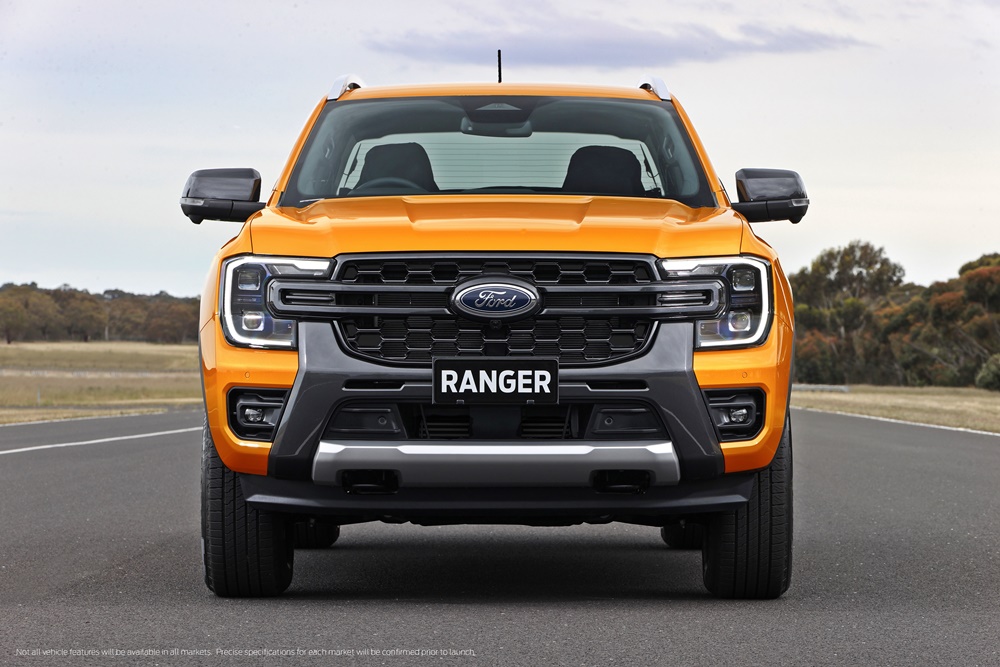 "Some of us looked to nature, some to architecture and some others to art for inspiration. We didn't hold back. We let our designers loose to really go for it," said Max Tran, the chief designer for the new Ranger who was based in Australia.
The bold looks are maintained and the evolutionary changes can be seen in the surface treatments that are stronger and more muscular. The most obvious change is in the 'face' and 'eyes', ie the grille and the headlights flanking it. The 'C-clamp' daytime running lights at the edges of the headlights provide the truck with its unique signature, a feature which you will also see in the smaller Maverick.
All the pictures released today show a double cab with 4 doors, the most popular bodystyle. It's not known if Ford will also have a 2-door version which is popular in some markets as a workhorse vehicle. There are pronounced wheelarches and a stronger shoulder line running along the sides.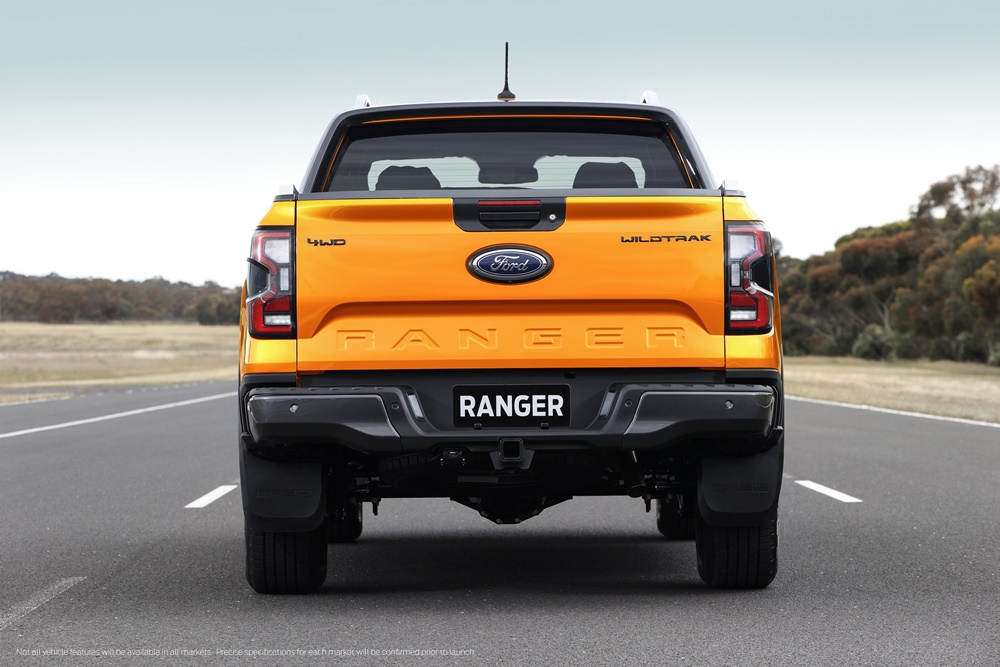 With the second generation, Ford's designers began to enlarge the brand logo so it would be more visible from a distance and also appropriate to the size of the vehicle. For this new generation, there is also a large sculpted 'RANGER' name stamped on the lower portion of the tailgate. The tailgate, with a hint of an aerodynamic spoiler, is flanked by lighting units designed to harmonize with the headlight style.
Longer wheelbase, wider track
Ford has not released any detailed technical data and while the overall size looks the same, there is mention of a 50 mm increase in track and 50 mm longer wheelbase. The wheelbase extension is achieved by moving the front wheels forward, which gives a better approach angle and outboard for better off-road articulation.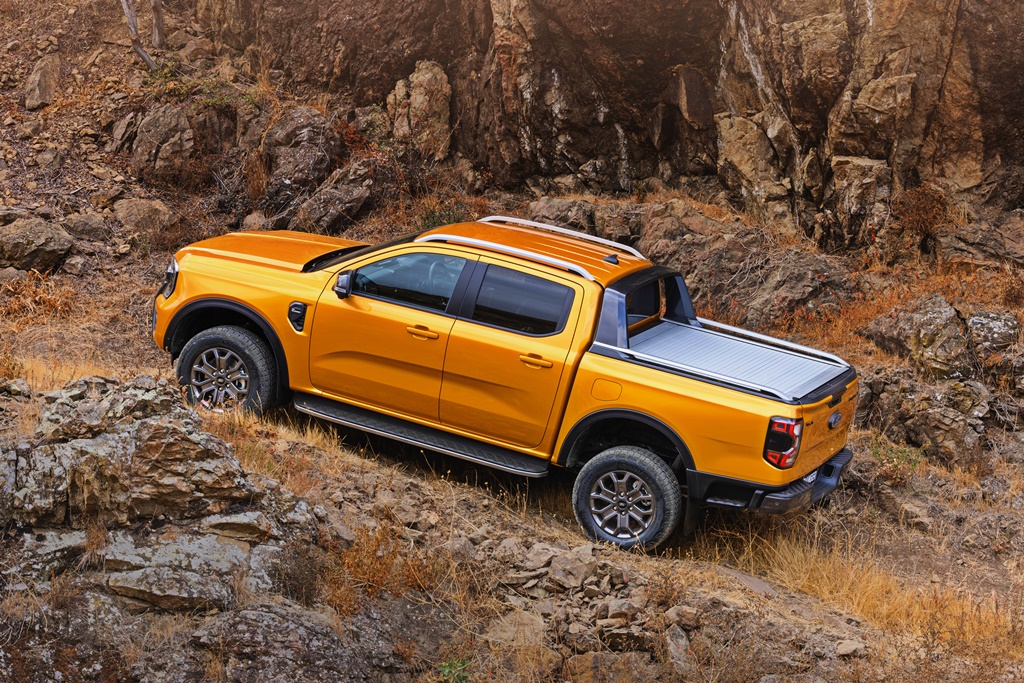 The platform is essentially the same traditional ladder-frame chassis which is tough and good for carrying heavy loads. While some carmakers have begun moving towards a monocoque structure, Ford probably realizes that most of its customers want the 'Built Ford Tough' capability and the ladder frame is better.
A hydro-formed front-end structure creates more space in the engine bay and helps future-proof the Ranger for other propulsion technologies (a hint of a hybrid or even a BEV powertrain?). It also opens up the front of the truck to allow more airflow to the radiator, which helps keep running temperatures low when towing or carrying heavy loads.
More focus on ride and handling
However, with truck usage having changed from off-road workhorse duties to daily transportation and leisure, ride comfort and handling have become more important. To improve this, the engineers shifted the rear suspension dampers outboard of the frame rails while retaining the same layout.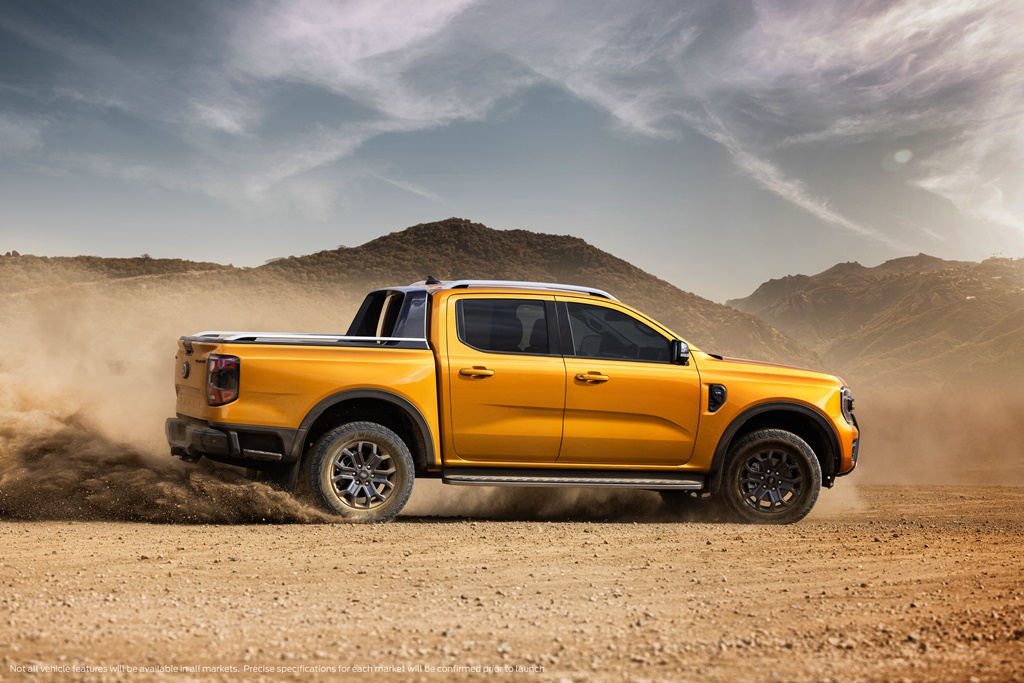 "On the Next-Generation Ranger, we've increased the tuning range to give our customers the best of both worlds – think of this as 'Built Ford Tough Plus' – so you've got the capability, toughness and durability that Ford trucks are known for, plus comfort and a more car-like ride that Ranger is known for," said Graham Pearson, Ranger vehicle program director.
Three turbodiesel engines
At launch, Ford has three engine choices for most of the new Ranger's markets outside the USA (which may also want petrol engines). These are all turbodiesels, with a new 3-litre V6 to meet customer requests for more power and torque to tow heavy loads or for serious off-roading. It's not the first 3-litre that the Ranger is having as it has had this engine size before, but with 4 cylinders. Output numbers are not provided but if it is similar to the engine in the F-150, then it would be in the region of 250 bhp and almost 600 Nm.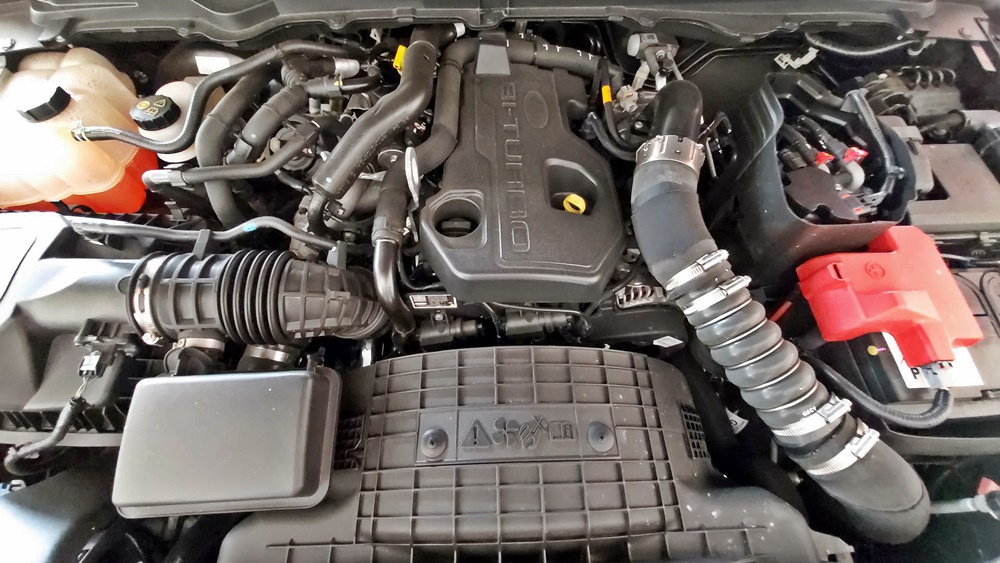 The other two engines are familiar units which power the current generation. These are 4-cylinder commonrail engines with a 2-litre displacement and either a single turbo or a bi-turbo. If not improved, the outputs will be 210 bhp/500 Nm and 178 bhp/420 Nm, respectively.
Transmission choices include an updated 10-speed automatic, with the current 6-speed automatic (depending on variant and market). The e-shifter has a short and stubby design with manual selection done using buttons on the side of the shifter – Ford's preferred way of doing it.  Manual transmission isn't mentioned but this is likely to also be available for those markets that want it.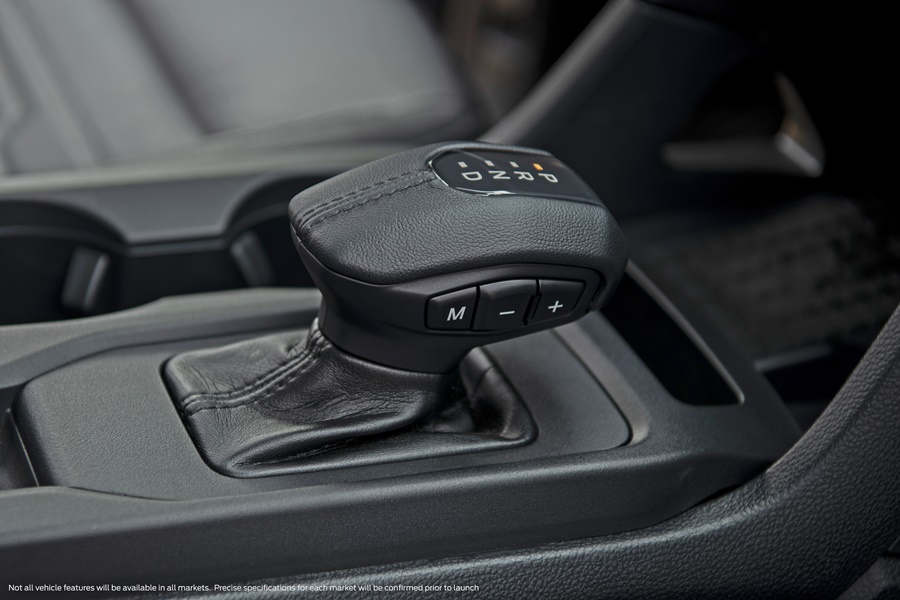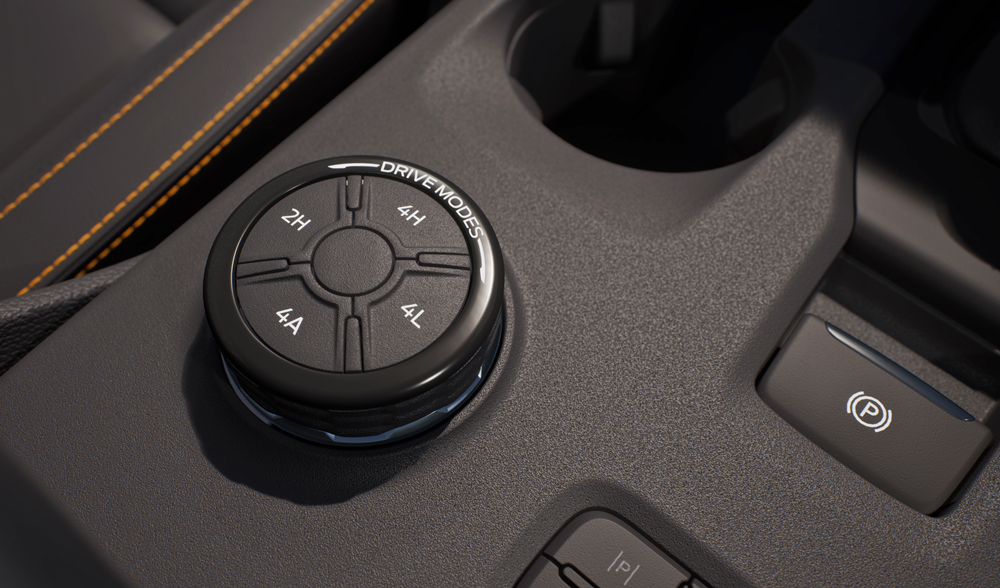 There will be 4×4 as well as 4×2 drivetrains with electronic rotary shifters that allow switching between high and low ranges on the move. Some versions will be available with an advanced full-time 4×4 system, giving the same sort of experience as a SUV.
Incidentally, in future, the Ranger will be able to receive over-the-air (OTA) updates for software so that the updates can be done without going to a service centre. These save the customer time and also keep the vehicle running at its best with the most current software.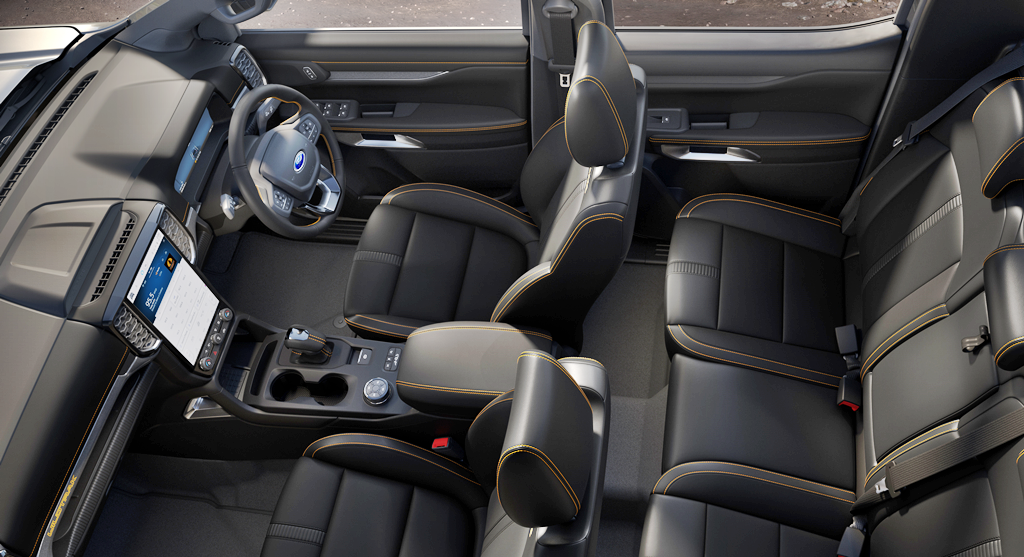 Leadership in safety
Nothing is said about safety and it could be that the Ranger's leadership in this area (in its segment) has equipped it with many advanced systems that Ford can just continue with the present provisions. In fact, even from the first Ranger, Ford showed that even truck drivers' lives were valuable and provided safety features that most other trucks did not have.
Even in the current Wildtrak, there is Automatic Emergency Braking (AEB), Forward Collision Warning, Lane Departure Warning, Semi-Automatic Parallel Parking and Adaptive Cruise Control, as well as airbags at the front and sides of the cabin. These would surely continue to be included and perhaps with improved performance as well.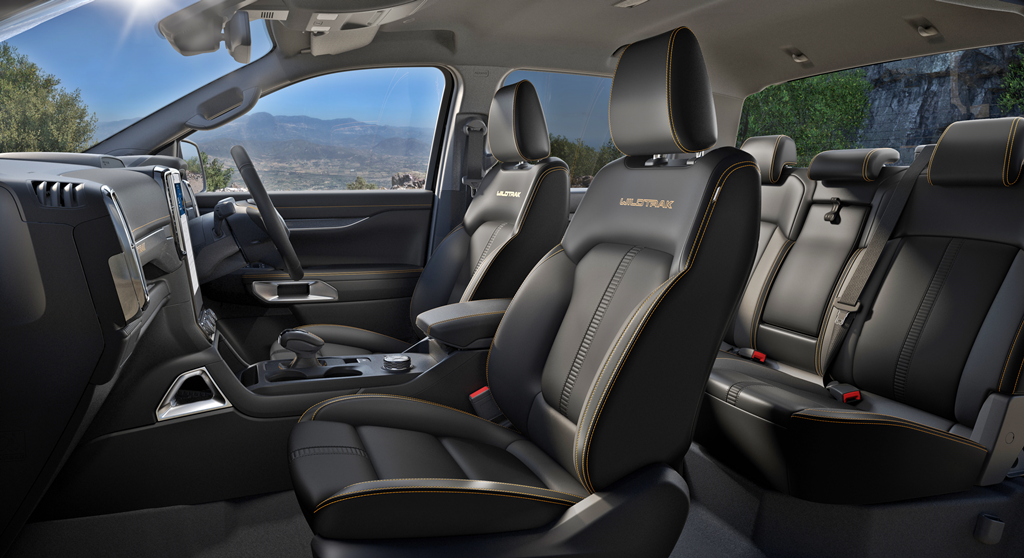 Customer-influenced interior design
For the cabin, customer input was key to what was expected and this was drawn from more than 5,000 interviews and dozens of customer workshops around the planet. They wanted a flexible, modern cockpit that would cater to both work and family duties. To provide this, Ford provides smart and connected features with more comfort and storage options than ever before.
"We know our customers are looking for a smart and functional interior space that feels comfortable. So, we set about designing it with a high level of well-integrated technology, clever functional storage and visual cues so the environment feels comfortable and spacious," Tran said.
The heart of the Ranger's connectivity experience is the large 10.1-inch or 12-inch touchscreen in the middle of the dashboard, a styling feature which is also used in recent Ford models. It complements the fully digital instrument panel and uses Ford's latest SYNC4 system. This system has voice-activated communications and infotainment, allowing the driver to keep hands on the steering wheel as much as possible.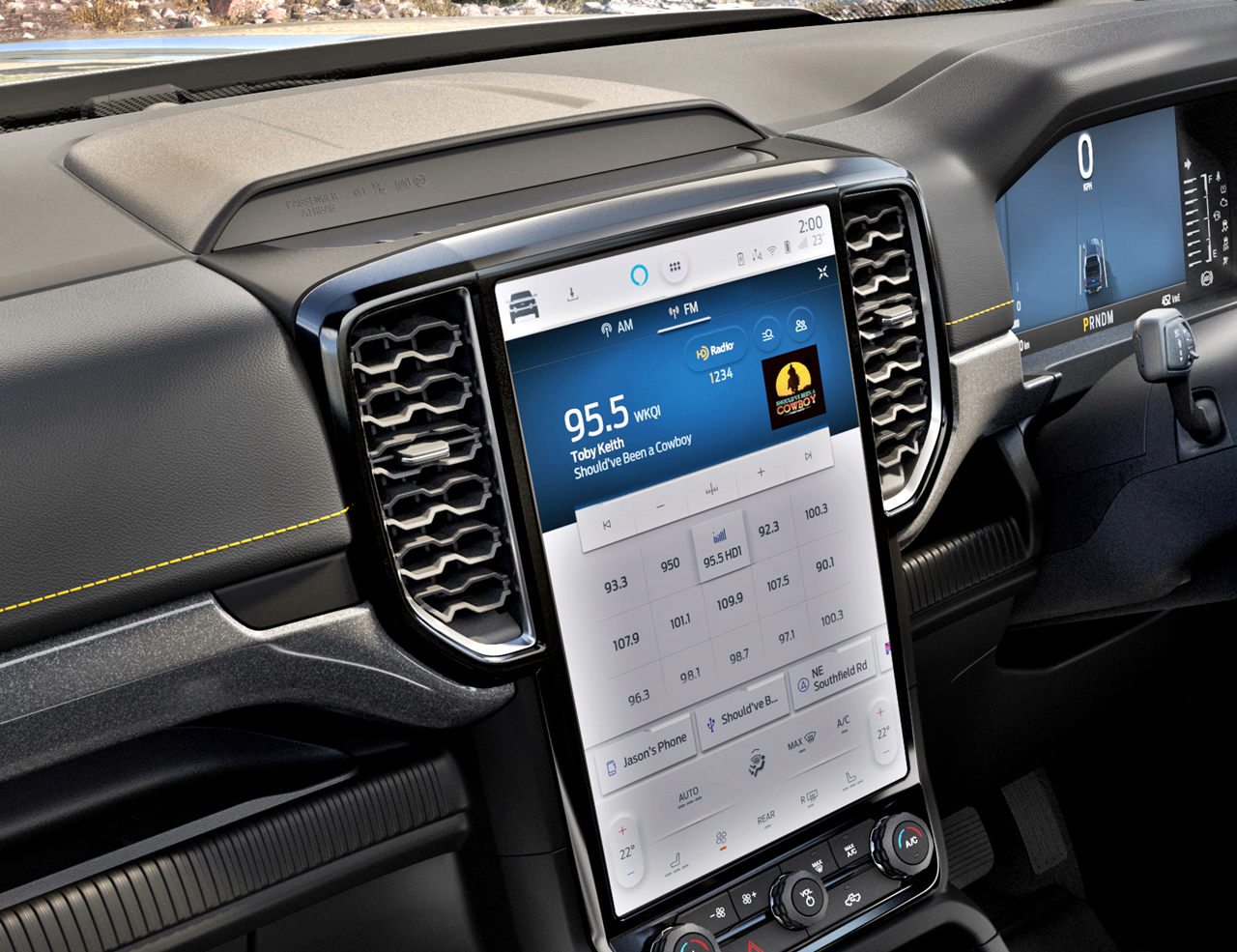 Many of the traditional driving mode controls have been moved from the dashboard and centre console to their own dedicated display on the SYNC screen. With one button press, drivers can go to Ranger's dedicated screen for all off-road and drive modes where they can monitor the driveline, steering angle, vehicle pitch and roll angles and other controls.
The screen also is linked to a 360-degree camera to make parking easy or even to assist when driving over particularly tricky terrain. In addition, customers can control Ranger's new exterior zone lighting system via the touchscreen, which means they don't have to work, camp or do anything in the dark.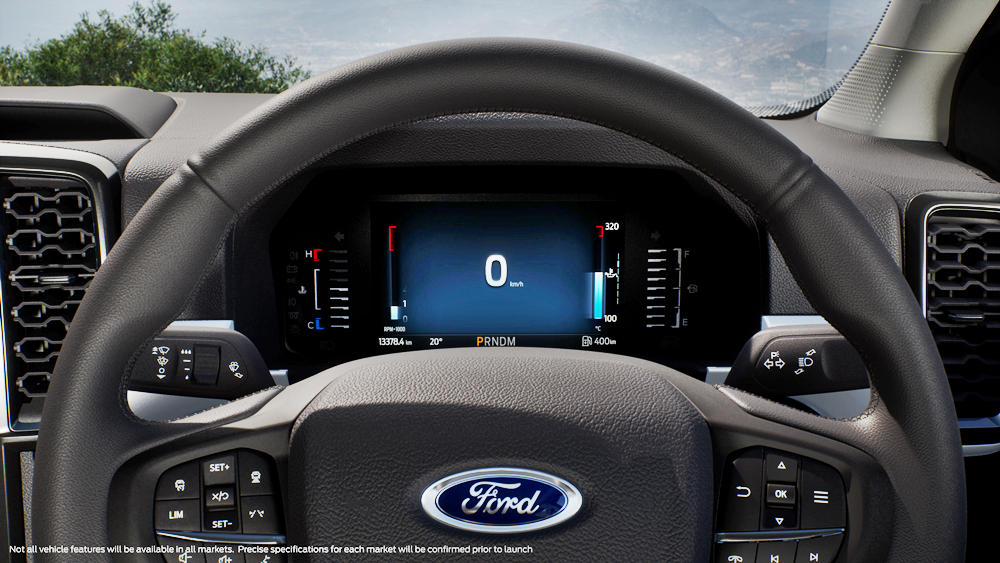 Functional and practical
The design team also created clever storage and useful features for owners. There are not only places to store a phone or charge it wirelessly but also a large centre console bin. In addition, the door pockets are designed to carry more, the wide dash conceals an upper glovebox and there are storage bins under and behind the rear seats.
Watching how owner use their trucks gave the designers ideas on how to improve some areas. For example, people were observed stepping on the tyres or pulling themselves up to get onto the open tailgate. This led to an integrated side-step behind the rear wheels, giving a more stable way for them to get into the cargo bed.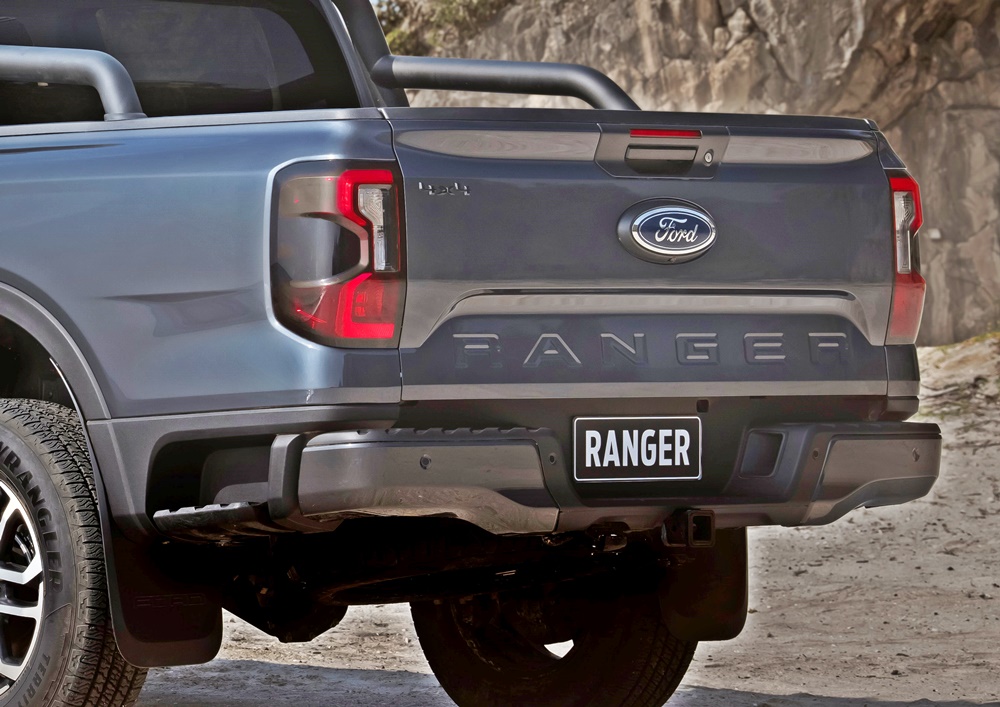 In addition, the Ranger team worked on making a wider variety of cargo fit and stay secure in the load box. "Widening the truck by 50 mm may not seem like a lot, but it makes a huge difference, especially in the cargo box. It means that customers will be able to load flat some pretty fundamental items, such as a sheet of building plywood or a full-size pallet," said Anthony Hall, Ranger vehicle engineering manager.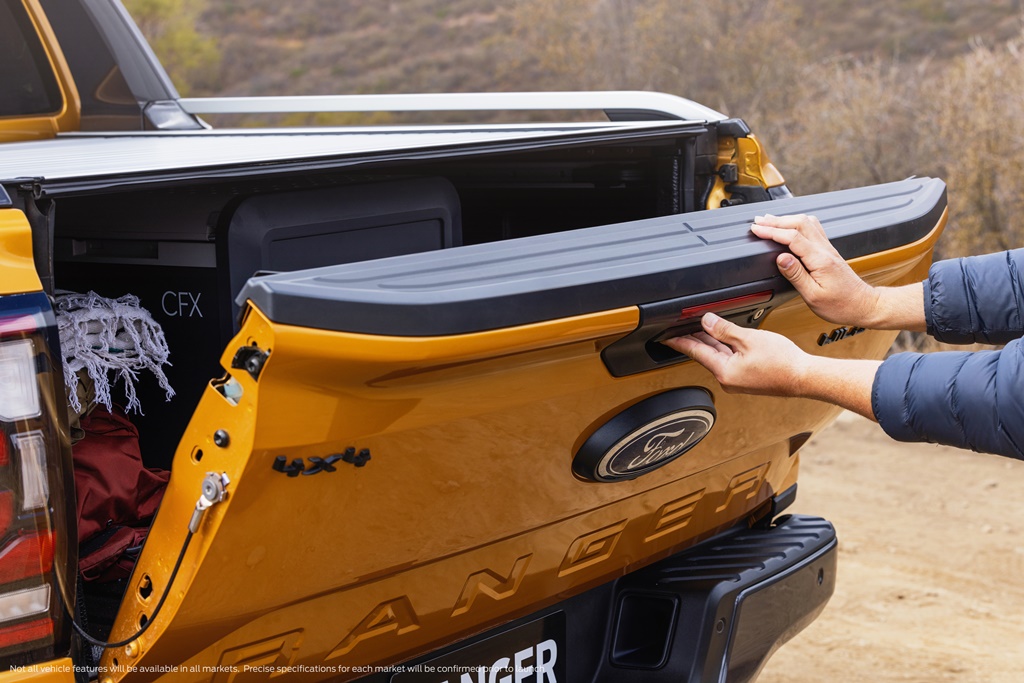 Cargo bed as a workplace
Additional thoughtful, customer-focused touches include a new, tough plastic-moulded bedliner that helps protect both the truck bed from scratches and owner's knees from kneeling on a steel truck bed. Extra cargo tie-down points – on strong steel tube rails – provide convenient points to secure loads. Durable, flexible load box caps around the sides of the box and across the tailgate conceal structural attachment points for canopies and other aftermarket accessories.
There's a new cargo management system designed with dividers to hold various sized items – like timber or toolboxes. Owners also can create smaller compartments to store objects, which would otherwise have to go in the cab, using a system of ultra-strong spring-loaded cleats that clip into rails bolted to each side of the cargo box. The tailgate can also double as a mobile work bench with clamp pockets to measure, grip and cut building materials.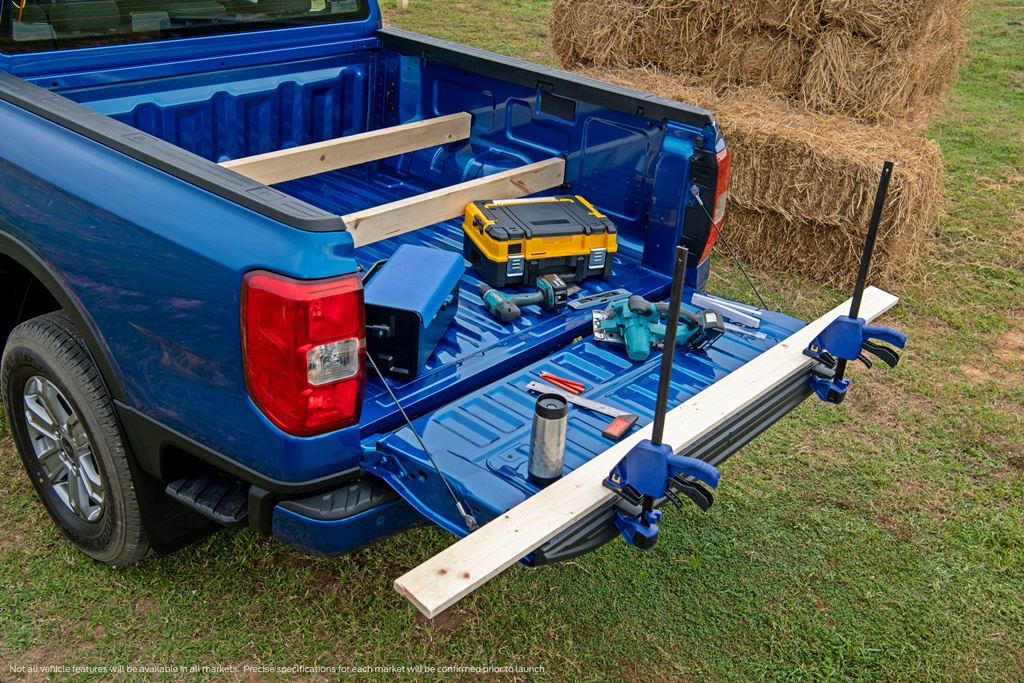 On some versions, zone lighting can give owners better visibility around the vehicle. Load box lighting is provided under the left and right rails and provides plenty of light for finishing up jobs in low light or finding things in the cargo box at night.
The Ranger will be built at Ford's global production hubs in Thailand and South Africa and exported to some 180 countries. Production will begin in 2022 which is just around the corner so we can probably expect to see the new Ranger in Malaysia during the second or third quarter as the model is imported in CBU form from Thailand.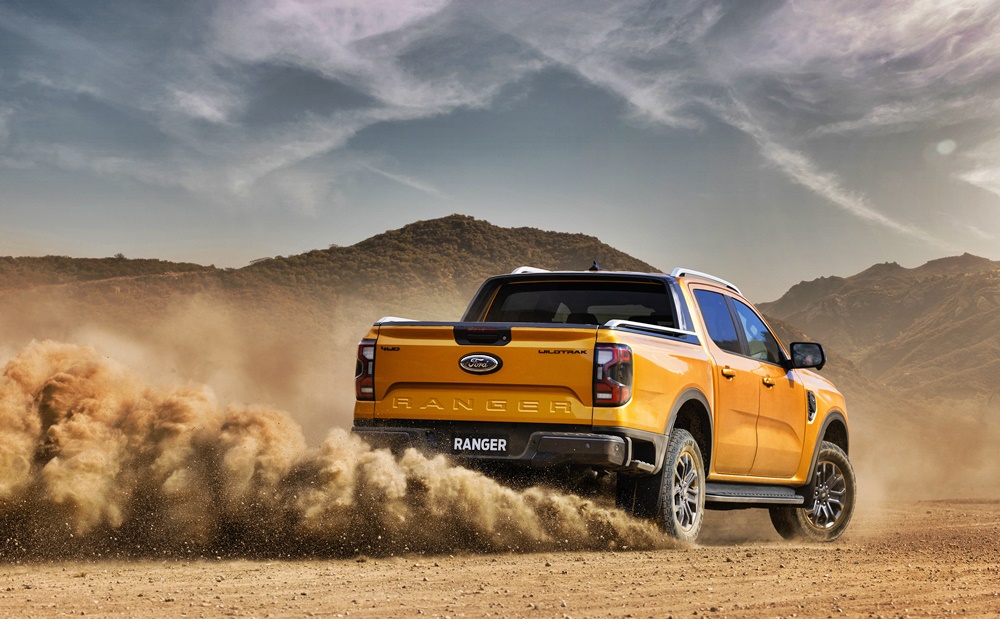 It will still be a while before the new Ranger arrives in Malaysia but you can inform an authorised Ford dealership of your interest and be updated. Or if you prefer the current Ranger, visit www.sdacford.com.my to locate a showroom where you can test-drive one.
'Live The Ranger Life' celebrates Ford's pick-up truck evolution into the modern lifestyle machine that it is today