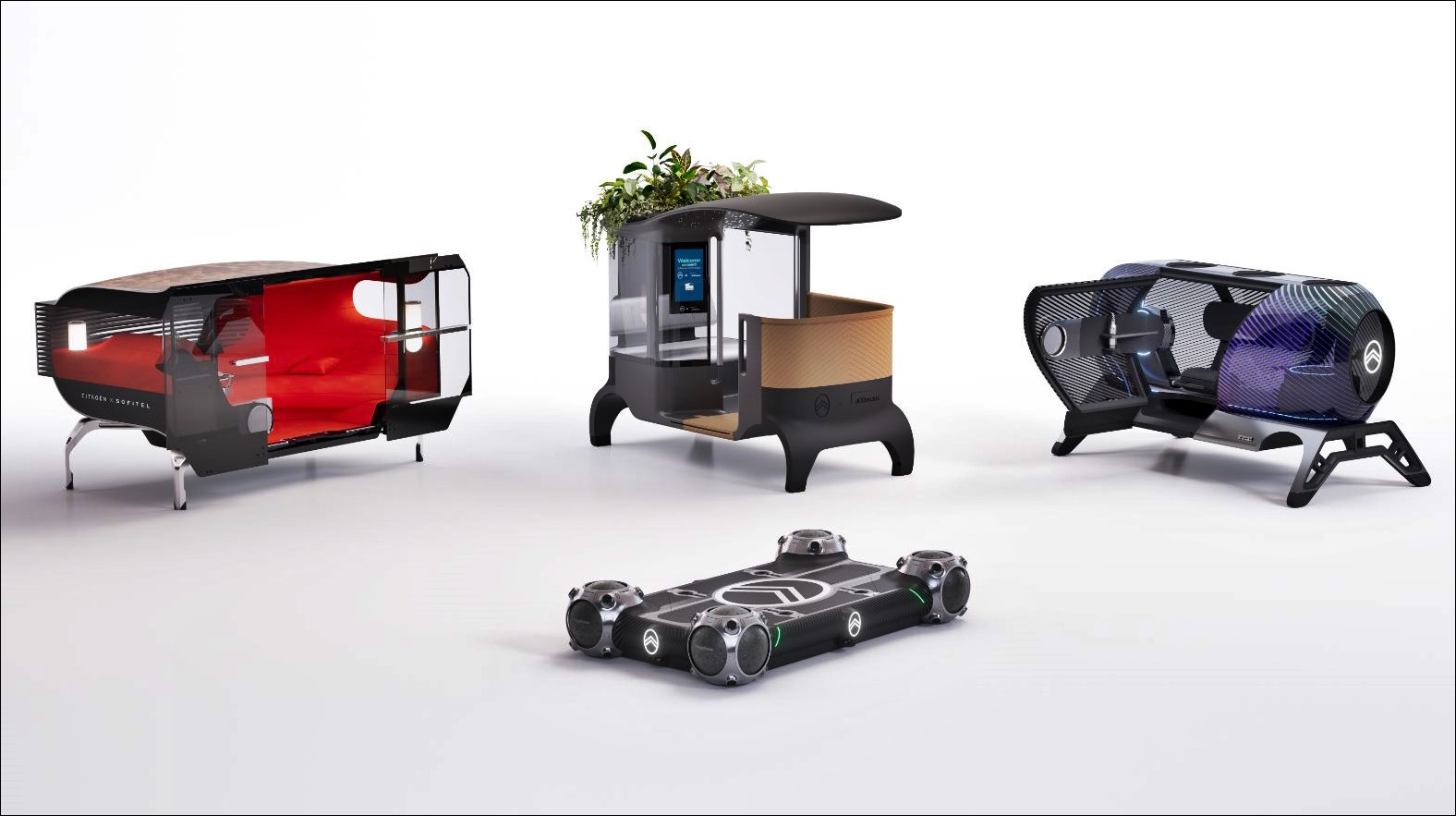 Skateboarding, which appeared in the 1950s, is a popular sport today. They are like surfboards except that instead of skimming over water, they have wheels to do the same on land. However, to the auto industry, skateboard means a different thing and is a new idea being used for electric vehicle (EV) platforms to streamline development. An EV skateboard serves as a common modular chassis which can be applicable to different types of vehicles.
A number of carmakers have already developed EVs on skateboards and they have been able to speed up development since the skateboard is an integrated package. It can be developed by the carmaker or supplied by a specialist in such technology.
Open-source mobility model
Citroen's Skate concept explores a greater spectrum of uses for the platform, referring to it as 'open source' so it can be configured to be more than just a passenger car or light commercial vehicle. This is a revolutionary open-source mobility model that is collective and shared, offering autonomous mobility which adapts to demand. The model relies on a fleet of Citroen Skate transport robots which move around cities non-stop, paired with Pods that can offer unique experiences. The Citroen Skate is the medium and the conveyor of mobility; the Pod, attached to it, allows its users to enjoy their preferred service, whenever and wherever they wish.
This technological solution offers a multitude of possible uses and is claimed to be able to improve traffic fluidity by at least 35%. To achieve this, The Citroen Skates are designed to travel in dedicated lanes, and are fitted to integrate into the urban environment in the most efficient and economical way.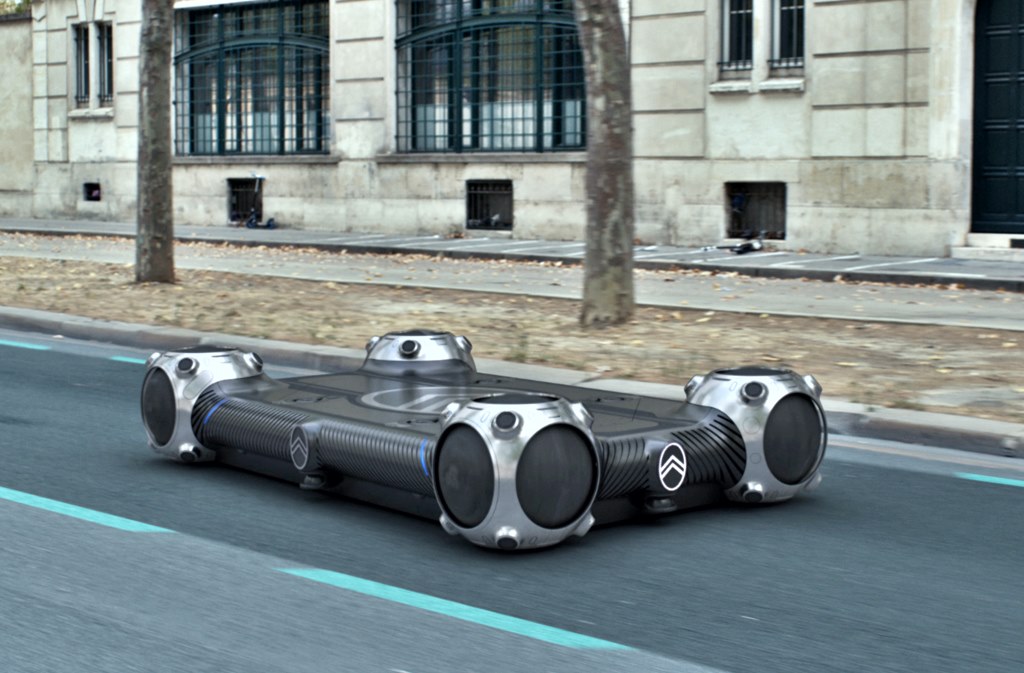 Proposing an autonomous vehicle on public roads for private customers, beyond the technological challenge, would be extremely expensive. The Citroen Autonomous Mobility Vision is based on the perfect adequacy between the Pods, The Citroën Skate and the infrastructure. Therefore, with the use of dedicated lanes, the overall solution cost is optimized. Moreover, its use is maximized through an on demand smart fleet management.
The Urban Collectif demonstrates the concept
To demonstrate the concept, Citroen has partnered Accor and JCDecaux, the former a hotel and hospitality group and the latter an advertising firm. Accor has designed two Pods that can complement its hospitality services – one serves as luxury transportation and the other is a gym on wheels. JCDecaux's proposal is a form of mobile urban transport, possibly for use by tourists as it can be parked anywhere when they wish to admire a landmark or surroundings. The three Pods form what is known as The Urban Collectif.
"Each Pod is a bold and modern interpretation of interior and automotive design. They are designed beyond the conventions and standards that the industry is using today, with precision engineering, high-end materials, refined aesthetics and revamped functions and applications. Thanks to this unprecedented partnership, which is highly innovative both in form and substance, we are creating endless opportunities for the future," said Damien Perrot, Global Senior Vice-President Design at Accor.
Accor's first Pod is known as the 'Sofitel En Voyage', an architectural enclosure with glass and marquetry, creating an intimate atmosphere while being fully open to the outside. Featuring automatic glazed sliding doors, the Pod would allow 2 to 3 passengers to sit comfortably on board together, with their luggage in a dedicated compartment. An interior scrolling LED strip would display information in real-time, such as personal messages, news, weather, arrival and travel times.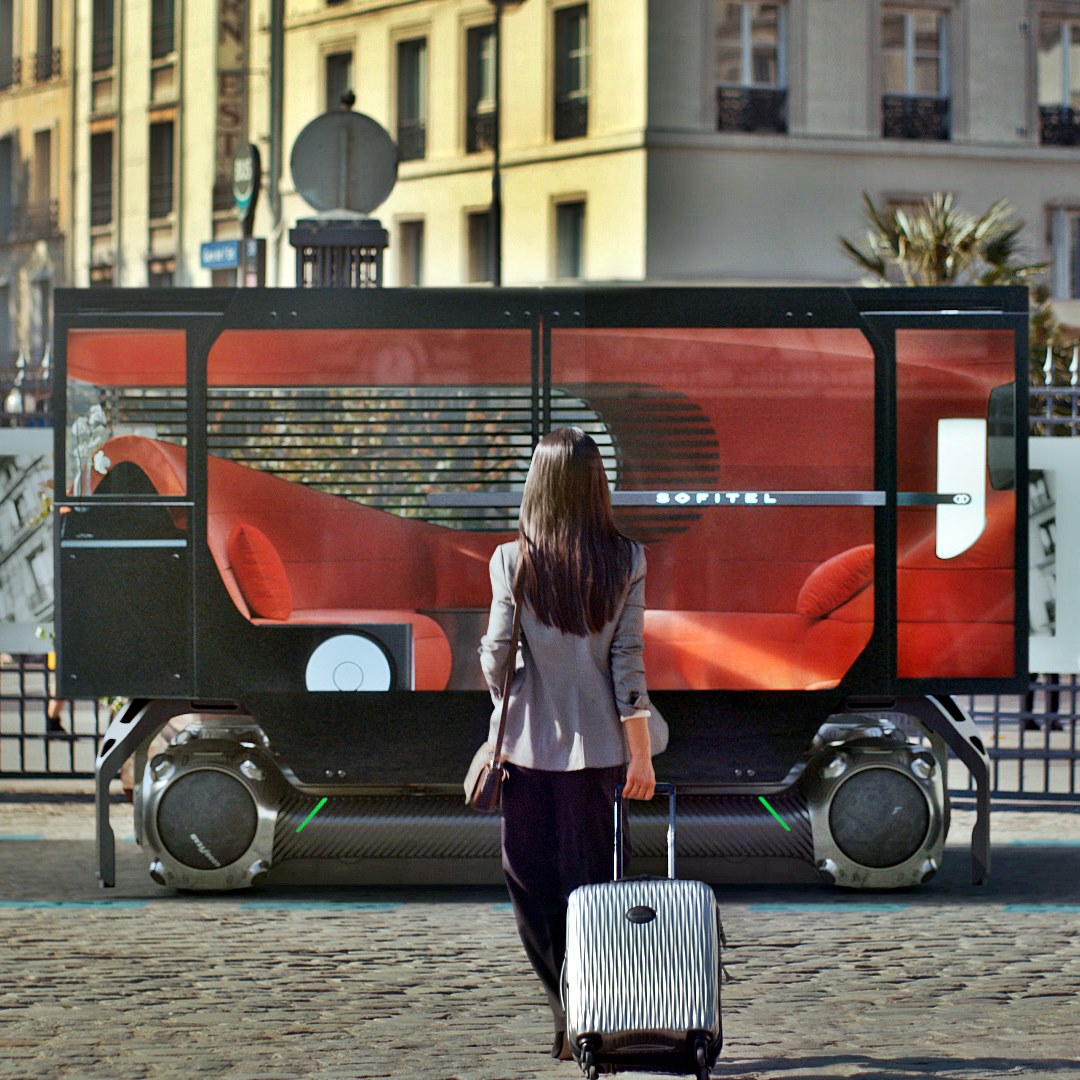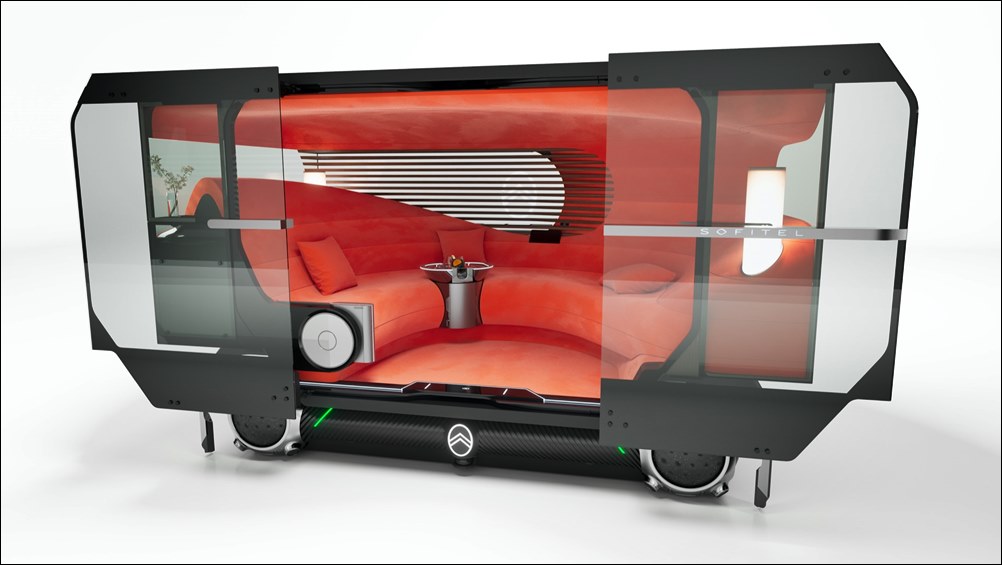 Everything is designed to deliver the personalized Sofitel service, with a bar that opens like a flower to the touch to offer drinks and snacks, a sound system, induction chargers and a configurable mood lighting. The occupants could even use a touchscreen tablet to make a video call to a Sofitel concierge to arrange a restaurant or theatre reservation.
Exercising while travelling
The Pullman Power Fitness Pod is the second Pod which illustrates a modern vision of transportation that makes commuting times more useful to optimize peak fitness performance. The occupant could exercise independently and immersively, with the rower on one side and the bike on the other, while travelling through the city.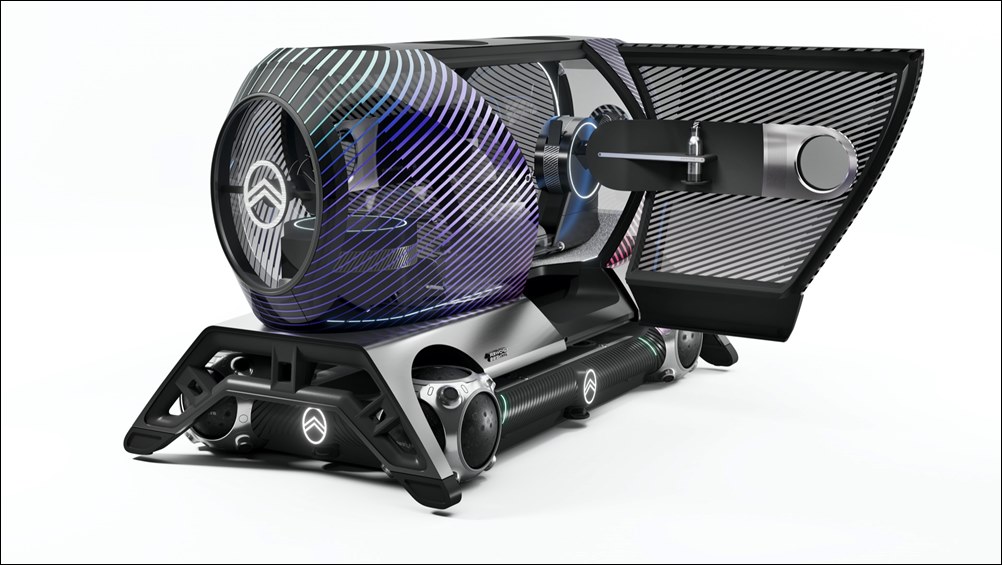 This Pod is characterized by an unusual glass bubble incorporating dichroic patterns in the form of blinds, echoing Pullman's graphic and colour conventions, along with iridescent shades of blue, purple, pink and green. The occupant's privacy is therefore protected, while maintaining a view of the outside.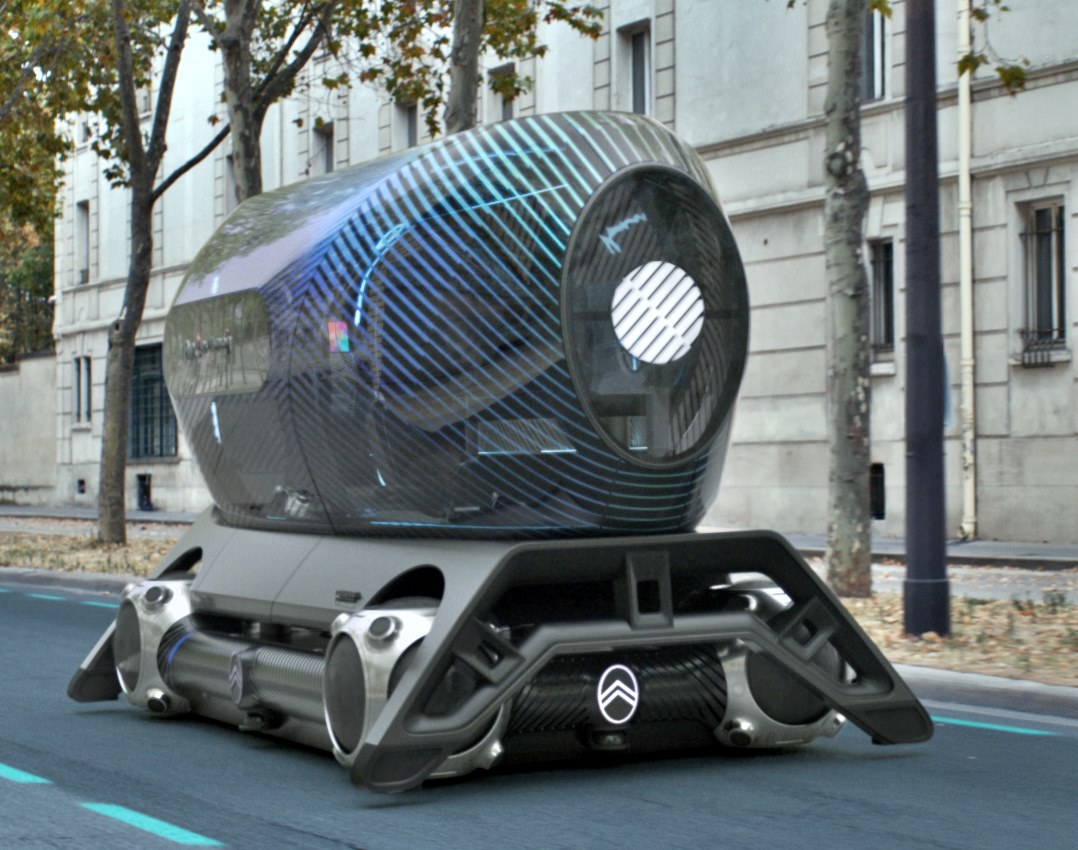 True to Pullman's hyperconnected spirit, a digital coach, appearing on a holographic screen, would encourage the user, as well as provide route information and entertainment during a next-level cardio session. Exercising within the Pod will would also be useful for charging the Citroen Skate's batteries.
Tourist transporter with a difference
The third pod designed in partnership with JCDecaux is called City Provider. Easy to board by passengers with luggage, a pushchair, using a wheelchair, alone or with other people, this Pod offers mobility in the city with more freedom and choice. The Pod uses smart autonomous technology which optimizes time and distance while ensuring a pleasant and peaceful experience in the heart of the city.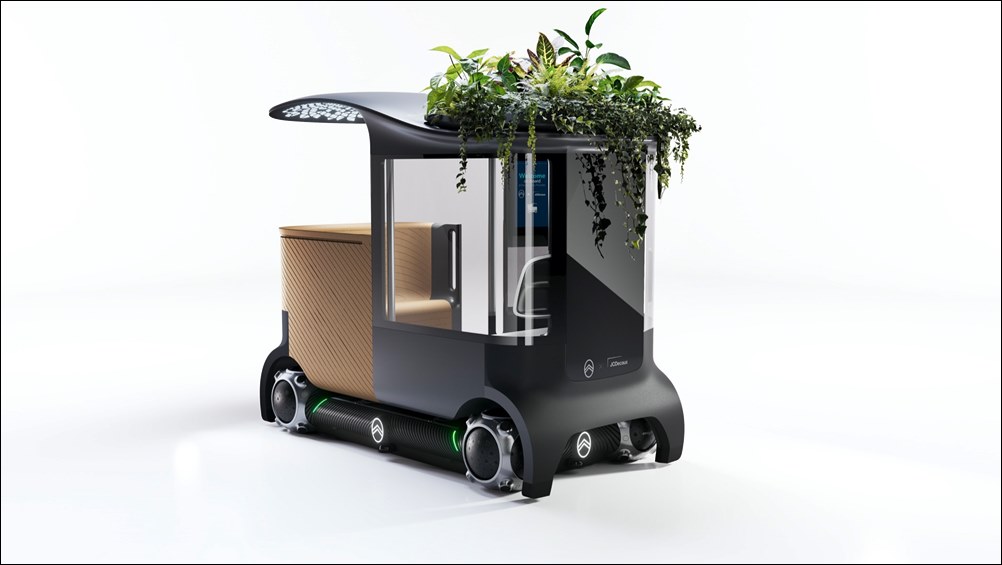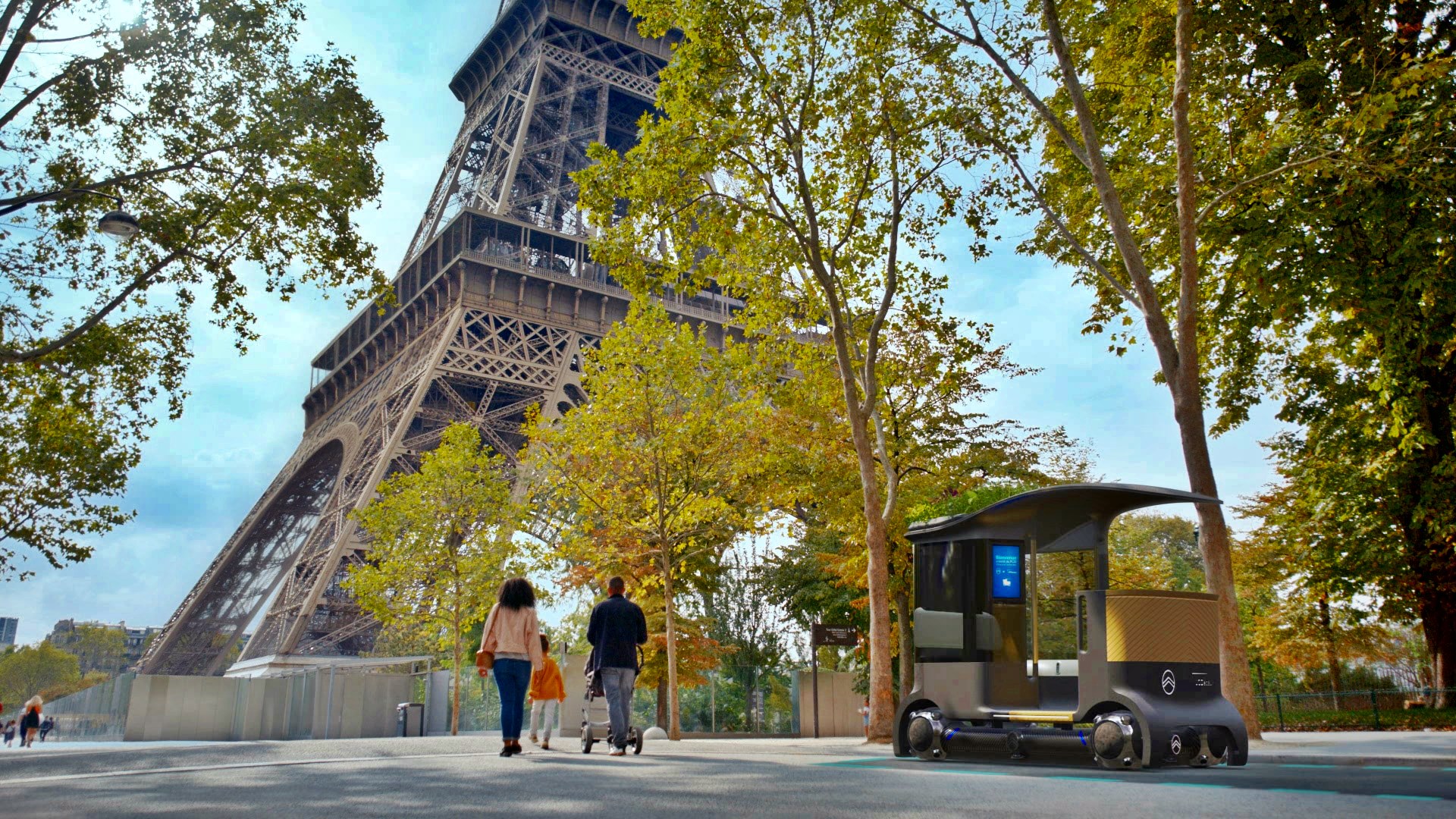 Citroen has designed and engineered its Skate to be autonomous, electric and chargeable via induction. It can operate almost continuously, every day, charging itself automatically when necessary at dedicated charging bases. Used in conjunction with the Pods, it can be positioned below specific units on request when the service is activated.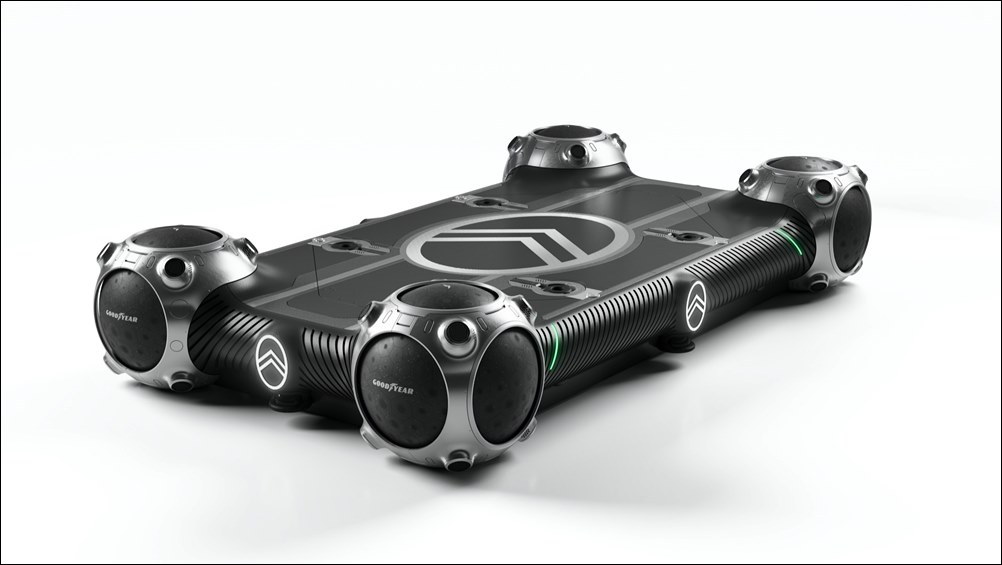 The wheels, which are revolutionary in their concept and design, were devised and developed by Goodyear. They are specially developed omnidirectional Eagle 360 wheels, fitted with spherical tyres. Incorporating small electric motors, they give the robot complete 360° freedom of movement so that it can travel in any direction, just like a computer mouse, turn on the spot and slot into the smallest spaces.
"At Citroen, we examine medium and long-term trends to anticipate consumer expectations and needs. We believe that this new concept can redefine the framework of urban mobility: shared, electric and autonomous. With the solution we are presenting in partnership with Accor and JCDecaux, we are inventing autonomous mobility for all," said Vincent Cobee, Citroen General Manager.
Rinspeed MetroSnap concept – different bodies for different needs